It's bad enough waiting for a vampire attack. But add Emmy-nominated composer Mike Suby's suspenseful soundtrack to the mix, and watching The Vampire Diaries becomes a nail—and possible neck—biting experience.

Suby's music, featuring cymbals and heart-pounding staccato piano notes, is the secret emotional force behind the The CW's hit show, as well as the spin-off series The Originals. And while he's written music for movies and more than 300 television episodes, he says he finds scripted-television work to be the most artistically fulfilling. "Both scores are emotionally charged because of the hypersensitive nature of vampires," he says. "There are very delicate emotional moments flanked by sweeping romance and driving action."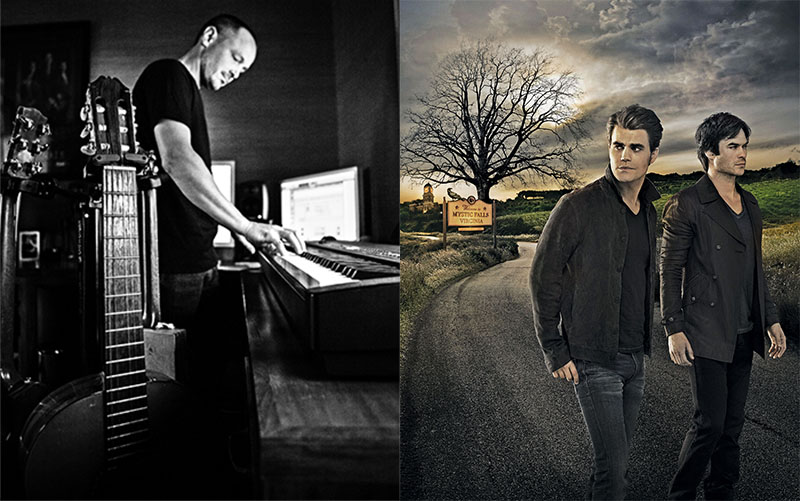 Suby in his studio; the moody atmosphere of The Vampire Diaries (and spin-off series The Originals) fits perfectly with Suby's cello and bass.

For The Vampire Diaries and The Originals, Suby creates rich, bold music that mirrors the characters' complex emotions and propels the storylines forward. "It is partly due to the content I'm writing for and my penchant for writing for cello and bass," he says. "I love slow-moving, powerful chord changes where the impact can be felt and not only heard."

Suby began writing songs on the piano and the guitar around the age of 6 and played in bands through high school and college. At 27, he did the score for a friend's independent film, decided to leave his health care job and enrolled in music school at Berklee College of Music in Boston. In 2000, he moved to Los Angeles to start his new career and co-founded S3 Music + Sound with fellow Berklee alum Adam Sanborne.

Of all his television work, his favorite character to write for is Elijah from The Originals. "I had so much fun writing his theme in season 3," he says. "Daniel [Gillies] is a wonderful guy and actor. Elijah is fun because he is such a badass but also a very likable character. This allows for the character and music to have many levels ... many unseen."

His approach to composing is simple. Suby doesn't read a script unless it's a pilot. Instead, he reacts to what's happening onscreen. "Usually, while I watch, I hear the score playing in my head," he says. He describes the process as relatively easy when working on The CW shows, thanks to the actors. "They own the characters and move the story so effortlessly," he says. "They allow me to just immerse myself into the drama of the story."

By Maridel Reyes | Originally published in Watch! Magazine, February 2017

Photo Credit: Jennifer Kelley Lublin/Courtesy The CW (Suby); The Originals and The Vampire Diaries images courtesy of The CW.