Jermaine Fowler is on the brink. Well-respected as a stand-up comic (his first-ever special, Give 'Em Hell, Kid, was released on Showtime in 2015), the 28-year-old is now winning a mass audience thanks to co-starring with Judd Hirsch in the CBS comedy Superior Donuts, which he also executive produces.

Raised in Maryland, Fowler was interested in comedy from an early age. "I was always causing trouble in school," he explains. "Doing impressions of Bart Simpson, interrupting class—I liked the attention and entertaining people. I'd come home and my mom would tell me, 'If you're gonna do that, just make sure people are laughing with you and not at you.'"

Fowler understood exactly what that entailed when he was in 10th grade and a friend lent him DVDs of Dave Chappelle's Killin' Them Softly—"It was so perfect," he remembers—and Eddie Murphy's Raw. "I'd never seen anything like Raw before," Fowler says. "I related to [Eddie's] life and his sense of humor so much, and that's when I was like, 'I think I can do this.'"

Two years later, Fowler attempted his first stand-up routine at his high school's talent show. Misjudging the tastes of the all-female panel of judges, he decided to do jokes about tampon commercials; he got kicked off the stage before he could finish his first joke.

Remembers Fowler of his first go-round: "They just pretty much crapped on all of my dreams. I probably wouldn't have pursued comedy further if my friends didn't tell me that my getting kicked off the stage was the funniest thing they'd ever seen."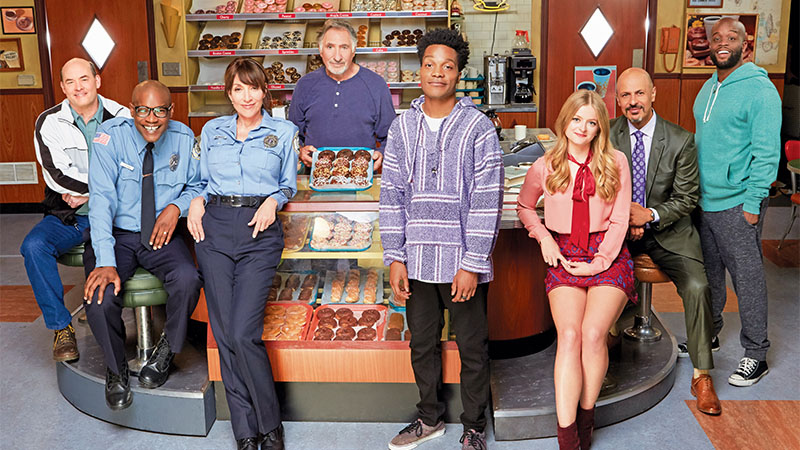 Superior Donuts' cast of characters serves up the laughs.

Fowler moved to New York City shortly thereafter and began to be cast on stage and screen. In addition to his Showtime comedy special, he developed a pilot for CBS; while that show didn't get greenlit, it earned him the industry attention necessary to score Superior Donuts.

Set in Chicago at an old-school, no-frills donut shop, the sitcom centers on the budding relationship between the shop's owner, Arthur (Hirsch), and his new employee, Franco (Fowler), who talks his way into a job at the failing business.

In addition to its humor, "[the show] brings up so many topical things in regards to race and politics and gentrification," says Fowler. "Plus, you're getting into these conversations in the most delicious of places."

The actor says he has found a happy home on the set. There's his co-star Hirsch, whom Fowler calls "badass. This man has been doing this for so long and he's still killing it. When we're not shooting, we're having long, rapid-fire conversations or just dancing on set."

And his character, he asserts, is a natural fit for his own life. "I relate to Franco so well," Fowler says. "I've been in that position where I needed a job so badly, walking up and down the street holding only five résumés because I couldn't afford to print any more. But even then," he continues with a laugh, "I always felt like, 'This is gonna be something,' because I had no other options. People who have a plan B are prepared to fail."

By Emily Hirshey | Originally published in Watch! Magazine, April 2017.

Photo Credit: Andrew Zeiter (Fowler); Monty Brinton/CBS (Cast). Originally published in Watch! Magazine, April 2017.

Watch Superior Donuts Mondays at 9/8c on CBS and CBS All Access.