When you're short on time, even 140 characters is too much to digest—but fashion's latest trend can tell you everything you need to know in a glance. Runways and red carpets are filled with personal information, thanks to completely customized tops and necklaces, bags, and jackets.

Los Angeles upstart Dresshirt has become the darling of young Hollywood—think Gigi Hadid, Margot Robbie, and Allison Williams—for allowing its fashionable clientele to get their names, mantras or even a flat-out "f*ck off" embroidered on the brand's silk blouses, tees, pants, dresses, blazers, and hats.

"I always say that the DS1 [their original blouse] was designed for a man, but made for a woman," says Dresshirt designer Marieclaire St John. "At the time, customization as a trend was brand new, but it has always been an element of luxury men's shirting, usually on the cuff or chest, so it was natural to include it. People mostly put some kind of iteration of their names—first, last, initials, nickname. We also get a lot of profanity! I think our customer sees the opportunity for humor and seizes it... and we encourage that, of course!"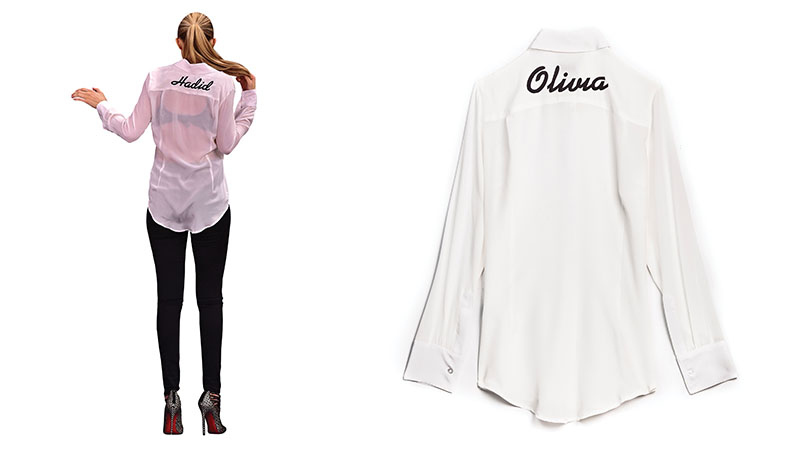 Gigi Hadid in Dresshirt; the classic white DS1.

One of the many famous fans of the trend is Jacqueline MacInnes Wood, who took a break from her day job playing Steffy Forrester on CBS' The Bold and the Beautiful—which celebrated its 30th anniversary in March—to test-drive a more personal "office wear" look by Dresshirt (pictured above). "It's always fun to have something that represents your authenticity," says MacInnes Wood. "I love when I can see people's stories in their clothing." While her on-set wardrobe consists of fabulous clothes pulled from the show's massive costume closet, her stylish after-hours outfits are all her.

How would you describe your style?
I'm a chameleon. I love leather jackets and chunky boots, but I also love girly, floral, pretty things. And then there's the other side of me that wears sweatpants and running shoes. My closet is a melting pot.

Who influenced your style?
My mom. Growing up, I loved to watch her get ready. She was a businesswoman who worked in the casino industry. She's beautiful and she would put on these incredible pantsuits with an old Chanel bag or a couture piece to complete the outfit.

Who are your fashion icons?
I love Sophia Loren. She had that sensual sexuality, while at the same time she was strong and powerful. I love the way she did her makeup! I was obsessed with '90s models, like Kate Moss, growing up. I love powerful, confident women.

Any current celebs whose style you really love?
Kate Hudson and Jennifer Lopez. They're glamorous, they think outside the box, and they hit the mark every time.

What's your signature beauty look?
Full brows, liner, dewy skin and peach- or rose-colored lips.

Could you describe your red carpet style?
I think you should go big or go home for your events. It's fun! But my style for the red carpet changes. Tonight, I'm going to an event and I'm going to do a T-shirt dress with a corset worn on the outside of it and Stuart Weitzman boots. But I actually sketch and love designing, so for the Emmys this year, I might design my own dress.

Who are some of your favorite designers?
Balmain and Roberto Cavalli fit my body well. I love that their clothes are very sexy with sharp edges and detailing. I also like to try new, up-and-coming designers. I love Zara and Topshop, too.

Are you a big shopper?
Oh, absolutely. My closet is wild. I have a whole bedroom that I use as a closet! My girlfriends call me whenever they need an outfit.

By Alyssa Hertzig | Originally published in Watch! Magazine, April 2017.

Photo Credit: Jamie Cary/CBS (Wood); James Devane/Getty Images (Hadid); Charles Roussel/Courtesy of Dresshirt (Shirt).

Watch The Bold and the Beautiful on Weekdays at 1:30 p.m. ET/12:30 p.m. PT on CBS.