"Upfront week" is a frenetic time in New York, a four-day span jam-packed with flashy presentations and parties from each of the five major TV networks.

For the networks, it's the time to unveil their new fall programming schedules and to convince advertising executives to spend their clients' dollars in advance–hence the term "up front"–to buy television ad time for primetime shows throughout the upcoming season.

For Hollywood types—actors, writers, producers, and their agents—Upfront week is the time to jet east to help impress those ad buyers, to network, and to celebrate the major achievement of getting a new series on the air.

And for an entertainment journalist like me, it's the time to report on what's hot in TV news: which new shows look like next season's best bets, and which current shows will or won't be returning. But it's also a perfect time to observe the two industries, advertising and television, at work.

It takes at least two villages—Los Angeles and New York, plus ad buyers from all over the U.S.—to create, fund, and shoot the slick "cut downs" (a.k.a. clips of the brand new shows) I'm about to see splashed several stories tall on the screen at Manhattan's Carnegie Hall during CBS's big Upfront presentation. And so, on Wednesday afternoon at 3:30 p.m., I brave the record 90-degree heat with about 3,000 others in a line stretching around the corner from the front doors of the 1891 landmark.

By this point in the busy week, we're all pretty tired from the schmoozing, showbiz talk, and tight writing deadlines. But things liven up once we climb the stairs and the red-velvet decked tiers of the stately hall. Because CBS does not disappoint. Whereas every network somehow finds a way to slice and dice the Nielsen ratings to find something to brag about, CBS's CEO Leslie Moonves has the legit numbers to back him up: CBS boasts 13 series on its schedule this past season with over 10 million viewers, with 7 of the 10 top comedies, and 7 of the 10 top dramas.

At about 4:30, about a half-hour into the 85-minute presentation, CBS scheduling guru Kelly Kahl takes the stage, to present the new comedy and drama series that are going to keep the network on top, from fall to midseason and beyond. That's when things really start sizzling. Below, my top ten moments from the 2017 CBS Upfront—of things that grabbed my attention both on screen and behind-the-scenes.

1. A triumphant Stephen Colbert
Appearing first on video, decked out in a red, white and blue suit to sing an original ditty called "CBS Is Magic," Colbert then magically appears live on stage, this time in a top hat and tux, surrounded by silver sequin-clad dancers, to bring the number home. "Today you will hear about our exciting new fall lineup—unless Trump has already leaked it to Russia," he quips. A few minutes later, when Moonves takes the stage, he jokes that, "If you think I love [Colbert] only because his ratings are up... you are right!"

2. Talking Trek!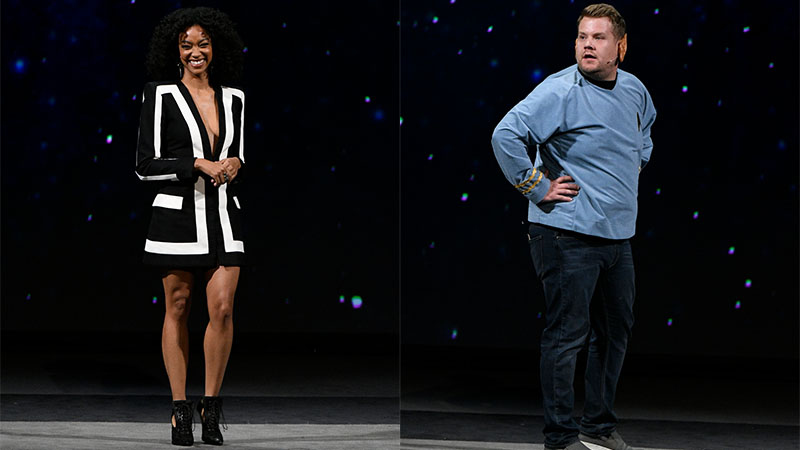 CBS Interactive president Marc Debevoise and actress Sonequa Martin-Green have a special surprise: the first trailer from CBS All Access' eagerly awaited new series, Star Trek: Discovery (with its episode order now expanded from 13 to 15). Immediately after, as the impressed crowd applauds, James Corden rushes in, in full Spock regalia complete with Vulcan ears, supposedly ready for his Trek audition.

3. OOOO…PRAH!
This fall kicks off the 50th season for the groundbreaking newsmagazine 60 Minutes—the perfect timing to add a TV legend to the show's correspondent ranks: Oprah Winfrey.

4. Sheldon Cooper in the flesh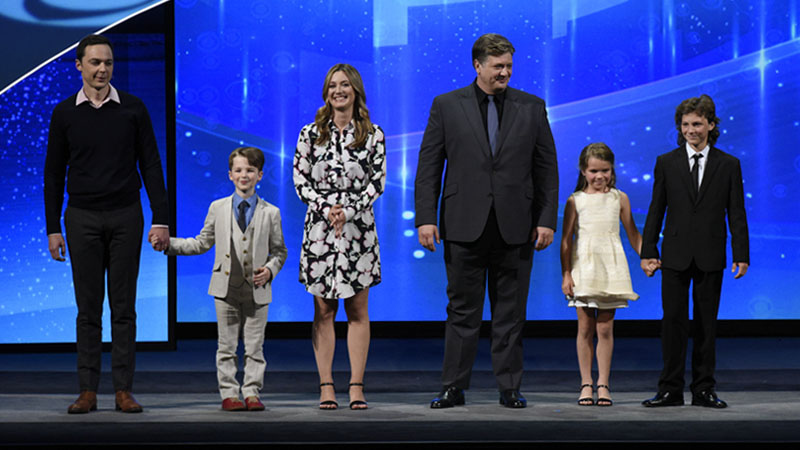 Jim Parsons, Iain Armitage, Zoe Perry, Lance Barber, Raegan Aleece Revord and Montana Jordan.

The Big Bang Theory star Jim Parsons previews the spinoff series he's producing and for which he's providing voiceover narration, young Sheldon. It's a little Wonder Years, a little Doogie Howser, M.D., Parsons notes–and as the clips show, it's a lot both moving and funny.

5. The new faces of CBS comedy
Mark Feuerstein and Bobby Moynihan appear to preview their new respective comedies, 9JKL and Me, MYSELF & I. "How do you get to Carnegie Hall?" Feuerstein riffs on the old joke as he introduces his semi-autobiographical new sitcom. "Spend eight years living with your parents and brother, then exploit it to create a TV show."

6. Comedy intermission
Somewhere in the middle of all these appearances, Superior Donuts star Jermaine Fowler stops in to plug his show with a few choice minutes from his standup act. My favorite line: "When I heard that the black guy from Rush Hour got cast on MacGyver, I knew that this was the network for me, that won't give up on a brother."

7. Dramatic appearances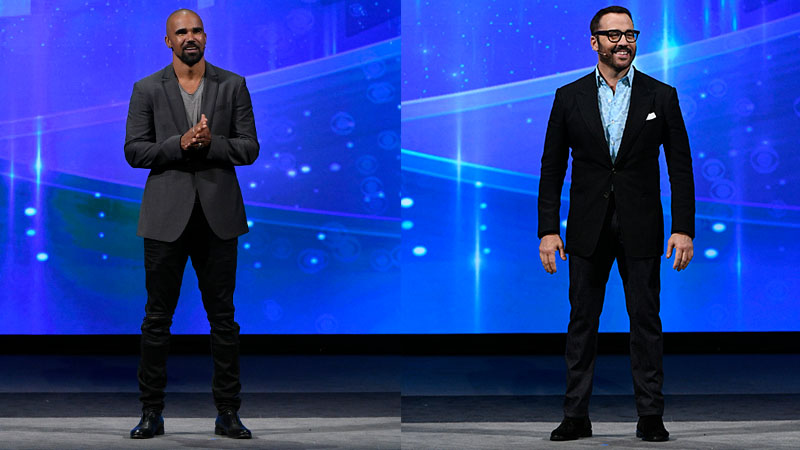 David Boreanaz is here to show us his adrenaline-filled new drama, SEAL TEAM. Former Criminal Minds star Shemar Moore calls his return to CBS "coming home," as he introduces clips of his new series S.W.A.T. It's over-the-top action, mixed with real heart.

Jeremy Piven marvels about appearing on stage at Carnegie Hall—a dream he first harbored after "playing the recorder for eleven minutes at my bar mitzvah"—before running clips from his new drama, WISDOM OF THE CROWD. I marvel at the app Piven's character creates as the centerpiece of the show, to crowdsource clues in order to solve crimes, and whether it's possible in real life. Because I can't even find my own car keys.

8. Kelly Kahl's wrap up
It all went off perfectly, so now Kelly can admit to having been nervous about the presentation: "Revealing your new schedule is kind of like watching your baby be born–every year, at Carnegie Hall, in front of three thousand people."

9. A musical parade finale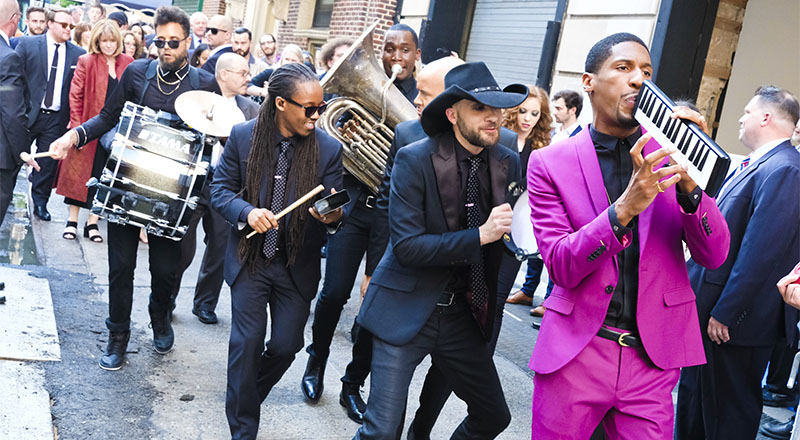 At 5:25, Kelly says some magic words, inviting us not only to join CBS's execs at The Plaza, but to follow Late Show with Stephen Colbert musician Jon Batiste and his band Stay Human in a Mardi Gras-like procession along the way. And it turns out, he wasn't kidding.

Moments later Batiste, in a purple suit that's hard to miss, is leading us all east on 57th Street, then up 6th Avenue, then east on 58th Street, right to the Plaza's famous front entrance. Stay Human is happy to share their tune—"I Feel Good Today"—not just with CBS's invited guests, but with the bewildered pedestrians, cabbies, and pushcart vendors they encounter along the way.

10. The Party!
Waiters proffer trays of Moscow mules as we enter the first of the three levels of gilded-ceilinged ballrooms in the opulent 1907 hotel, The Plaza. The most exciting of the three levels is definitely the famed Todd English Food Hall, where for one night only, each and every stall is offering us its gourmet bites... gratis.

For the next four hours, even the most businesslike among us can forget about ratings points–and certainly Weight Watchers points–and show ourselves all to be super-nerdy TV mega fans. I momentarily forget that I'm on assignment, as I sidle up to the casts of several new series to take selfies. I see some old friends and make small talk. But all the while, my mind is still on the trays of mascarpone-and-asparagus ravioli in the Food Hall downstairs—and on how at this moment, as the line has dwindled, it's my chance to meet Stephen Colbert.

By Jim Colucci

Photography by Jeffrey R. Staab/CBS (Presentation) and Timothy Kuratek/CBS (Batiste and Stay Human).