Jennifer Finnigan is out to save the world. We're not talking garden-variety do-goodism like helping an old lady cross the street. The 37-year-old actress is guarding the Earth from mortal doom. As the lead on CBS's new summer action drama, Salvation, Finnigan plays a Pentagon insider dealing with top-secret intel that a massive asteroid is poised to wipe out humanity.

"She's part of a team that has six months to protect the planet from total annihilation," Finnigan says of Grace Darrow, the Pentagon press secretary and single mom she portrays. "I'd say Grace is under just a little pressure."

If Finnigan herself sounds stressed, it's only because she's packing to leave Los Angeles for Toronto, where Salvation will be shot. On the one hand, that's thrilling. The series, she says, is "very entertaining and blockbustery, yet it's also grounded and brilliant with witty banter." Plus, it films a few hours by car from Montreal, where Finnigan grew up.

But being in Canada means being away from her husband of 10 years, Jonathan Silverman (the actor perhaps best known for the Weekend at Bernie's movies), and their two adorable dogs. "Jonny and I are used to the [nomadic] actor lifestyle, but we also love being together," says Finnigan, who spent the last three years commuting home from Israel, Turkey, and Hungary, where she shot the FX political thriller Tyrant.

Of course, Finnigan can't exactly bail on her duty to humankind, or at least her character's. "The stakes on Salvation are basically the highest stakes you can possibly imagine," she says. "These characters are battling insane odds. Me? I get to fly back to L.A. when we're done."

So are you a huge fan of the action-disaster genre?

What's funny is, no, I never was. I mean, sure, Armageddon with Ben Affleck and that Aerosmith song? Hell, yeah! But that's about it. This show is such an utter change for me. And I love that Salvation is about not just the end of the world. It's about relationships and politics and confronting really big questions. I mean, how far do you go to protect your loved ones, to protect the planet? Can you keep secrets from family if it means saving millions of lives? For Grace, it's a real test as a mom, but it also tests the boundaries of loyalty to her job.

Who can blame her? The sky is literally falling and she can't tell her nearest and dearest, right?

Put it this way: Grace takes her service to her country very seriously. She's definitely a rule follower.

Would you describe yourself that way?

Oh, Jesus, no. I always like to test limits. I'm a fan of constantly experiencing new and exciting things. There's not a lot I haven't done or that I've turned down because of fear or whatever. I'm an experience junkie.

Skydiving?

Yep.

Bungee jumping?

Absolutely.

Uh, horses on the beach?

Yes, yes. Fast cars. Swimming with pods of dolphins really far out. Seeing the Northern Lights. I try to make the most of every day.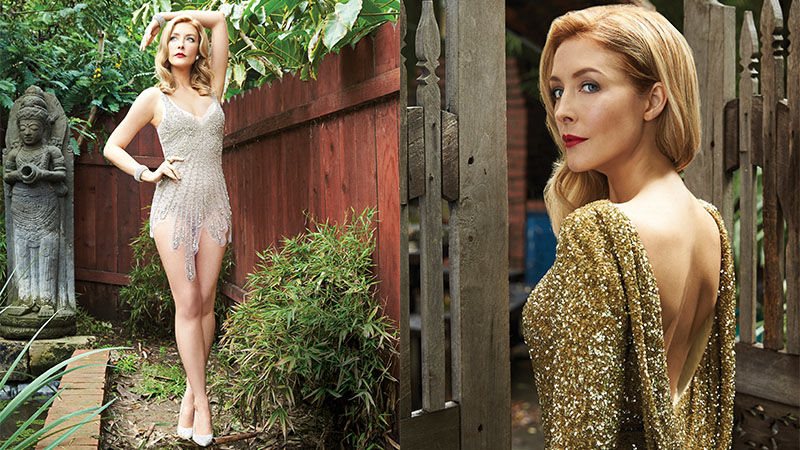 You're certainly a mega-achiever at work. At the start of your acting career, as Bridget Forrester on The Bold and the Beautiful, you won three Daytime Emmys. What's your soapiest memory of daytime TV?

Well, there's no doubt about that one. It's when I—well, Bridget—found out that the man who used to be my father was actually my brother, but then I later discovered that he wasn't my brother either. In fact, we weren't even related, which, naturally, meant that overnight we developed an attraction for each other. I would say that was my quintessential soap moment.

And fans still recognize you for that role?

Weekly and all over the world. The reach is incredible!

What made you get into acting in the first place?

Well, I modeled when I was a kid, but I hated it. It was so embarrassing, and I was terribly shy and awkward. I've told my managers to take it off my résumé.

Come on, what was your goofiest gig?

Don't make me tell you! [Groans.] OK, it was modeling for the boys' section in the Sears catalog. I was in all the boy outfits!

No way! How old were you?

Probably 4. I mean, I was a cute kid and probably looked like a pretty little boy, but I had this very strange mullet thing going on at that age. I was a tomboy, and a big part of me still is.

You certainly look glamorous in the photos for this article.

Seeing myself decked out in these beautiful gowns definitely feels very womanly, and I loved the old-Hollywood magic of it all. But it's not my everyday style. There are certain actresses who exude sexuality and sensuality, but I never related to that.

Who were your fashion role models?

Michael Jackson, definitely. I had posters of him on my wall. I was always really into Diane Keaton's Annie Hall look. I still kind of dress like that. Blazers and hats and pants, vests and ties—that kind of thing. I just love that. I guess anything that channels a little bit of masculinity can be really sexy on a woman. Katharine Hepburn is my ultimate in many ways. She was brassy and funny and brave as an actress. You see the glamour and beauty, but it comes from a place of strength.

I remember as a kid being really struck by that. I loved how she was unafraid to be ballsy, and I thought her intelligence seeped through her pores. It's the same reason I love female comics who are super brave. I mean, I'm obsessed with Carol Burnett, Mary Tyler Moore, Lucille Ball. They are all women to emulate.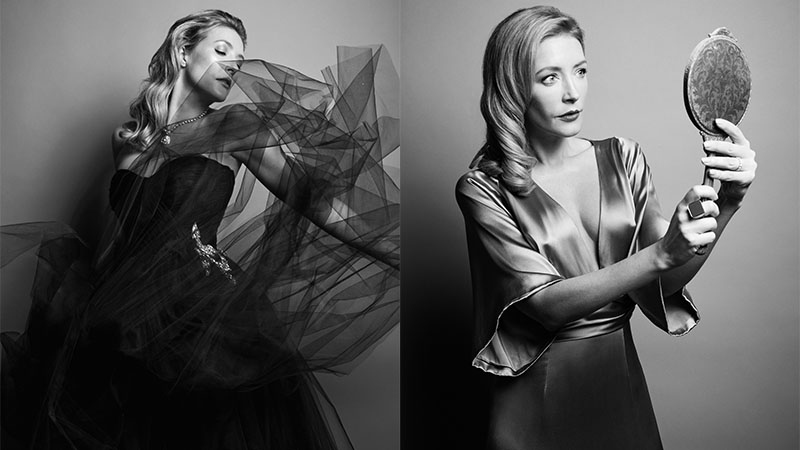 You've bounced between drama and comedy in your roles. Which do you prefer?

I love doing both. Normally my M.O. is to go from, like, a thriller to a sitcom. But I went from Tyrant, which was an intense drama, to Salvation, another pretty intense drama, so that's unusual. The truth is, I never really have a plan. I just want to have a long and respected career and make good choices about what I work on. Either way, I get to laugh every day with my husband.

He made one of the funniest movies ever. Do you sometimes watch Weekend at Bernie's together?

Well, I do. It still makes me laugh my ass off because it still works. I love that movie. But the minute it comes on, Jonny is out the door. I'm, like, "No! Come back! It's hilarious!"

Last question: let's say an asteroid really was heading our way and we had only six months left. Anything you'd want to get done in your life?

I've been thinking about it, actually. Maybe an African safari with Jonny. Or we'd go see the mountains of Peru. But, you know, I'd probably just want to curl up on the couch. We have our two dogs—Billie Holiday, the snorkie puppy, and Saucisse, our cranky old wiener dog. They keep each other happy and they keep us happy, and, seriously, what could be better than that?

By David Hochman | Originally published in Watch! Magazine, June 2017

Photography by David Needleman. Styled by Sean Knight.

See more stunning photos of Jennifer Finnigan in her fab photo shoot for Watch! Magazine.

Watch the series premiere of Salvation Wednesday, July 12 at 9/8c on CBS and CBS All Access.