Years ago, if you had asked Alex Wagner, "What do you want to be when you grow up?" her response would have been the same: a journalist. "I've had journalism in my blood as long as I've been alive," says the new co-host of CBS This Morning: Saturday. "When I was 3 or 4, we went to the National Air and Space Museum. Walter Cronkite was narrating a show, and I had to be taken out of the theater because I was screaming, 'It's Walter Cronkite!'"

Before joining CBS, Wagner edited the music magazine The Fader, served as executive director of George Clooney's humanitarian nonprofit and hosted MSNBC's Now with Alex Wagner. "It's a real honor to work at CBS, which is the home for integrity in the news business," says the anchor, who lives in New York with her husband, Sam Kass, former White House chef for the Obama family. Here, she discusses TV, travel, and the performer she'd drop everything to see.

What stories do you want to tell on Saturday morning?

CBS takes television seriously. That doesn't mean you can't have fun, hilarious stories in the mix. But there's a high standard for what qualifies as news. When I was guest-hosting the other day during the week, the morning newscast began with Aleppo. On Saturday we also have food and film—it's more of a newsmagazine show, not a newspaper.

You're half Burmese, and you've traveled to Burma many times. What was that like?

I first visited in 2007, right after the Saffron Revolution, when thousands of monks took to the streets to protest the military junta. My mother hadn't been since 1965. To think about life as a garden of forking paths, I could have been born there and my life would have been totally different.

I also went with Not On Our Watch. We were supporting people on the ground, including undercover video journalists responsible for smuggling out footage. The sacrifices these people were making for the freedoms we have, the freedom of speech and press—it makes you understand the responsibility you have as a journalist.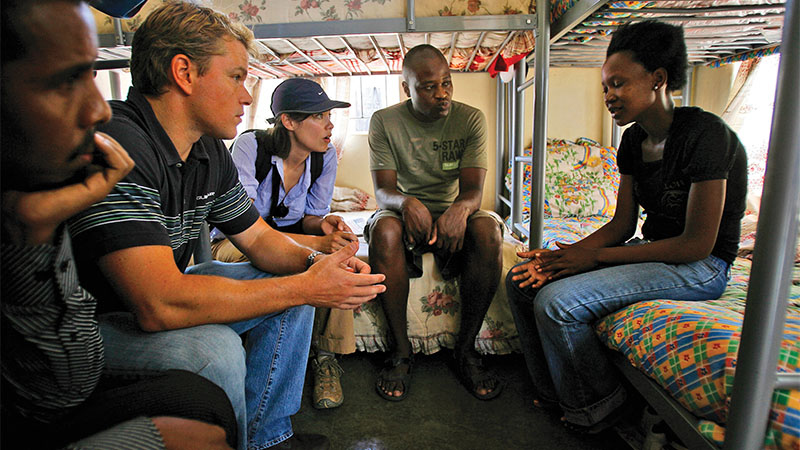 While working with George Clooney's nonprofit, Not On Our Watch, Wagner (now co-host of CBS This Morning: Saturday) traveled with Matt Damon (above) to South Africa to help raise awareness about Zimbabwean refugees like Sharon Ruzvid (above, far right).

What restaurants do you love?

Sam and I are fiends for dim sum. Our favorite place is Nom Wah Tea Parlor in Chinatown. They serve until 9 p.m., so we'll even go for night dumplings. We're also big fans of Andrew Tarlow's restaurants, like Diner and Marlow & Sons.

What are you reading and watching now?

I wrote a piece for The Atlantic [Wagner is a contributing editor there] on movie-making and interviewed screenwriter Graham Moore. He has a great book called The Last Days of Night, a fictionalized account of the war between Thomas Edison and George Westinghouse to secure the first lightbulb patent. I loved The Crown. And I am a huge fan of Homeland. It's one of the most prescient shows on television.

Who is the one performer you'd drop it all to see?

Beyoncé. Vampire Weekend is great, but Beyoncé? You need to experience that show.

By Sam Jenkins | Originally published in Watch! Magazine, June 2017.

Photo Credits: Eric Ray Davidson/Trunk Archive (Wagner); Jerome Delay (Not On Our Watch).

CBS This Morning: Saturday airs Saturdays at 9 a.m. ET/PT on CBS.