Crazy Ex-Girlfriend's Choreographer Kathryn Burns Has All The Right Moves
This Emmy-winning choreographer brings the best dance parties to The CW's Crazy Ex set.
When
Kathryn Burns
was growing up in Texas, she loved to watch her older sister dance. "I'm the youngest of four," she says. "I wanted to be a part of everything my siblings were doing. Then I would do a show and make them watch. They'd be like,
okaaaay
."
Now, as the Emmy-winning choreographer of
The CW
's hit series
Crazy Ex-Girlfriend
, Burns has a much larger and certainly more enthusiastic audience. She's choreographed
Crazy Ex
star
Rachel Bloom
and the rest of the cast in numbers referencing everything from "Diamonds Are a Girl's Best Friend" to
Flashdance
.
Burns got her professional start with the legendary comedy troupe Upright Citizens Brigade and has worked on shows such as
2 Broke Girls
,
Key & Peele
and
Wet Hot American Summer
.
Watch!
caught her in between pirouettes for a chat about her
Crazy
choreography.
Rachel Bloom has said, "I can't believe someone is letting us do this show." Did you have similar thoughts?
It's my dream job! My kid self would be so excited but would have said, "That's impossible! That doesn't exist!"
So you always knew this is what you wanted to do?
I took my first dance class at 5 and never stopped. I watched "Mickey Mousekersize" and did something called Get in Shape Girl. It was a workout for little girls that came with a pink boom box, a pink ribbon, and a diagram of moves. I also did improv, musical theater, and the drill and dance team—and I played soccer. I was that overeager kid who had three entries for the talent show.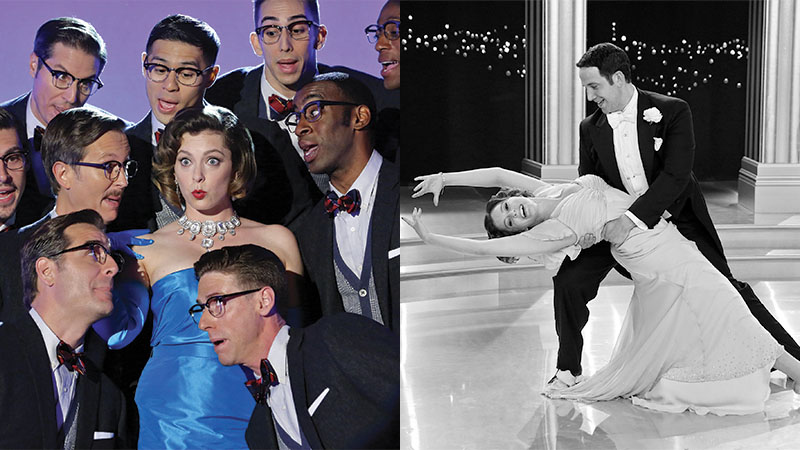 Burns' spoofs of "Diamonds Are a Girl's Best Friend" and "Settle for Me," a Fred-and-Ginger-inspired dance number.
Did you have a favorite musical back then?
I vividly remember going to Blockbuster and renting a
Shirley Temple
movie. My dad saw that I liked it, and every day for a few weeks, we'd rent another musical. I loved
Grease
but didn't realize how sexual it was until one day I was watching it and thought,
How am I getting away with watching this?
Speaking of which, you and the cast are not averse to some pretty risqué numbers.
You can get away with anything dirty if it's in the form of a song. If people are dancing and singing, no one cares.
You must have an intense rehearsal schedule.
Our production is so minimal, we barely rehearse! I don't mean this to sound stalker-y, but I've been studying Rachel for so long that I know how her body moves and what choreography she can grab on to.
With the success of Crazy Ex and movies like La La Land, musicals are definitely having a moment.
It's amazing. But TV and film choreographers have no health care or benefits; you can't even get nominated for an Oscar. Broadway and Vegas have a guild that gives protection and residuals; that's why everyone goes there. It would be great to keep the talent in television. It's the golden age for TV right now.
By Rachel Clarke | Originally published in
Watch!
Magazine, June 2017.
Photo Credits: Robyn Von Swank (Burns); Robert Voets/The CW ("Diamonds Are a Girl's Best Friend"); Greg Gayne/The CW ("Settle for Me").
Stream
Crazy Ex-Girlfriend
now and look for Season 3 this fall on
The CW
.