Getting To Know Kellie Martin
The Guest Book star on her latest TV gig and special things that will always warm her heart.
Watch!
got a closer look at TBS's quirky new comedy
The Guest Book
and chatted with leading lady
Kellie Martin
in this exclusive interview. You might remember Martin from her TV roles as the heartwarming Becca Thatcher on
Life Goes On,
as the third year resident Lucy Knight from
ER,
or Army Captain Nicole Galassini on
Army Wives
—but her new role of Officer Kimberly Leahy is something unlike anything you've ever seen her do. Here's a peek at the new show and what this all-American star has been up to.
What can we expect on The Guest Book?
I think the takeaway is
The Guest Book
is incredibly unexpected in every way. I know when I was reading the script I was surprised with every page turn. It's kind of an anthology and it really pushed the envelope, it's a risk taking show and it's just a lot of fun. Unlike anything I've ever worked on, so I think it's just completely unexpected.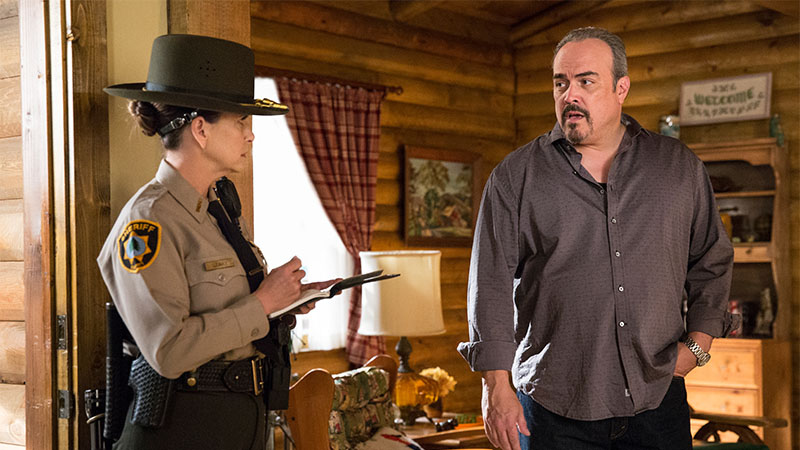 Kellie Martin and
The Guest Book
guest star David Zayas on set.
What role does your character, Officer Kimberly part play?
My character, Officer Kimberly Leahy, is a person who lives in the town and she "keeps the peace," she's called in when things get a little crazy. When the police need to be called, Kimberly shows up. The funny thing is, she is a bit oblivious sometimes to the actual crimes that are happening. She's very focused on her job and takes herself
very
seriously except when she's around Garret Dillahunt's character Dr. Andrew Brown. She kind of turns into a pile of mush, because she has a huge crush on him.
What is your favorite characteristic about your role in The Guest Book?
I love how earnest she is, she's really very open hearted. I mean, that's truly the first word that comes to mind with her. She's earnest in her approach to law enforcement and she's earnest in her approach to Andrew and following her heart.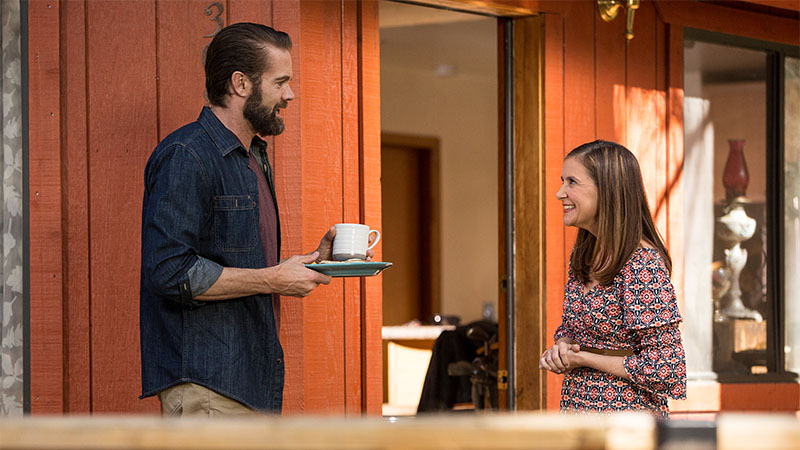 The Guest Book
episodic moment with Garret Dillahunt and Kellie Martin.
You've been acting since you were young. What would you say has been the most memorable part of your career thus far?
I think the one that is dearest to my heart is Becca Thatcher on
Life Goes On
. I started that when I was twelve, and worked on it until I was seventeen; it was such an important time in my life. [
Life Goes On
was so] groundbreaking as it was, having a character with Down syndrome and then our last two seasons were mostly about the Chad Lowe's character being HIV positive. My character was in love with him, so we really dealt with some hard-hitting things on that show. So I'm proud of the work we did, even though it's been a long time now, it's still very dear to my heart.
When you're not filming for TV shows or movies, what is your favorite thing to do?
Well, I have two kids. So I don't get to do my favorite things as often, because when I have any downtime every second is spent with my family, which is my favorite thing now. I have a 17 month-old and a 10 year-old. I would say, if I had any hobbies, I love photography. I love taking photographs. When I'm in New York, my favorite place on the planet is the Metropolitan Museum of Art. That's kind of my nerdy hobby—museums and taking pictures.
How about vacation spots? Do you have a favorite?
We go to Montana every year—that's where my husband is from—Flathead Lake, Montana, which is one of the most beautiful places I've ever been to in my life. It's amazing that his entire family lives there. There's waterskiing, jet skiing, and kayaking, and it's just really fun. Animals everywhere; we always see a ton of fox or elk, usually a bear, eagles. For the kids, it's a really amazing place to go to for the animals, but also because that is where their dad grew up. We usually stay in the house he grew up in it's pretty special to be able to go back there every year.
Reporting by Sarah Semple | Exclusive to CBS.com.
Photo Credit: TM & © 2016 Turner Entertainment Networks, Inc. A Time Warner Company. All Rights Reserved.
The Guest Book
airs Thursdays at 10:30/9:30c on
TBS
.