Meet Entertainment Tonight's Keltie Knight
Get to know the new correspondent joining Entertainment Tonight in this exclusive interview.
With her impressive pop-culture memory (she can name the bands she watched on
Star Search
as a kid), novel showbiz podcast (on
LadyGang
, she chats with celeb guests
and
fans) and upbeat lifestyle blog (
Day & Knight
— get her
Tony Awards
look now!),
Keltie Knight
could be dubbed the female Chris Hardwick. And now that Knight, already known in Hollywood-happy circles for her reporting and hosting gigs on
The Insider,
has scored a plum correspondent gig on
Entertainment Tonight
, somebody might give the woman an
NCIS
after-show to commandeer.
SEE: Fabulous Photos Of Keltie Knight In Our Exclusive Photo Shoot
Knight, 35, is more than content with her new gig, however.
ET
"is the biggest entertainment news show in the world," she cheers a few weeks before her September 6 debut. "I'm from Sherwood Park in Alberta (Canada), which is not even a city. It's a hamlet. The odds of me coming to Hollywood and making it are one in a gazillion. There are so many smart, talented, charming, beautiful, charismatic women who could do what I do."
Maybe, but not all of them are a former Rockette who has danced in videos alongside Beyoncé and Taylor Swift. Here,
Watch!
uncovers more about the lovely Knight.
How did you get your name Keltie?
Rumor has it (my) dad saw a dog named Keltie on public access TV in Canada. Maybe it actually means
Celtic warrior
. [
Laughs
]
Do you identify with that?
Yeah, I think so! I mean, I've never been handed anything on a silver platter my entire life.
Why the passion for showbiz?
I grew up in a very small town, and my late Aunt Vera took me to see
Cats
when I was in fourth grade. That was my first taste of glitz and glamour and seeing people get to be someone else. From then on, I was obsessed—I
had
to be on Broadway. I moved to New York on a Greyhound bus when I was 18 years old.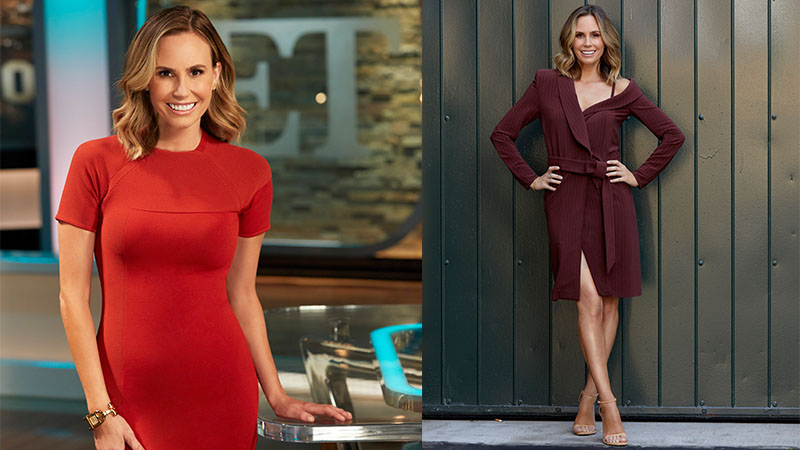 Do you think your first career as a dancer helps you understand the pitfalls of stardom?
Yes! I would go out on 30 to 40 auditions a week and book
one
if I were lucky. I never took it personally. I felt, If it's a "no" right now, I'm going to turn that into a yes, and show you how I did! I've worked with Beyoncé, Fergie, the
Saturday Night Live
cast... all that really gave me a lot of respect for what lives are like on the other side of the lens.
What else has helped you conquer Hollywood?
It's very cliché, but I do think my ability to say
please
and
thank you
has really helped my career. I can't tell you how many times I've gotten an exclusive just because someone's my friend. I really look at the celebrities I'm interviewing as peers or even friends, not like they're animals in a zoo. That understanding goes a long way.
Most amazing celebrity encounter so far?
Ed Sheeran let me come on his world tour last year for
The Insider
. I was the only journalist to get access. He handed me and my crew an artist's pass for the entire day! He said, "Come in the morning, stay as late as you want, watch the show." I
literally
followed him around all day. We had Segways. It was so cool!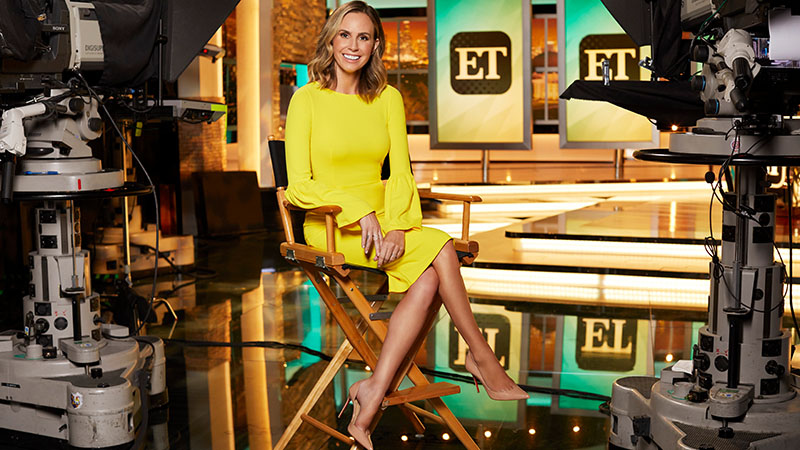 You're married to a music manager (Chris Knight). Can you sing?
If I had any talent in the world, it would be to sing. But I'm terrible — in and out of the shower.
Who are your favorite musicians?
I am all about the female power. I love Rachel Platten, Adele, Alanis Morisette—they aren't the perfect Barbie lip sync pop star. They use their originality to get ahead.
Fave TV show?
I'm obsessed with
Suits
. And I really like
13 Reasons Why
,
Unbreakable Kimmy Schmidt, Brooklyn Nine-Nine, NCIS: Los Angeles.
[The latter's star]
Eric Christian Olsen
is my celebrity crush!
You've developed your own big following, partly for your fashion sense.
It's a Hollywood secret: I can't dress myself. [
Laughs
.] It's all my assistant Elena. I love fashion, but I'll put on like 25 things at once, and she'll be like, "Okay, you're just going to do the pants. You don't need the fedora, the blazer, the broach, the five rings, and the boot up to your thigh." If it were up to me, I'd be wearing Bob Mackie to the Oscars. I love everything that's too much.
What celeb looks do you love?
Siena Miller, Zoe Saldana, the Olsen twins. Of the classics, Bridget Bardot of course. In general, I like the (art) deco look.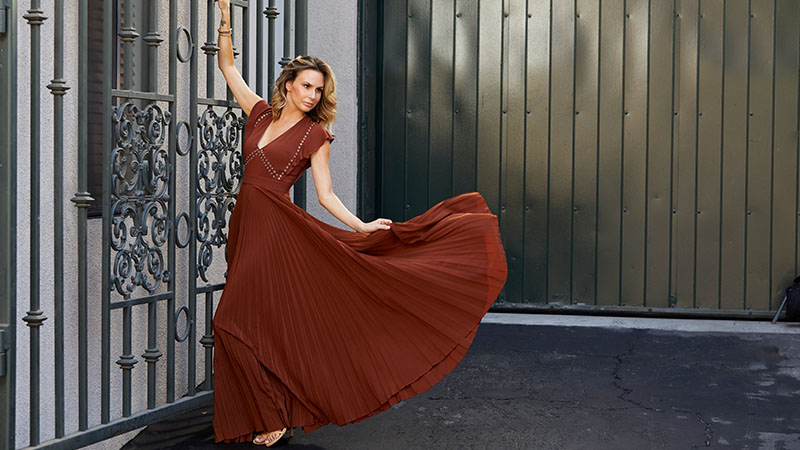 And where's the best place in L.A. to spot those stars?
Probably CATCH by the Pacific Design Center in West Hollywood. Last time I was there I saw Adam Lambert at the table next to me! And honestly some of the nail salons on Melrose. You're like, "Is that Eva Longoria? Yeah, it is!"
And what are you currently doing for entertainment tonight?
Well, right now I am going to my house, packing my bags, getting a red eye to New York because I have a set visit in the morning for the show. I'll be trying to get four hours of sleep, because it's no hotel, no shower, right to the office.
Honey, here we go!
How do you stay grounded amid such a whirlwind?
I have really good people in my life. My parents will check me sometimes — they'll say, "Don't be
that
girl." It's hard. People are bringing you clothes and food and doing your makeup and you're at the Golden Globes! You have to take time to sit back and remember where you came from. And, not to sound cheesy, but I'm really great at what I do because my husband's great at supporting me. He's always saying, "You can do this!" Everyone hears about how tumultuous relationships in Hollywood can be, but I really only started to soar in my career when I met Chris. He's my biggest cheerleader.
By John Griffiths | Photography by Robert Voets | Exclusive to CBS.com.
Watch
Entertainment Tonight
Weeknights. Check local listings for times.