The Venetian and The Palazzo, twin oases on the Vegas Strip bedecked in Italian Renaissance-styled splendor, see guests rubbing elbows with high rollers and celebs like Joaquin Phoenix, Carrie Underwood, and NCIS star Sean Murray.

Watch! spoke with the resorts' director of concierge services, Anna Hersel, for her keys to Sin City. A native Las Vegan with deep roots in the world of casinos and fine dining, Hersel has had the privilege of watching this city reinvent itself time and time again, and she has vivid memories of gourmet meals at La Vie en Rose at the Desert Inn and shows like Siegfried & Roy. Here, Hersel shares her favorite diversions and delights in Vegas.

STREAM: Full Episodes Of NCIS On CBS All Access

Wine and Dine
Bring your appetite! When you're surrounded by some of the top restaurants in the country, it's hard to pick one, and with more than 40 eateries at The Venetian and The Palazzo alone, you don't even have to leave the resort. You can't go wrong with the asparagus pizza at Mario Batali's famed Otto, which treats summer guests to a seasonal lemon-zest-garnished pizza that Hersel dreams of all year long.

Need a pick-me-up? Stroll over to Bouchon for French pastries and coffee al fresco or sneak out to Lagasse's Stadium for Emeril's take on a classic sports bar—where the New Orleans BBQ shrimp or a warm Bavarian pretzel will satisfy cravings. Don't forget the drinks: The Venetian's newest cocktail lounge, The Dorsey, shakes up handcrafted cocktails like the East Side Rickey and the Midnight Stinger.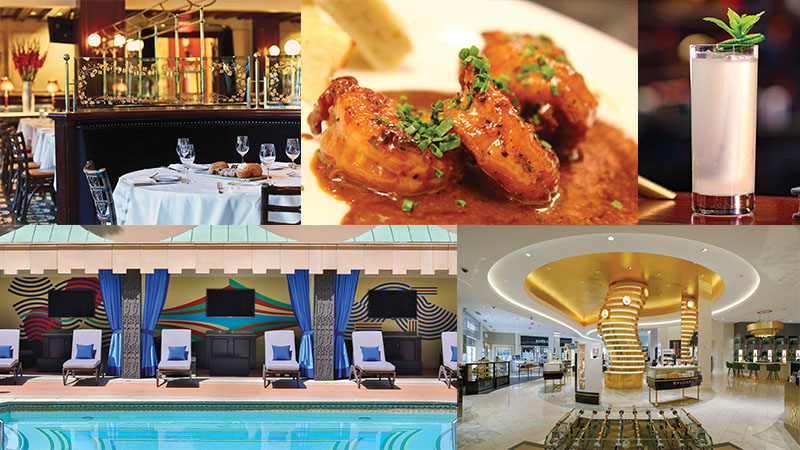 Dip Your Toes
For some poolside relaxation, Hersel favors The Aquatic Club at The Palazzo, which mixes the privacy and comfort of a classic swim club with new experiences every day: throwback pool cocktails, boozy artisanal ice-pops, and a mischievous range of music.

Say Cheese
The resort sets the scene for eager shutterbugs hoping to get that perfect Insta shot. The Venetian and The Palazzo center around a faithful reproduction of Venice's Grand Canal, complete with a production of the famed Rialto Bridge, and authentic gondola rides. A short walk away, the Waterfall Atrium hosts the celebrated artist Laura Kimpton's 12-by-35-foot LOVE sculpture.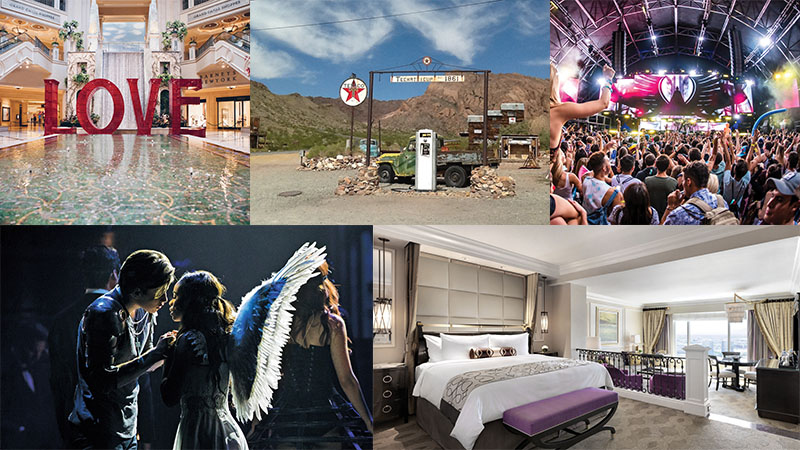 In the Bag
The Venetian and The Palazzo are a shopper's paradise. Surrounding the Grand Canal are over 160 signature shops, anchored by an 85,000-square-foot Barneys New York. For unique souvenirs, Hersel recommends strolling off-campus to the Gamblers General Store on South Main Street, which offers personalized gaming chips and other gaming-related products.

See the Sights
Most guests look to Red Rock Canyon or the Hoover Dam, but Hersel favors Detours of the West, whose half-day guided tours delve into the history of local sites. Venture like the prospectors of the 19th century into Techatticup Mine, the area's richest and oldest gold mine, then explore Eldorado Canyon, a picturesque site that's literally right out of the movies—films like 3000 Miles to Graceland were created there.

Local Flavor
Not all of Vegas is built for visitors. Residents enjoy events like First Friday, a celebration of local culture that takes over downtown each month, centered around a procession of Las Vegas creators called the Art Walk. Hersel's favorite event is the annual Life Is Beautiful fall festival, which blends music, art, ideas, and comedy over three days.

Song and Dance
No trip to Sin City is complete without a show, and BAZ—Star Crossed Love is a must-see. Inspired by Romeo + Juliet, Moulin Rouge, and The Great Gatsby, BAZ blends the world's most iconic love stories as imagined by famed director Baz Luhrmann.

Rest Your Head
After a long day exploring, Hersel's favorite spot to curl up is right at home in one of the standard suites at The Venetian or The Palazzo, which are so large and luxurious (650 square feet! A step-down living room! An all-marble bath!) that guests often think they've been upgraded by mistake. Stay here and you're guaranteed to live the suite life.

By Simon Diamond Cramer | Originally published in Watch! Magazine, July-August 2017.

Photo Credits: Courtesy of Life Is Beautiful (Festival); Courtesy Detours of the West (Mine); Thomas Hart Shelby (Suite).

Stream NCIS on CBS All Access and stay tuned for the premiere of Season 15 on Tuesday, Sept. 26 at 8/7c on CBS.