Say hello to my little dress. This season, a bevy of designers seemed to take their cues from the look of Brian De Palma's 1983 splatterfest Scarface. Not Tony Montana's hilarious spread-collar, tropical-print shirts, but the "classy" clothes of his trophy wife, Elvira Hancock, played with icy indifference by Michelle Pfeiffer.

The look in question features bias-cut numbers with a deep V that plunges down, down, down—all the way to Havana. Because the style is usually paired with a backless profile and silken fabric, a flash of side boob is a distinct possibility.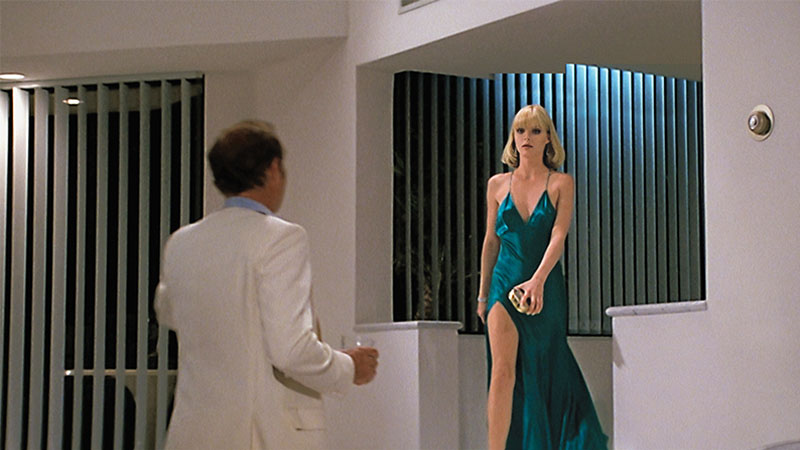 Michelle Pfeiffer as Elvira Hancock in 1983's Scarface embodies the epoch of hedonistic chic.

All the fashion in the movie was the work of renowned costumer and production designer Patricia Norris. (A frequent collaborator with David Lynch, she also created the groundbreaking look of Twin Peaks, which is currently enjoying a revival on Showtime.) Norris took her inspiration from the disco couture of the late 1970s, with its Halston-clad international party girls—think Bianca Jagger, Marisa Berenson, and Jerry Hall fresh off the Concorde and dancing the night away at Studio 54.

Today's arm candy can look to the runways of Narciso Rodriguez, Balmain, Brandon Maxwell, and Saint Laurent, among many others, for a taste of Pfeiffer's razor-sharp glamour.

By David Denicolo | Originally published in Watch! Magazine, July-August 2017.

Photo Credits: Axelle/Bauer-Griffin/Getty Images (Cuoco); Steve Granitz/Getty Images (Danes); Neilson Barnard/NBCUniversal/Getty Images (Rodriguez); Frazer Harrison/Getty Images (Bell); Kevin Mazur/Getty Images (Theron); Universal Studios Licensing, LLC (Pfeiffer).