You might be a little hard-pressed, walking your way through a crowd of thousands in a cloud of barbecue smoke outside a college football stadium on a Saturday afternoon, to find a history major who could pinpoint the origins of tailgating.

But you don't need a Ph.D. to know why drink, food, friends, school loyalty, and giddy sports anticipation have established tailgating as one of America's greatest social traditions.

"There's so much excitement before a game," says CBS Sports' Allie LaForce, who reports from the sideline during Southeastern Conference games. "You don't want to be sitting by yourself. You want to be sharing that experience with other people."

LaForce should know—she tailgated to rally for her brother when he played for Ohio's Mount Union, whose Purple Raiders are perennially a winning Division III team. She loved playing cornhole (that venerable beanbag-toss game) and tossing the pigskin.

Although tailgating is popular from coast to coast, the Southeastern Conference includes many of the most revered schools in the field, regularly topping Tailgater Magazine's Top 25 list.

The magazine's editor, Lee Hurley, is an expert on the subject, allowing him to wax wise: "We may lose the game, but we never lose the tailgate," he says.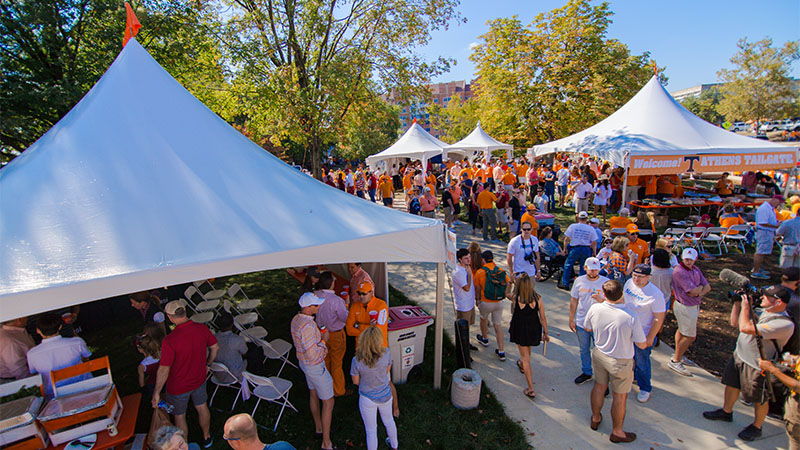 A typical Tennessee Volunteers tailgate party scene.

The key ingredients to a successful tailgate are "funny people, creative people, generous people, pretty people, inventive food, and cold beer," according to Hurley.

(By the way, history buffs: The Civil War is sometimes cited as the origin of tailgating. Americans picnicked while watching the Battle of Bull Run.)

Each SEC school has its own distinct traditions and culinary delights, although most of them sport a "walk," in which the football players march through throngs of their faithful to the stadium.

Ole Miss tailgating takes place in the bucolic Grove, 10 acres of tree-lined loveliness, where revelers dress to the nines and the tents are adorned with chandeliers.

"I'm from the Midwest, where you just wear jeans, a jersey, and a hoodie," LaForce says. "You don't even put on makeup. But down South, the girls' hair is done up and the guys are in khakis."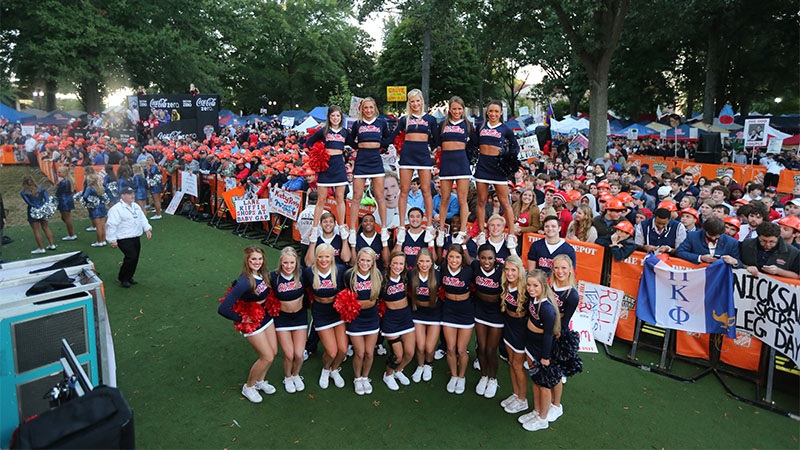 Ole Miss spirit squad get ready to rally in the Grove.

At Auburn, souped-up RVs and as many as 20,000 partiers show up—without going to the game. One of the regulars is Mark Ingram, a contractor who has been tailgating for three decades.

He arrives early to unload the smoker and to start preparations along the "Tiger Walk." He gets goosebumps just talking about it. "As you get older, you realize what matters," he says. "It was those times spent with my dad and my brothers."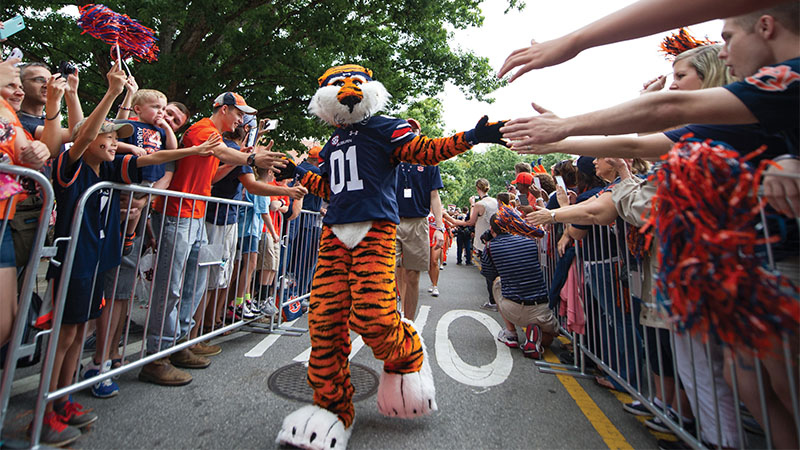 Aubie, mascot for the Auburn Tigers, greets fans at Auburn's ritual Tiger Walk prior to a big game.

Alabama has the benefit of a great winning tradition. "The better a team is, the more excitement that team generates," Hurley says. "Proud fans will spend more, create more, and show up more. Winning gives confidence to invest in tailgating. It ain't cheap."

The Cajun food at the Louisiana State University tailgate is legendary; shrimp, gumbo, and whole pigs abound. And the same goes for that inimitable Louisiana culture. "Love you or hate you, they will feed you and cuss you," Hurley says.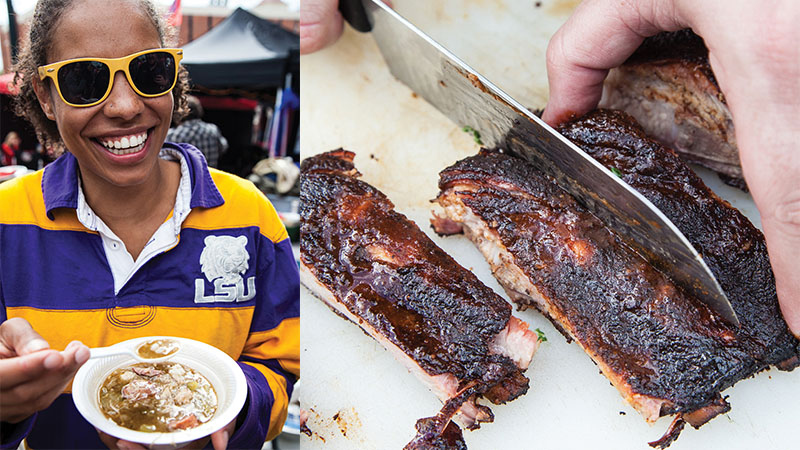 Louisiana State Tigers' tailgate tradition is all about good eats.

Other distinctive school features include South Carolina's so-called Cockabooses. These 22-train cabooses, tricked out by their owners in regalia, sit a football throw away from Williams-Brice Stadium.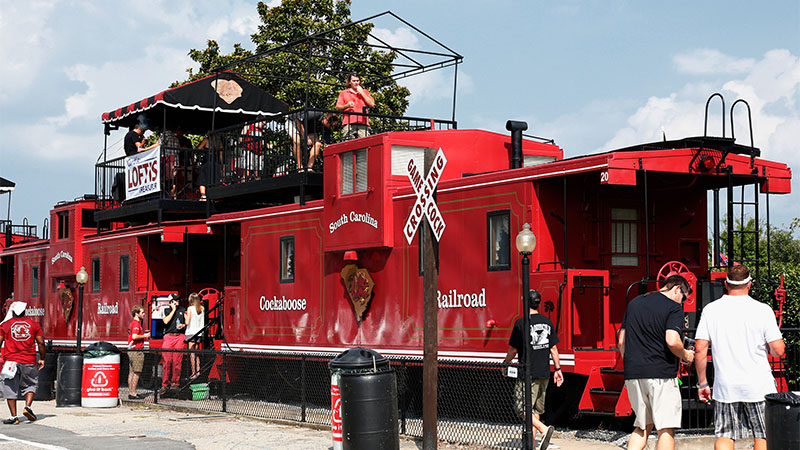 A classic South Carolina Gamecocks Cockaboose Railroad tailgate car.

And, at Tennessee, in addition to the parking lot tailgates, on the nearby Tennessee River there's the "Vol Navy"—about 200 boats that "sailgate" before and after the game.

On shore, Tailgate Tennessee outfits fans with everything they need to party, including chicken wings, ribs, sliders, mac and cheese, and banana pudding.

They also set up some 60 televisions for watching the game. "There's over a mile of coaxial cable," reports the catering company's Drew Rutherford.

Indeed, "CBS is synonymous with SEC football," Hurley says. "The 2:30 [p.m. CT] game is the talk each week, and the schedules rule the tailgates."

Tasty Tailgate Recipe
Make your own tasty tailgate treat at home. These simple roasted Chile-Lime Peanuts from our friends at Chowhound are a crowd favorite.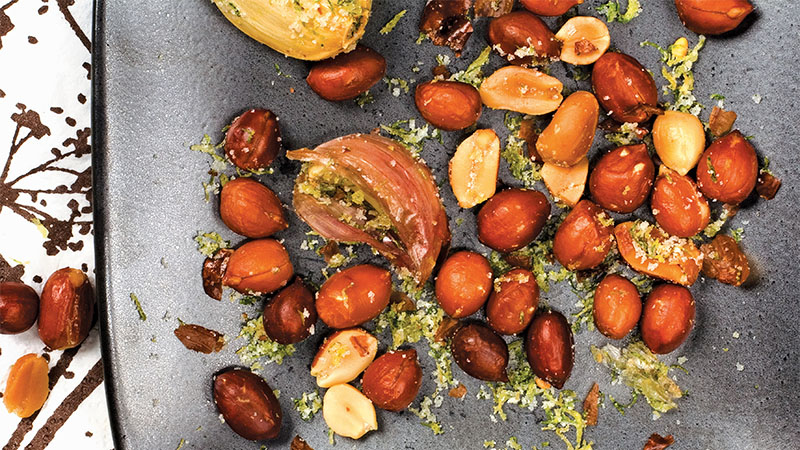 Game plan: Save time and make a batch in advance.

Once roasted, these spicy peanuts will store in a covered container for up to a week.

Makes 10 to 15 servings as a snack (2 lbs).

By Tom Roston | Originally published in Watch! Magazine, September-October 2017.

Photo Credits: Courtesy of CBS Sports (LaForce); TailgateTennessee.com (Tennessee Volunteers); Courtesy Ole Miss Athletics (Ole Miss); Michael Chang/Getty Images (Auburn Tiger Mascot); Cedric Angeles/INTERSECTION PHOTOS (LSU Tailgater and Ribs); Joe Robbins/Getty Images (South Carolina); Christopher Rochelle/Courtesy Chowhound (Peanuts).

Watch SEC football on CBS and CBS All Access. Check local listings for times and availability.