The shoulder pads are back. So are the sequins, furs, and metallic fabrics. When the highly anticipated Dynasty reboot premieres on The CW, expect to see some sartorial tributes to the original primetime soap, which was known for its outrageous clothes as well as its catfights.

"There's lots of homage," promises costume designer Meredith Markworth-Pollack. "We're definitely acknowledging the elephant in the room, which is this iconic moment in '80s fashion that Dynasty created."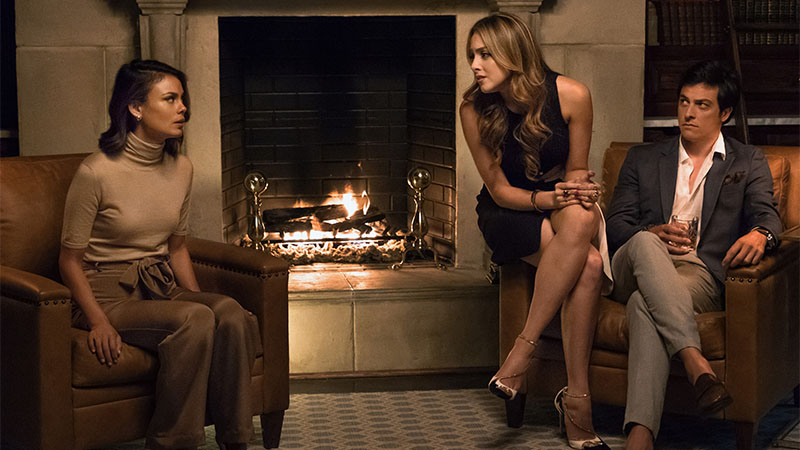 Nathalie Kelley as Cristal, Elizabeth Gillies as Fallon, and James Mackay as Steven.

But this updated take on the wealthy, feuding Carrington and Colby families is no carbon copy of the fan favorite, which ran from 1981 to 1989.

Though Markworth-Pollack (previous credits include Gossip Girl and Reign) has been working her way through old Dynasty episodes for reference, "I'm not trying to recreate anything. I'm not trying to outdo anything," she says. "This story and this version stand alone."

For starters, The CW's take is set in present-day Atlanta (as opposed to 1980's Denver). The fashion reflects that. "It's obvious as soon as we start the show that it's contemporary," she says.

It just so happens that '80s fashion is having a "rebirth," she says, with designers such as Marc Jacobs, Balmain, and Alexandre Vauthier exploring the shapes, silhouettes, and styles of the Reagan era. Markworth-Pollack has been raiding the runway for their looks to use on the show: "They blend effortlessly," she says.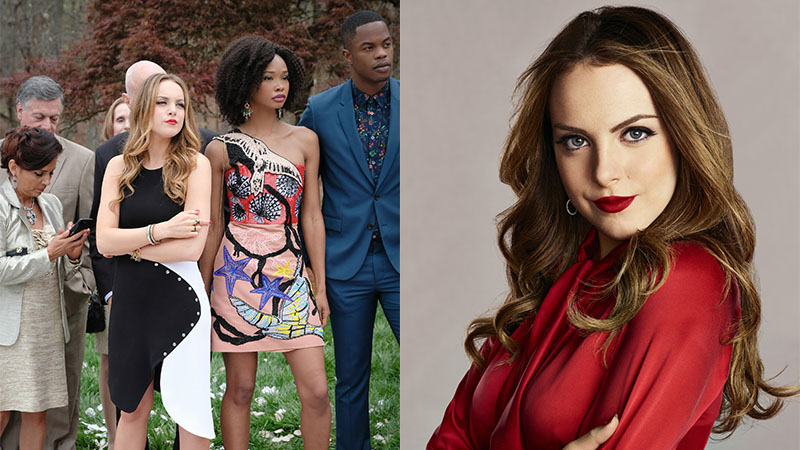 Elizabeth Gillies as Fallon, Wakeema Hollis as Monica and Sam Adegoke as Jeff. Bright bold looks match the equally brazen character Fallon.

Those carefully chosen clothes help define the characters' worlds. Ambitious Carrington daughter Fallon (Elizabeth Gillies), who's "loud, bold and unafraid," according to Markworth-Pollack, has strong palette of gem tones, blacks and reds that reflect her personality.

Her closet is filled with Yves Saint Lauren, Roland Mouret, and Thierry Mugler. "Power-dressing," notes the costume designer, was a theme of the original, and she vows to carry on that tradition: "I wanted to make sure Fallon was dressing for herself and the moment."

Fallon's stepmother—and rival—Cristal (Nathalie Kelley) "is a little more refined," notes Markworth-Pollack. "Her palette is softer, more feminine."

Played in the original by Linda Evans, Cristal now hails from Venezuela (the spelling of her name was changed from Krystle to reflect that), which informs her wardrobe choices.

"We felt that Cristal being Latina and in this position of having money to spend, she would be supporting Latin designers," says Markworth-Pollack, who dresses her in Juan Carlos Obando.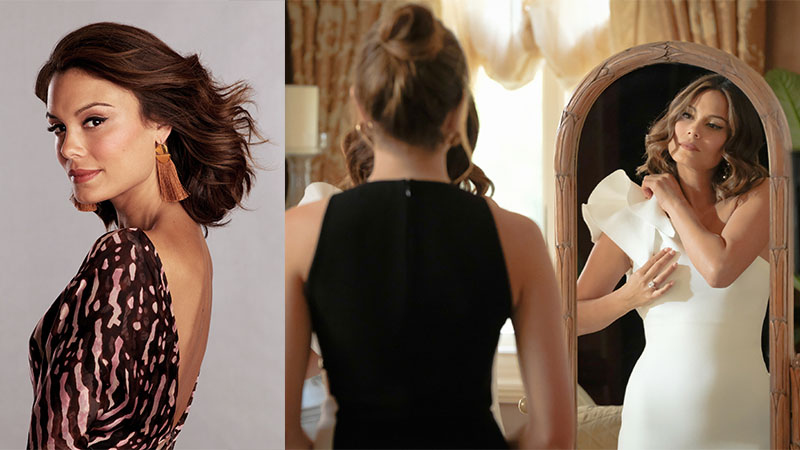 Nathalie Kelley as Cristal shines in soft animal print. Contemporary designer gowns on Dynasty nod to haute rebirth of '80s fashion.

Another label the ladies will wear: Nolan Miller. The original Dynasty costume designer custom made many of the gowns Evans, Joan Collins, and other stars wore on the series.

Markworth-Pollack says she pulled some of the late genius's creations for an upcoming episode featuring—yes!—an '80s themed gala. "Someone with a keen eye," she teases, "will be able to spot them."

By Eric Andersson | Exclusive to CBS.com | Photos courtesy of The CW.

Watch the premiere of Dynasty on Wednesday, October 11, at 9:00/8:00c on The CW.