CCH Pounder's NOLA
The NCIS: New Orleans star shows Watch! around town.
One of the best parts of playing coroner Dr. Loretta Wade on
NCIS: New Orleans
? According to
CCH Pounder
, it's getting to film in the Big Easy. "I've had the privilege of shooting all over—Los Angeles, Vancouver, Toronto, the South, the Caribbean," she says. "New Orleans is unique."
Her ideal day in the city: "Early wake-up and walk in Audubon Park with no time constraints. Then a murder scene shot in a fabulous location like Oak Alley Plantation, the Whitney Plantation, or the courtyard of a French Quarter maisonette," she says.
Unfortunately, that last part isn't an option for most of us, so we asked Pounder to share some of her other favorite things to do in NOLA.
STREAM: Full Episodes Of NCIS: New Orleans On CBS All Access
DRINK UP
If my friend Frankie Roman doesn't make a mean mojito for me on Friday night—don't ask, 'cause you have to be invited!—I'll get cocktails at
Restaurant Rebirth
, and a great meal.
Another neighborhood spot is
Bullet's Sports Bar
. Kermit Ruffins holds court Thursday nights, and you never know what musician will drop in and join the band.
EAT LIKE A FOODIE
When I'm naughty, I'll go to
Lil' Dizzy's Café
in Tremé for some fried chicken and warm high-five welcomes.
If I'm patient,
Atchafalaya
has a good brunch, and
Patois
is off the chain with great food, history, and stories, thanks to owner Leon Touzet.
For seafood, it's
Pêche
on Magazine Street—I'm addicted. It's always crowded, but they will try to not disappoint and fit you in somewhere.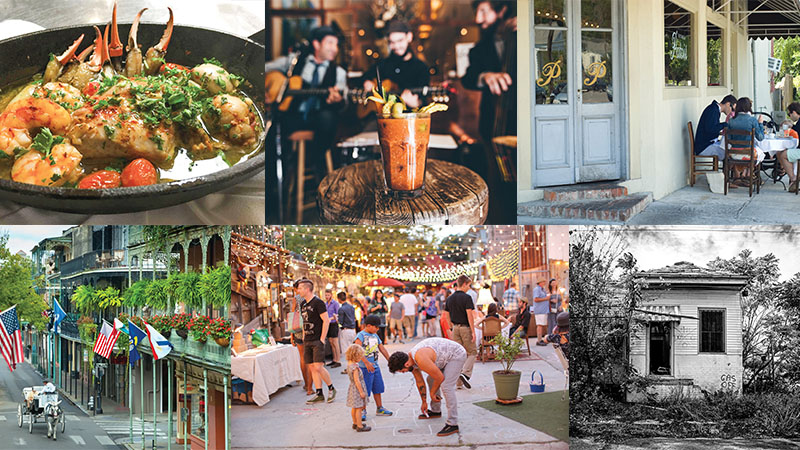 DROP SOME CASH
Go shopping on
Royal Street
in the French Quarter or
Magazine Street
in the Garden District.
Everything else you can pretty much find in your hometown, so hang with the artisanal stuff. Late strollers will enjoy the nighttime
Frenchmen Art Market
on Frenchmen Street.
STAY COOL
Windsor Court Hotel
is where I stayed and where I would recommend for its elegant, relaxed service. I'm here to work, so I don't need the thrill of a garrulous bar or an overflowing dining room. The rooms are comfortable, the service divine.
SUBSCRIBE: For More Fascinating Interviews With Your Favorite Stars, Subscribe To Watch!
TAKE THIS INSTA-MUST
New Orleans is about people! So stand in the middle of
Frenchmen Street
on any given night and take a picture of the endless stream of folks pouring in and out of all the music venues there.
DISCOVER THESE DELIGHTS
To see a second line [revelers who trail behind the "main line" of official parade participants] by chance, watch the riverboat
Creole Queen
pull away from the docks with her calliope playing. Or join a parade.
Mardi Gras time you'll get beads thrown at you, but the real parade treasures to catch are the coconuts from the Zulus, the shoes from the Muses, and the bull from Rex. Should you see an impromptu parade of the Mardi Gras Indians, you'll kick yourself if you don't have your camera.
MAKE TIME FOR THIS
A visit to the
9th Ward
should be a requirement post-Katrina. I know you are coming for the booze, the imagined freedoms, the parties. But it's important to appreciate the survival instinct that New Orleans has.
And I did not have to choose the 9th Ward; you can go Uptown, Mid-City, the Central Business District, or the Arts District, and you'll become aware of abandoned buildings. Churches falling apart.
Schools in need of everything, including students. It should make you spend your money happily with small businesses and artisans, knowing that you're contributing to the ongoing recovery of this unique corner of the earth.
By Yolanda Crous | Originally published in
Watch!
Magazine, September-October 2017.
Photo Credits: Christine Rings (Pounder); Gary Hovland (Illustration); John Coletti/Getty Images (Royal Street); tyalexanderphotography/Getty Images (9th Ward).
Watch all-new episodes of
NCIS: New Orleans
on Tuesdays at 10/9c on CBS and
CBS All Access
.