Renée Felice Smith's Long Island
The NCIS: Los Angeles star is in a New York state of mind.
It's been seven seasons since
Renée Felice Smith
debuted as fan favorite Nell Jones on CBS's hit drama series
NCIS: Los Angeles
. But no matter how much time she spends in La-La Land, she'll always be a Long Islander at heart.
"I was born in a snowstorm, and I miss the cold weather. I'm a coat, scarf, hat girl. When I try to do that in L.A., it's just... sweaty," she says. Smith grew up in Patchogue, on the south shore, so she has strong roots and even stronger opinions about the best spots to hit up the next time you're in her New York neighborhood.
STREAM: Full Episodes Of NCIS: Los Angeles on CBS All Access
SEE THE SIGHTS
Take a ferry to
Fire Island
. Choose between Ocean Beach, Cherry Grove, Sunken Forest, or my personal fave, Davis Park. Do absolutely nothing but watch the waves and get a slight burn.
Or listen to Billy Joel's entire catalog as you drive out to Montauk. Fun fact: Billy Joel is from Long Island and went to high school with the dad of one of my best friends.
See a concert at
Jones Beach amphitheater
. I saw my first concert there! New Kids on the Block in 1990. Oh yeah!
STAY COOL
In Montauk, go to
Ruschmeyer's
—from the hip hotel rooms to the killer brunch in the restaurant to the Ping-Pong tables in the courtyard, it will make you want to never leave.
In Stony Brook, stay at the
Three Village Inn
, originally built in 1751. The white clapboard buildings will have you feeling tucked away, like in a storybook.
The tavern on the grounds is open late-night as well. My dearest friends were married there and we all stayed in the cottages on the grounds.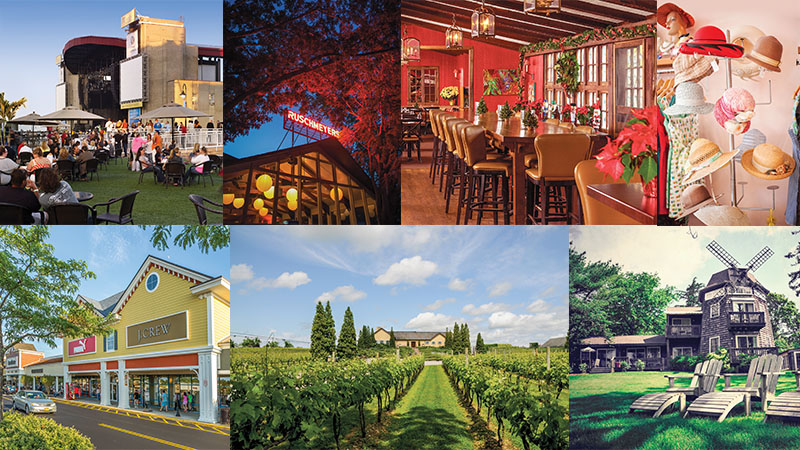 DROP SOME CASH
I'm the self-proclaimed queen of vintage dresses. My fave spot is
Paper Doll Vintage Boutique
on Main Street in Sayville. Well curated, well priced with unique, one-of-a- kind pieces—shoes, hats, pins, they've got it all.
And
Tanger Outlets
in Riverhead was always my first stop for back-to-school shopping. For a souvenir, pick up a bottle of pinot noir from
Wölffer Estate Vineyard
in addition to some rocks from the shore. I love to use them as paperweights or door stoppers!
VISIT THIS INSTA-MUST
Montauk Lighthouse
is located on the easternmost point of Long Island and was built in 1796. It looks like something out of a Walt Whitman poem. Go there. Trust.
HIT THE TOWN
I like wine, specifically red, and
Wölffer Estate Vineyard
delivers in a gorgeous setting. For a fun night, check out
Dublin Deck
in Patchogue.
It has a tiki bar, beach volleyball courts, a dance floor, and live music most nights, including one of my fave Long Island acts, That 70's Band.
EAT LIKE A FOODIE
Breakfast at the
Hampton Maid
hotel on Montauk Highway in Hampton Bays is a local tradition. It feels like you're on the grounds of an adult summer camp. I always go for the Hampton Maid breakfast platter—a little bit of everything, 'cause why not?
My lunch pick is
Painters' Restaurant
in Brookhaven. The decor is super eclectic with tons of local art, and they let you draw on the butcher-paper tablecloths. Get a burger—specifically, the Georgia O'Keeffe.
My dinner pick is
The Oar Steak and Seafood Grill
on the Patchogue River. Go for sunset. It's overlooking a peaceful marina with the best French onion soup around. The bloody mary is not to be missed.
By Yolanda Crous | Originally published in
Watch!
Magazine, November-December 2017.
Photo Credits: Paul Archuleta/Getty Images (Smith); Gary Hovland (Illustration); Courtesy of Ruschmeyer's; Shannon Schaper/Courtesy Paper Doll Vintage (Hat Rack); Jason Tinacci/Courtesy Wolffer Estate (Wine); Studio Three Dots/Getty Images (Bloody Mary); E. Rogers/NPS Photo (Boardwalk); Andy Hyatt/Courtesy Live Nation (Amphitheater).
Watch all-new episodes of
NCIS: Los Angeles
on Sundays at 9/8c on CBS and
CBS All Access
.