The Price Is Right Hosts With The Mosts
Bob Barker and Drew Carey dish on their dream jobs.
Celebrity Interviews | Brought to you by
Watch
By Jessica Shaw
The world is divided into two types of people: those who relish the word
plinko
and all that it implies, and those to whom the word means nothing. Not that we know any of the latter.
Ever since Bob Barker first walked onto stage 33 at CBS Television City in Hollywood and welcomed audiences to the game show,
The Price Is Right
has entertained millions of fans who find no guilt in their pleasure of watching people scream out guesses about how much something costs—especially when the glorious "$1!" gambit is successful. Truth be told, most of us wish to have the chance to make it onto that brightly lit stage, even if we were to walk away with only those infamous dune buggies, dinette sets, or cases of Turtle Wax.
To mark its 50th season, which began September 13 with host
Drew Carey
, we're taking a look back at iconic moments and hosting secrets with the two CBS Daytime legends. Come on down!
SUBSCRIBE NOW: Enjoy Watch For Free With This Special Offer!
Interview originally published in
Watch
Magazine, November-December 2017.
Don't miss
The Price Is Right Celebrates 50 Years
on Thursday, September 30 at 9/8c on CBS and streaming on
Paramount+
.
At which point did you realize you'd become a great host for The Price Is Right?
Bob Baker:
If I answer that, people will say, "That old fool thinks he's a great host!" Before
The Price Is Right
, I was writing local news and doing a sportscast.
One day the host of an audience participation show didn't show up, and someone came charging into the announcer's booth and said, "Bob, you've got to get in there right now and do that show!"
I didn't have a chance to be nervous. My wife said, "Barker, you did that better than you've ever done anything in your life."
STREAM: Full Episodes Of The Price Is Right On Parmount+
Drew Carey:
I never felt like it was my show until a couple of months into my second year, to be honest. At first I didn't even know all the games. By the second year, I knew the games, I didn't have to stick to a script. I watch that first year and I can't stand to look at myself.
What was your most memorable moment on the job?
Bob:
There was a young woman wearing a low-cut dress. She was very endowed and when her name was called to be a contestant, she started charging down and both of them came right out of the dress. I said, "Johnny, what's going on out here?" And he said, "Bob, this girl has given her all for you."
Drew:
The craziest things are when I talk to the audience during the break. One day I say to this guy, "What do you do?" And he says, "I'm a cop." The next guy I ask, "What do you do?" And he says, "I'm a pot dealer." The crowd loved it.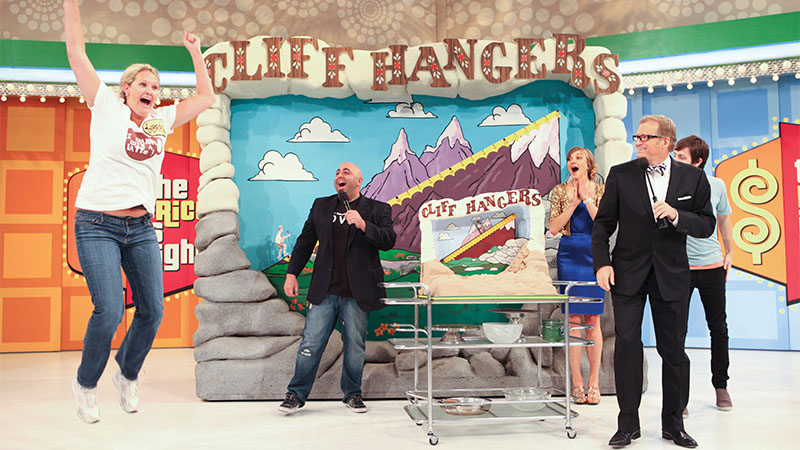 A contestant gets lucky playing Cliff Hangers.
Photo Credit: Monty Brinton/CBS
Did you or do you have a ritual before going on air?
Bob:
No. I had as much fun as anyone in the audience. When you can get them roaring with laughter, there is no other feeling quite so exhilarating.
Drew:
I have three-by-five cards on my dressing room door that I look at on my way out to the set. The top one says, "You are a carnival barker." I just have to remember I'm always playing a game, like, "Hurry, hurry, step right up!"
The next card says, "Surf the contestants' wave." I try to find out immediately what kind of mood they're in.
The third says, "Try to find a way to get the audience to come back." I always try to make it genuine when I ask people to come back when we go to a break.
Drew, did Bob give you any advice when you took over for him?
Drew:
We went to lunch, and his advice was to make it my own show. It was a good bit of advice, because you can't go into a project like that trying to copy somebody. You'd look like an idiot.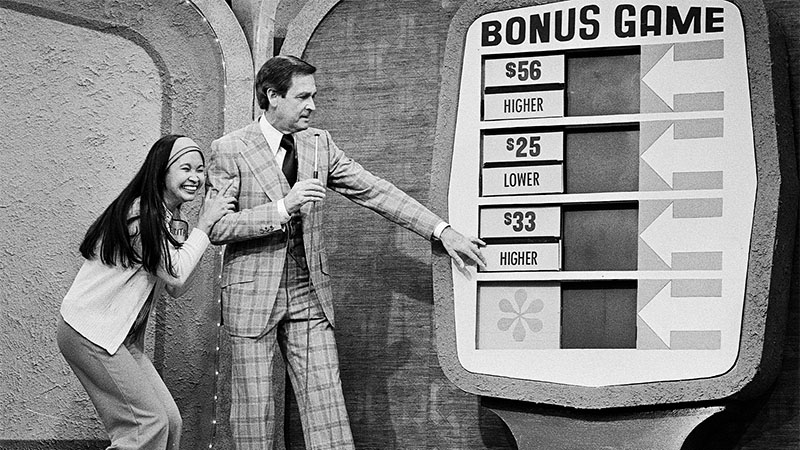 Bob Barker hosting
The Price Is Right
in 1978.
Photo Credit: CBS Photo Archive/Getty Images
Bob, when you left the show, did you take anything from the set?
Bob:
Just pictures of all kinds. My microphone I gave to an animal protection organization and they sold it and got $20,000 for it. I got 19 Emmys, but then I started giving them away.
I gave one to Joe Torrenueva, who's cut my hair for as long as I can remember. Every time I go I check to see if it's polished.
I gave one to my brother and I'm never going to give him anything else. He's never put it on display.
How do The Price Is Right fans react when they see you?
Bob:
I'll be walking down the street and they'll say, "Hey, Bob, come on down!" I don't try to explain to them that it was [announcer] Johnny Olson who said that. I just laugh and thank them.
Drew:
I called up this one hotel chain that was sold out but the guy goes, "Drew?" I said yes.
He said, "Let me see if I can find something." And he did.
But come on, I'm only on a game show. It's not like a teenage girl meeting Harry Styles.
Interview originally published in
Watch
Magazine, November-December 2017.
DISCOVER MORE: Check Out The Latest Issue Of Watch—Available Now!
Don't miss
The Price Is Right Celebrates 50 Years
on Thursday, September 30 at 9/8c on CBS and streaming on
Paramount+
.
Watch all-new episodes of
The Price Is Right
Weekdays on CBS and stream on
Paramount+
.