When I sat down to marathon the first season of The Good Fight, I was inordinately excited. A ginormo fan of The Good Wife and an obsessive admirer of one Miss Diane Lockhart (girl crush of the goddamn century, played by Christine Baranski), my expectations were as high as Cush Jumbo's/Lucca Quinn's heels.

STREAM: Full Episodes Of The Good Fight Exclusively On CBS All Access

And man alive (slash Will Gardner dead), did this show live up to them. The females were badass as ever, the coats were cashmere as could be, the cases were topical, and our heroine (Rose Leslie's Maia) has hair the dopest shade of red I've ever seen.

As a professional binge watcher, I'm telling you, babies, this one belongs at the top of your list. In the meantime, here's my report.

MONDAY, 1:32 P.M.
Made the grave error of inviting my mother over to watch with me. I love my mom very, very much—she gave me life and, through the years, many pairs of shoes—but it is categorically impossible to watch anything with the woman. Especially a show that she's already seen.

"Ooh! This is the best part," she announces, at minute one, episode one.

"Can you pause it?" she asks, around minute 10, when her sister calls.

"Can you pause it?" she asks again, at minute 14, when her friend calls.

"Have they started sleeping together yet?" she asks in episode 3, about Lucca and a character we (and Lucca) have literally just met.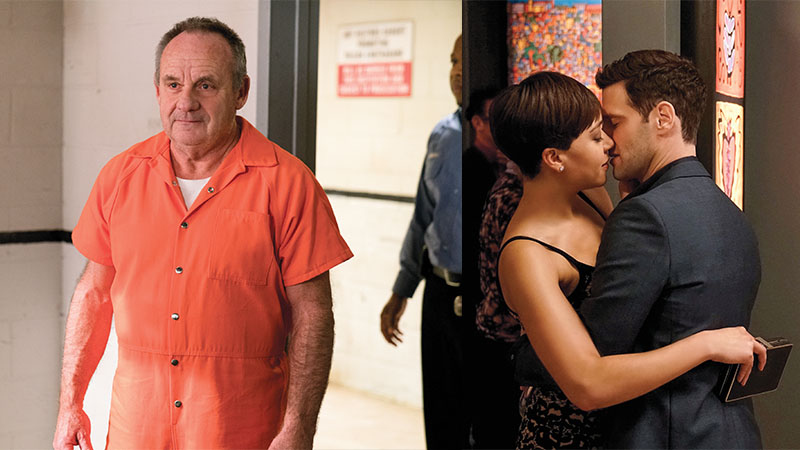 Orange is the new Daddy issues. If Luccolin is wrong, we don't want to be right.

"Can you pause it?" she asks for the third time. I do not pause it.

"Oh right, she's having an affair with the uncle," she announces, re: Maia's mom, before I've even discovered that Maia has an uncle.

I make it through four episodes with her and barely have an idea what has happened. Diane tried to retire but then couldn't and now works with Lucca at a different firm, I think? Maia's dad is Bernie Madoff 2.0, I surmise?

Goodbye, Mom, I'm done with you. (But I love you very much and am still an 8 shoe, in case you were wondering.)

PHOTOS: Christine Baranski Looking Amazing In Every One Of These Photos

TUESDAY, 10:03 A.M.
Ah, the sweet relief of watching alone. I can finally let the twists of this show wash over me. Look, a flashback episode! Jane Lynch! A failed suicide! Ashley Olsen's ex-boyfriend from The Hangover arguing with Chandler Bing! This fun little dance they're all doing where someone mentions Alicia and they immediately pivot to something else!

By the time I reach the finale, I'm having the best day with my super-chic law-crushing imaginary friends except... I've got a small problem.



Guest star Jane Lynch? No objection, your honor! Doing time, trust fund style.

You see (or you will see), the protagonist lives inside a clock. I mean this quite literally—the Chicago apartment that Maia shares with her girlfriend has one window, and that window is covered by the hands of a giant clock. And no one is talking about this.

I even Googled "the good fight maia clock apartment" and nada. How am I the only one fixated on this? There are zero internet conspiracies re: said clock, and I have to fix that.

So here I am, doing the world a favor and proposing a variety of theories for Clockgate 2017:

1. The clock is a tribute to the many shots of clocks ticking in The Good Wife.

2. Maia is so crazy wealthy that she lives in the clock tower of the Wrigley Building.

3. This is the fantasy of someone playing with a doll named Maia who lives in a clock tower dollhouse (that's a thing, right?). The doll owner is revealed in the series finale to be either:

a. One of the Madoff grandchildren.

b. Alicia Florrick, who has gone insane from Will-related grief and just plays with dolls all day.

c. Young Maia, daydreaming, while her parents fight in the background about their Ponzi scheme.

Young Maia uses what she learned from her vision (of this whole show) to tell her parents, "Hey, stop doing your Ponzi scheme," to which they respond, "That's a good idea," and so it turns out to be a good fight because no one ends up arrested!

Did I just blow your mind? Am I still talking to myself? Will you watch this show so I can talk to someone about this clock shenanigan?

No, yes, maybe? All right, I'll take it.

By Emily Hirshey | Originally published in Watch! Magazine, November-December 2017.

Photo Credit: Joe Pugliese/CBS (Cast); Patrick Harbron/CBS (Episodics).

Stream The Good Fight exclusively on CBS All Access.