Shawn Ryan On Making S.W.A.T.
The showrunner of CBS' hit drama series S.W.A.T. lays down the law.
Exclusive Content | Brought to you by
Watch
By Fred Schruers
Two-plus decades of making hit shows have taught Shawn Ryan certain efficiencies. The San Fernando Valley headquarters he has established as showrunner of CBS' primetime series
S.W.A.T.
is just minutes from both his home and the facility where the series shoots.
The outpost is strictly utilitarian, from his own office full of overstuffed chairs to the facility's far end where a table holds the coffee maker and enough energy bars to feed a village.
SUBSCRIBE NOW: Enjoy Watch For Free With This Special Offer!
Like
S.W.A.T.
's lead actor
Shemar Moore
(veteran of 11 seasons on
Criminal Minds
) and also like star Michael Chiklis of Ryan's former long-running cop drama
The Shield
, the showrunner has a shaved dome and an athlete's bearing.
He's a tall, muscular guy who might, in a friendly way, out-rebound you five-to-one in a pickup hoops game.
As he walks a visitor past an oversize city map and stills from the show's pilot episode, it's clear he'll be working long hours here during production: "On all my shows, I was never someone that was seen on set a lot. I make ceremonial appearances just so that everyone can know that I'm here and available. But most of my work will be done in this building."
That work, as led by Ryan and fellow writer and producer Aaron Rahsaan Thomas (
The Get Down
), is based on the 2003 feature film that shares the show's name, which in turn was based on the 1975 TV series.
The new iteration might easily have been designed to fit what some would describe as the typical formula of network cop shows.
Producers Shawn Ryan, Aaron Rahsaan Thomas, and Justin Lin at a Television Critics Association panel.
Photo Credit: Trae Patton/CBS
Instead, "we were challenged, back in January, by the powers that be," Ryan says.
"We had done a draft of the script that was received kind of tepidly. What came back to us was, 'This feels like something you think CBS wants, but we're really looking to do different, more daring, better. Don't feel restricted.' We went back and rewrote it and did the [pilot] you see now," he explains. "My attitude was: What's the best story, regardless of network, that I could tell about this cop Hondo, as played by Shemar, who's got a foot in both worlds—one in his community and Black Lives Matter, and also in a 'blue lives matter' world?"
STREAM: Full Episodes of S.W.A.T. On Paramount+
The pilot's convincing action sequences were staged by
Fast and Furious
director (and series co-producer) Justin Lin and are interspersed with scenes about Los Angeles Police Department politics and the troubled romance between Hondo and his boss.
"It's important to me to be able to bounce back and forth between drama and action and humor," Ryan says. "I've had some success in my career in being able to weave those things together. Hopefully we take you on an emotional roller coaster each week. Something I've given the network a heads-up about and talked about with Shemar is that we do want to see some flaws in this guy. One of the things that I think marks our show is maintaining a grounded, real believability about these situations."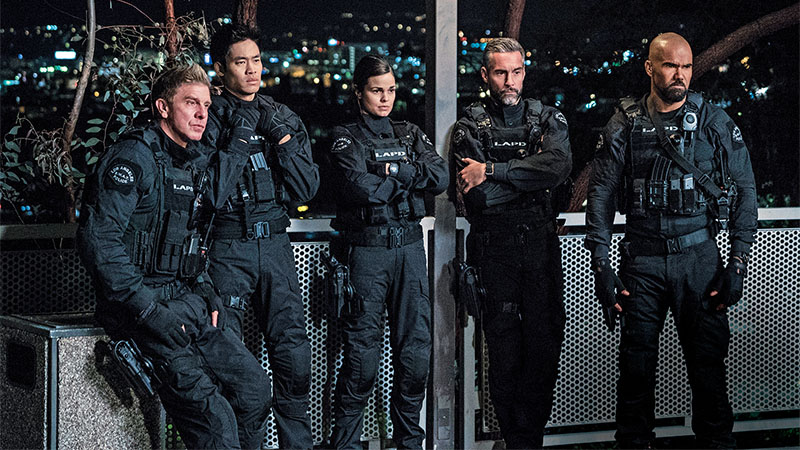 Shawn Ryan and actor
Kenny Johnson
(at far left) worked together on
The Shield
before reteaming for
S.W.A.T.
Photo Credit: Bill Inoshita/CBS
Moore recently posted on social media that the series is "going to bring real life & real time stories to your screens and CHANGE the way network TV is done."
Ryan recalls sitting with Moore across from him, "right in this room, in that chair, and one of the things I said was, 'Do you like to work?' He realized what that meant is when you're No. 1 on the call sheet, when the star shows up, people can pretty quickly assess whether he wants to be there or doesn't."
Moore's affirmation was immediate, but still, "You're asking your actors to really trust you when they sign on to a show, because it's a mystery beyond the pilot—a leap of faith," Ryan says. "But my focus is on making this season as great as it can be. That's the best way to get to a Season 2, and ultimately to a Season 13."
Article originally published in
Watch
Magazine, November-December 2017.
DISCOVER MORE: Check Out The Latest Issue Of Watch—Available Now!
Season 5 of
S.W.A.T.
premieres on Friday, October 1 at 8/7c on CBS and streams on
Paramount+
.