Beulah Koale's Auckland
The Hawaii Five-0 star shows us around his hometown.
By Yolanda Crous
Born and raised in Auckland, New Zealand,
Beulah Koale
is now making waves on
Hawaii Five-0
as former Navy SEAL Junior Reigns. The weather in the Aloha State took a little getting used to for the Kiwi native. "Hawaii has two seasons—rain or sun. In New Zealand you can get four seasons in one day," says Koale.
STREAM
:
Full Episodes Of Hawaii Five-0 On CBS All Access
But the two places also have a lot in common: "The people are very similar, both in their culture and how friendly everyone is," he says. "I always like to say that the currency of New Zealand is beer. If you buy someone a bottle of beer you can borrow their car for a week." For more tips on how to hang with Auckland's locals, read on.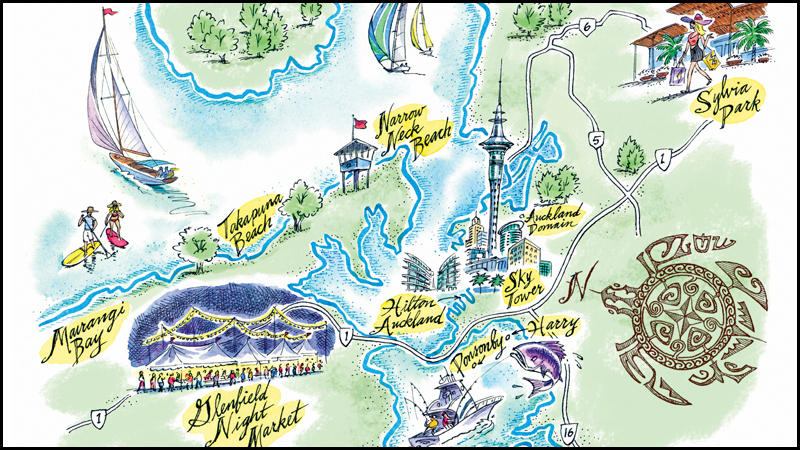 A map of Beulah Koale's hometown of Auckland. Illustration by Gary Hovland.
VISIT THIS INSTA-MUST
Go up to the
Auckland Domain
. Take a photo of the museum, or there are a couple of mountains where you can take a panoramic shot of Auckland. It's one of my favorite spots.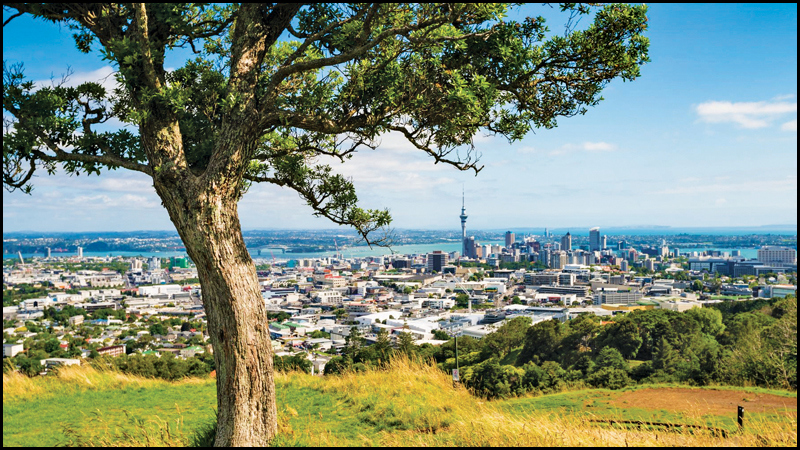 A view of Auckland's skyline from Auckland Domain.
EAT LIKE A FOODIE
We make great fish and chips in New Zealand, so whenever you see a fish and chips store, make sure you pop in. And there's this neighborhood called
Ponsonby
in Auckland, which has really good food—Asian, Mediterranean, African, New Zealand.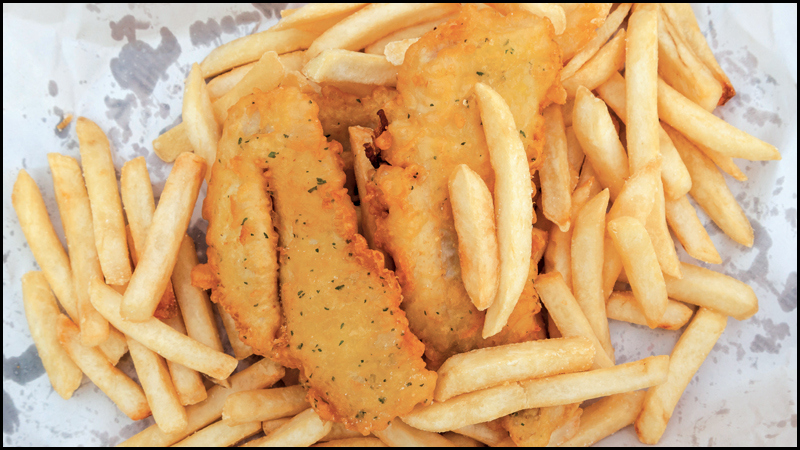 Classic fish and chips.
And there's the
Auckland Night Markets
. On Friday nights, they have one [Papatoetoe Night Market] in this underground car park in South Auckland. It's basically Pacific Island food, food like my ma used to make. On Sunday nights they have one [Glenfield Night Market] on the North Shore, and it's more Asian food. Yeah, I chase these night markets every day of the week.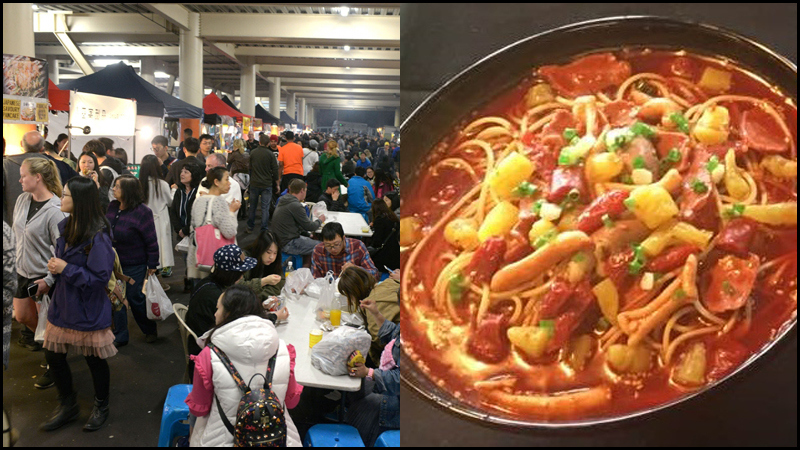 Japanese food stands, among other Asian eats, are popular at the Glenfield Night Market.
HIT THE TOWN
The best bars are all in Ponsonby. When you go there at night—even when you go during the day—it's very alive. People are very happy in Ponsonby. There's one bar called
Harry
—that's a cool little bar.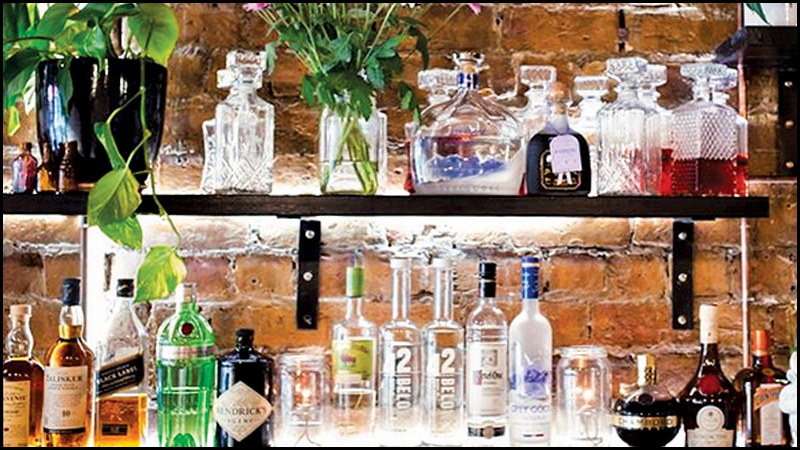 A peek inside Harry, a small bar in the Ponsonby neighborhood.
STAY COOL
I stay at home when I'm there, but Auckland has really nice hotels. You've got the
Hilton
. You've got the
Skycity Grand Hotel
, which is connected to the
Sky Tower
.
Plush room with a view at Hilton Auckland.
You've got the
Skycity Hotel
that's
in
the Sky Tower. The Sky Tower is the tallest building in the Southern Hemisphere. You can jump off of it. I want to do it when I get back.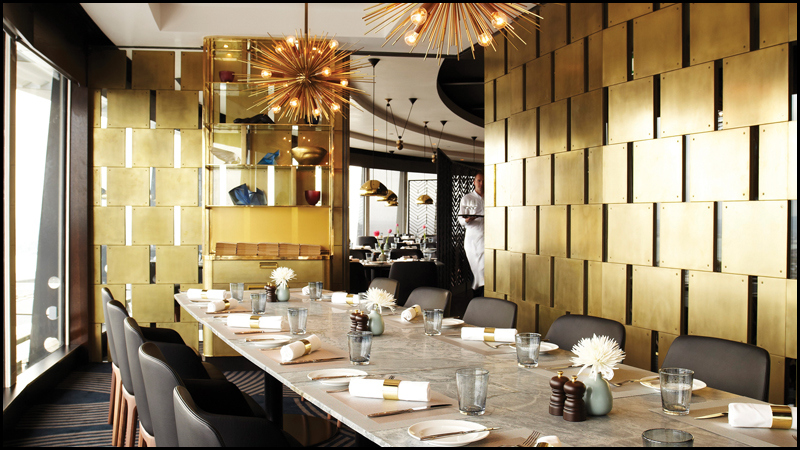 The Sugar Club at the Sky Tower.
DROP SOME CASH
I'd send them to Ponsonby or
Sylvia Park
[Shopping Centre] in Mount Wellington. It's just a massive mall. It's kind of the Ala Moana Center [in Hawaii] of New Zealand.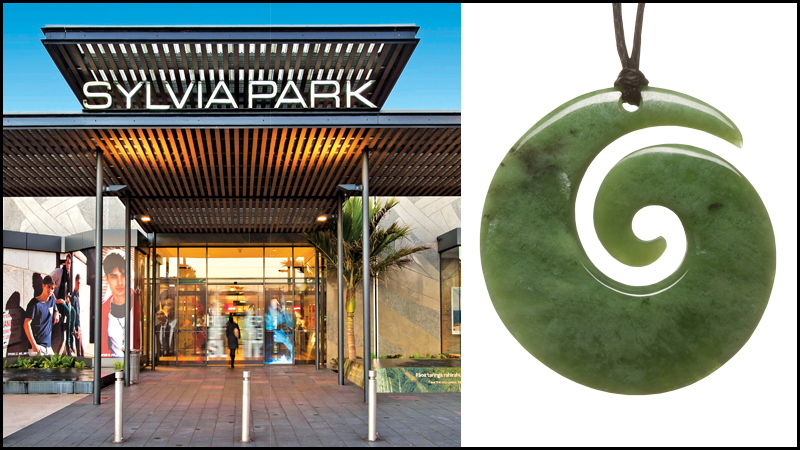 Outside the chic Sylvia Park shopping mall. Pendant made from traditional New Zealand
pounamu
greenstone.
For a souvenir, I'd get a
pounamu
, or greenstone. It's a special type of stone that you can only get in New Zealand. You can get it at souvenir stores, and they can handcraft it to whatever shape you want. I always get a couple and give them as gifts to people.
SEE THE SIGHTS
I love to just jump in my car and drive around to my happy spots. The best thing about New Zealand is that you've got
so many beaches
. There's Mairangi Bay on the North Shore. Takapuna Beach is cool because there's a lot of good food there.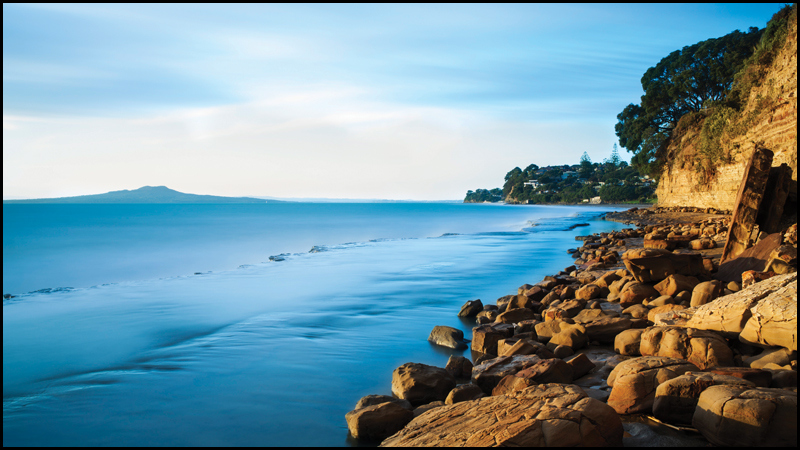 Breathtaking Mairangi Bay is close to the city.
One of my favorite beaches is
Narrow Neck
[in Devonport]. My church group would always go there for Christmas trips. We would go there every year, just hang out and play and swim.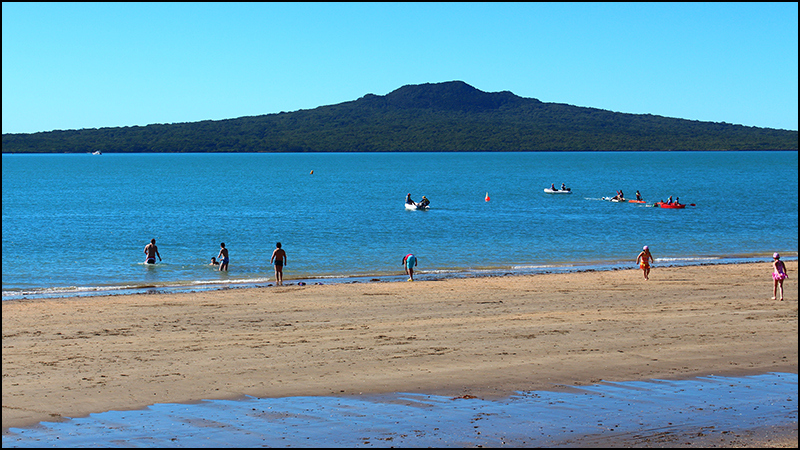 Narrow Neck Beach at low tide.
Also, go out fishing if you can. It takes about 10 minutes to get out to the islands, and you get some amazing fishing and scenery. Even if you don't catch anything, you get to look back at the city. It's beautiful.
Originally published in
Watch!
Magazine, March-April 2018.
Photo Credits: Justin Stephens/CBS (Koale); Luchschen/Getty Images (Auckland skyline); Westend61/Getty Images (Fish and Chips); Courtesy of Auckland Night Markets, Ltd. (Glenfield); Courtesy of Harry (Bar); Manja Wachsmuth/Sky City Grand Hotel (Sugar Club); Robin Bush/Getty Images (Mairangi Bay); Courtesy of
My Guide Auckland
(Narrow Neck).
Watch
Hawaii Five-0
on Fridays at 9/8c on CBS and
CBS All Access
.