Getting To Know Sebastian Arcelus
From Broadway to a lead role on Madam Secretary, Sebastian Arcelus is living the dream.
By Brantley Bardin
"There's a new deputy in town!" says
Madam Secretary
's
Sebastian Arcelus
of the promotion his character, Jay Whitman, earned this season, serving Dr. Elizabeth McCord (played by
Téa Leoni
).
"I'm thrilled," says the 41-year-old, New York City-born actor and Williams College political science graduate. "I've always been drawn to the arena of politics, and considered becoming a journalist"—which he played on
House of Cards
—"but then I skewed to acting. They're both the same sort of impetus: Digging into stories."
STREAM: Full Episodes Of Madam Secretary On CBS All Access
After conquering Broadway in
Rent
,
Wicked
,
Jersey Boys
, and
Elf
, Arcelus is loving his television gig, as well as his 10-year marriage to Tony nominee Stephanie J. Block (
Falsettos
) and fathering their 3-year-old daughter. This is what we call living the dream.
Madam Sec's secretary of state, Elizabeth McCord, and Jay Whitman have been each other's virtual shadows for four years. You're the straight man to her out-of-the-box thinker, but it's a symbiotic relationship. I love the way you're always there holding her umbrella.
Sebastian Arcelus:
But what you don't see is how muddy her shoes are! [
Laughs.
] Téa's an amazing leader. She's got her hand in everything and, unbelievably, can see the whole picture.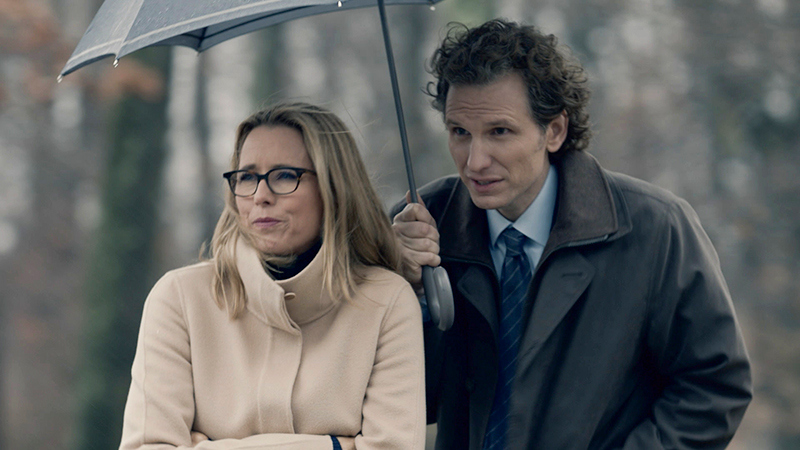 Sebastian Arcelus as Jay Whitman and Téa Leoni as Elizabeth McCord on
Madam Secretary
.
Watching Madam Secretary these days is a bit like watching a fantasy: Every week on it, the White House actually works together and accomplishes something. Do you think people come to the show for comfort?
Sebastian:
Or maybe for relief. Part of what makes Elizabeth McCord so extraordinary is that she doesn't care for partisan politics. She cares for human solutions. People come to our show because they're longing for decency.
Absolutely. Okay... on to l'amour! You met and married your wife while she was playing Elphaba in Wicked opposite your Prince Fiyero. Pretty romantic, yes?
Sebastian:
This woman knocked me on my ass! I essentially bought her an engagement ring before we officially stated dating, because I just knew I was going to wed her.
One day we got married at city hall, and that night did the show as a married couple singing "As Long as You're Mine" to each other onstage.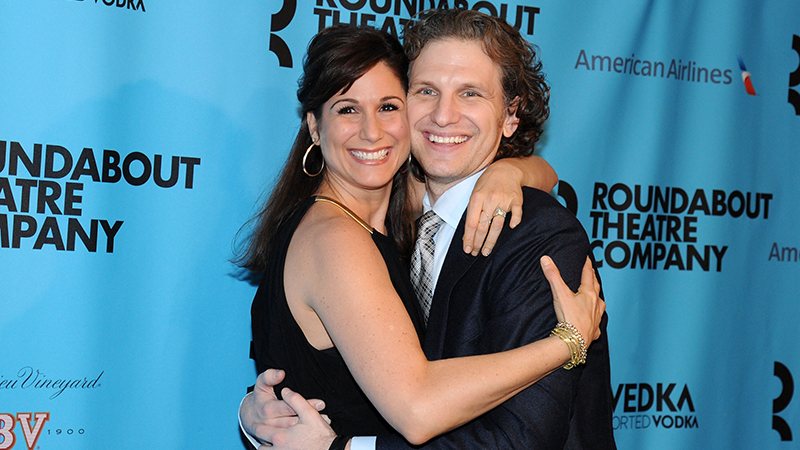 Sebastian Arcelus and his wife Stephanie J. Block at the Roundabout Theatre Company's Spring Gala in 2014.
On four episodes last season, Stephanie played your wife on Madam Sec. Might she return?
Sebastian:
Entirely possible. God, I loved working with her. It's so great to go to work and not miss your partner!
Y'all live in the suburbs with your 3-year-old daughter, Vivienne Heléna Arcelus, and—
Sebastian:
—yeah, and in our community there are probably 50 other Broadway families. It's to the point where we have barbecues on Monday instead of Sundays, because that's the day everybody's play is dark.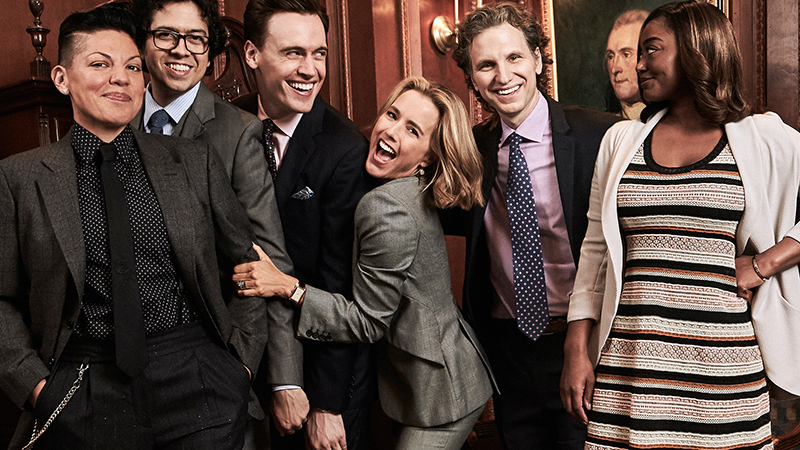 The cast of
Madam Secretary
lets loose.
Does Vivienne think her Broadway/TV power couple parents are super cool?
Sebastian:
For now. But she'll probably think we're lame-os when she comes to grips with how nerdy we really are. We're definitely theater nerds—there's a
lot
of singing in the house.
As Jay is so buttoned up, it's nice to hear you let loose. How else do you get your ya-yas out?
Sebastian:
Well, I'm one of those people who walks into the house and immediately takes his pants off. [
Beat.
] That didn't come out right, did it? [
Laughs.
] I have to be casual in my home, that's what I meant!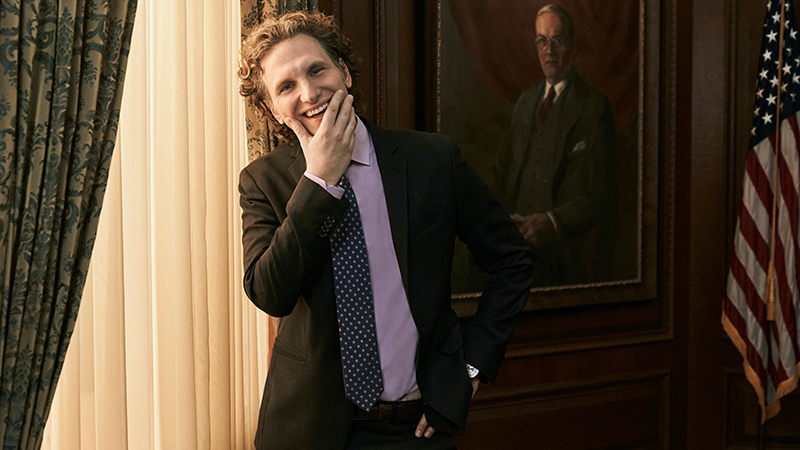 The actor's natural charm is contagious.
O-kay. So, what's a guilty pleasure?
Sebastian:
My fantasy football league. It's stupid, but I justify it by saying to Steph, "If I ever win, we can justify the amount of time I put towards it by donating the winnings to a charity of [your] choice." She's like, "Puh-leese. Gimme a break."
Back to you and Téa, who share exotic lineages. Her grandmother was a Polish-American silent movie star who founded UNICEF, and you're a first-generation Italian-Serbian-Russian-Uruguayan-American whose grandmother was Princess Catherine Ivanovna, the last uncontested dynast of the Imperial House of Russia. You're even distantly in line of succession to the British throne.
Sebastian:
[
Laughs
] Yeah, I think the princes are my cousins nine times removed.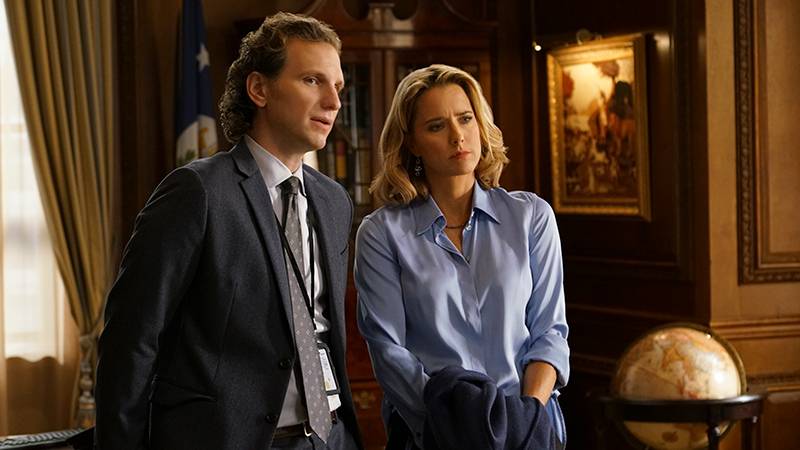 Sebastian Arcelus and Téa Leoni filming the episode "Russian Roulette."
Do you and Téa ever have lineage envy?
Sebastian:
[
Laughs
] Well, we're pretty sure our relatives ran in the same circles back in the day. We like to believe that somehow through the power of the universe, our families are coming back together and have decided to do so on the set of
Madam Sec
!
Originally published in
Watch!
Magazine March-April 2018.
Photo Credits: David Needleman/CBS (Arceulus); CBS Broadcasting, Inc. (Leoni and Arcelus under umbrella); Ilya S. Savenok/Getty Images (Arcelus and Block); David Needleman/CBS (Group); Sarah Shatz/CBS (Arcelus and Leoni).
Watch
Madam Secretary
on Sundays at 10/9c on CBS and
CBS All Access
.