By Marc Berman

"Filming Magnum P.I. in Hawaii is an extraordinary blessed experience," summed up Perdita Weeks, who plays Juliet Higgins, the female version of the original character Jonathan Quayle Higgins III from the original 1980s crime solver.

"She has a similar background to the original Higgins in that she is ex-services herself. And that's something that, actually, they play on a little bit," said Weeks. "In 10 years maybe Higgins can have a couple of children, which I think is a natural progression."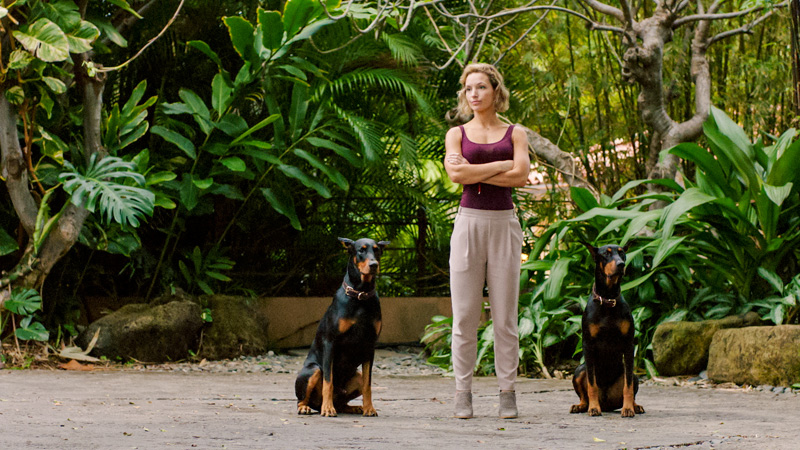 Perdita Weeks as Juliet Higgins in the pilot of Magnum P.I.

The Magnum, P.I. reboot, with Jay Hernandez in the lead role of Thomas Magnum, is one of five new CBS series on the fall 2018 line-up.

It joins new comedies The Neighborhood and Happy Together; the Dick Wolf produced FBI , which marks the mega-producer's return to CBS after a 21-year absence; and the family-friendly God Friended Me.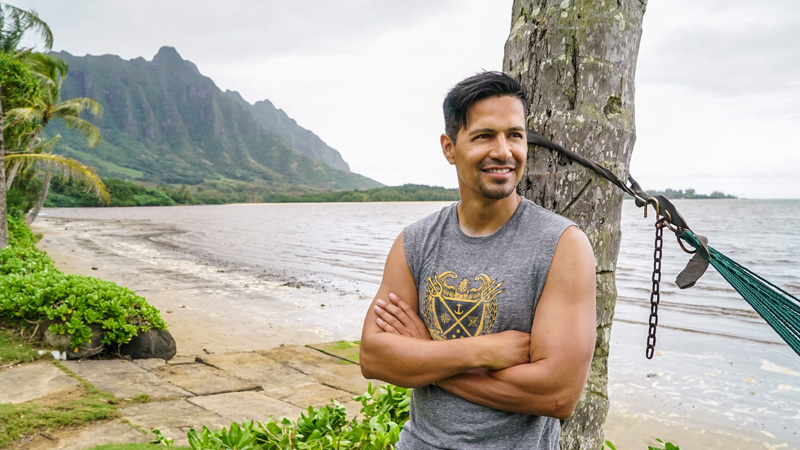 Jay Hernandez as Thomas Magnum in Magnum P.I.

CBS, additionally, has revived Emmy Award-winning comedy Murphy Brown, with Candice Bergen, Faith Ford, Joe Regalbuto, and Grant Shaud all reprising their original roles (as well as Charles Kimbrough as a guest star in 3 of the initial 13 new episodes).

"I said, 'Let's do it,'" noted Candice Bergen. "It's been very emotional for the old guys because to come back we moved the show to New York and they built Murphy's townhouse on the soundstage in the studio in Queens. Murphy, Corky (Ford), and Frank (Regalbuto) are starting a morning show, the three of them, with Miles (Shaud) producing it, and that's how the first show starts."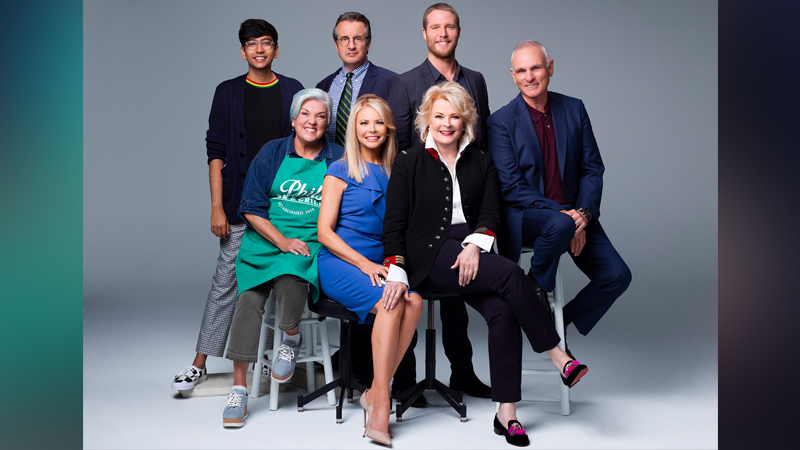 The cast of Murphy Brown reunite for the revival of the ground-breaking comedy about the eponymous broadcast news legend and her biting take on current events.

"What could have been a very intimidating experience has been nothing more than warm and welcoming," noted Jake McDorman, who plays Murphy's now grown-up son Avery. His character is now a television journalist who is working for an opposing TV network.

"Avery has had Murphy, obviously, as his mother, and he's also had this kind of surrogate family with Corky and Frank and Miles teaching him everything he knows about journalistic integrity and also learning what it's like to be the son of someone who is a celebrity," noted McDorman. "He's finally at the age where he's got an opportunity to put all those lessons into practice, albeit on this kind of competing, more conservative network."

On The Neighborhood, which is loosely based on executive producer Jim Reynolds' life, the intention is to go for laughs and open up dialogues about life in a diversified area.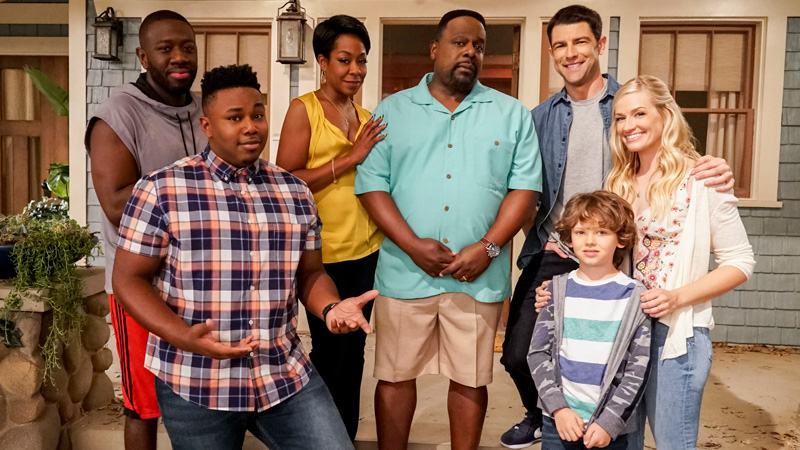 The cast of The Neighborhood, CBS's new comedy about what happens when Dave Johnson, the friendliest guy in the Midwest, moves his family to a neighborhood in Los Angeles, where not everyone looks like him or appreciates his extreme neighborliness.

"Early on, after when I started to get involved, I thought that the main thing that was missing was the actual point of view of the black guy," noted The Neighborhood star Cedric the Entertainer, who plays Calvin Butler. "So he had a point of view of how he felt moving into a black neighborhood, and I was like, 'Well, you don't really have that true counter side.' So that's where we actually started to get real with each other."

PHOTOS: Meet The Stars Of Your New Favorite CBS Shows​

Happy Together, which features Damon Wayans, Jr. and Amber Stevens West as an ordinary 30-something happily married couple suddenly rooming with an exuberant young pop star (Felix Mallard), airs following The Neighborhood.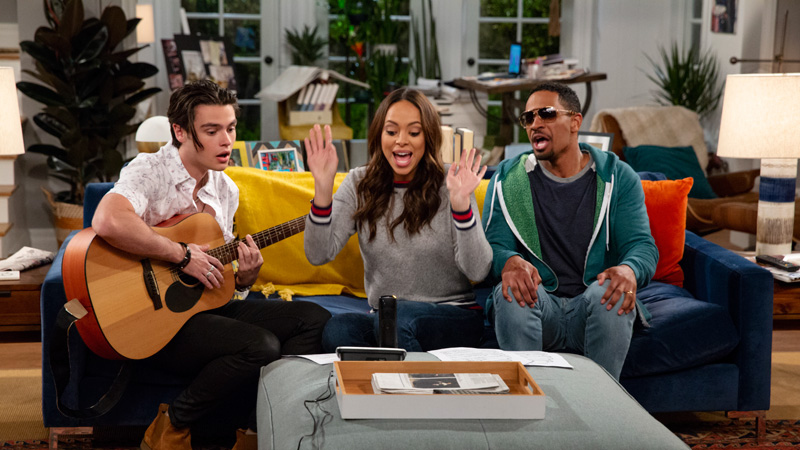 Felix Mallard as Cooper, Amber Stevens West as Claire, and Damon Wayans, Jr. as Jake on CBS's new comedy Happy Together.

"When it comes down to it, this show is about relationships and reliability and these three people growing closer together as a family," said Damon Wayans Jr. "All of these people are actually into each other. You don't see that too much. It's usually on the brink of divorce, or they are divorced, and they are trying to raise these kids together. I feel like it's good to turn on the TV and see people that are happy with each other."

FBI, which airs out of NCIS and into NCIS: New Orleans in the 9 p.m. hour on Tuesdays, is a fast paced drama about the inner workings of the New York office of the Federal Bureau of Investigation.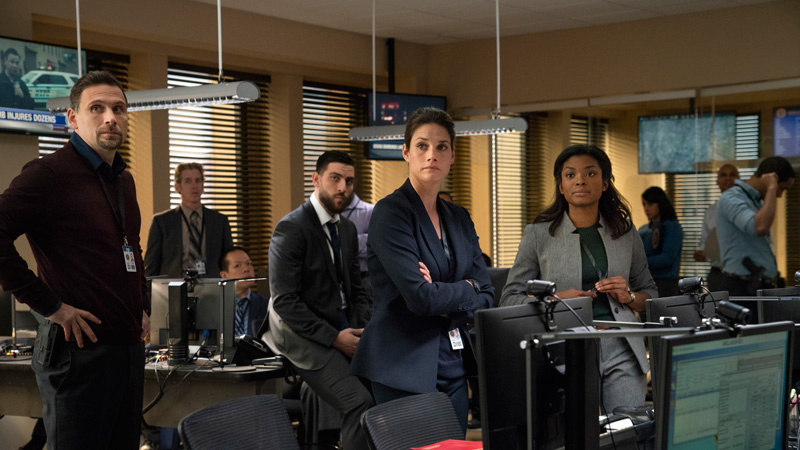 Jeremy Sisto, Zeeko Zaki, Missy Peregrym, and Ebonée Noel of FBI.

"As an actor, to have steady work in my hometown, New York, is just a dream," noted Ebonée Noel, who plays Kristen Chazal, an analyst who is recruited straight out of school to join the team. "Every week we deal with a different case with two main agents, an analyst, and a special agent in charge just going about their everyday jobs protecting the city, which is extraordinary."

In the uplifting God Friended Me, Brandon Micheal Hall play Miles Finer, an outspoken atheist whose life is turned upside down when he receives a friend request on social media from God and unwittingly becomes an agent of change in the lives and destinies of others around him.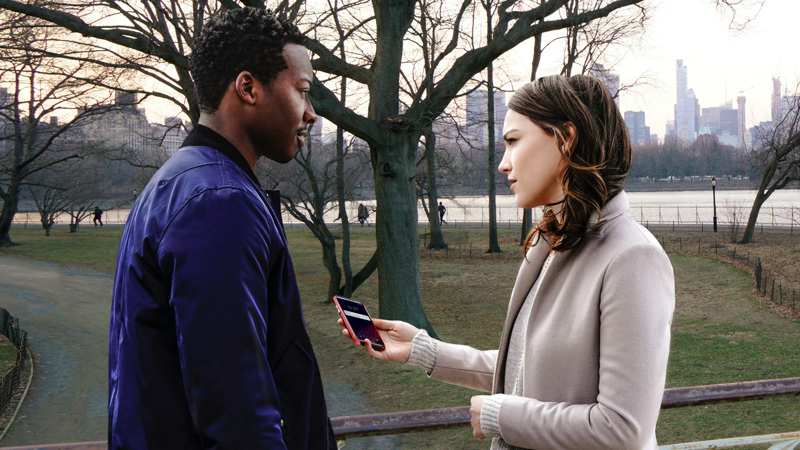 God Friended Me stars Brandon Micheal Hall as Miles Finer and Violett Beane as Cara Bloom.

"What God Friended Me does is raise a conversation about what is religion and spiritually and what that means to an individual," noted Brandon Micheal Hall. "So, for me, it has been enlightening, and it's a continuing process. And it's made me continue to question my relationship and to gain a closer relationship with my spiritual groundedness."

With the official start of the new TV season on Sept. 24, CBS offers a combination of scripted comedy and drama, reality mainstay Survivor, and, of course, veteran newsmagazines 60 Minutes and 48 Hours. Combined with these five newbies and the return of Murphy Brown, we can't wait to tune in to America's most-watched network.

Discover more about CBS's new fall programming in their handy Fall Preview guide, plus see the whole schedule lineup here.

Photo Credits: David Needlman (Murphy Brown cast in black and white); CBS Broadcasting (Weeks); Karen Neal/CBS (Hernandez); Robert Tractenberg/CBS (Murphy Brown); Bill Inoshita/CBS (The Neighborhood); Cliff Lipson/CBS (Happy Together); Michael Parmelee/CBS (FBI); Jonathan Wenk (God Friended Me).