By Brantley Bardin

After becoming an overnight star with his monumental Tony- and Grammy Award-winning performance as Aaron Burr in the original Broadway cast of the colossal cultural phenomenon Hamilton, what could Leslie Odom Jr. possibly do to top his big break? The answer: everything.

STREAM: Full Episodes Of One Dollar On CBS All Access

Since fame kissed him, the Philadelphia-raised entertainer has released two Billboard No. 1-charting jazz solo albums and is now a major concert draw with a third album in the pipeline.

Acting alongside A-list superstars in big budget films like Murder on the Orient Express, he's become a movie star. At this year's Super Bowl he sang "America the Beautiful" for 103 million viewers. He even penned a popular inspirational book published last March, Failing Up: How to Take Risks, Aim Higher, and Never Stop Learning.

Now, Odom, 37—who also sings the catchy Nationwide commercial jingle—is turning his eye toward becoming a regular presence on television, starring in One Dollar, the 10-episode CBS All Access murder mystery-thriller. Promises Odom, "It's super twisty!"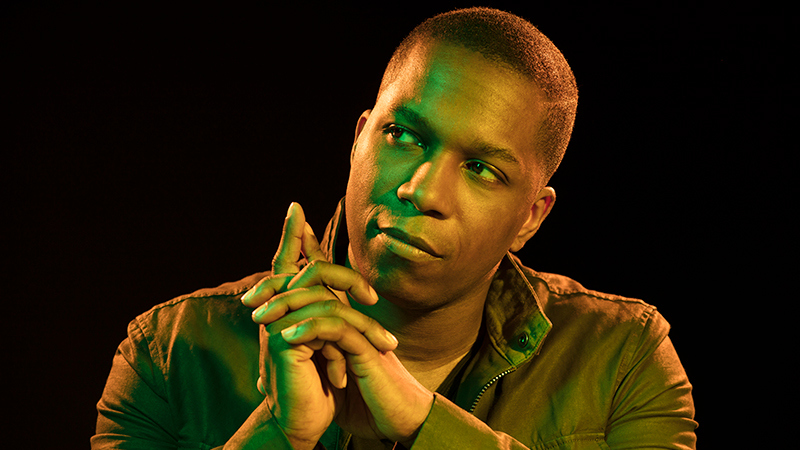 Leslie Odom Jr. stars in CBS All Access original series One Dollar.

In One Dollar, you play Randall Abatsy, the wealthy, charismatic, and philanthropic new guy in a small, post-recession, Rust Belt town that's just been rocked by an ultra-grisly murder. Possibly even multiple murders. Tell us about your character and his part in all this.

Rand is a guy who brings the fun wherever he goes. He manages a lot of people's money, but he always finds time to throw these lavish parties for the townspeople. He does this because he's new in town and wants to get to know them, but also, I think, to impress them a bit.

People are happy to have him around, but guys like him always earn suspicion. It's like, "Well, nobody's that nice, that kind. What's his angle?"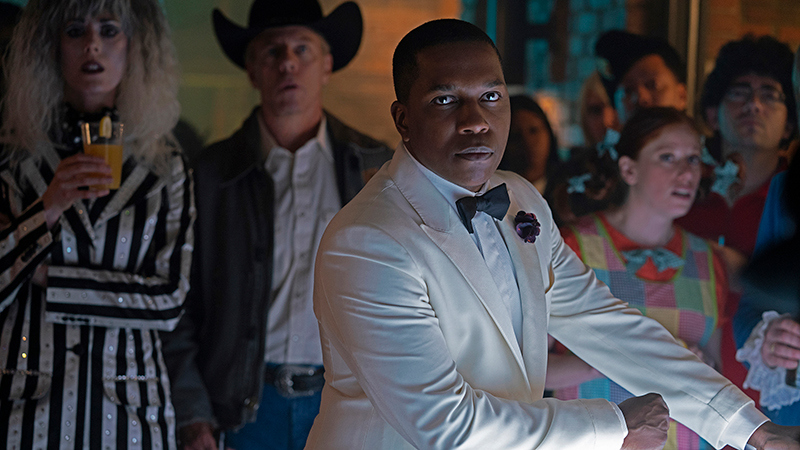 Mystery series One Dollar is set in a fictional town outside of Pittsburgh, where a one-dollar bill changing hands connects a group of characters involved in a shocking multiple murder.

I'm hooked already. What attracted you to the project?

[One Dollar's director] Craig Zobel said that he wanted to make an ensemble piece. I know how comforting it is to not have everything be on your shoulders. Also, in television, you can work long, insane, physician's hours, and I wasn't really into that with the new kid.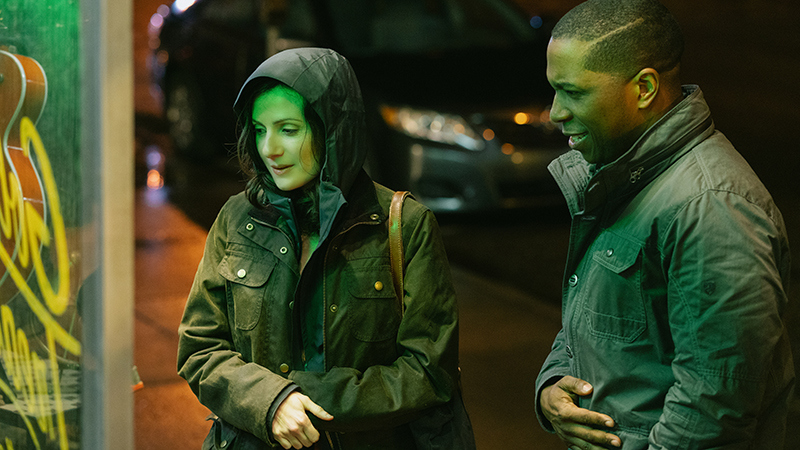 Aleksa Palladino as Chelsea Wyler; Leslie Odom Jr. as Randall Abatsy of the CBS All Access series One Dollar.

Ah, yes—Lucille, your 18-month-old daughter! Your Instagram account shows a dad who's head-over-heels.

Oh, I'm in love! For a long time, performing was the most important thing in the world to me, but then you build a life with a partner [actress-singer Nicolette Robinson is Odom's wife of nearly six years] and they take a certain priority, then the kid comes along and... well, the desires of your heart from childhood take a backseat to gifts that are even more rare. Being a father has made the colors brighter, the food sweeter, and the music louder.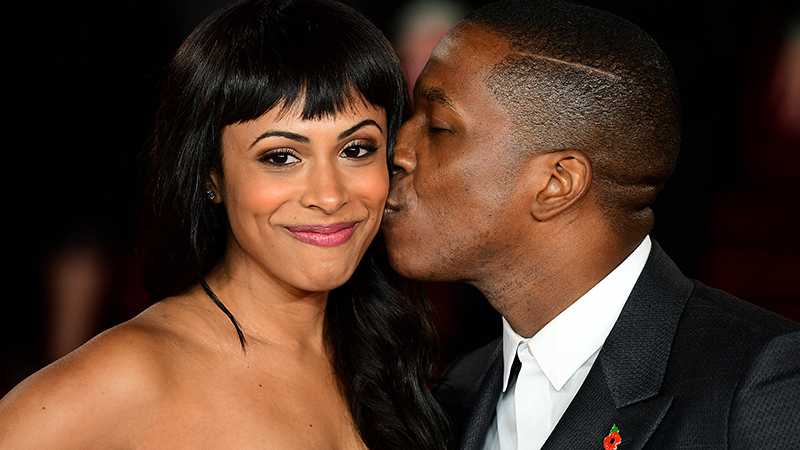 Nicolette Robinson and Leslie Odom Jr. attending the world premiere of Murder on the Orient Express at the Royal Albert Hall, London.

Speaking of music, you've won major awards for your singing, your acting, and even your dancing. Which of these talents is most important to you?

If I couldn't just open my mouth and raise my voice, I'd be really sad. Music is how I feel I communicate with my higher power.



Leslie Odom, Jr. performs during his solo album release party.

You fell in love with musical theater at 13 when you became obsessed with Rent. You made your Broadway debut in that show at 17, but then, after earning a degree with honors from Carnegie Mellon's School of Drama, there were years of unsteady employment before you scored Hamilton. What gives you life from performing, and what made you stay the course?

It's about distilled connection. Our connections in life are fraught for many reasons, but onstage it's just pure, raw connection with the audience. And that's addictive.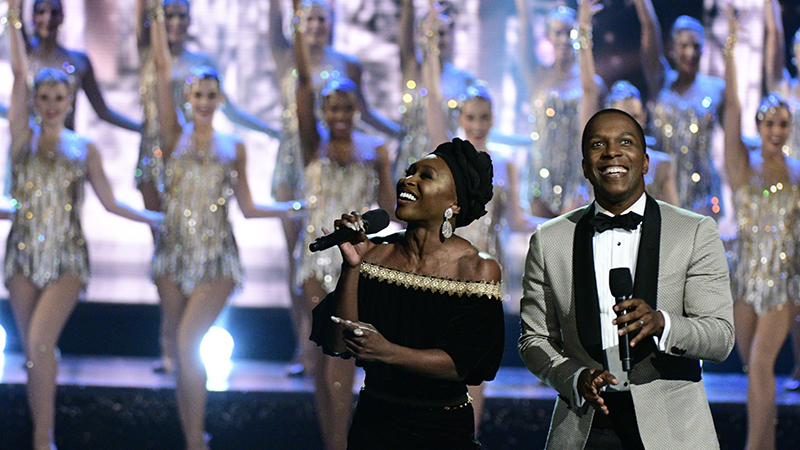 Cynthia Erivo, Leslie Odom Jr., and the Radio City Rockettes at the 71st annual Tony Awards.

When you finally became a big Broadway star, was it a joyride, a freak-out, or both?

Daveed [Diggs, Hamilton's original Marquis de Lafayette/Thomas Jefferson] used to say something I loved: "Coming out of the stage door of Hamilton you were a Beatle for a block." [Laughs.]

Close to that theater, you felt very, very famous. But as soon as you crossed Eighth Avenue, your fame diminished greatly. [Laughs.] I'll say this: I enjoyed my time close to the theater, and I enjoyed crossing Eighth Avenue, too.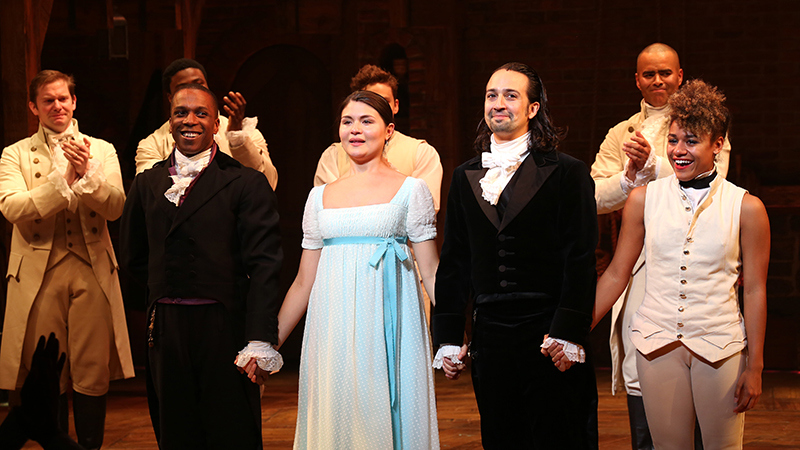 Leslie Odom Jr., Phillipa Soo, and Ariana DeBose with Lin-Manuel Miranda during their final performance curtain call of Hamilton on Broadway.

But now, sir, you're famous wherever you go. Looking at your success, does it seem like a dream you have to slap yourself awake from or just rewards for years of hard work?

It feels like a real gift. Yes, there were some hard times. And at 23, I'd have said, "I wish it all right this moment!" But now I wouldn't trade anything for the journey and the hard knocks. The path has been a gift.

Originally published in Watch! Magazine, September-October 2018.

Photo Credits: Patrick Harbron/CBS; Jenny Anderson/Getty Images; Jared Mechaber/CBS; Patrick Harbron/CBS (2); Ian West/Getty Images; Jenny Anderson/Getty Images; John Paul Filo/CBS; Walter McBride/Getty Images.

Stream all-new episodes of One Dollar on Thursdays, exclusively on CBS All Access.