Binge-Watching Dynasty
Our columnist is dazzled by The CW's brilliant Dynasty reboot.
By Emily Hirshey
This column is as much a therapeutic exercise as it is a binge report because I went through a lot while I was watching this show. But we'll get there. First, let's talk about this glorious, absolutely bananas soap opera.
STREAM: Full Episodes Of Dynasty On The CW
The CW's
Dynasty
is based on the hit 1980s show of the same name and centers on the family of Atlanta billionaire Blake Carrington (
Grant Show
). The Carringtons have a ton of money thanks to... oil? Wind? Power?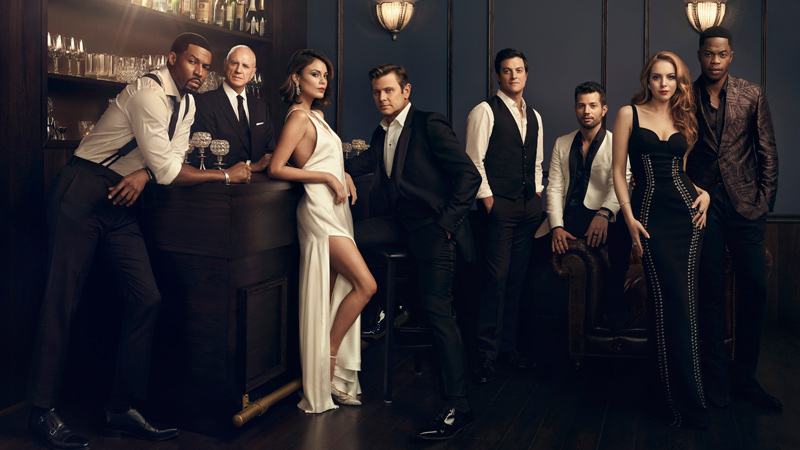 The cast of The CW's reimagined
Dynasty
.
The point is, there's a big company that makes/does stuff, and when Blake gets engaged to some chick named Cristal (
Nathalie Kelley
), he also makes her COO of said company, irreparably alienating his two children, Fallon (
Elizabeth Gillies
) and Steven (
James Mackay
), and setting off a chain of events with so many twists and turns my head was whipping back and forth with a ferocity Willow Smith would admire.
Grab a fur and a martini, and let's dive in.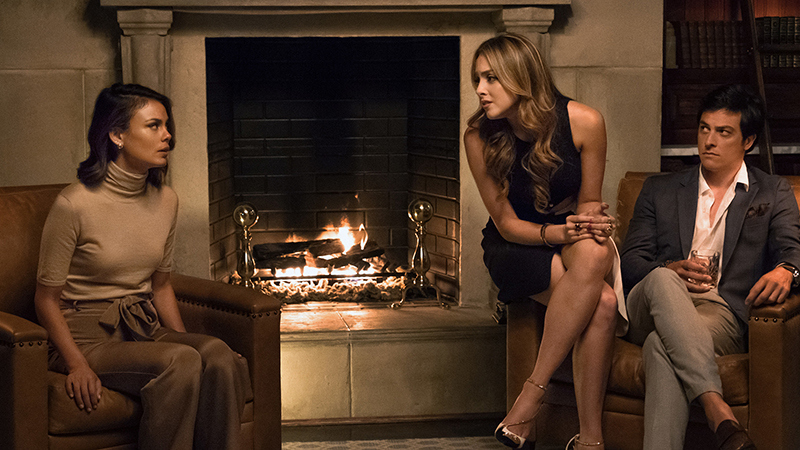 Fallon and Steve Carrington (right) aren't fans of their new stepmother Cristal Carrington (left).
Thursday
I have agreed to attend a bachelorette party in Cartagena, Colombia, despite the fact that it would be a 10-hour flight each way. Tonight, I checked in and find out that my flight has been delayed two hours.
No prob—I've got plenty of viewing material. I fire up the first episode on my iPad and let the obscene wealth of the Carrington family wash over me.
From L-R: Elizabeth Gillies as Fallon Carrington, Grant Show as Blake Carrington, and Nathalie Kelley as Cristal Carrington.
My first takeaway is that I'm obsessed with Fallon, the #eyelinergoals daughter of the family, and I want to live my life as boldly and as fiercely as she does.
When her dad doesn't give her the COO job, she joins the company's biggest competition; when her new stepmom almost steals a magazine's "woman of the year" award from her, she blackmails the editor to land the title; when she's rescued from a kidnapping, she gets bangs.
This chick is living her life out loud and isn't taking it from anybody.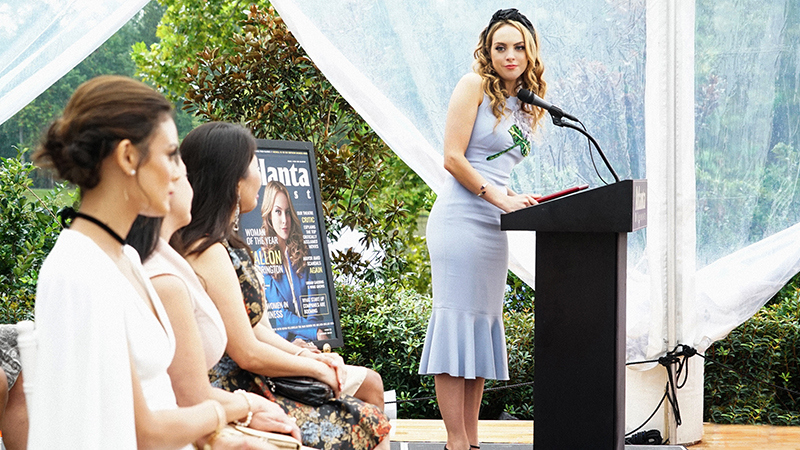 Fallon Carrington (played by Elizabeth Gillies) smugly accepts her prestigious award.
12:02 a.m.:
My flight was supposed to depart two minutes ago. I bring my iPad with me as I line up to speak to an attendant, watching a crazy-not-crazy woman named Claudia trap
Alan Dale
from
The OC
(who plays the Carringtons' butler, Anders) in a wine cellar (tbh, not the worst place to be trapped) so that she could kill Blake (who she thinks killed her husband).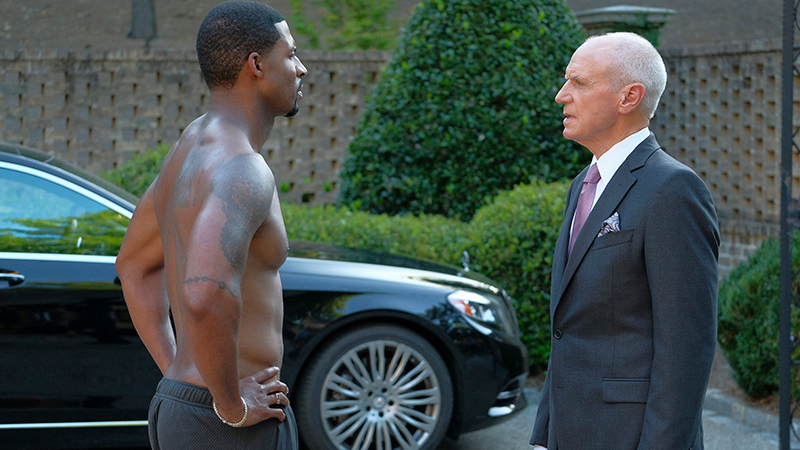 Driver Culhane (
Robert Christopher Riley
) and butler Anders (Alan Dale) regularly clean up Carrington messes—and not just in the garage and drawing room.
I discover that our flight is missing an emergency kit and they'll get me on a different connecting flight, if necessary.
Everyone's upset, but I'm feeling extra chill thanks to my Carrington boos, so I just return to my chair, by which time, of course, Fallon has saved the family from this crazy lady. Where is Fallon when I need her?
Daddy's girl Fallon Carrington, played by Elizabeth Gillies, has everything but control of the family business.
2:06 a.m.:
I have watched eight episodes when I hear the announcement: "This flight is now canceled. Please see the desk to be rescheduled to our next available flight."
I've watched enough of Fallon being a major badass—you haven't lived until you've seen her tackle her shady mom into a pool wearing full black tie—to know that I can't let other people decide my fate. So I march up to an attendant and proclaim, "This is absurd, give me my bag, I'm leaving and I demand a refund."
I am told I can file a complaint online, to which I reply, "OK, then!" because it's 2 a.m. and I've just spent the last seven hours at the airport for no reason other than watching the burgeoning love triangle between Fallon, her family's chauffeur, and a rival tech genius.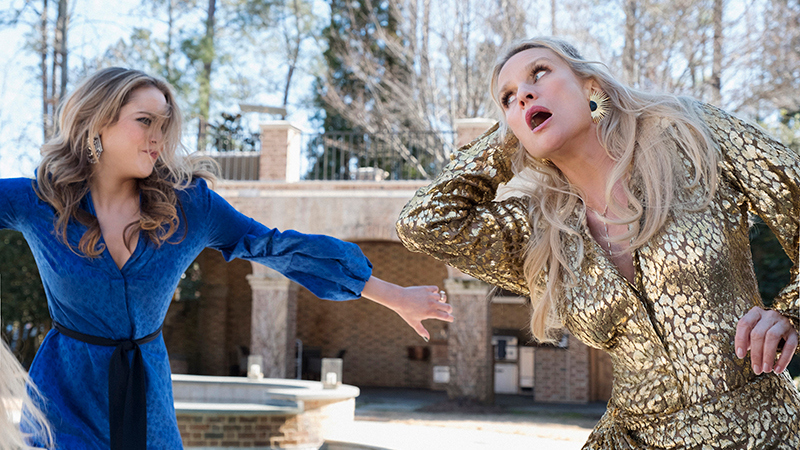 Played by
Nicollette Sheridan
, prodigal mother Alexis Carrington's reunion with the Carrington kids isn't a Hallmark moment.
Saturday
I breeze through this binge thanks to having no plans. I've watched the Carrington family company go from bad to worse; witnessed Cristal fall from grace in a big, big way; met Fallon and Steven's crazy mother and their long-lost-once-kidnapped-now-sleeping-with-their-mom-oh-wait-no-she's-not-his-mom-because-he's-not-their-brother; seen Steven marry his step-cousin with no one saying anything about how weird that is; viewed countless catfights; and reveled in Fallon's ability to twirl on all the haters and finally take her rightful place as CEO (of the company, but also, of life).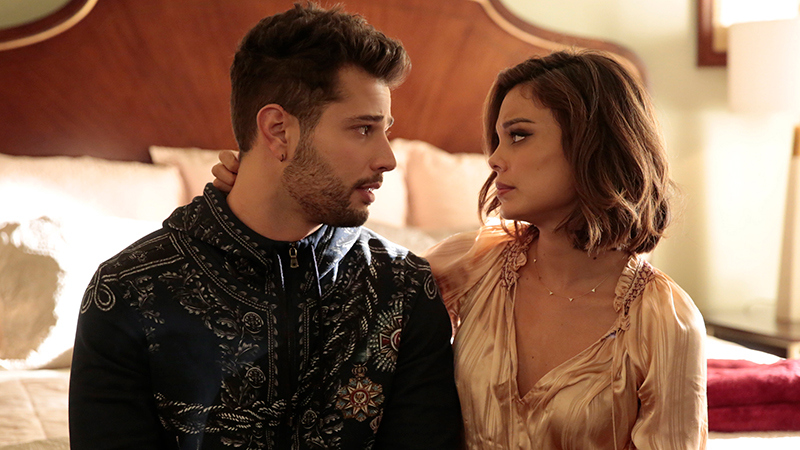 Rafael De La Fuente
as Sammy Jo and Nathalie Kelley as Cristal Carrington.
Also, the finale was bonkers and I can't wait to find out what's happening next season. Is Fallon's ex-boyfriend actually her cousin?! Does it matter when her brother married their step-cousin? Is Cristal still alive? (She's not returning for the second season, so her fate's looking bleak.)
Is Fallon going to have the same winged liner in Season 2, or are we aiming for more of an almond-shaped eye?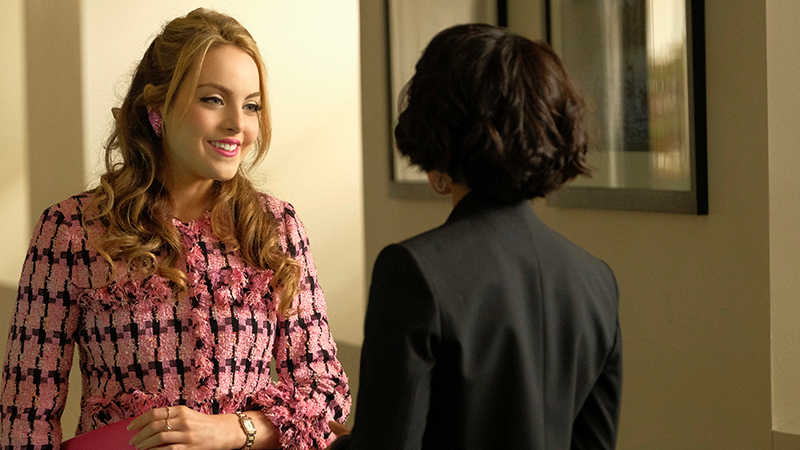 Failure isn't an option for Fallon Carrington, who doesn't stop until she gets wants she wants out of life.
And, speaking of cliffhangers, after speaking to four different customer service reps and filing four separate complaints online, the airline refunds me a total of... $0.
Fallon may have gotten her company back, but clearly, justice—much like Steven Carrington—is nowhere to be found. Stay tuned...
Photo Credits: Marc Hom/The CW; Art Streiber/The CW; Mark Hill; Christopher Fragapane/The CW; Annette Brown/The CW; Mark Hill/The CW; Carin Baer/The CW; Mark Hill/The CW; Carin Baer/The CW; Mark Hill/The CW.
Originally published in
Watch!
Magazine, September-October 2018.
Watch the Season 2 premiere of
Dynasty
on Friday, October 12 at 8/7c on
The CW
.