Getting To Know Daniel Henney
Criminal Minds' handsome cast member Daniel Henney on real-life action skills, soap opera fandom, and what happens on set when the cameras aren't rolling.
By Brantley Bardin
"I was constantly put up on a table and asked to sing Bob Seger's 'Old Time Rock and Roll,'" laughs
Criminal Minds
star
Daniel Henney
about entertaining his family in Carson City, Michigan.
Even from a young age, the high school basketball champ of South Korean and Irish heritage knew performance was his destiny.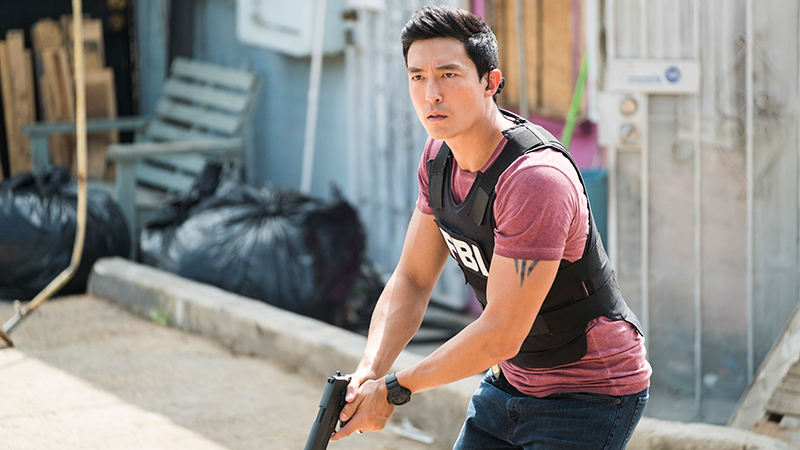 Daniel Henney brings the heat as FBI Special Agent Matt Simmons on
Criminal Minds
.
In 2001, a radio ad seeking models caught his attention, and in a flash, the 6´2˝ Henney was in front of the cameras.
In 2005, his acting career blasted off in South Korea, where he became—and remains—a household name and heartthrob on TV and in film; he flies to the country monthly to oversee his own production company there.
And the entire world knows him now, thanks to his starring roles in the international smash hit
X-Men Origins: Wolverine
and the Oscar-winning
Big Hero 6
.
STREAM: Full Episodes Of Criminal Minds On CBS All Access
Henney, 39, is currently well into his second season of
Criminal Minds
as FBI Special Agent Matt Simmons after having portrayed the ultra-buff behavioral analyst for two years previously on
Criminal Minds: Beyond Borders
.
What has Simmons taught him? "I've learned all kinds of cool-ass headlocks," he says. "I once actually used a rear naked choke I'd learned for the show when I found two Korean guys fighting behind a liquor store. They wouldn't let up with each other, so I had to... help."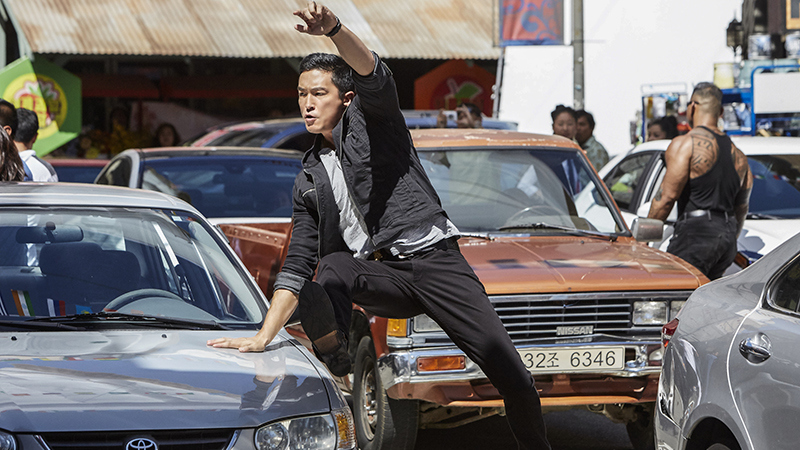 Daniel Henney springs into action on his first season of
Criminal Minds
.
Folks, he not only plays an FBI agent on TV, he can use his action skills in real life, too!
Daniel Henney:
I love that he's the quintessential guy's guy. A family man, too. And really the muscle of [
Criminal Minds
' Behavior Analysis Unit].
I'm the one who's always breaking down the doors. And it's uncommon for an Asian actor to be cast that way. We've been desexualized for a long time, and it's important for me to show, "Look! We can be strong and cool and sexy."
I'm so grateful to play that dude.
But even cool tough guys get spooked after a long day of tracking serial killers, right?
Daniel:
And killing serial killers?! [
Laughs
.] I didn't during
Beyond Borders
. It wasn't until early this season that I started having crazy dreams.
One day I was in a morgue for five hours at 5 a.m. circling around mummies, shooting an episode where this couple finds mummified bodies in their walls.
After a while, it gets to you and you go home and have mummy dreams. But it's great. I don't mind!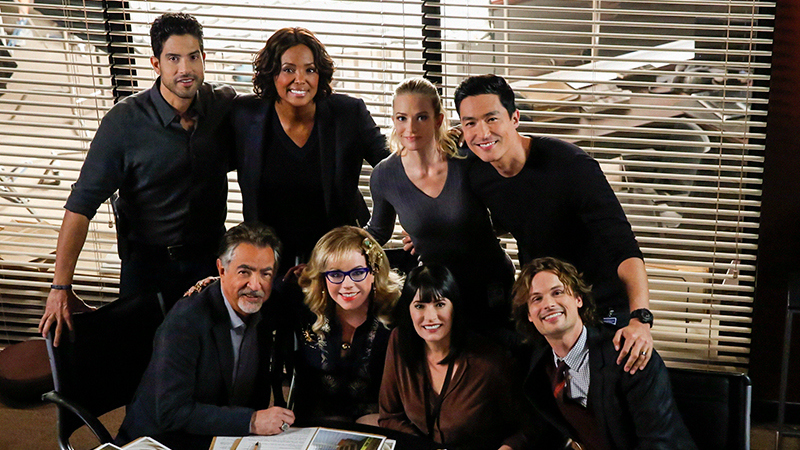 Daniel Henney and
the cast
of
Criminal Minds
on set.
When a show gets dark like this, the cast must need some big yuks on set, yes?
Daniel:
When the cameras are off, it's the most not-serious cast I've ever met. It's like trying to wrangle a bunch of sugared-up kindergarteners when you get
[Matthew Gray] Gubler
and
Kirsten [Vangsness]
and
Paget [Brewster]
and
Aisha [Tyler]
going.
It's joke after joke. And
Joe [Mantegna]
usually falls asleep on his character's jet, which is really funny, too. [
Laughs.
]
In its 14th season, Criminal Minds is still one of the most-watched TV shows in the world. And you just reeled off a bunch of big TV stars who are your colleagues. Yet you started off as a guy from a tiny town in Michigan. Were you dying to conquer the world?
Daniel:
Traveling was always the dream. But where I come from, if you made it three hours away to Chicago, you were making some big steps.
Overseas was like traveling to Mars. California, a different planet. Then modeling took me around the world. And the country of South Korea has given me literally everything.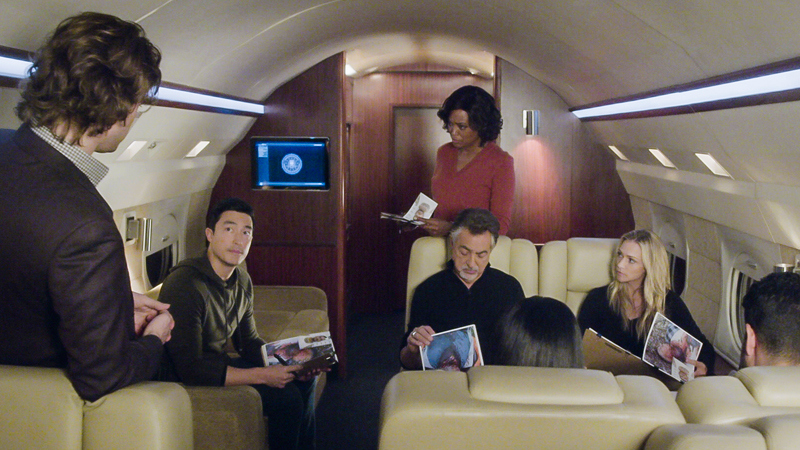 Episodic image capturing the
Criminal Minds
team on the BAU jet.
I went there in 2005, jumped on this soap opera [
My Lovely Sam-Soon
] in a role that was supposed to be for a Korean-speaking guy [Henney didn't yet speak the language], and the show became as big as
Seinfeld
here.
Cut to 14 years later and [the career] is actually better than ever. Crazy. I'm so grateful people still appreciate me.
They do. My favorite Asian Internet fan comment was a simple, "He is still hot." And you're only 39, so—
Daniel:
Oh, but in Asian pop culture, that's ancient! I've been playing, like, the Richard Gere roles there since I was 26. So I think they think I'm permanently 40 now. [
Laughs
.]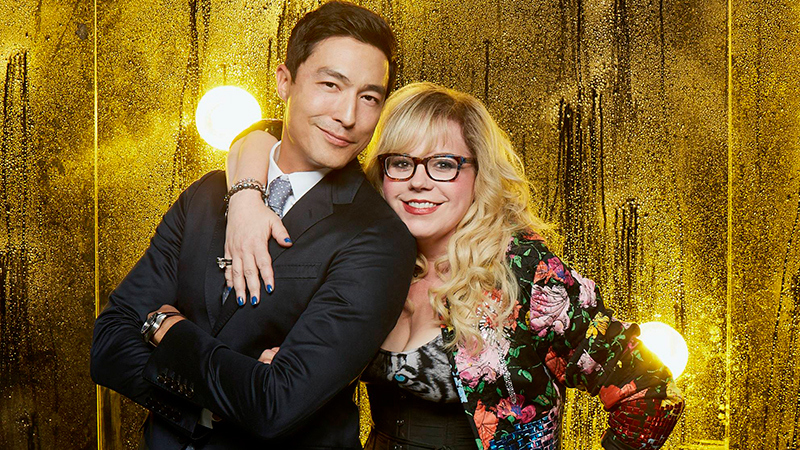 Daniel Henney and co-star Kirsten Vangsness dazzle on the red carpet at the 2017 TCA Press Tour.
A perfect spot to linger. On Criminal Minds, do you have a bucket list goal for Simmons, plot-wise?
Daniel:
More interaction with him and his family. But I'm super happy with Simmons—he's an integral part of the team.
That's a wrap. Any parting words to your public, Daniel?
Daniel:
Just thank you. And I hope we can see more Asian actors out there. So when you see Asian characters on TV, embrace them!
SEE MORE: Photos Of The Criminal Minds Cast Like You've Never Seen Before
Photo Credits: CBS Photo Archive/Getty Images; Monty Brinton/CBS; CBS Photo Archive/Getty Images (5); Cliff Lipson/CBS.
Watch all-new episodes of
Criminal Minds
on Wednesdays at 10/9c on CBS and
CBS All Access
.