Getting To Know Steve Howey
The hunky and hilarious Steve Howey on Shameless, family life, and not being afraid to make 'em laugh.
By John Griffiths
Swaggering into a low-key counter-service restaurant in Hollywood,
Steve Howey
—multi-tattooed and practically tilting at 6'4"— sports the grin of a Zen master, devilish cowboy, and A-1 bad boy all rolled into one.
So, it's not too much of a surprise to find out over a leisurely chat on the back patio—which happens to butt up against a hipster motorcycle garage—that this longtime
Shameless
star has lots of interesting stories and musings in his proverbial vault.
As a kid, he traveled the world on a boat. He's riled the Twitter-verse defending society's downtrodden with zest. And, of course, he rides a Harley—or at least did until fatherhood sunk in.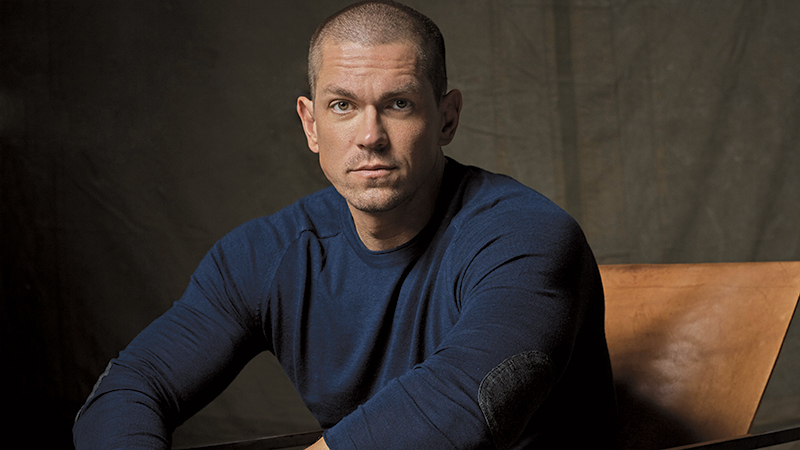 What isn't expected is a certain admission from this San Antonio-born star. Between his raves about his co-stars and jokey swipes against e-scooters ("People ride 'em and just leave them on the sidewalk like garbage? Imagine if Uber drivers did that with cars!"), it comes up that Howey loves Lucy.
"Lucille Ball acted stupid in a lot of stuff, but she was one of the smartest women out there," he says over a cup of coffee. "Same with Don Knotts. Jackie Gleason in
The Honeymooners
. John Ritter. I loved how they didn't treat their intelligence like it was paramount to everything. They sacrificed themselves for a joke. And I love that."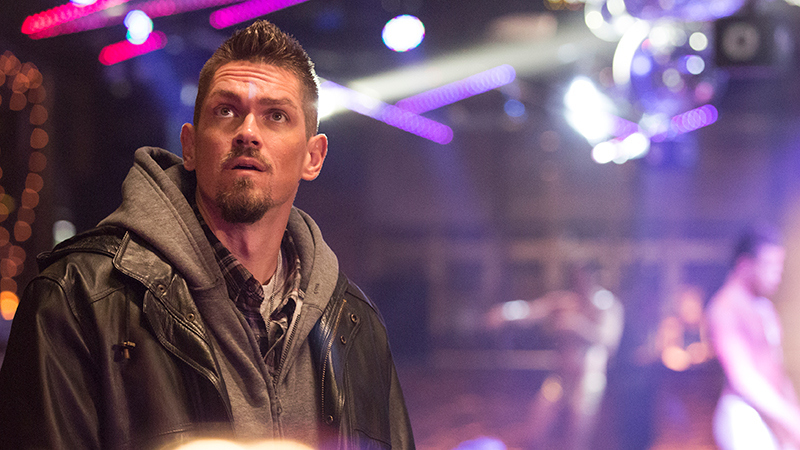 Actually, anyone who's watched Howey goof as
Shameless
' Kevin Ball, the lovable co-owner of Chicago's scrappy The Alibi Room bar, knows the man has his own amusing knack for playing "foiled again!" Kev started out the series (in 2011) drunkenly proposing to his soul mate Veronica (
Shanola Hampton
) even though he was already married.
A more recent harebrained scheme: The lug said hello to (brief) throuplehood by tolerating Veronica's marriage to Russian immigrant Svetlana (
Isidora Goreshter
), saving the woman from deportation.
Through it all, Howey has infused his character with a rare no-big-deal tenderness that's made Kevin's ascension to Devoted Family Man a serious treat. For the record: "I see him as naïve, not dumb. He's so fun to play."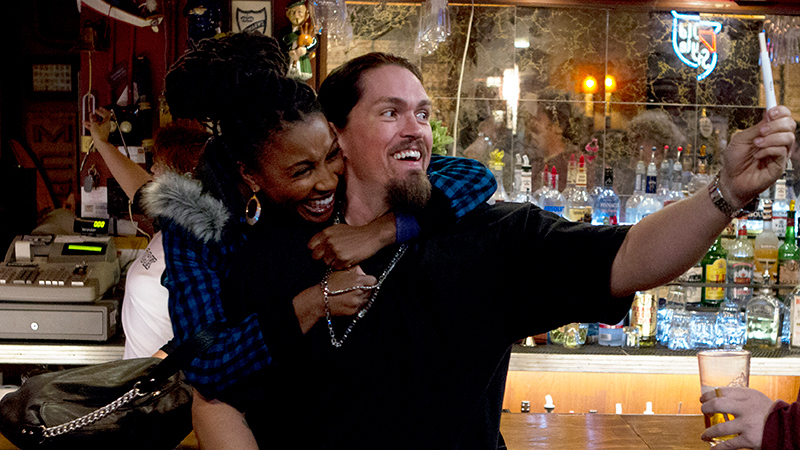 Steve Howey and co-star Shanola Hampton on the set of
Shameless
in Season 3.
Before
Shameless
, Howey scored big laughs as resident dim bulb Van Montgomery for six years (2001 to 2007) on Reba McEntire's sitcom,
Reba
on The CW. "When I got that part, I achieved my life goal," he says sweetly.
So, how did a biceps-popping, UFC-loving actor prone to wearing a leather jacket, jeans, and bandanna come to profess—without any shame—a fondness for flicks like
The Apple Dumpling Gang
?
While he was growing up, his "vagabond," cash-strapped parents Bill and Carla, both acting teachers, towed him from San Antone to L.A. to Denver in their search for jobs.
"We didn't have any money, but my parents did work a lot," says Howey. "They had an aquarium-cleaning business, my mom worked for a sound company, Dad taught acting and made videos on chiropractic care. They were all over the place."
As a latchkey elementary school kid, he lived in the closet of the family's one-bedroom apartment in Marina del Rey, California. "I had a little black-and-white TV and watched all the sitcoms." There you have it.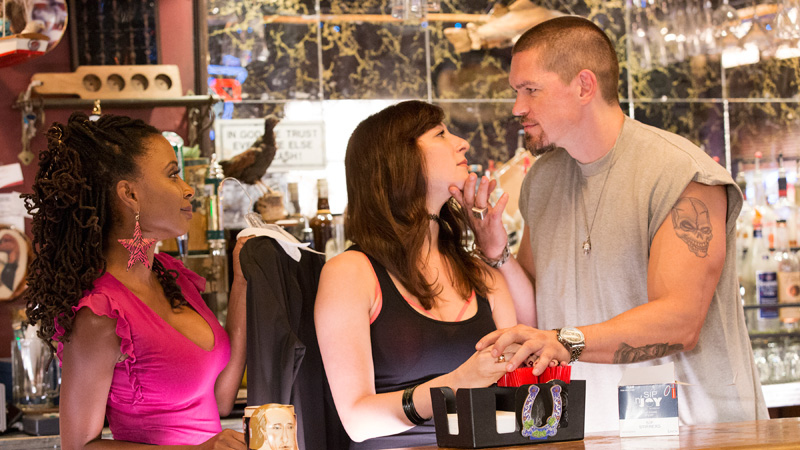 Shanola Hampton as Veronica Fisher, Isidora Goreshter as Svetlana, and Steve Howey as Kevin Ball in Season 8 of
Shameless
.
Howey, relaxed and engaging, is very open about his life. At 41, he's notched a bunch of movie roles over the years (he played Kate Hudson's love interest in both 2009's
Bride Wars
and 2011's
Something Borrowed
, and last February's
Making Babies
, a comedy with him and Eliza Coupe as marrieds going through the infertility ropes).
Yet his priority is his own boisterous family. He met his wife, Sarah Shahi (
Person of Interest
,
Rush Hour 3
,
Chicago Fire
), when she guested on
Reba
in 2004, and now they're raising their son Will, 9, and twins Violet and Knox, 3. "They're so amazing," he says, adding with a dad's knowing smile, "but they do try and test me."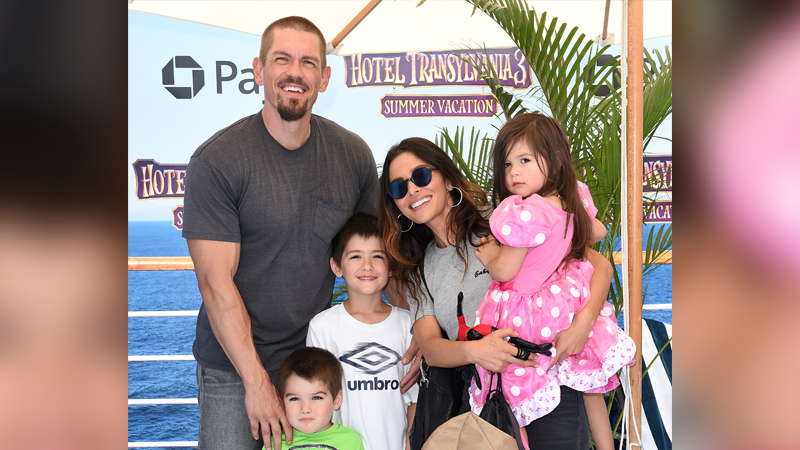 Steve Howey and wife Sarah Shahi, daughter Violet Moon Howey and sons William Wolf Howey and Knox Blue Howey at the premiere of
Hotel Transylvania 3: Summer Vacation
.
So, do you have a scooter?
Um, no. [
Laughs
.]
Do you still ride a motorcycle?
I've got a Harley, but since the twins were born I haven't really been on it.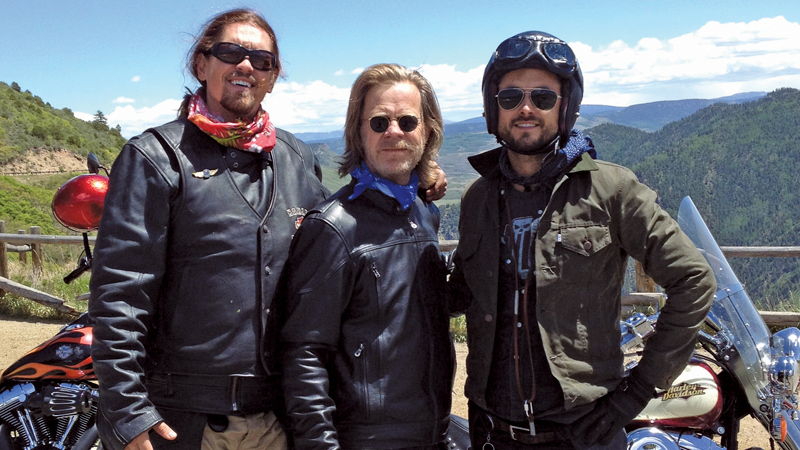 Steve Howey and
Shameless
co-stars
William H. Macy
and
Justin Chatwin
on their motorcycle road trip.
What was the appeal of riding back in the day?
Rebellion. When my son was born nine years ago, it really rocked my world. I jumped on the bike for "one last ride"—typical alpha-male sh*t. Myself, Bill [William H. Macy—Frank on
Shameless
] and [former co-star] Justin Chatwin made a trip up to San Francisco and back, which was a lot of fun.
And then we did a trip from Bill's house in L.A., with [Macy's wife] Felicity Huffman waving good-bye with a cup of coffee. So sweet. We rode to their house in Aspen, Colorado, and it was amazing. It was, like, Americana at its finest. I'm glad I did it.
DISCOVER MORE: Read More About Steve Howey's Epic Travel Adventures
And what's the appeal of being a dad?
There are so many great things about it, but I don't know if "appeal" is the right word. [
Laughs.
]
Anyone that says parenting is not hard is not doing it right. I don't see my friends anymore. I don't see my immediate family as much as I should. What my kids are teaching me is utter patience. I don't really call it patience—I call it no murder. [
Laughs
.]
But my wife, Sarah, is the hero. Three kids—and starring in a TV series? That woman is a warrior! Women, in general, are warriors. This is why they were oppressed for so long—because men knew that in a lot of ways they're better than us.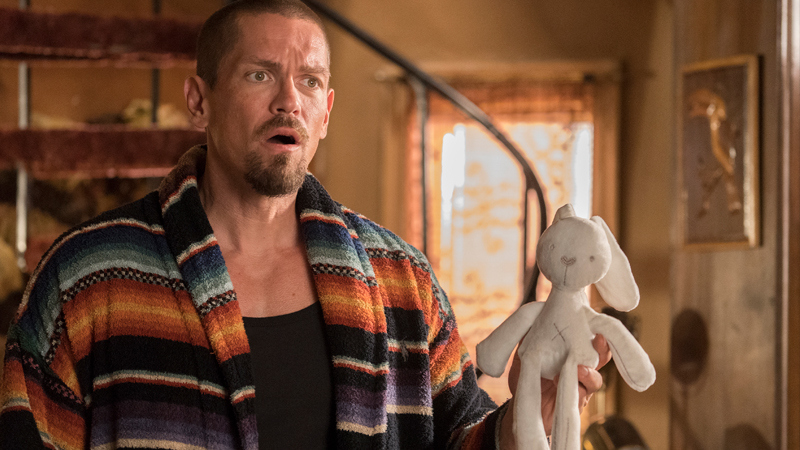 Steve Howey in Season 9 of
Shameless
.
Two busy actors in Hollywood—how do you make it work?
Life comes with a lot of, you know, ups and downs, but you go through it. That's my attitude. And being married to a [fellow] actor is so great because we understand each other's challenges. It's not easy in this business—you go to work where you're used to ordering beverages through a walkie-talkie at your whim, then you've got to go home and do the dishes. We live a life with many dualities, but in the chaos we make sure to keep a lot of normality in our family. Sarah and I—that'll be forever. It's epic.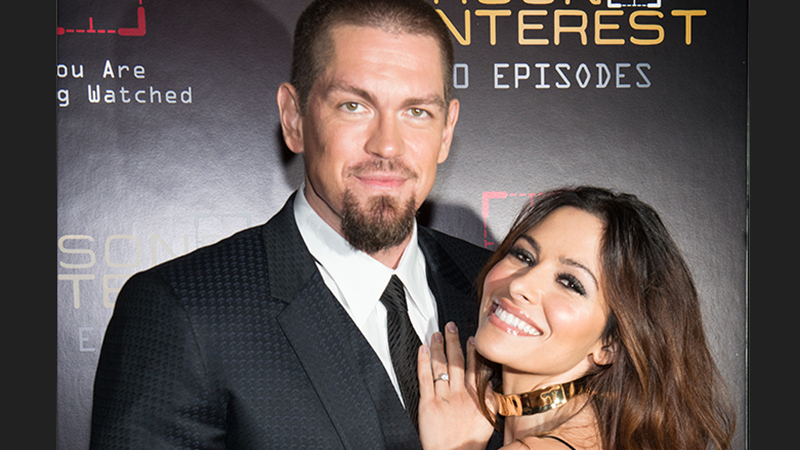 Steve Howey and wife Sarah Shahi attend
Person of Interest
100th episode celebration.
You're a romantic!
Totally. In my younger days, I thought there was more art in pain than there was in joy. It's the total opposite, right?
There's more creativity in giving, in love and acceptance and empathy. You can choose to be a hard-ass, but once you close that fist, good things don't come to you.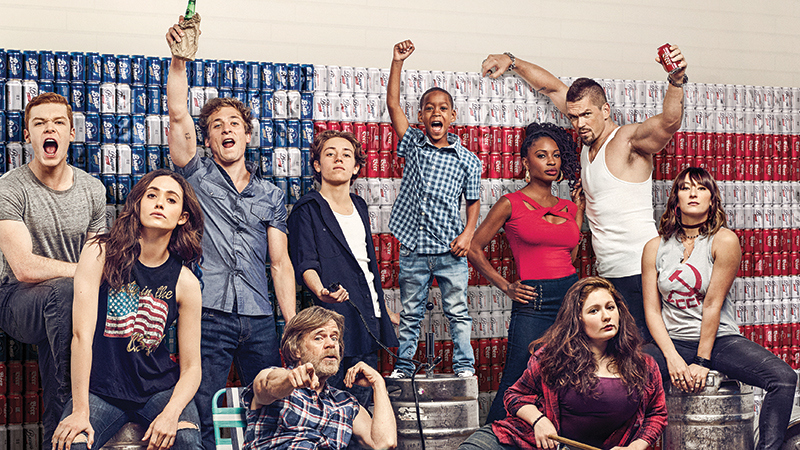 Steve Howey and the cast of
Shameless
from Season 7.
Your Shameless alter ego, Kevin, has changed over the years, too. No disrespect to William H. Macy's boozy dad, Frank, but Kev's sort of become the show's quasi-patriarch.
Well, I'm much more analytical—but I do share his love for family and passion. It's been great to see him go from this sex-crazed Kevin to a dad of two who wants another kid!
He loves his daughter, he loves his wife, he loves his life. He is like the quintessential blue-collar family man now. It's sweet—he comes from a foster upbringing, not knowing his parents and if he was ever truly loved, but now has this foundation.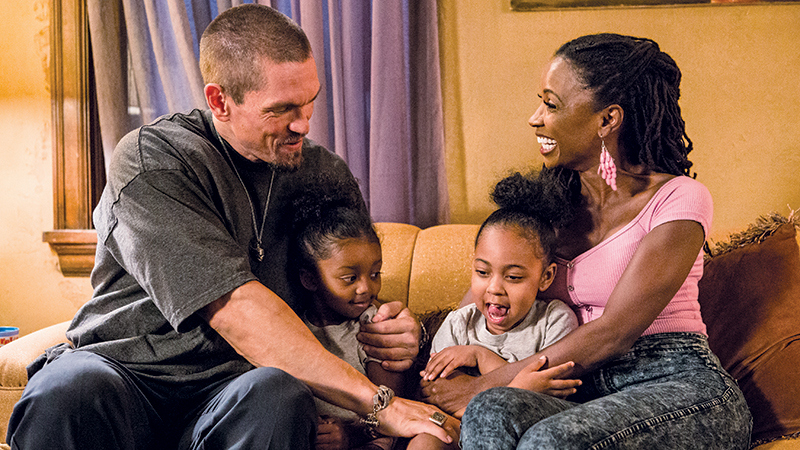 Steve Howey and co-star TV wife Shanola Hampton.
You and your TV love, Shanola, have created one of the tube's great unsung couples.
She's not only an amazing actress, she's an amazing person. I love what she represents on the show—if I'm the quasi-patriarch, she's the quasi-matriarch.
You know, we used to bump heads a lot, and it was always probably my fault. Working together for so long can either breed contempt or bond you for life. And for us it's the latter. We've got a great friendship.
What was your own childhood like? Your parents sound like adventurers.
They traveled a lot, searching. They were on their own journey and I happened to just go along with them. We'd first go to Catalina [the island off L.A.'s coast], stay two nights, then come back. Then they got such a bug, they bought this 38-foot schooner.
"Say goodbye to all your friends and toys, Steve!" We started making our way down south to Baja, stayed in Cabo, then went down to Mazatlán.
By the time we were headed to Panama, it had been, like, months and months and months. I remember being hungry and my mom saying, "Cast a line, Bill! Get a fish!"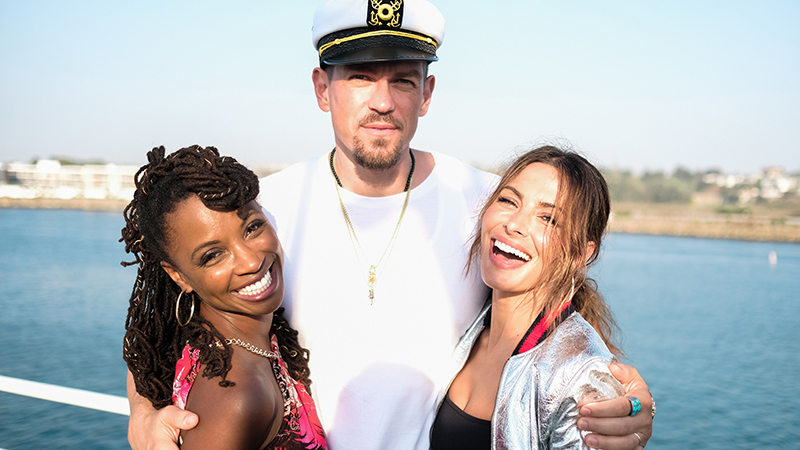 Shanola Hampton, Steve Howey, and Sarah Shahi at Steve Surprise 40th Birthday Party on July 16, 2017 in Los Angeles.
Sounds idyllic, but scary too.
When there would be a gale, my parents would get so freaked about capsizing, they would get harnessed in, bring up the safety raft, and put me in my bunk. We're talking 30-foot waves and this tiny little boat.
So, I would be in my bunk for three days at a time, just coming out to make sure that my parents were still alive. It's a clinical psychologist's dream.
You wound up playing basketball in college in Denver?
My dad moved us to Denver when I was a senior at Green Mountain High—I had been playing basketball since I was a freshman and he thought, this is it—you're going to get your education with a basketball scholarship!
I was into it, and I did get a scholarship to a junior college, but after two years, I realized, "I can't keep up with these demigods on the team." I tried to shove a thousand shots every day with weights, went running, all that stuff. But I was like, "I'm done. Maybe I'll be an actor."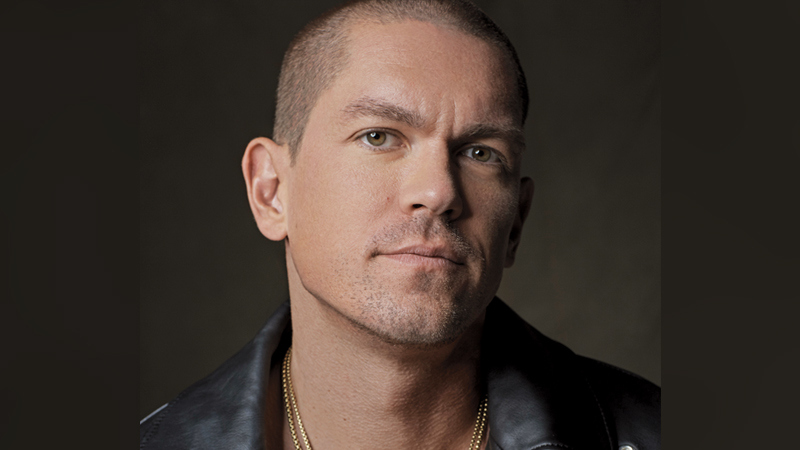 Success came pretty quickly. You came back to L.A. in 1998 and the next year started landing parts on TV shows and movies.
Going to my dad's acting classes definitely helped. The closest thing to theater is acting class.
It doesn't matter who you are—when you're onstage and it's jet black and the lights come up, you're there and you have to tell a story. And everybody in the audience knows if you suck or you don't. Growing up with all that was helpful.
You're straight, but you pretended to come out as gay on social media recently to make a point. Some people were confused, some people loved it.
I'm a friend, I'm an ally, and it was just something I felt like doing at the time. I didn't really care about the consequences.
Two of my best friends have the most beautiful relationship with each other, and I wish I could be half the father that those two guys are. I just wanted to show some unity.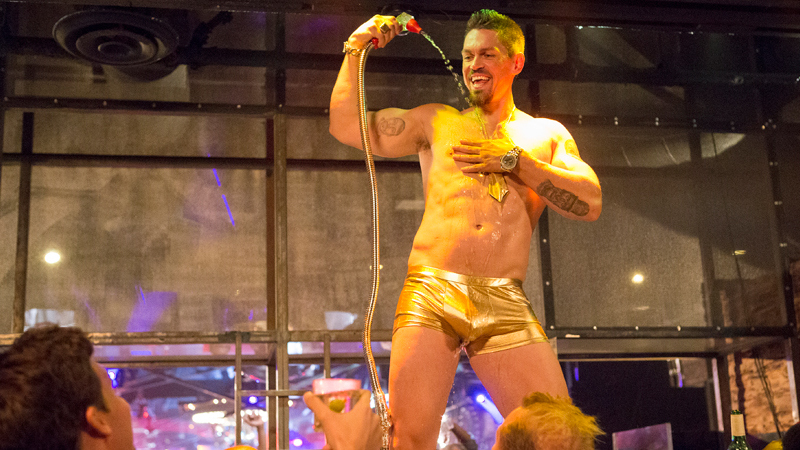 Steven Howey as Kevin Ball in
Shameless
(Season 7).
Shameless fans might like to know how you're looking buffer than ever. What's your workout?
This year alone, I ran two full marathons and a sprint triathlon. Yoga, exercise, stretching, diet—it's all important. I've got to pace myself, though. I strained my hip muscles lifting weights, and three days later I couldn't walk. I'm fine—I finally went to the doctor and got a cortisone shot.
Photo Credits: Rowan Daly (2); Cliff Lipson/Showtime; Paul Sarkis/Showtime (2); Axelle/Bauer-Griffin/Getty Images; Courtesy of Steve Howey; Isabella Vosmikova/Showtime; Noam Galai/Getty Images; Brian Bowen Smith/Showtime; Paul Sarkis/Showtime; Matt Winkelmeyer/Getty Images; Rowan Daly; Paul Sarkis/Showtime.
Originally published in
Watch!
Magazine, November-December 2018.
Shameless
returns Sunday, January 20 on
Showtime
. Catch up now on
Showtime Anytime
.