Up Close And Personal With CBS News' Elizabeth Palmer
How female war reporters like Elizabeth Palmer are breaking stories and stereotypes.
By Lynn Darling
The old-fashioned stereotype of a foreign correspondent is the dashing guy (yes, invariably a guy) who brashly dares danger to get the story—a lone wolf in a trench coat broadcasting through bombings.
Reporting from
CBS News
' London bureau,
Elizabeth Palmer
is breaking stories, barriers, and crushing that dusty stereotype of what makes a war reporter.
STREAM:
CBS News
On CBS All Access
True, she's got the dash and the dedication part down but has tossed out most of the rest. No lone wolf, she's a woman with a family—unromantic about the dangers she's faced in some of the world's most dangerous places. She gets the job done, bringing us stories that change the way we look at the world.
Watch!
interviewed Elizabeth Palmer and her CBS News colleagues
Debora Patta
and
Holly Williams
for our November-December 2018 issue. Read on for her fascinating interview below, and follow Elizabeth Palmer on Twitter
@elizapalmer
.
CHANGING THE STEREOTYPE
"I think the mold has changed," says Elizabeth Palmer. "I don't have demons or a dark side. I think having a family saved me from turning to alcohol or extreme sports or most probably living only to work. I know people who went down that road and who, when they retire, are utterly lost."
Palmer has been a journalist for 30 years now, first as a radio and TV reporter for the Canadian Broadcasting Corporation before coming to CBS in 2000. As a foreign correspondent, she's covered a dazzling range of topics, from the fall of ancient walled cities in the war-weary corners of the world to a Dutch artist's whimsical creatures floating across an empty beach.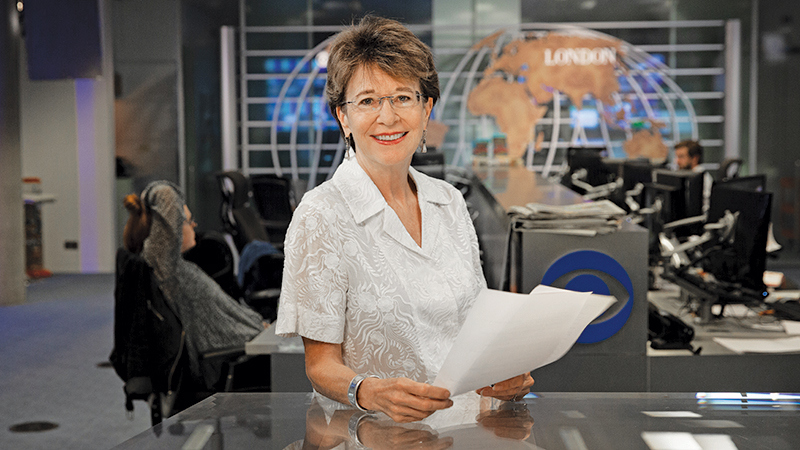 Elizabeth Palmer reporting from the
CBS News
studio in Chiswick, London.
Since 9/11, her focus has been the Middle East: Last January she was awarded the Alfred I. duPont-Columbia University Award—broadcast journalism's equivalent of the Pulitzer Prize—for "The Road to Aleppo," her coverage of the war in Syria. "I've always been drawn to conflict zones," she says. "It's a crucible of human nature, in which you see the very best and the very worst."
By now, she can toss off the airiest confection of a feature story with the same insight she brings to exposing the corrosive effects of corruption.
There is an elegant, incisive economy to Palmer's stories, whether she's reporting on battle-worn Syrian soldiers and civilians, the besotted owners of vintage American cars in Tehran, or President Putin in full hockey regalia.
She has a knack for nesting the visceral impact of images and sound bites within a bigger, more complicated picture, like novels packed into haikus.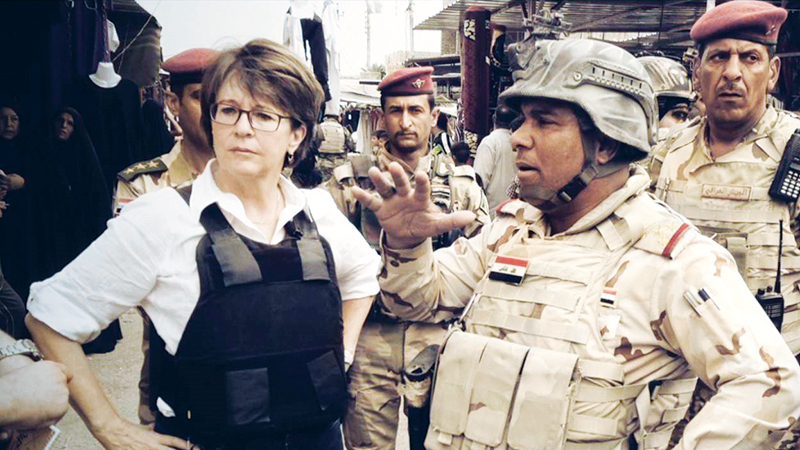 In 2014, an Iraqi officer explains the situation in Baghdad as ISIS closes in.
It comes from experience, she says, one of the gifts of growing older. "Several things happen with age," Palmer says. "My self-confidence has grown hugely. It's much easier to call a spade a spade now—I know the players, I know the history, it's much easier to understand what I'm looking at, to see it for what it is."
LIFE ON THE EDGE
Foreign correspondents lead vertiginous lives, ricocheting from a surreal adrenaline-drenched tunnel in which there is only the story and the getting of it into a parallel universe of dinner parties and dental appointments.
At the end of the tunnel for Palmer is London, where she's lived for the last 15 years with her husband, Luc Laporte, and her two children, Zachary, 29, and Chloe, 20.
There she settles into city pleasures and daily routines—she is an avid and knowledgeable lover of art, a reader, a cyclist, a knitter. (Palmer's knitting, in fact, is something of a legend among her colleagues, and her sweaters inspire both awe and envy—at least in this reporter.)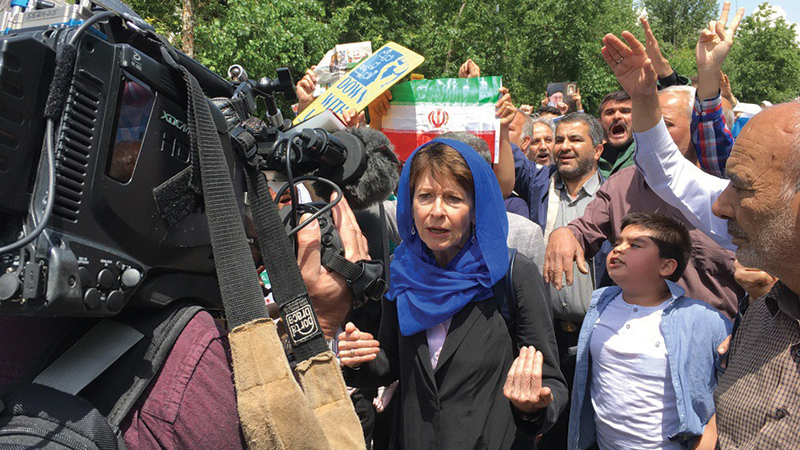 Elizabeth Palmer covering demonstrations in Tehran, Iran in 2018.
But the transition from one world to the other can be rough. Palmer has had more than her share of close calls and near misses—she knows the sound of bullets whistling in the dark. (Once it was a sniper, "but luckily not a very good sniper.")
Nightmarish images of imminent doom can jerk her awake at night, she says, but she turns the same cool reasoning on herself that she does on her stories. "I know that I'm going to feel this for a few days, but it's like an ache; I just have to get through this and it will go away."
COMPASSIONATE CORRESPONDENT
Sometimes she brings back memories of small blessings—the scent of almonds and orchard blossoms drifting over a dusty road, the coo of turtledoves, the cups of tea offered by those who have nothing left but the abiding grace of their own humanity.
But the images that linger longest are those from which she must inevitably walk away. "I'm haunted by individuals," she says—the boy in Baghdad, desperate for the food and medications that could have saved him and that couldn't be had, the newborn dying in an incubator when the power was cut.
"I walk back into my life feeling hugely lucky, my delight in life heightened, but you're always wrestling philosophically with this basic truth—that life is such a crapshoot."
Excerpted from the "On the Frontlines" feature package, originally published in
Watch!
Magazine, November-December 2018.
Photo Credits: John Paul Filo/CBS (Palmer); James Clarke (News Studio); CBS News (2).
Watch
CBSN
on
CBS All Access
.