Up Close And Personal With CBS News' Debora Patta
How female war reporters like Debora Patta are breaking stories and stereotypes.
By Lynn Darling
The old-fashioned stereotype of a foreign correspondent is the dashing guy (yes, invariably a guy) who brashly dares danger to get the story—a lone wolf in a trench coat broadcasting through bombings.
Debora Patta
is breaking stories, barriers, and crushing that dusty stereotype of what makes a great war reporter. Based in Johannesburg for
CBS News
, she takes a hard look at war and corruption across Africa.
True, she's got the dash and the dedication part down but has tossed out most of the rest. No lone wolf, she's a woman with a family—unromantic about the dangers she's faced in some of the world's most dangerous places. She gets the job done, bringing us stories that change the way we look at the world.
Watch!
interviewed Debora Patta and her CBS News colleagues
Elizabeth Palmer
and
Holly Williams
for our November-December 2018 issue. Read on for her fascinating interview below, and follow Debora Patta on Twitter
@Debora_Patta
.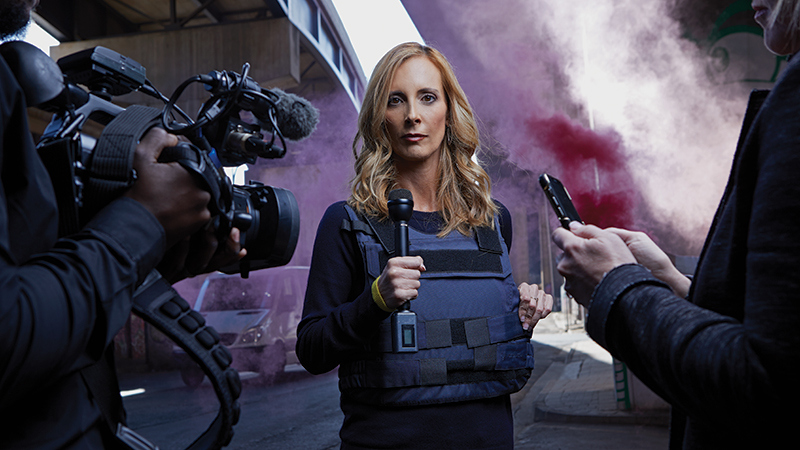 Patta reports from downtown Johannesburg, South Africa.
CHANGING THE STEREOTYPE
Passport? Check. Laptop? Sure. Portable espresso machine? Absolutely.
"I really believe that every day should begin with a good cup of coffee," says Debora Patta. "Even in a war zone. You wake up and you have your biscuit and your coffee and life isn't so bad."
Patta was born in Zimbabwe, lived most of her life in South Africa, and has covered the continent for CBS for the last five years.
Her stories give faces to the faceless numbers caught up in history's riptides—the stunned eyes of a young mother shunned by her village because of an infant born of rape, a smiling young man whose white-shrouded corpse lies in a freshly dug grave behind her.
"This is Felicifa Chepus," she says, holding up his photograph. "He was 22, and he was loved."
STREAM:
CBS News
On CBS All Access
LIFE ON THE EDGE
The stories wrap themselves around your heart, but Patta is clear-eyed about the hard bargains made to tell them.
"We develop these intimate relationships with people, use their information, get all the credit, but their lives don't change," she says. "They often tell us the worst thing that happened to them in their lives—and we get to walk away. That's the painful part of what we do, and so we have a huge responsibility to tell that story well, with dignity and in a way that provides a voice for the voiceless."
Patta lives in Johannesburg with her 13-year-old daughter, Ella (her elder child, Chiara, 19, is a student at the University of Cape Town), and her partner, Andrew Levy, photographer, pioneer educator, part-time surfer, and full-time saint who holds down the fort during her reporting trips.
Because she misses so much when she's away—first crushes, camping trips, classroom triumphs—she plunges into hyper-domesticity when she's home. "I feel the need to give them so much when I'm here," she says. "To go to all the school meetings, to make beautiful meals, to be a mom."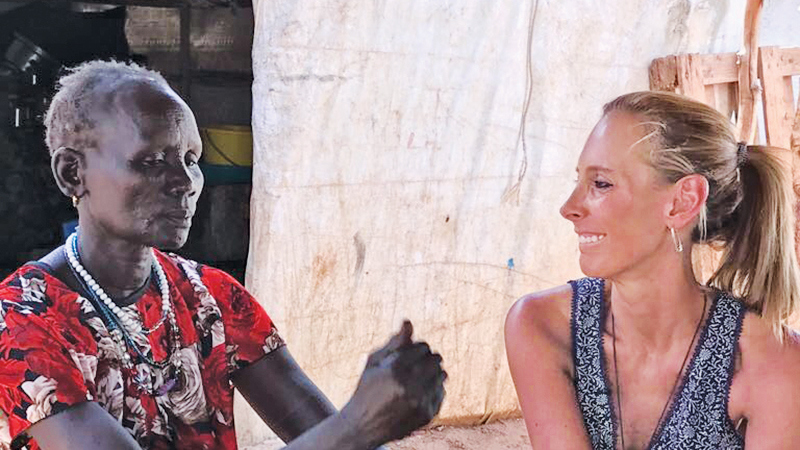 In 2017, Debora Patta and a Sudanese woman find a moment of laughter amid the conflict.
She also uses the downtime to do some serious personal maintenance. "You know how it is," she laughs. "The older you get, you're one step away from being a bag lady. I get everything done, because you never know when you're going away again and for how long, and God forbid the highlights should start growing out."
Her insouciant self-mockery is refreshing: The question of personal appearance is a loaded one for women in television who are up against a very different set of standards than their male counterparts.
Patta, however, sails into the burning question of What to Wear in a War Zone with airy aplomb. "Look," she says. "We're in a visual medium, so you have to look good, and getting your own sense of style out there is just part of who you are."
But it's tricky, she says, to find something that doesn't come off as trying to look "pretty and glamorous in the face of horror, pain, and suffering."
(Luckily Patta is as adept an online shopper as she is a reporter; she knows where to find the stylish but wrinkle-free shirt, the well-cut but understated pants, the French legionnaire combat boots in cool colors. And she can really rock a flak jacket.)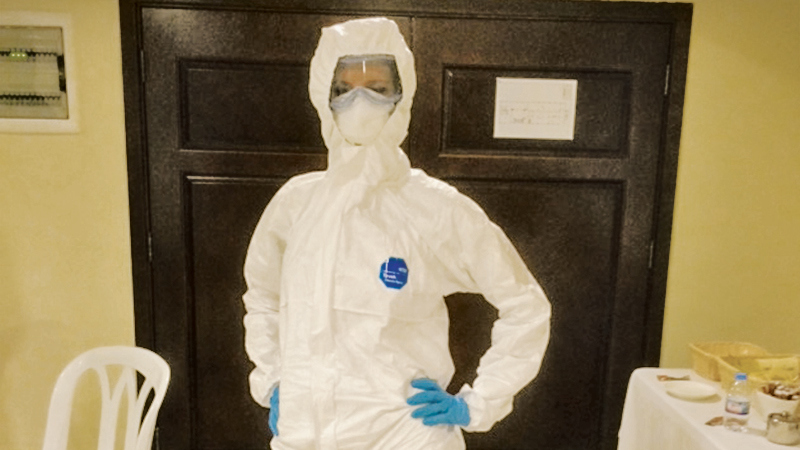 Patta suits up to cover the 2014 Ebola outbreak in Monrovia, Liberia.
COMPASSIONATE CORRESPONDENT
Covering as she does a flood tide of sorrow, from children orphaned by Ebola to Sudanese women traumatized by rape and famine, Patta looks for the features that offer a modicum of hope and even, occasionally, success.
"The people in these stories are dealing with so much, in their poverty and their pain and in their grace and dignity," she says. "They have so much to teach us."
One of her favorite stories is that of an 11-year-old boy working in a Congolese cobalt mine who was given a chance to go to school for the first time. Since then, she says, "'Don't you ever complain about going to school again' has become sort of a mantra around our house."
Excerpted from the "On the Frontlines" feature package, originally published in
Watch!
Magazine, November-December 2018.
Photo Credits: Justin Dingwall (Patta); CBS News (2).
Watch
CBSN
on
CBS All Access
.