Jensen Ackles' Hidden Talent
Like his day job playing Dean Winchester on Supernatural, Jensen Ackles' passion project—a brewery and tap room—is a family business.
By Yolanda Crous
Not everybody can turn their hobby into a successful side hustle.
But
Jensen Ackles
, who's currently in the middle of his 14th season on
The CW
's hit thriller series
Supernatural
, did just that last winter when he opened the
Family Business Beer Co.
, a destination brewery set on a horse ranch just outside Austin.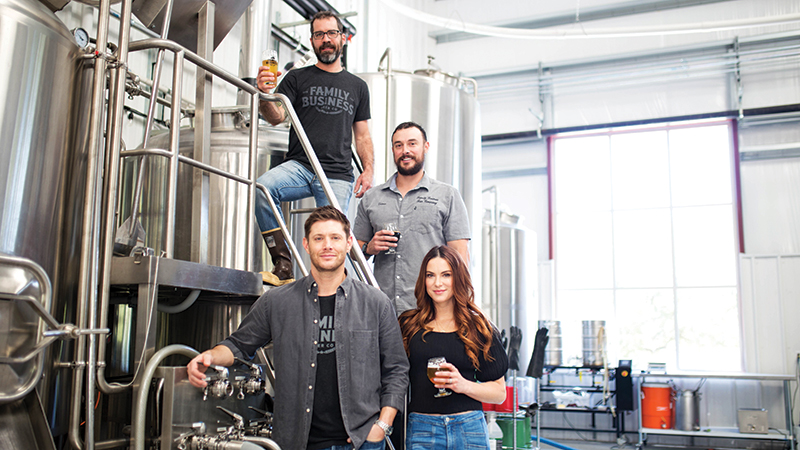 The Family Business Beer Co. family (clockwise from top left): Nate Seale, Gino Graul, Danneel Ackles, and Jensen Ackles.
Ackles caught the craft-brew bug about eight years ago when his brother-in-law, Gino Graul, came to stay in his guest house in Los Angeles.
"He and I both got into the craft scene and said, 'We should make beer.' And so we did. And it was terrible," laughs Ackles. "But we weren't discouraged." As their beer got better, their plans got bigger. "We had a pipe dream of making enough beer to supply our friends and family, and maybe even, who knows, to sell to other people," he says.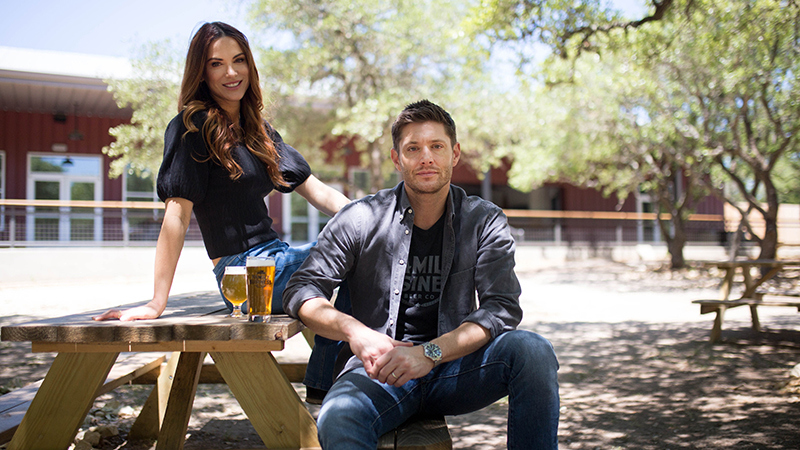 Danneel and Jensen Ackles enjoy the fruits of their labor outside the brewery.
Graul took some beer-making classes at the University of California, Davis and Chicago's Siebel Institute. Meanwhile, Ackles and his wife, Danneel, had their first child and started talking about packing up and leaving Los Angeles.
"We were thinking about where to plant our roots. Austin kept coming up," says Ackles, a Texas native. "We moved, and Gino ended up following us, which kept the dream alive."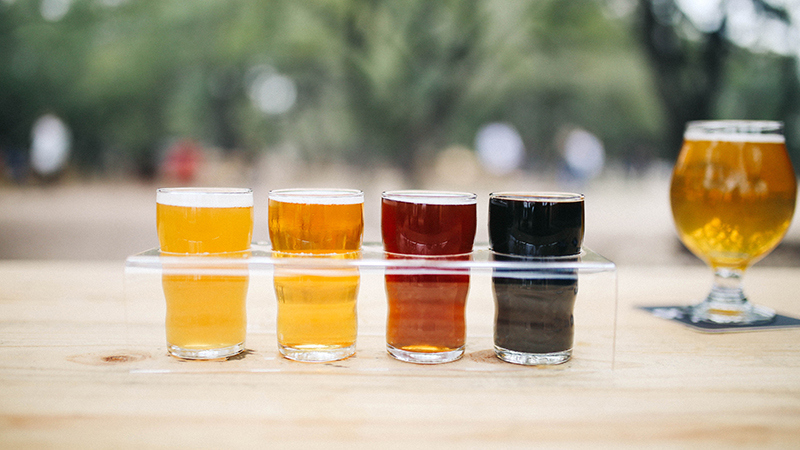 Can't decide? Try a flight of the best brews.
After they arrived, Graul's uncle tipped them off that his neighbor's horse ranch was about to go up for sale. That ranch turned out to be 15 acres of prime Texas Hill Country property just outside town, complete with an old house, stables, and a gorgeous oak grove.
"It's some of the prettiest landscape that Texas has to offer, in my opinion," says Ackles. And the perfect spot for a destination brewery.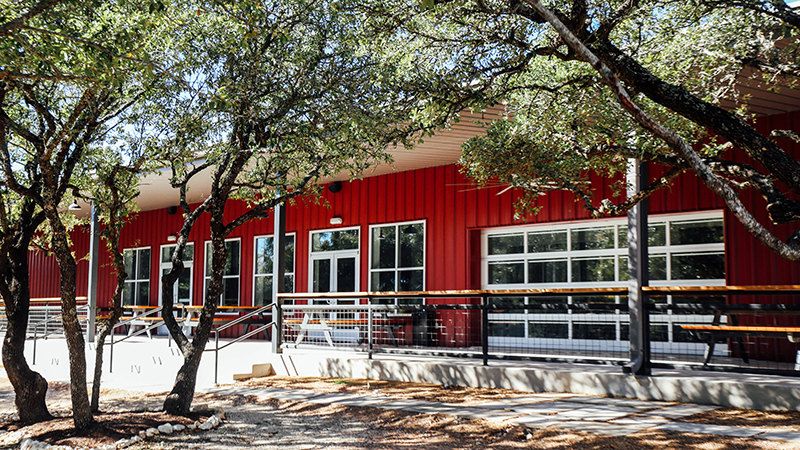 The charm of a Texas farm.
The whole family went to work. When Ackles wasn't in Vancouver filming
Supernatural
, he was helping out with construction and clearing the land. (Fun fact:
Jared Padalecki
, Ackles' co-star and on-screen brother, who also lives in Austin, pitched in a couple of times.)
STREAM:
The Latest Episodes Of Supernatural On CWTV.com
Danneel was in charge of the design. "She wanted it crisp and clean. Not your typical grungy garage-looking place," he says. They hired local woodworker and artist Adam Young to craft the seating and the sleek bar, and L.A. artist Kenton Parker to paint the mural behind the stage.
To play up the family-centric vibe, they included a fenced-in playground outside, plus horseshoes, cornhole, a shaved ice stand, and a Southern and Cajun food truck run by the Ackles' friends—and
Duck Dynasty
stars—Jep and Jessica Robertson.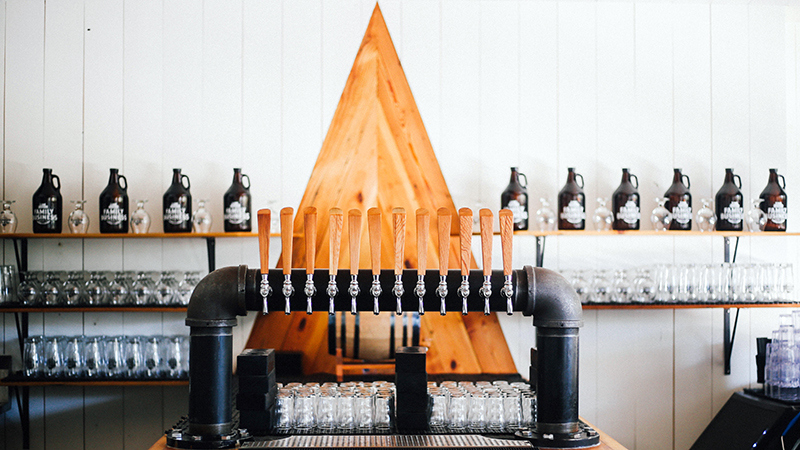 Inside the Family Business Beer Co. tap room.
But of course, the brewery's reason for being is the beer. The mastermind behind Family Business' IPAs, stouts, and lagers is head brewer Nate Seale, formerly of Austin's (512) Brewing Company and Portland, Oregon's Mt. Tabor Brewing.
Seale has a rep for creativity and experimentation. "Bringing Nate on board was a coup, and we're stoked to have him," says Ackles. "We created the best playground we could, and we just kind of let him play."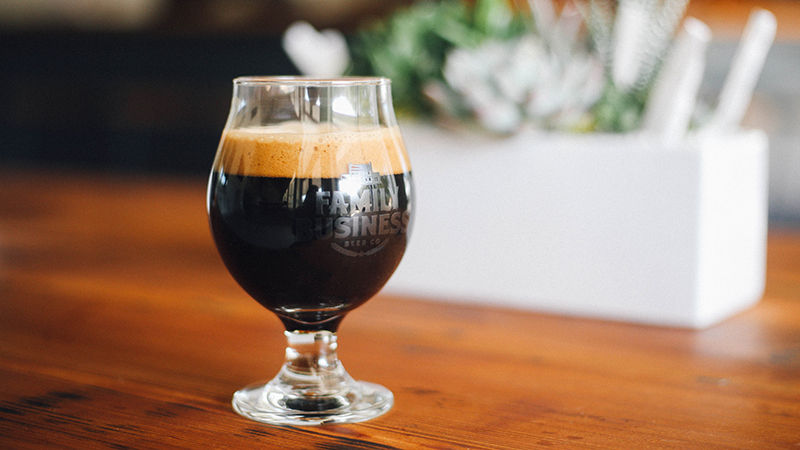 The Grackle Hill Country Imperial Stout.
These days, Ackles is more of a taster than a beer maker. "I enjoy the process, but once you're talking about making 15 barrels in one batch, I don't want to mess that up," he says.
Ask him what his favorite is and he'll tell you it changes from day to day. When they were clearing land, Nate couldn't make enough of the Hamilton Pale Ale, he says. By the time the brewery opened, it was all about the King Biscuit ESB.
And whenever he hits up the
Jep's Southern Roots
food truck, he has a hankering for a hoppy brew. "The Cajun shrimp po'boy is the one thing on that truck that I cannot not order," he says. "I'll put that with the Cosmic Cowboy IPA all day long."
The Cajun shrimp po'boy sandwich pairs perfectly with a hoppy beer.
GET THE RECIPE:
Jensen Ackles' Food Truck Favorite, Cajun Shrimp Po'Boy
What's in the future for Family Business Beer Co.? In the short term, more outdoor seating. "Danneel and Jessica Robertson are out together right now doing some crazy antique shopping looking for cool old Texas furniture," Ackles says.
In the long term, the family is considering renovating the ranch house and opening up a restaurant. And they're looking into distribution, so someday you might be able to snag a Fox Rye Lager or Grackle Hill Country Imperial Stout away from the brewery.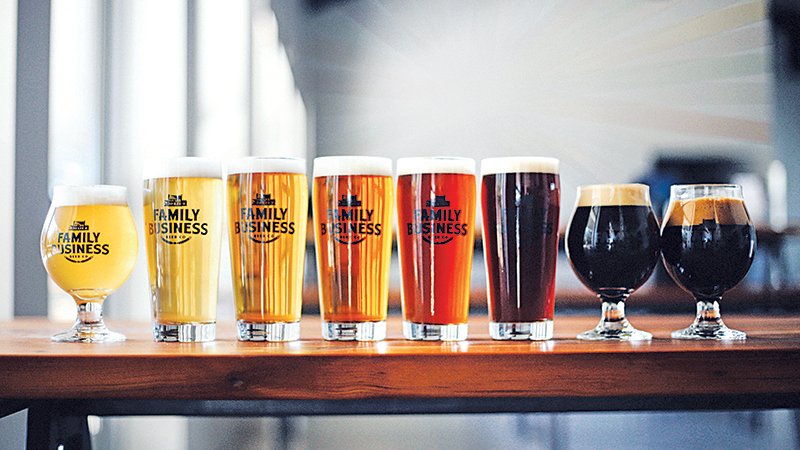 The usual suspects in the Family Beer Business brew lineup.
But bottom line, says Ackles, Family Business Beer Co. is all about, well, family. "It's been something that's been just super fun to do with my wife and my brother-in-law and friends," he says. "It's been quite a journey and an amazing result."
Photo Credits: Julia Keim (7); mphillips007/Getty Images (Shrimp po'boy).
Originally published in
Watch!
Magazine, November-December 2018.
Watch
Supernatural
on Thursdays at 8/7c on
The CW
.