A Toast To Melody Thomas Scott's 40 Years On The Young And The Restless
Y&R celebrates Melody Thomas Scott's 40th anniversary on the show!
By Joey Anthony
While viewers of
The Young and the Restless
looked back at Nikki Newman's life in the February 20th tribute episode, cast, crew, family, and friends of the #1 Daytime drama came together to celebrate portrayer
Melody Thomas Scott'
s four decades in Genoa City.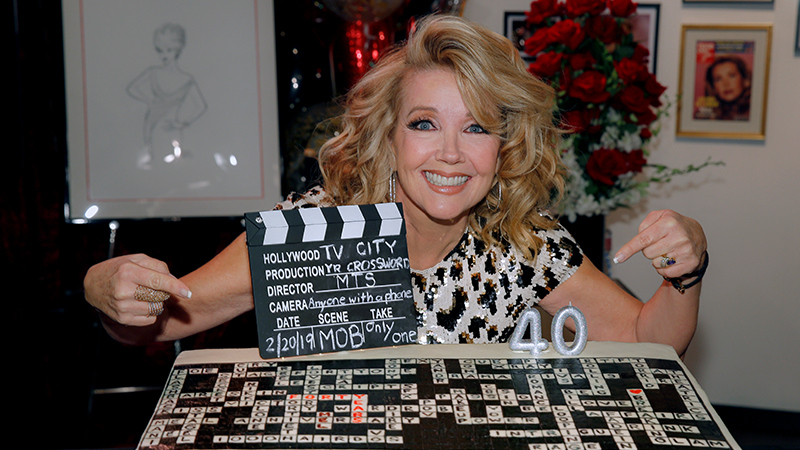 From custom cake to tailored toasts,
Y&R
celebrated Melody Thomas Scott's career milestone with one big party on the set.
The stage where
Y&R
tapes was decked out with memorabilia from Scott's personal collection and with
Christian Jules Le Blanc
(Michael Baldwin) serving as master of ceremonies,
Eric Braeden
(Victor Newman),
Peter Bergman
(Jack Abbott),
Joshua Morrow
(Nicholas Newman),
Amelia Heinle
(Victoria Newman), and more took the mic to share love and laughs with the woman who's played such a beloved and legendary television character.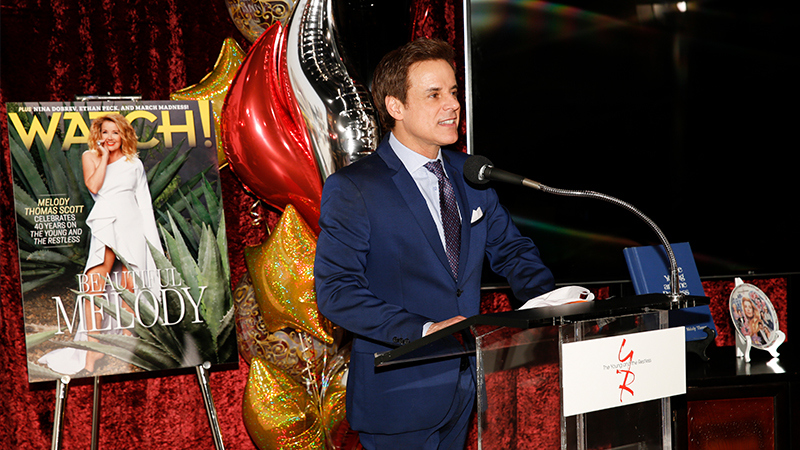 Christian Jules Le Blanc took on the role of master of ceremonies.
Bergman put it all into perspective by reminding everyone that when Scott joined
Y&R
, Jimmy Carter was president and gas cost $0.86 a gallon.
He also marveled that she's filmed well over 3,000 episodes. "Melody, you're one of the queens of the industry—never mind Daytime," he gushed. "I'm thrilled to have gotten to work with you."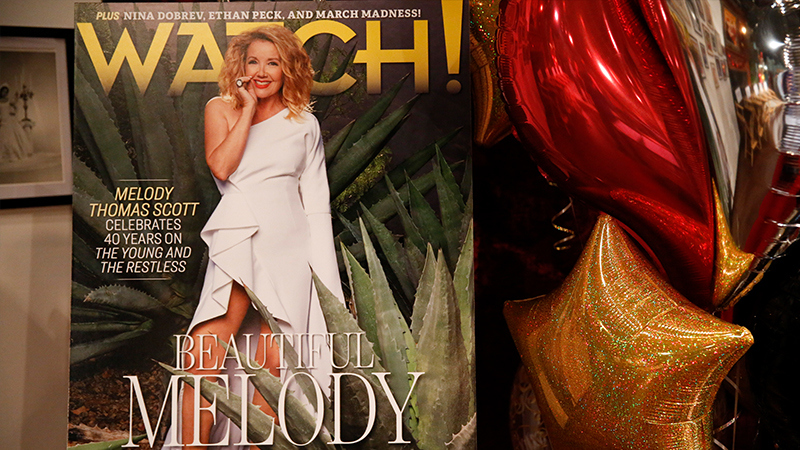 Melody Thomas Scott's 40th anniversary
Watch!
cover story, on newsstands 3/19!
That was the sentiment across the board, but Braeden was particularly moved by Nikki's tribute episode. "You were beautiful, baby, and you still are," he cooed, adding that women across the world want to emulate Scott. "Beautiful, strong, and sometimes too obstreperous with me. You have a great sense of humor. I adore that. And when they say 5-4-3-2-1, you're on the spot. You're right there. I'm proud to have had you as a colleague."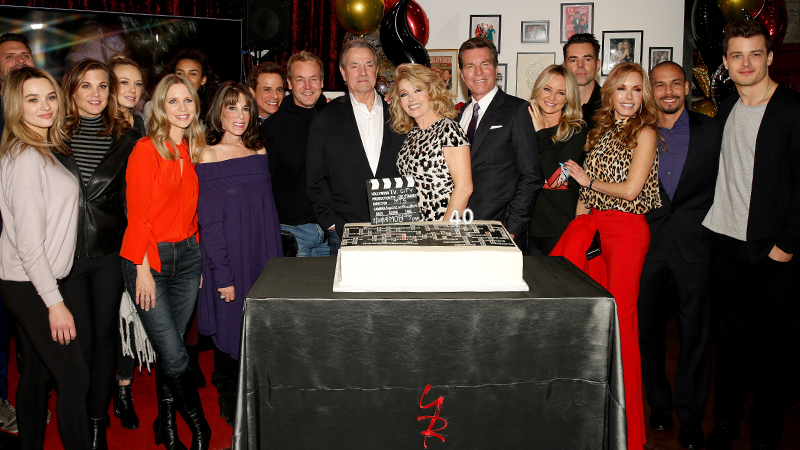 Friends and family (on and off-air) came together to celebrate Melody Thomas Scott's 40th year on
The Young and the Restless
.
Her on-screen kids got a little more creative with their speeches. Morrow had the crowd cheering for a rap, but instead opted for a sweet, funny poem called "40" that honored his "Mama's talent, timing, and sense of humor. Heinle, in turn, shared 13 fun factoids about Scott—which included her hatred of water, love of Sudoku, and photographic memory.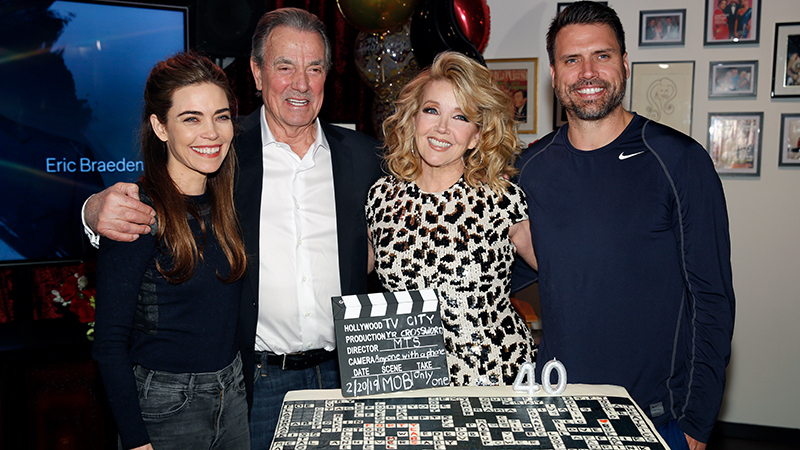 Melody Thomas Scott with co-stars and on-screen family, Amelia Heinle (Victoria Newman), Eric Braeden (Victor Newman), and Joshua Morrow (Nicholas Newman).
In addition to accolades from
The Bold and the Beautiful
showrunner Brad Bell and executives from Sony and CBS, Scott received a letter of praise from feminist critic and longtime fan Camille Paglia (who wrote
Sexual Personae: Art and Decadence from Nefertiti to Emily Dickinson
).
SEE MORE: First Look: Stunning New Photos Of Y&R Star Melody Thomas Scott
Finally, Scott took center stage to speak to her complicated childhood and the family she's found in Genoa City—and she wasn't just talking about former
Y&R
executive producer turned real-life husband Edward Scott and their children and five grandkids!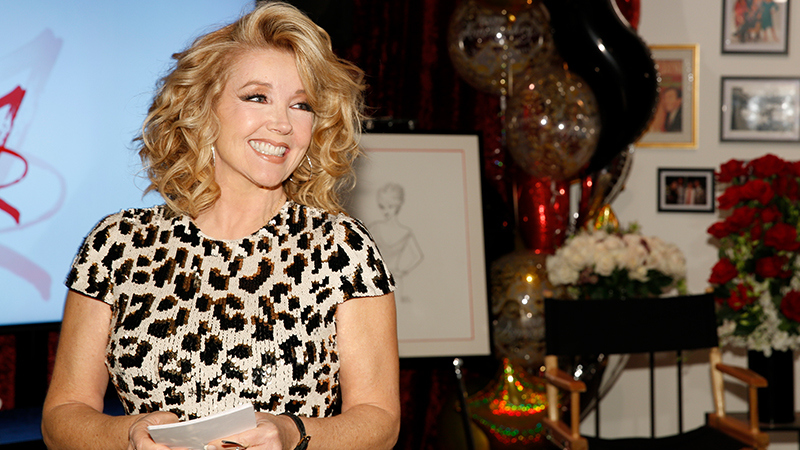 Melody Thomas Scott delivering a heartfelt speech.
"Whether you know it or not, you are what bring me joy," she told the crowd. "You have made me laugh. You have made me cry. You have joked with me. You have grown with me. You have encouraged me. You have protected me. You have teased me. You have appeased me. You have fought with me. You have forgiven me. You have screamed with me. You have gossiped with me—you know who you are! You have mourned with me. You have embraced me, bad hair days and all. Today, you celebrate with me. All the above has meant so much to me because that's what families do, and that's why I can't wait to get here every day."
"Though it was long in coming, I know I am home," she concluded.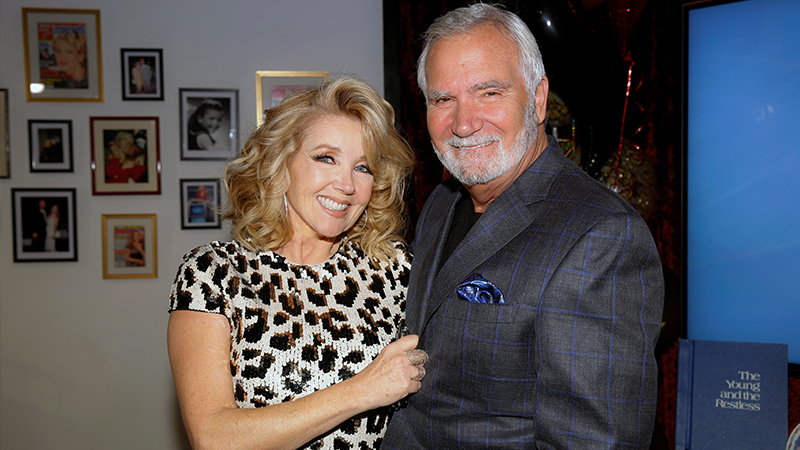 Melody Thomas Scott with
John McCook
, a
Y&R
alum now on
The Bold and the Beautiful
.
With that, it was time to eat cake—which was a lemon-flavored crossword puzzle designed by
Hansen's Cakes
in honor of two of Scott's obsessions.
The woman of the hour also invited everyone to a beautiful lunch, but there was no time for her to feast. The beloved actress was too busy accepting hugs and congratulations from past and current cast members and crew, friends, family, and Daytime colleagues like
Y&R
alums John McCook (formerly Lance Prentiss), Greg Rikaart (Kevin Fisher), Michael Graziadei (Daniel Romalotti), and J. Eddie Peck (Cole Howard).
As you can see, Scott fully enjoyed her 40th party—as did all her guests!
Photography by Cliff Lipson/CBS.
Watch all-new episodes of
The Young and the Restless
Weekdays on CBS and
CBS All Access
.