By Marley Coyne

"First of all, it's a Sunday, so thank all you heathens for coming out," Erich Bergen says to the concert crowd at Sony Hall in New York City's Theater District. "We're doing some really great music and some really subpar music," he says, flashing a mischievous smile. "And you're going to have to sit through all of it."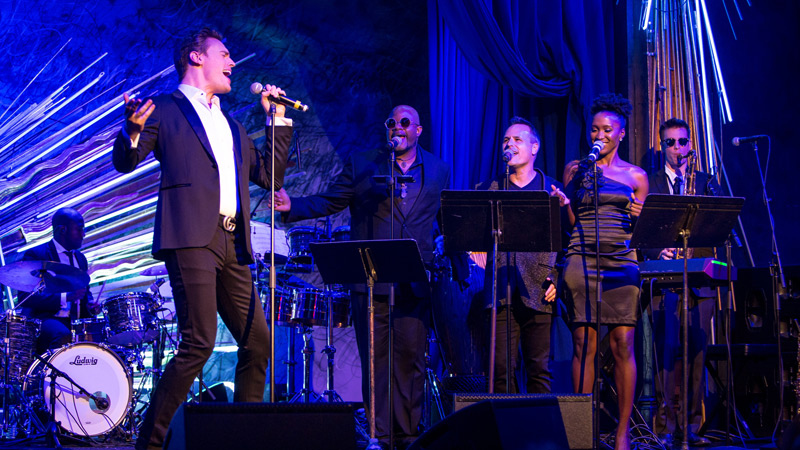 Erich Bergen performing at the Sony Hall on September 30, 2018.

Madam Secretary fans who came out to see more of the hyper-organized, dutiful assistant Blake Moran—whom Bergen portrays most Sunday nights—will not find him here. Tonight, Bergen is all Broadway theatricality, belting out classics by Marvin Gaye, Michael Jackson, and Marc Cohn, as well as his own newly released pop single, "Running Through the Night."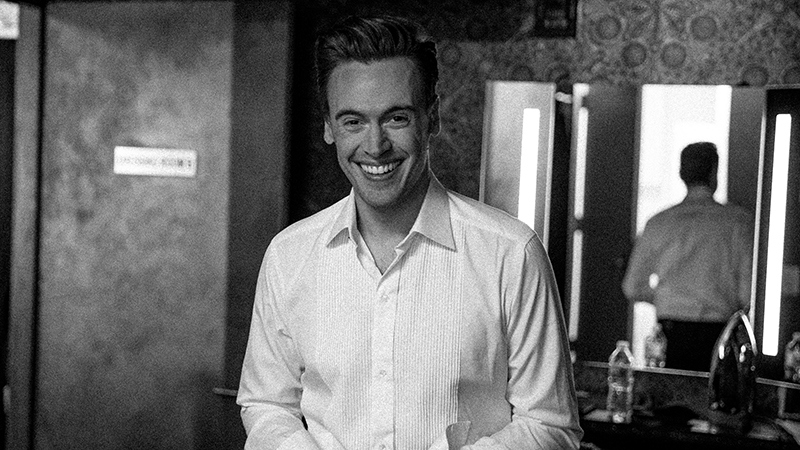 Erich Bergen back stage at Sony Hall.

At 33, Bergen idolizes the pop stars of a previous generation—Barry Manilow, Billy Joel, and Elton John. Just like those three, he likes to capital-P Perform. "You want to go to [something] that feels like a show," he says. "The people in the audience shouldn't be dressed better than the people onstage." To this end, Bergen dons a crisp button-down, a tailored black suit, and a Gucci belt. He is tall and lean, with perfect teeth. His hair is styled. Despite his winking introduction, over the next two hours, he'll deliver absolutely nothing that is subpar.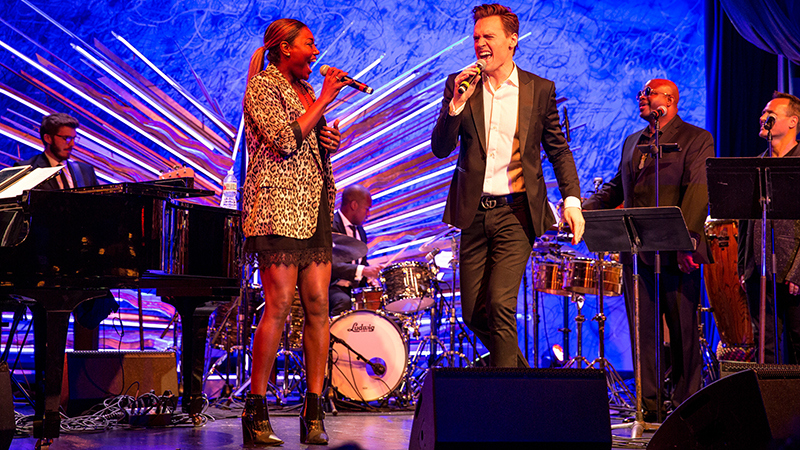 Erich Bergen singing with Madam Secretary co-star, Patina Miller, at Sony Hall.

Professionally and geographically, Bergen is no stranger to the glamour of Broadway. He toured in Jersey Boys and made his Broadway debut in Waitress last summer. And he grew up in the nearby neighborhood of Chelsea, where his parents—who are in the audience at the Sony—cultivated his love of music. "Music was in the house 24/7. [My parents] had a huge record collection that I've thankfully inherited, and music was such a central part of both of their lives, so I really inherited that, too."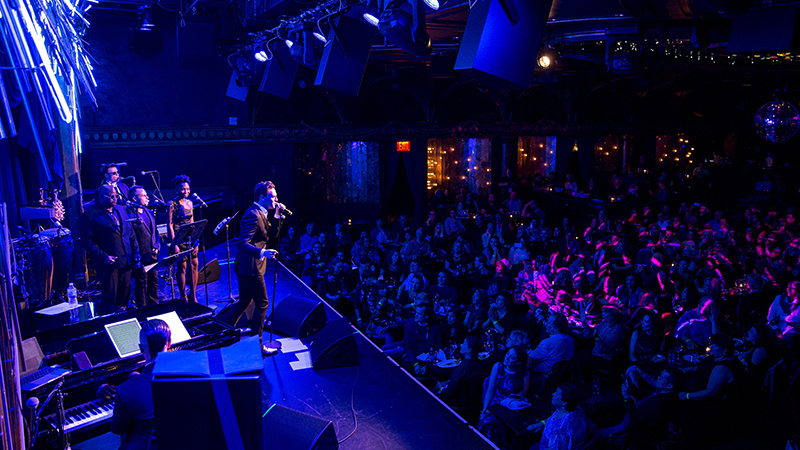 Erich Bergen is right at home on the stage.

When his parents invited friends over, Bergen would perform celebrity impressions inspired by the "We Are the World" video: Bob Dylan, Bruce Springsteen, and his true idol, Michael Jackson. "I forced my mother to buy me microphones because the video takes place in a recording studio. Some kids get into comic book superheroes and want to re-create flying suits and things like that. I wanted professional microphones and mesh popper stoppers," he recalls. "Those were my superheroes."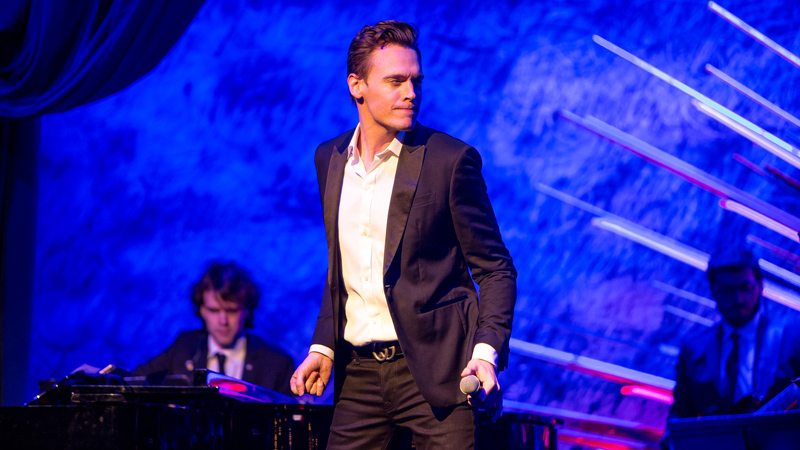 Erich Bergen shows off his dance moves.

Onstage, Bergen occasionally glides, thrusts, or moonwalks. But these days, his art is not purely homage: He writes his own music, and when inspiration strikes, it consumes him. He remembers how "Running Through the Night" (his "songle," as he calls it) came to him, when "I was walking down the street with my dad, and all of a sudden, I was floating around this melody hook with the title and first line, and I said to my dad, 'I'm sorry, I have to go home,'" he says. "And I ran home, and I think it was like two or three hours later when I had the full song complete on the piano." In the past, Bergen had worked with other writers on songs, "but this one, I wrote 100 percent by myself. I'm very proud of that."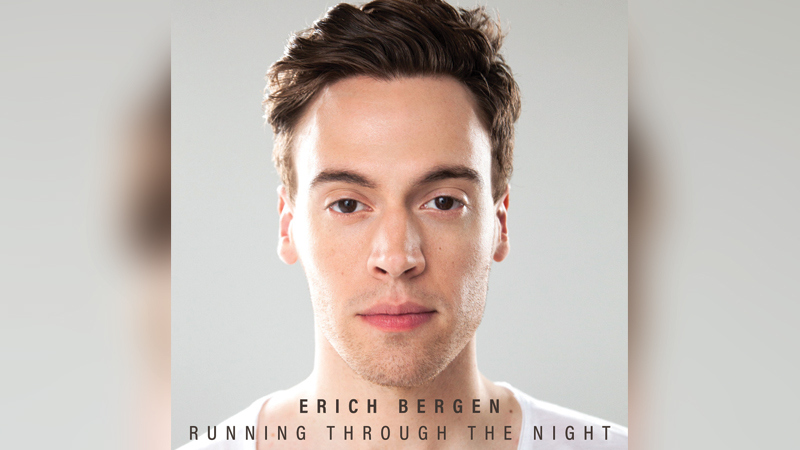 Single album cover art.

"Running Through the Night" is extra special because its release marks the five-year anniversary of Bergen's testicular cancer remission—and reflects a few of the hard-won lessons he learned from battling the disease. "I never got sick, I never had a cold, I never broke bones—I never had any traumatic things happen in my life … Then all of a sudden, I was 27 and being told I had cancer out of the blue," he remembers. "That's what this song is about: When those things happen, it's not just getting up and dusting off your jacket and keep on going. It's getting up with the recognition that something knocked you down, and being OK with it."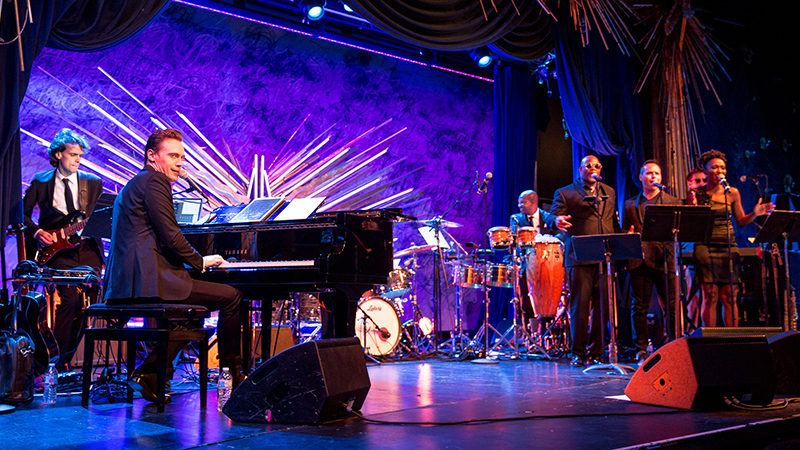 Erich Bergen at the piano, performing one his favorite songs "Walking in Memphis."

Bergen admits he is leery that some people might struggle to see him as anyone other than Madam Secretary's fastidious Blake Moran. "There's a history of actors who decide that they want to be a pop star and have that not work out so well for them, so there's a little bit of a stigma," he says. Yet at Sony Hall, in his hometown of New York City, Bergen is a showman's showman—and when he closes the show with "Running Through the Night," it's to a standing ovation.

SEE MORE PHOTOS: Erich Bergen Belts His Heart Out At New York City's Sony Hall

Photography by Mark Doyle.

Originally published in Watch! Magazine, January-February 2019.

Watch all-new episodes of Madam Secretary on Sundays at 10/9c on CBS and CBS All Access.