Jeanine Mason's Passion Project
Pro dancer and Roswell, New Mexico star Jeanine Mason's flair on the floor helps keep her in line with acting—and connected to family.
By John Griffiths
If alien life-forms exist, do they have their own version of the rumba? The notion intrigues dance pro
Jeanine Mason
, if only because she's also the star of The CW's new drama series
Roswell, New Mexico
, a reboot of the early 2000s sci-fi hit about strange occurrences in that famously UFO-happy town. "I'm sure those ETs would have some moves," says the good-natured Mason, 28. One would hope: Her
Roswell
character, Liz Ortecho, is a biomedical researcher who discovers her new love, police officer Max [
Nathan Dean Parsons
], is out of this world. Literally.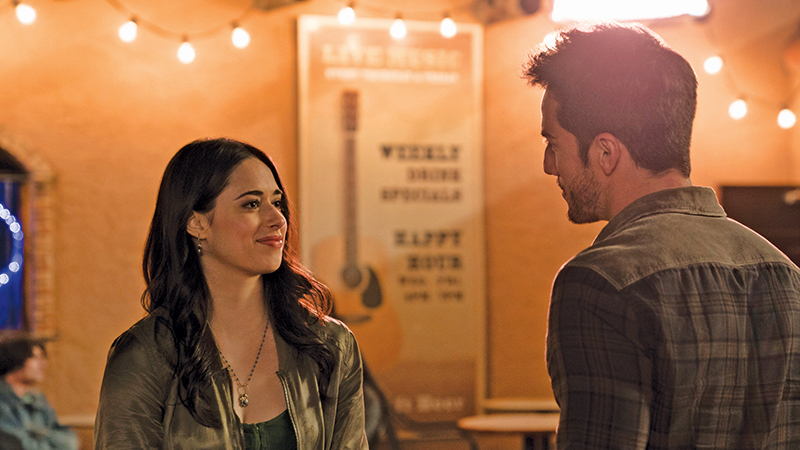 Close encounter: Jeanine Mason and
Roswell
co-star Nathan Dean Parsons.
Headlining a fantastical hour drama, for the first time no less, can be overwhelming. But Mason's years of hoofing—she started taking ballet and flamenco classes as a child in hometown Miami—give her a leg up. "Directors keep telling me, 'You're so good at taking direction!' That's because I've been dancing since the age of 3, hearing in class, 'Straighten this' or 'lift that.' In the moment, you learn how to make adjustments."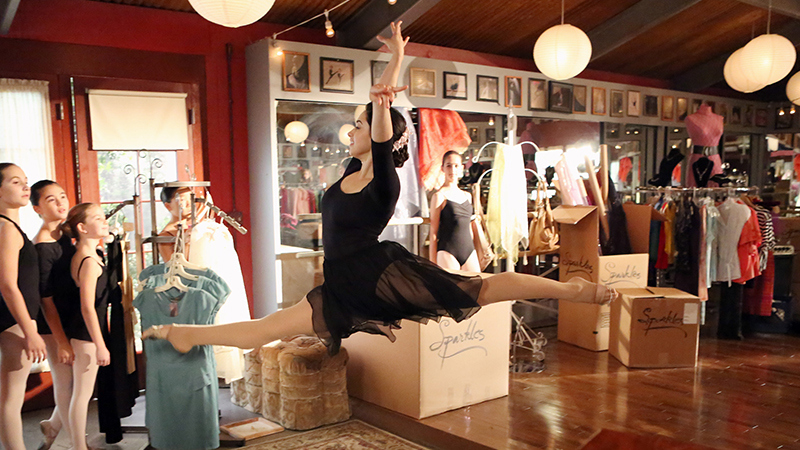 Jeanine Mason takes a leap on
Bunheads
.
Mason, one of four children, credits her passion for pirouettes mostly to her mom Iliana, a Cuban immigrant who once dreamed of a dance career herself. "She came to America when she was young and helped raise her brother, and then had my older sister," she says. "So she never got her chance." Iliana, of course, had no problem letting her little girl spend as much time as she wanted at her aunt and uncle's local dance studio, Born to Salsa. From childhood on, "I would pretty much head straight to the studio after school," recalls Mason. "I'd be there about six hours every night."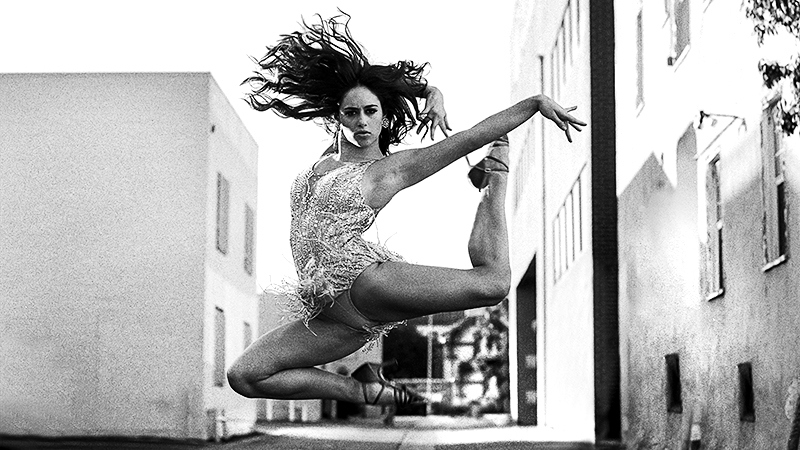 From ballet to flamenco to modern dance, Jeanine Mason is a dancing queen.
Catching Broadway shows with her mom on trips to New York, she was set on someday making a living dancing, acting, and singing. At 9, she scored a local commercial for Disney Latin America. At 10, she began voice lessons and acting in Florida plays. At 12, she handled the role of Cha Cha DiGregorio in a local production of
Grease
("I stuffed my costume with newspaper so I would look like I had breasts!"). Mason's favored grooves—contemporary, lyrical, and jazz—come from watching heroes
Rita Moreno
, "goddess"
Bette Midler
, and
Sutton Foster
. "Growing up, they were the equivalent of having posters on the wall in my bedroom. I wanted to be that alive and exuberant."
STREAM: Full Episodes Of Roswell, New Mexico On CWTV.com
With her own verve, she hotfooted it to L.A. in her senior year of high school to audition for
So You Think You Can Dance
. She made it onto the TV competition's 2009 edition less than a week after graduating, becoming the contest's youngest victor ever at 18. Naturally, she landed a manager. Why not stay in L.A.?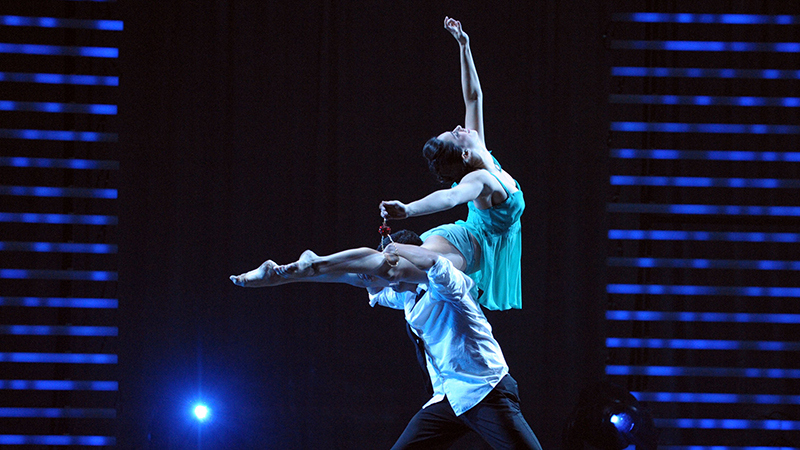 So You Think You Can Dance
dancers Jeanine Mason (L) and Jason Glover perform at the Dizzy Feet Foundation's Inaugural Celebration of Dance at The Kodak Theater.
Mason has since (conga) lined up parts in everything from Nickelodeon kid-coms to
Criminal Minds
. In 2017, she scored a recurring role on
Grey's Anatomy
as undocumented surgical intern Sam Bello. Along the way, she graduated UCLA cum laude with a major in World Arts and Cultures. Throughout, she's kept up with her primary artistic yen—practicing at studios and letting loose back home. "Every time my family gets together, we're dancing to Marc Anthony in whoever's backyard. We just did that for Thanksgiving and Christmas Day."
Does a particular tune make her feel like dancin'? Nope. While she loves reveling with friends at L.A.'s supper club
El Floridita
, what gets her shimmying is "just excitement. When things strike me as beautiful or touching, I get this carbonation inside of me."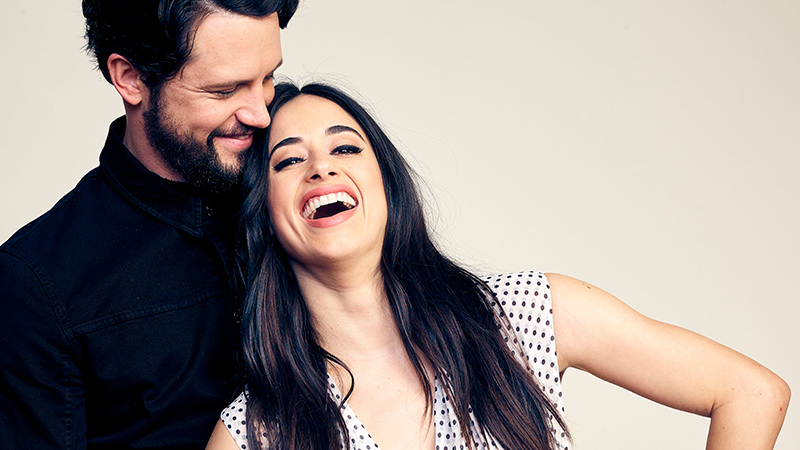 Nathan Dean Parsons and Jeanine Mason of The CW's
Roswell, New Mexico
pose for a portrait during the 2019 Winter TCA at The Langham Huntington, Pasadena.
While her current commitment leaves her out of the running for projects like Steven Spielberg's upcoming big-screen remake of
West Side Story
, she hopes she and her
Roswell
co-star Parsons get to mambo someday in a special musical episode. "He's a very accomplished tap dancer!" says Mason. Meanwhile, the show's aliens-in-our-midst premise (and its murder mystery—who killed Liz's beloved sister?) allow her novel ways to channel those twinkle toes. "I get to run and do fight scenes, which is an extension of choreography."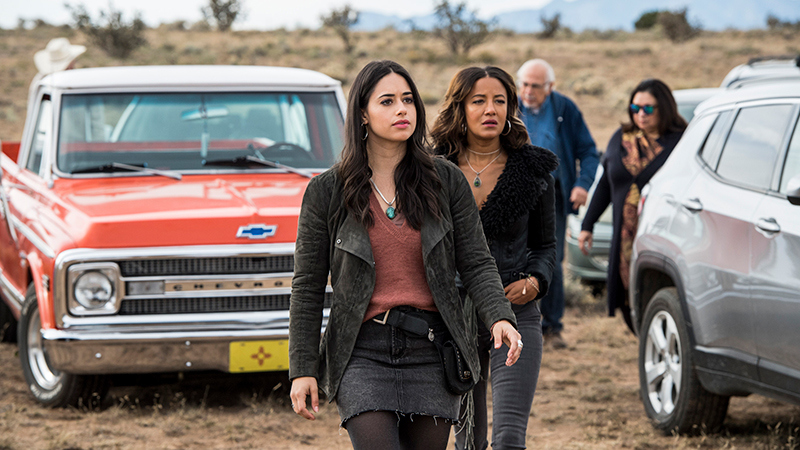 Jeanine Mason as Liz Ortecho and Heather Hemmens as Maria Deluca in Season 1 of The CW's Roswell, New Mexico.
In fact, stepping into her "badass" TV character gives Mason more moxie of her own. "I want to take her energy with me because it's so freeing," she says. Perfecting that so-far elusive 360-degree leap-twirl-and-land, the dancing world's equivalent of a black belt, seems more in sight. "It's easy for New York ballet pros. I'm at, like, 180 right now. I want to get the full revolution!"
Photo Credits: Marc Hom/The CW (Mason); Jonathan Ressler (B&W Portrait); Kevin Winter/Getty Images (SYTYCD); Ursula Coyote/The CW (Mason & Parsons); Adam Taylor/Getty Images (Bunheads); Robby Klein/Getty Images (Parsons & Mason); Lewis Jacobs/The CW (Roswell).
Originally published in
Watch!
Magazine, March-April 2019.
Watch
Roswell, New Mexico
on Tuesdays at 9/8c on
The CW
.