Getting To Know Regina Hall
Black Monday star Regina Hall is on the money playing a Wall Street broker in Showtime's hit new series.
By Brantley Bardin
After deftly leaping from comedy to drama and back again for more than two decades as a continuously working actress,
Regina Hall'
s career is at an enviable high. In 2017's
Girls Trip
, she and her "Flossy Posse"—played by Jada Pinkett Smith, Queen Latifah, and Tiffany Haddish—had the world busting its guts to the tune of $140 million in box-office receipts. Last year's politically charged and critically adored
The Hate U Give
found the 48-year-old Washington, D.C.-born-and-raised star playing the mother of a daughter whose best friend is killed by a policeman during a traffic stop. Her performance in last summer's comedy
Support the Girls
made her an awards-season favorite.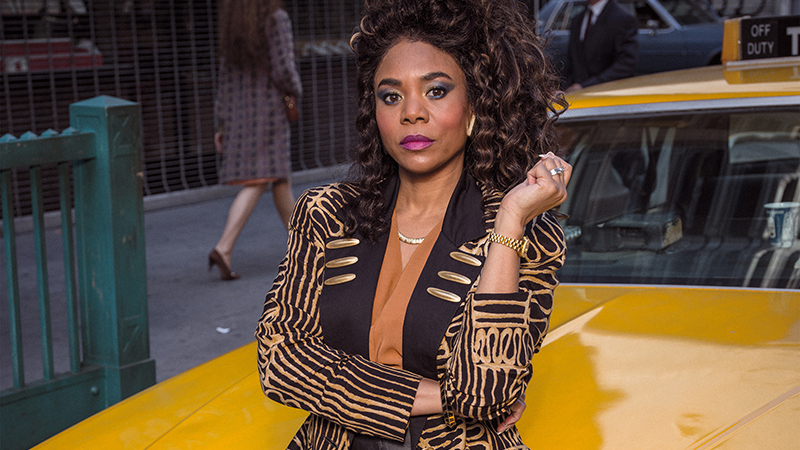 Regina Hall as Dawn Towner in
Black Monday
.
Now, starring opposite
Don Cheadle
,
Andrew Rannells
, and
Paul Scheer
on Showtime's scathingly hilarious take on the 1987 stock market crash,
Black Monday
, raucous Regina is back as Dawn Darcy, a wholly unfettered Wall Street trader. Says Hall, "The show's a meaty source of wild comedy with a bit of mystery and drama. I can't wait for people to see it!"
Black Monday kills it from the get-go and never lets up. What do you most dig about Dawn, the lone female in an outlier group of traders taking on the blue-blooded Wall Street elitists?
Her '80s fashion, her smarts and the fact that she's as cutthroat as the guys in that male-dominated world. And, on top of being a gigantic Don Cheadle fan—I would've said yes to working with him, period—I love that Dawn is not like a mother hen. She's as bad as the guys. It's fun to be wild!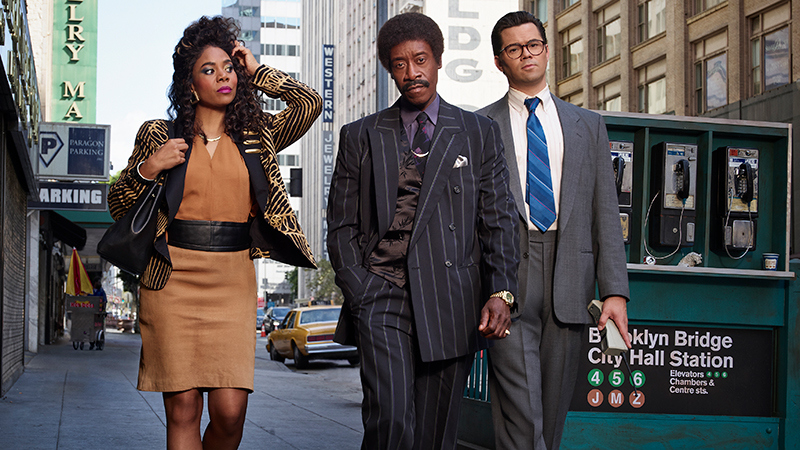 Regina Hall with co-stars Don Cheadle and Andrew Rannells in
Black Monday
.
Oh, yes. Dawn sniffs cocaine with the boys, curses like a sailor, and does cardio at home while stealing puffs from a cigarette.
[
Laughs.
] You know what's funny about that? I'm famous for eating sweets right before or after workouts. I like Key lime, lemon meringue, and
Wait a second. You mean you go straight to pie before or after your workouts?
Well, I do like pie and ... actually, you have just made me realize something. Yes, I'm a pie ho! [
Laugh
s.]
Ha! I did read that you fast once a week, though, so that must take some of those pie pounds off, right?
No, I fast because I read that the body spends most of its time digesting and if you give it one day of rest [from eating], it can heal itself from things like viruses. I've done it for two years and have tons of energy.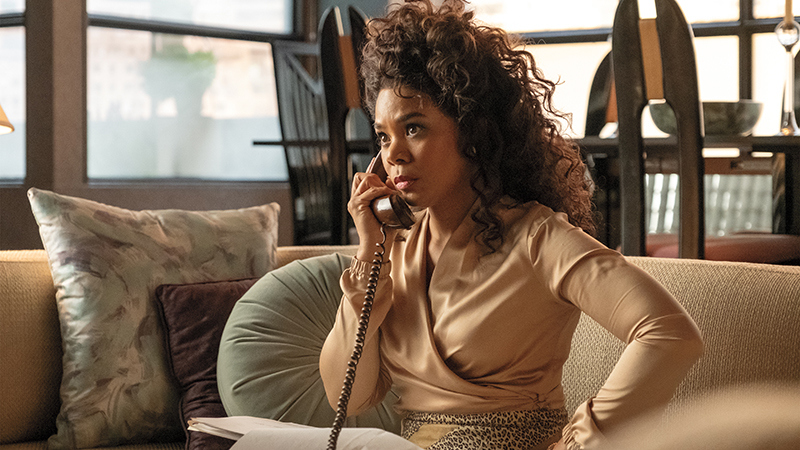 Regina Hall in the pilot episode of
Black Monday
.
You've needed that for a career that's been peaking like crazy the last couple of years. Although you've been what one of your directors called "black famous" ever since your breakthrough in the Scary Movie franchise, with Girls Trip you became "famous famous," period. Why do you think Girls became such a box-office sensation?
Because it was funny. And people hadn't had a chance to see how rowdy women can be on their vacations, so it connected with women of all ages and races. In Toronto, I ran into these four white ladies who said to me, "We're the Flossy Posse!" And they were, like, Canadians. [
Laughs
.]
Then you came along in yet another boundary-crossing mainstream hit, The Hate U Give. Do you think its popular and critical success has helped the public listen more closely to deep concerns of people of color?
I don't think
The Hate U Give
will cure racism, but it has, hopefully, started a dialogue. It humanizes the situation. It shows that [the person killed] is somebody's child, somebody's brother. Because of the way the news often handles these shootings, too often we forget those elements, so I hope the movie resonates for a long time.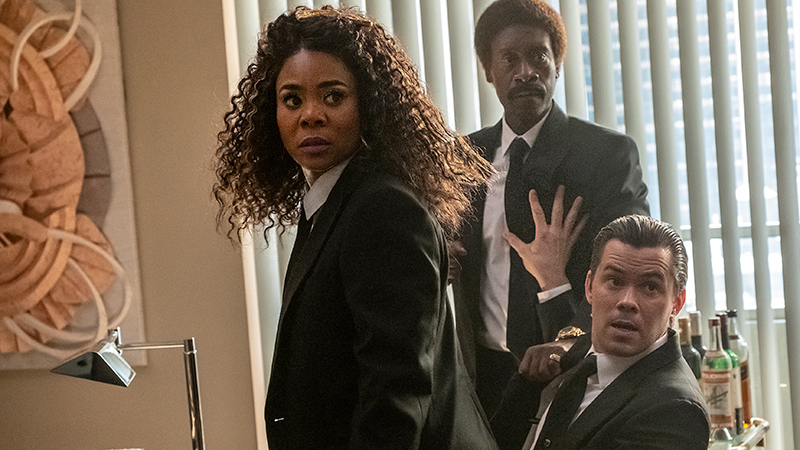 Regina Hall as Dawn Towner, Don Cheadle as Mo Monroe, and Andrew Rannells as Blair Pfaff.
Me, too. Back to Black Monday. Bottom line, it's about money worship. In real life, you cut a gorgeous figure on the red carpet. Do you spend your own money on heaps of high fashion?
Oh, no. I hate shopping. [
Laughs
.] I do like to look elegant on red carpets, though, and I like Alberta Ferretti for that. But the truth is this: I wear sweatpants every day.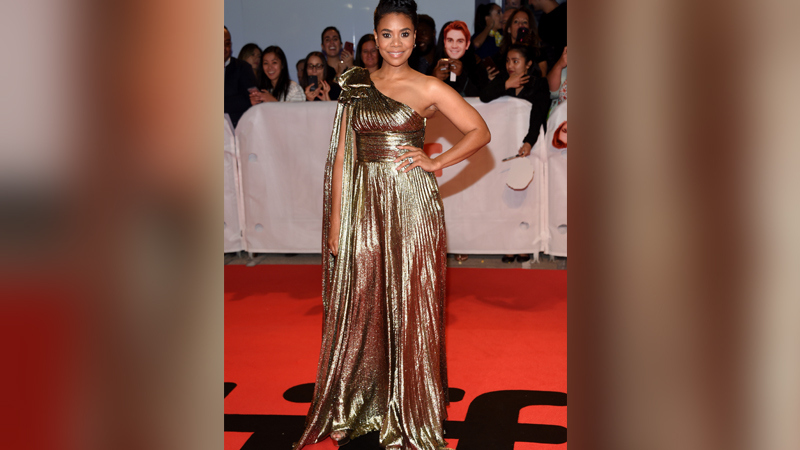 Regina Hall at
The Hate U Give
premiere during 2018 Toronto International Film Festival.
Busted! Last question: It looks as if it must have been huge, but exactly how big a blast is making Black Monday?
Well, there's a lot of guys there, but we're like brothers and sisters. And we laugh! We're all so excited about working together. The only downside is when someone yells, "Don!" and I come onto the set. Then they say, "No, not Dawn, Don!" [
Laughs
.] But, hey, I can live with that.
Originally published in
Watch!
Magazine, March-April 2019.
Photo Credits: Erin Simkin/Showtime; Derek Blanks; Michael Levine/Showtime; Erin Simkin/Showtime; Michael Levine/Showtime; Erin Simkin/Showtime; Amanda Edwards/Getty Images.
Season 2 of
Black Monday
returns Sunday, June 28 on SHOWTIME. Catch up on the
SHOWTIME
and SHOWTIME ANYTIME® apps, as well as via SHOWTIME On Demand.