What's Hot On CBS And The CW For The New TV Season
CBS and The CW mix the familiar with the new for the 2019-2020 television lineup.
By Marc Berman
Coming off its 11th straight season as the most-watched network, CBS is prepping for 2019-20 with a slate of established hits and five new series this fall. It is the return of the familiar, with recognizable faces like Billy Gardell, Patricia Heaton, and Marg Helgenberger back on the network. And it was all featured at the Eye network's annual Upfront presentation to advertisers and members of the media at famed Carnegie Hall in New York City on May 15.
READ MORE: Here's Your First Look At The New 2019-2020 CBS Fall Primetime Schedule
"Our new lineup features both classic CBS shows and genres that viewers love, as well as some new series that push the boundaries of what you might expect from us," noted Kelly Kahl, President, CBS Entertainment. "We are also saving some very strong series for the second part of the year as part of a strategy to roll out new and returning series throughout the season."
Five new series will be featured this fall: sitcoms
Bob
♥️
Abishola
with
Mike & Molly's
Billy Gardell,
Carol's Second Act
(featuring the return of Patricia Heaton to CBS) and single-camera
The Unicorn
; plus dramas
All Rise
and
Evil
.
Billy Gardell as Bob and Folake Olowofoyeku as Abishola in
Bob
♥️
Abishola
.
From CBS hit-meister Chuck Lorre (
The Big Bang Theory
,
Young Sheldon
,
Mom
,
Mike & Molly
and
Two and a Half Men
, among others),
Bob
♥️
Abishola
is a love story about a middle-aged sock businessman from Detroit (Billy Gardell) who unexpectedly falls for his cardiac nurse, a Nigerian immigrant (Folake Olowofoyeku), while recovering from a heart attack.
Positioned Mondays at 8:30/7:30c out of season two of comedy
The Neighborhood
,
Bob
♥️
Abishola
is the ideal relationship-themed fit. And it leads into new courthouse drama
All Rise
at 9/8c, which features the chaotic, hopeful and sometimes absurd lives of its judges, prosecutors and public defenders, as they work with bailiffs, clerks and cops to get justice for the people of Los Angeles amidst a flawed legal process.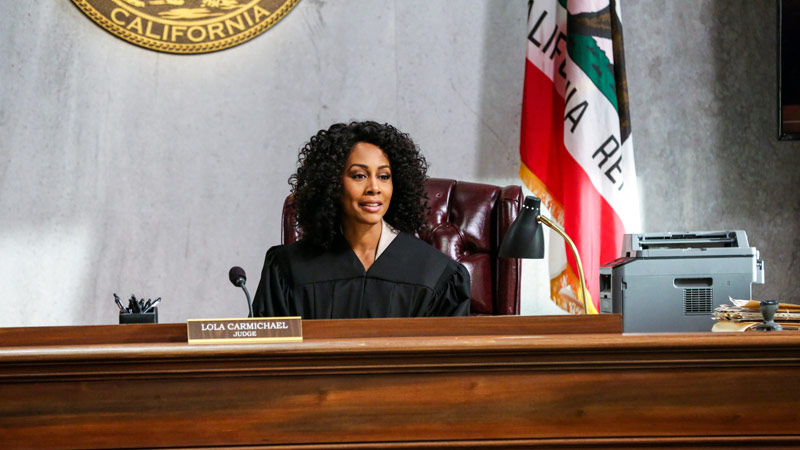 Simone Missick as Judge Lola Carmichael in
All Rise
.
Mixing drama and humor,
All Rise
stars Simone Missick as newly appointed Judge Lola Carmichael, Wilson Bethel as Mark Callan, Jessica Camacho as Emily Lopez, J. Alex Brinson as Luke Watkins, Lindsay Mendez as Sara Pratt, Ruthie Ann Miles as Sherri Kanski, and a familiar CBS face ... former
CSI
star Marg Helgenberger as Judge Banner.
On Thursday, another CBS favorite, Patricia Heaton, is back in comedy
Carol's Second Act
, which tells the tale of a 50 year old woman (Heaton) who decides to become a doctor (her second act) after raising her children, getting divorced and retiring from teaching. It airs Thursday at 9:30/8:30c out of returning
Mom
, which, of course, is also the story of second acts, and it features Kyle MacLachlan as Dr. Frost, Ito Aghayere as Dr. Maya Jacobs, Jean-Luc Bilodeau as Daniel, and Sabrina Jalees as Lexie.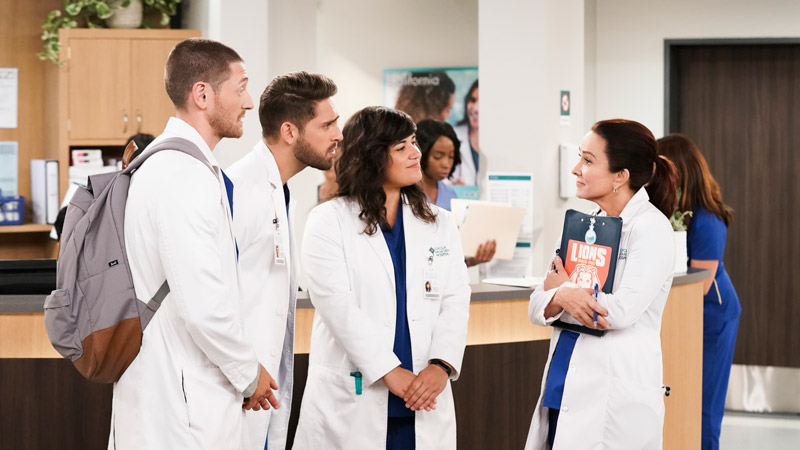 After raising her two children and retiring from teaching, Carol Chambers (Patricia Heaton) embarks on a unique second act: pursuing her dream of becoming a doctor in
Carol's Second Act
.
Following the long-term success of Heaton's former CBS sitcom,
Everybody Loves Raymond
, and her more recent
The Middle
, Patricia Heaton is destined to tie that legendary Eye net favorite, Lucille Ball, as only the second woman in television history to be featured as a mother in three hit comedies. Lucy, of course, was a staple on CBS on this night with
I Love Lucy
,
The Lucy Show
, and
Here's Lucy
. And Heaton's prior two sitcoms lasted nine seasons each.
Airing Thursday at 10/9c out of
Carol's Second Act
is a new drama from
The Good Wife
and
The Good Fight
creators Michelle and Robert King called
Evil
, an intense psychological mystery that examines the origins of evil along the dividing line between science and religion.
The series focuses on a skeptical female psychologist who joins a priest-in-training and a carpenter as they investigate the Church's backlog of unexplained mysteries. And it features Katja Herbers as Kristen Bouchard, Mike Colter as David Acosta, Aasif Mandvi as Ben Shakir, Michael Emerson as Leland Townsend, Brooklyn Shuck as Lynn Bouchard, Skylar Gray as Lila Bouchard, Maddy Crocco as Lexis Bouchard, and Dalya Knapp as Laura Bouchard.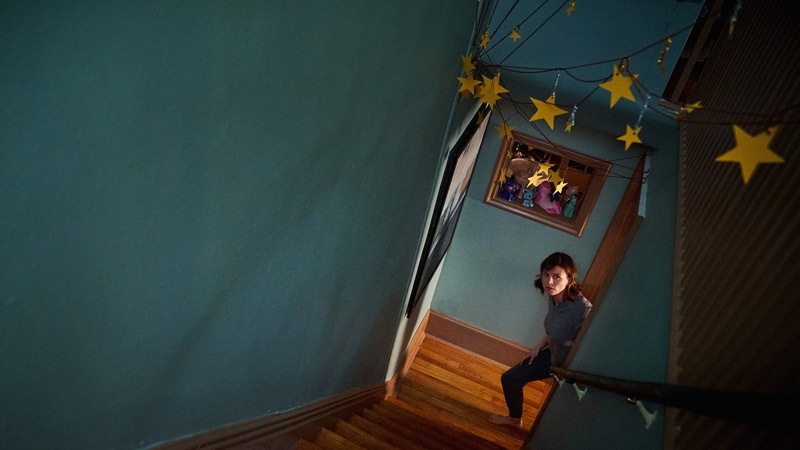 Katja Herbers as Kristen Bouchard in
Evil
.
Earlier in the evening out of
Young Sheldon
on CBS Thursday next season is
The Unicorn
, a single-camera comedy about a tight-knit group of best friends and family who helps Wade (Walton Goggins) embrace his "new normal" in the wake of the loss of his wife one year ago. Now a single parent, he finds himself a hot commodity in the dating world. More specifically, Wade is a "unicorn": employed, attractive, and with a proven track record of commitment.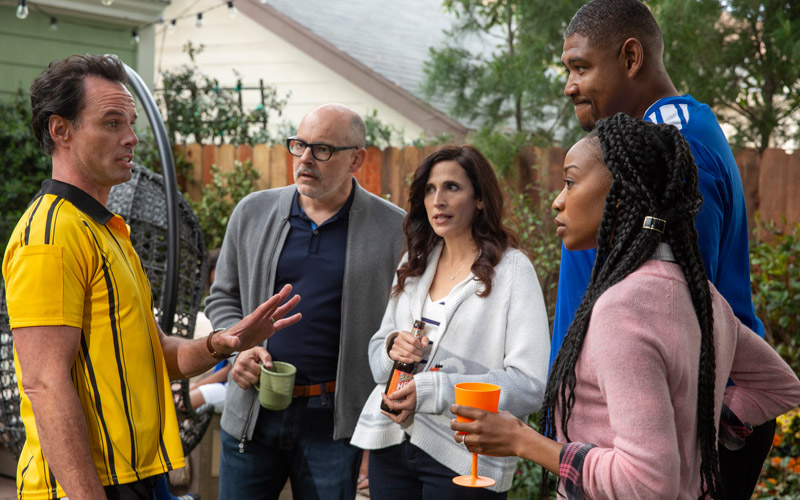 Walton Goggins as Wade, Rob Corddry as Forrest, Michaela Watkins as Delia,Omar Benson Miller as Ben, and Maya Lynne Robinson as Michelle in
The Unicorn
.
"This is a slate of new shows with thought-provoking stories, culturally relevant themes and tremendous casts, from award-winning producers and writers," noted Thom Sherman, Senior Executive Vice President, Programming, CBS Entertainment. "We are also building on the diverse series we launched last season with more leading roles for women and more inclusive story-telling across all of our new comedies and dramas."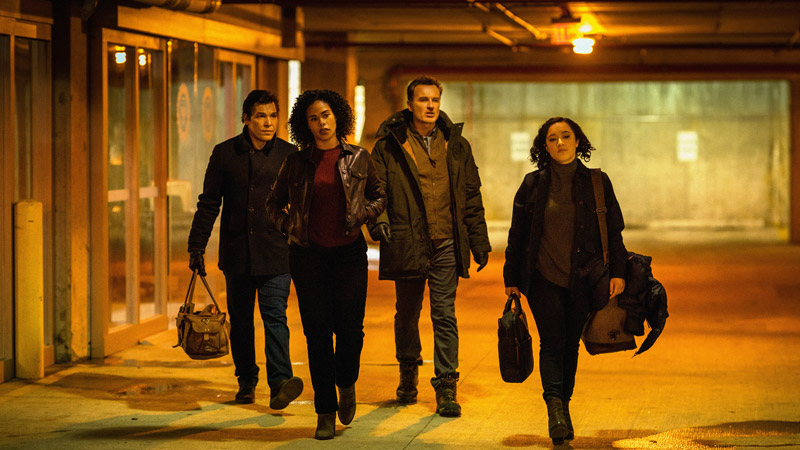 FBI: Most Wanted
cast members Nathaniel Arcand as FBI Agent Clinton Skye; Roxy Sternberg as FBI Agent Sheryll Barnes; Julian McMahon as FBI Agent Jess LaCroix and Keisha Castle-Hughes as FBI Analyst Hana Gibson.
Waiting in the wings for midseason at CBS are three additional new series:
FBI
spin-off drama
FBI: Most Wanted
from Dick Wolf; drama
Tommy
, featuring former
The Sopranos
and
Nurse Jackie
star Edie Falco as a former high-ranking NYPD officer who becomes the first female Chief of Police for Los Angeles; and comedy
Broke
.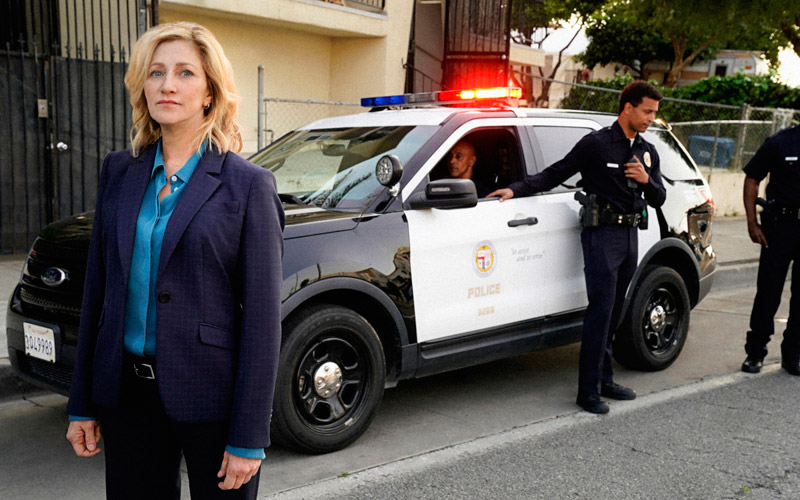 Edie Falco as Abigail 'Tommy' Thomas in
Tommy
.
Trading drama for comedy, former
NCIS
star Pauley Perrette is featured as Jackie, a single suburban mother who's shocked when her estranged sister, Elizabeth (Natasha Leggero), her sister's outrageously wealthy, big-hearted husband, Javier (
Jane the Virgin
's Jaime Camil), and Javier's loyal assistant/driver/friend, Luis (Izzy Diaz), land on her doorstep in need of a place to live after the couple's money dries up.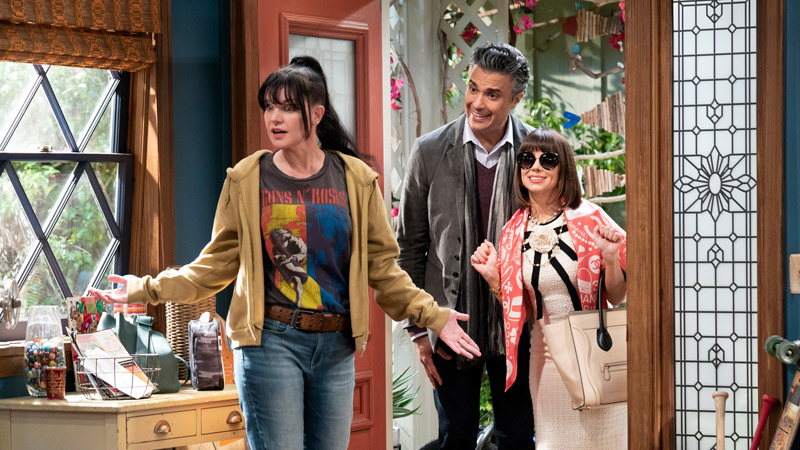 Pauley Perrette as Jackie, Jaime Camil as Javier, and Natasha Leggero as Elizabeth in new CBS comedy
Broke
.
Front and center at The CW's presentation to the advertisers and media community was the network's latest superhero:
Batwoman
. The prime destination for these DC comic book-turned live action TV superheroes,
Batwoman
, stars Ruby Rose as Kate Kane, Gotham's new dark knight vigilante, who continues the legacy of her cousin, Bruce Wayne.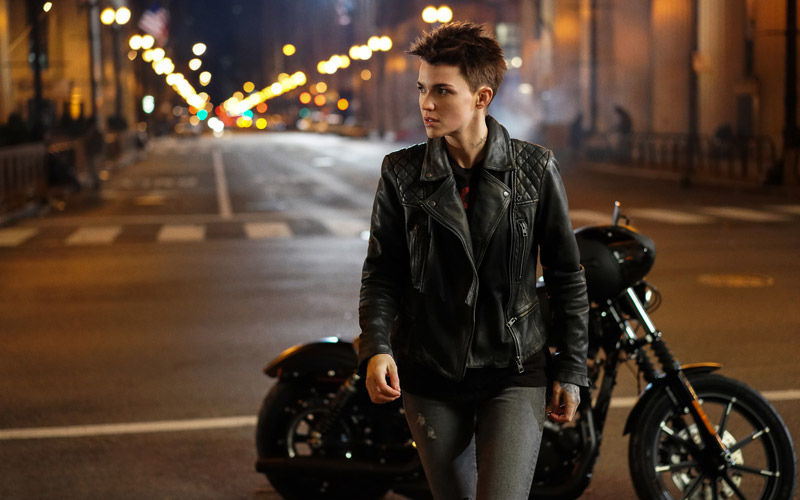 Ruby Rose as Kate Kane in
Batwoman
.
Batwoman
is scheduled in the Sunday 8/7c hour, and it leads into
Supergirl
. Compatibility is the word for The CW on Sunday, as well as its Monday to Friday schedule (including the final season of
Arrow
out of
The Flash
on Tuesday; and the final season of
Supernatural
into
The Vampire Diaries
spin-off
Legacies
on Thursday.
Celebrating 15 seasons in 2019-20,
Supernatural
goes down in the record books as the sixth longest-running scripted drama in television history (tied with
CSI
and medical drama
ER
, and behind
Law & Order: SVU
;
Gunsmoke
and
Law & Order
,
NCIS
and
Grey's Anatomy
).
Also new on The CW this fall is the return of a familiar young sleuth,
Nancy Drew
. Played by Kennedy McMann, this modern day Nancy Drew is described as "a brilliant teenaged detective" whose sense of self had come from solving mysteries in her hometown of Horseshoe Bay, Maine—until her mother's untimely death derails Nancy's college plans.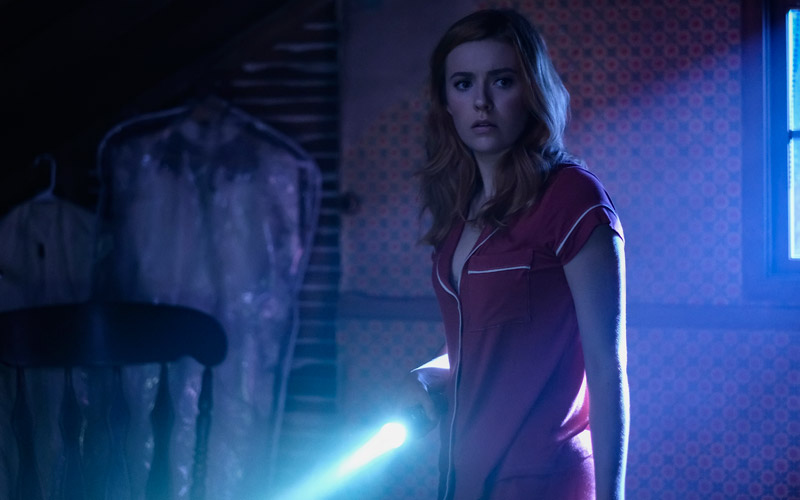 Kennedy McMann as the eponymous Nancy Drew.
Nancy Drew
airs in the Wednesday 9/8c out of
Riverdale
, which in midseason will parent its own spinoff series:
Katy Keene
. Also set in the Archie comic book universe,
Katy Keene
follows the lives and loves of four beloved characters —fashion legend-to-be Katy Keene (Lucy Hale), singer/songwriter Josie McCoy (Ashleigh Murray), performer Jorge Lopez/Ginger (Jonny Beauchamp), and "It Girl" Pepper Smith (Julia Chan)—as they chase their twenty-something dreams in New York City together.
Given the universal appeal of these characters, chances of an eventual spin-off series with Josie McCoy (and, of course, those classic "pussycats") does not seem out of reach.
The cast of
Katy Keene
at The CW Upfront presentation on May 16, 2019.
Said The CW President: Mark Pedowitz: "As the original multi-platform network, combining our linear broadcast and our best in class Ad-supported digital services with our ability to harness social like no one else, The CW's distinct brand and programming strategy perfectly positions this network to grow and thrive in the current media landscape."
Photo Credits: Sonja Flemming/CBS (
Bob
♥️
Abishola
,
Carol's Second Act
,
Broke
); Michael Yarish/CBS (
All Rise
); Elizabeth Fisher/CBS (
Evil
); Michael Parmelee/CBS (
FBI: Most Wanted
); Michael Yarish/CBS (
The Unicorn
); Cliff Lipson/CBS (
Tommy
); Elizabeth Morris/The CW (
Batwoman
); Robert Falconer/The CW (
Nancy Drew
); John P. Filo (
Katy Keene
).