Getting To Know Bridget Moynahan Of Blue Bloods
Exclusive interview with Blue Bloods star Bridget Moynahan, who plays Erin Reagan, the smart lawyer and single mom who brings strength and grace to her sister act on CBS' hit cop TV show.
By Chip Brown
"I had my teeth cleaned!" says
Bridget Moynahan
, flashing an immaculate, plaque-free smile. Nothing unusual about that from a former top model and current movie and TV star, but only someone who once harbored teenage dreams of a career in dentistry could produce the look of bliss that passed across her face. If only things had gone as well at the optometrist.
As she shucks off her heavy parka and sits down in a Tribeca coffee shop with a cup of peppermint tea, Moynahan apologizes for missing a lunch date, explaining that a fitting for contact lenses had taken an untoward turn when one of the lenses got stuck under her eyelid. The effort to get it out was all the more hellish given her phobia about eyeballs. She can't abide having anyone touch hers or having to touch anyone else's.
"If somebody had to have a baby delivered right now on the floor, I could do it," she says. "But if there was something in your eye, I'm sorry, you're on your own."
"What if your husband gently caressed your face right at the edge of your eye?"
"He might lose a finger."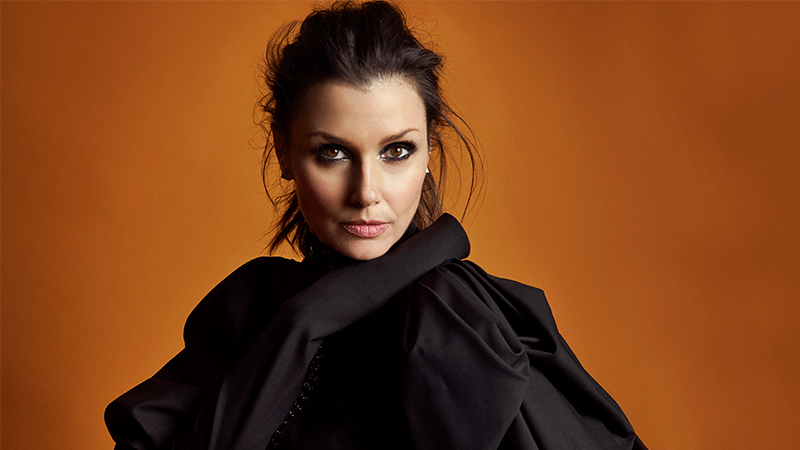 High-neck top by Vera Wang. Earrings, Moynahan's own.
It is a frigid afternoon in the lower Manhattan neighborhood where Moynahan lives in an apartment with her 11-year-old son, John; her husband; and Moynahan's devoted sheepadoodle, Piper, who won't answer the call of nature unless Moynahan is there to hold the leash and the plastic bag.
A few blocks away, various Tribeca locales are ablaze with floodlights and the cobblestone streets are lined with film trailers.
Blue Bloods
, the long-running New York cop family drama in which Moynahan plays the unobliging, by-the-book assistant district attorney Erin Reagan, is filming the second half of Season 9.
Moynahan was not due on set till later in the week to shoot the show's signature Reagan family dinner scene in a Brooklyn studio.
WATCH: Go Behind The Scenes With The Blue Bloods Cast On Their Stylish Photo Shoot
At 48, Moynahan still has a youthful cover-girl glow. Dressed in an olive sweater and jeans, her hair pulled under a gray wool hat, Moynahan easily carries the air of her "Go Lancers!" days, when she was captain of the women's soccer, basketball, and state-champion lacrosse teams at Longmeadow High School in south central Massachusetts. She's just returned from a family trip to California, where she saw the Lakers beat the Warriors in Oracle Arena, took her son to see the Queen biopic Bohemian Rhapsody, and ripped through the final volume of Sarah Maas' young adult fantasy series,
Throne of Glass
. "Eight books in a row I read," she says. "I was bawling on the plane coming home. My husband said, 'What is it you get so emotionally involved in?' I don't know. I got an adult book for Christmas, but it felt like homework—what, no dragons?"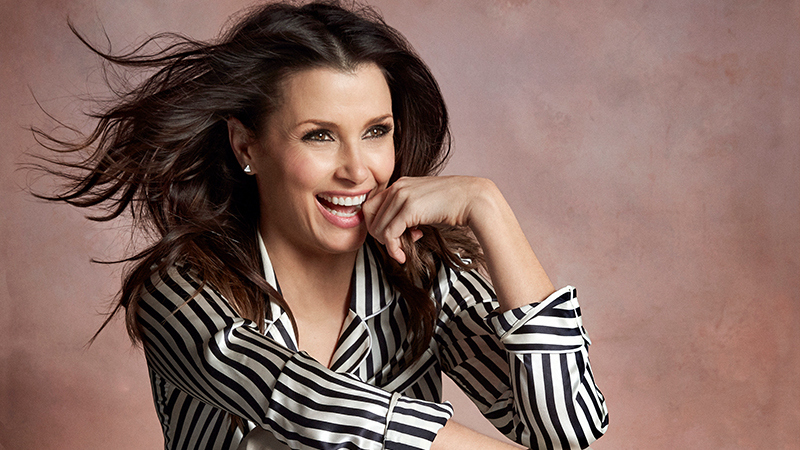 Pajama top by Olivia von Halle. Men's chinos by J.Crew. Leather boots by Dr. Martens. Earrings, Moynahan's own.
After working on
Blue Bloods
for nearly a decade, with summers frequently devoted to parts in big Hollywood movies and independent productions, she was happy to be close to home—cooking dinner, walking Piper, getting her son to and from school, and settling into the rhythms of domestic life with her husband, Andrew Frankel, the co-president of a family-owned Wall Street brokerage firm whom she married three years ago at a winery on the south fork of Long Island.
"Shooting
Blue Bloods
nine months of the year and doing movies in the summer, I've missed a lot," she says. "Births, weddings, deaths—I was often away. You can't fly home from Africa for all those moments."
Last October, she lost her father, Edward Bradley Moynahan, who, after a long career as a Ph.D. chemist and administrator at the University of Massachusetts Amherst, died two weeks before his 80th birthday. Bridget, his only daughter, is the middle child, sandwiched between brothers Andy and Sean. She was born in Binghamton, New York; the family moved to Longmeadow when she was 7. The jocular, masculine milieu of her Irish Catholic household was not unlike the scripted atmosphere of the Reagan clan. "We ate dinner together like the Reagans, but it wasn't as combative," she says.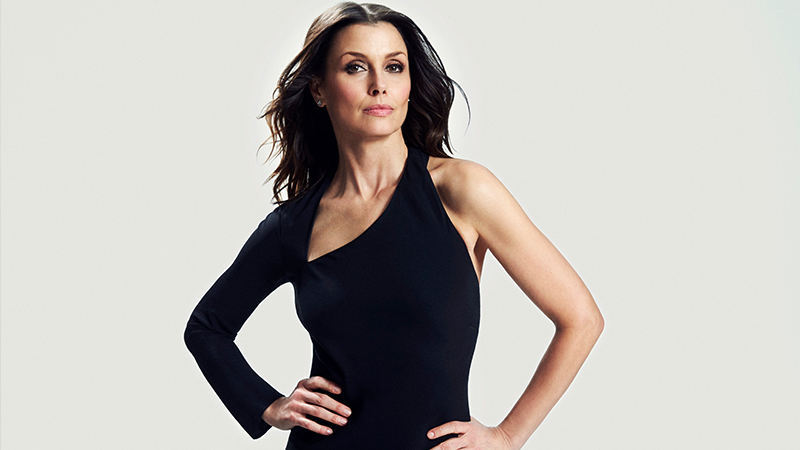 Asymmetrical gown by Michelle Mason. Sandals by Miu Miu. Earrings, Moynahan's own.
After nearly 200 episodes of the show, Moynahan has gotten to know her
Blue Bloods
relatives nearly as well as she knows her own. In every episode, Moynahan sits down over a catered meal to film the show's Reagan family dinner scene. At one end of the table there is
Tom Selleck
, who plays her father, police commissioner Frank Reagan; at the other, her grandfather, Henry Reagan (
Len Cariou
).
In another echo of Moynahan's own life, Reagan has two brothers—her not-by-the-book older brother, Detective Danny Reagan (
Donnie Wahlberg
), and her younger college-boy-turned-cop brother, Jamie Reagan (
Will Estes
). Until the actor married in 2015, there was also the parallel of Moynahan—a single mother raising her son—going off to work to play Erin, a divorced working mother raising her daughter, Nicky Reagan-Boyle (
Sami Gayle
), by herself.
"The show feels like family now," Moynahan says. "I'm sure Erin is evolving, but I'm not sure whether it's because her character has grown or the writers have given her situations and people she hasn't dealt with before.This season she's had to deal with the governor and with her father the police commissioner directly, with no buffer. And this season it was really emotional because when we came back, Danny had lost his wife in a helicopter crash. It was really emotional for me trying not to be emotional. You don't know how to act around someone who has lost their spouse. There's a level of vulnerability in some of the performances I see that I am appreciating more and more. Vulnerability has a stigma of being weak, but it's so inspiring. I did a scene with an actress named Andrea Syglowski, who played the mother of a young child who'd been killed by a reckless driver. She had to read a victim impact statement in court. She was phenomenal. So open and so raw on the very first take. It blew tears out of my eyes."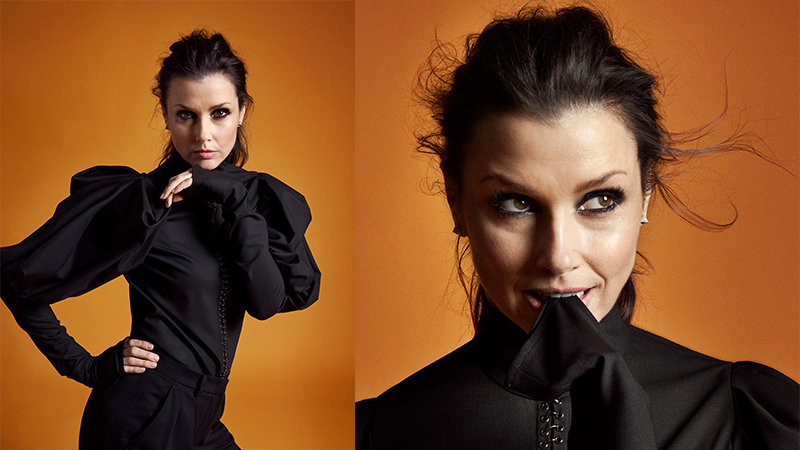 High-neck top by Vera Wang. Jersey trousers by Max Mara. Earrings, Moynahan's own.
Another task Moynahan has tackled with gusto, thankfully one with less pathos: simulating all those weekly family dinners, which can take upward of four hours to film. "I like mashed potatoes, but you can't eat them for four hours and stay in shape," Moynahan says. "So mostly I just try to move the potatoes around with my fork.
Tom Selleck
butters a roll take after take."
Moynahan really did have her heart set on a career as a dentist. She fell into modeling in high school when she accompanied a friend to an audition and ended up getting signed by the agency herself. She briefly attended college at UMass, but the camera-ready money was too good to pass up; she spent most of her 20s being photographed for catalogs and magazine covers such as
Glamour
,
Elle
, and
French Vogue
. She had an apartment in Paris and then got the break of her film career when she was cast as Natasha, the lovely, willowy, not-especially-chatty fiancée of Mr. Big in the series
Sex and the City
. The producers kept expanding what was supposed to be a bit part.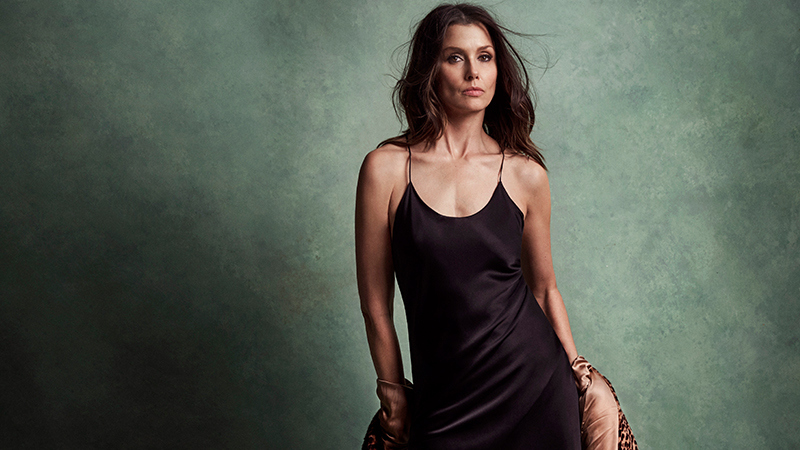 Slip dress by Olivia von Halle. Faux fur leopard coat by Michelle Mason. Leather boots by Dr. Martens. Earrings, Moynahan's own.
The exposure on
Sex and the City
led to the role of the angry bartender Rachel in the 2000 movie
Coyote Ugly
, and eventually to bigger parts in Hollywood productions such as
I, Robot
with Will Smith and
The Sum of All Fears
with Ben Affleck. Moynahan worked on her acting chops in New York with the well-known coach Caymichael Patten.
She learned not to go against her instincts. "I was sought out for a film role once, and I had to audition. I asked somebody in my acting class to help me with the part. Everything I thought to do naturally, he changed; he urged me to perform the role in a way that did not feel natural. I went with what he was suggesting, and I didn't get the job. What I took away from that experience was that you have to trust yourself."
This April, with co-author Amanda Benchley, Moynahan published her second book,
Our Shoes, Our Selves: 40 Women, 40 Stories, 40 Pairs of Shoes
. (Her first was the 2015 best-selling
The Blue Bloods Cookbook
, which drew on recipes from her mother and the show's cast members.) She's earmarked 5 percent of the author proceeds for
Girls Inc.
, a nonprofit that funds programs to help girls ages 6 to 18 become "strong, smart, and bold."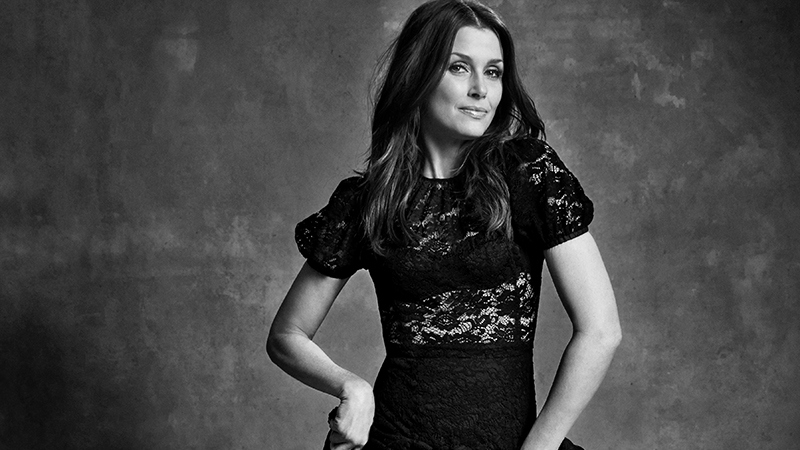 Lace dress and satin bra by Dolce & Gabbana. Shoes by Miu Miu. Earrings, Moynahan's own.
The idea of
Our Shoes, Our Selves
came to Moynahan when she was trying to de-clutter a closet and realized that most every pair of shoes she owned had some personal significance, symbolizing some crisis or defining moment. She collected stories and photographs from 40 women, including Barbara Bush, race car driver Danica Patrick, and architect Maya Lin.
For Moynahan's own story, she posed on a Tribeca side street wearing a pair of Miu Miu motorcycle boots and recounted how she bought them 12 years ago in Los Angeles when the tabloid press was in a frenzy at the end of a highly publicized three-year relationship. The boots bolstered her battered confidence:
I wandered around the small shoe department, and that's when I saw them. ... They came to the knee and had leather and silver hardware wrapped around the ankles. They were strong. They were solid. They were badass. ... I decided that these boots would give me back some of the confidence and strength that I had lost—lost from a very public breakup; lost from having a baby on my own; lost from two surgeries to correct hernias from having my baby; lost from not losing baby weight because the two surgeries kept me from recovering; lost from feeling incessantly violated by the paparazzi. I bought those boots and walked out of there feeling slightly closer to getting back to myself. It was a long road of learning what my new life would be like, and those boots have been on my feet every step of the way: play dates, auditions, screenings, dating, traveling, relationships, and parenthood, of course.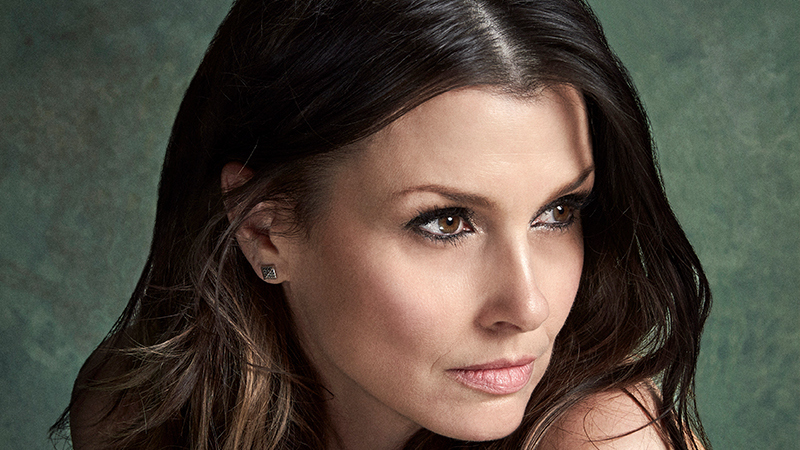 The Miu Miu boots helped her begin what she said was a "three-step process" of reclaiming her privacy. "Gossip hurts," she says. "What was step one?" "Becoming a recluse."
Now she is careful to assess invitations, not wanting to get into situations that will jeopardize her family's privacy.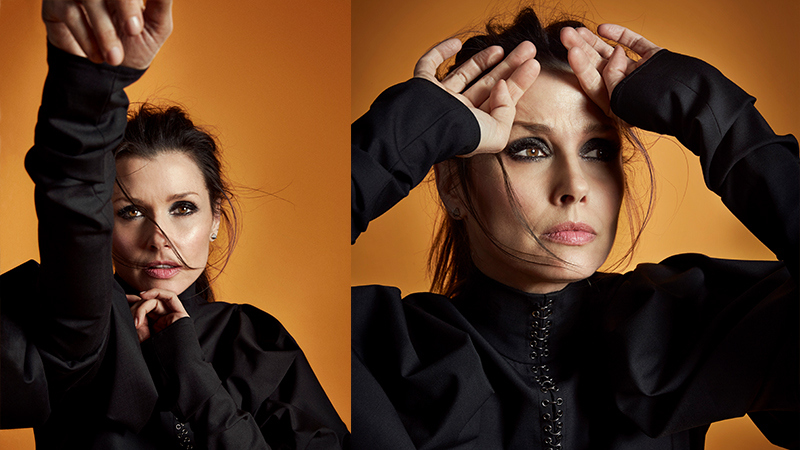 High-neck top by Vera Wang. Jersey trousers by Max Mara. Earrings, Moynahan's own.
SEE MORE: Blue Bloods Cast Members Slay In This Stunning Photo Shoot
Before Moynahan heads home, she agrees to answer a page of fanzine questions prepared by some
Blue Bloods
fanatics.
Your favorite storyline?
"That's like asking me what I did in the third grade."
Erin's most common line?
"'No, you can't do that.'"
Erin wins the lottery, what does she do?
"A nice long vacation."
Where is she in 10 years?
"I'm thinking a judge."
How are you and Erin most different?
"I'm a lot shier."
Really?
She nods, as if to say, Don't you know that everything is easier if you can follow a script?
It wasn't part of the Q&A, but I ask if she had any regrets about not finishing college.
"I've always wanted to go back," she says. "But now I don't know if I have the confidence not to be defeated by the work." Given how many felons Erin has sent upriver, how many search warrants she's refused to issue without cause, how many times she's rebuked her blue-blooded cop family for cutting corners, how many cases she's prosecuted while perfectly dressed in a stylishly subdued legal wardrobe—how does Moynahan feel about studying the law?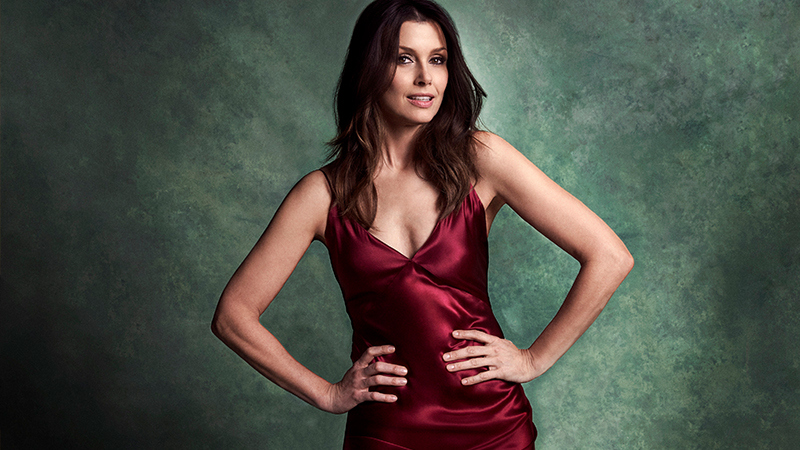 Dress by Olivia von Halle.
"Somewhere around the fourth or fifth season of
Blue Bloods
, I thought I might try to go to law school," she says. "Then I saw the LSAT study guide." She grimaces and then laughs as she holds her hands apart to show how thick the Law School Admission Test book was. A good 3 inches. No dragons. Case closed.
Photography by David Needleman. Styled by Sasha Charnin Morrison. Originally published in
Watch!
Magazine, May-June 2019.
Stream full episodes of
Blue Bloods
on
CBS All Access
.