Getting To Know Donnie Wahlberg Of Blue Bloods
Exclusive interview with Blue Bloods star Donnie Wahlberg, who plays Danny Reagan, a tough detective, son, and brother who leads with loyalty on CBS' hit cop TV show.
Celebrity Interview | Brought to you by
Watch
By Fred Schruers
If the dark secret of
Donnie Wahlberg
's long and successful showbiz career is a predilection for energy drinks, no one working on today's photo shoot is about to give him grief for it. Since turning up a few hours ago, Wahlberg has been a model of friendly comportment. Throughout multiple costume changes and a succession of both still and video sessions, he's been laughing, solicitous, and just plain eager to help.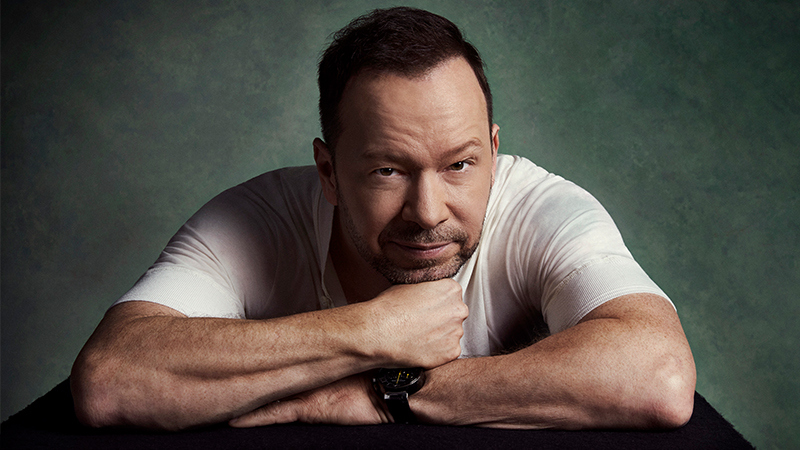 Henley top, Dolce & Gabbana. Watch and ring, Wahlberg's own.
Donnie Wahlberg is this gregarious and generous despite what would seem to be an exhausting schedule. When his week of 10-hour-plus days playing
Blue Bloods
detective Danny Reagan on a New York set comes to a close, he flies back to Chicago, where he lives with his wife, actress Jenny McCarthy, and kids Elijah and Evan, before returning to the city on Sunday.
"Even if I work Thursday and can't fly home with her [McCarthy spends midweeks on the set of her Sirius show in Manhattan], she'll book a flight that gives her a couple hours to spend with me on our set on her way to LaGuardia," he says. "We—with our sons—really do everything to be together."
And when the show is on hiatus, rather than kicking back on a beach, Wahlberg can frequently be found touring with the long-lived band New Kids on the Block, which originally launched him (and, circuitously, his brother Mark Wahlberg) into fame.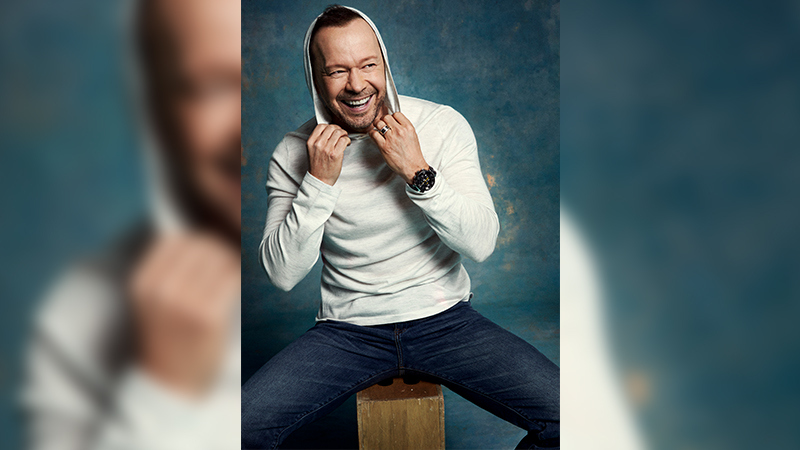 Pullover hoodie by Vince. Jeans by J. Crew. Watch and ring, Wahlberg's own.
Many seasons into the
Blue Bloods
life, Wahlberg clearly enjoys his life, wherever he happens to be. When he's complimented for his great attitude during the
Watch
photo shoot for the May-June 2019 issue, posing repeatedly with good humor in between riffing with co-star
Bridget Moynahan
, he smiles and responds, "Who am I to give anyone a hard time?"
You and Bridget seem to have such an easy way working together.
We have a great friendship. We did a pilot together in 2008 that I executive-produced called Bunker Hill. When the
Blue Bloods
offer came along, I immediately called her, and I said, "You have to play the sister."
She said, "I already passed." She was worried it was going to shoot in Canada, and she had a young child and didn't want to have to commute. I said, "I guarantee you, we won't go to Canada ... because
Tom Selleck
is never going to do a show in Canada. Knowing him, he will fight to do it in New York, because he wants it to be authentic."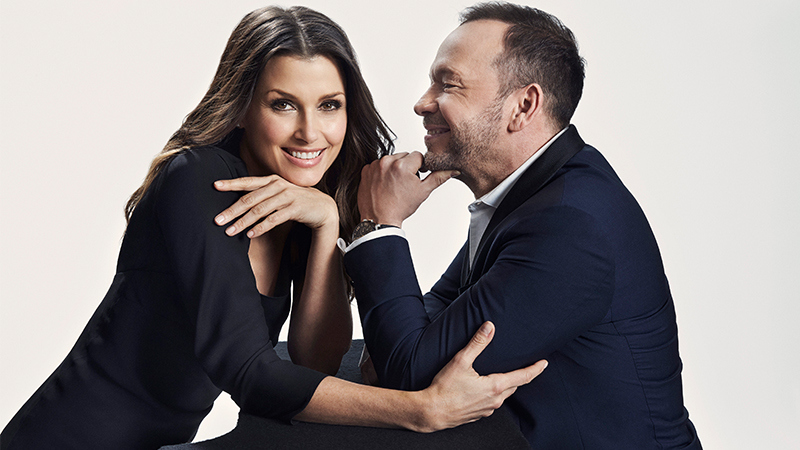 On Moynahan: Asymetrical gown by Michelle Mason. Sandals by Miu Miu. Earrings, Moynahan's own. On Wahlberg: Tuxedo and tuxedo shirt, Brooks Brothers. Shoes by To Boot New York. Watch and ring, Wahlberg's own.
She and I started out as friends coming out of tough relationships, as single parents, and became friends and confidants and watched each other go through other relationships and then ultimately find spouses. Bridget and I have gone through this parallel journey as friends and have been there for each other.
SUBSCRIBE NOW: Enjoy Watch For Free With This Special Offer!
Given that you live in Chicago, how do you feel about shooting in New York?
There's nothing like shooting here. I get energized on the streets. And it's such a big city, there's so much going on, and of course our characters' jobs as police officers is to control what's going on. In my music career, how do I get control of 15,000 screaming people in an arena and get them to follow along where I want to take them during a song or a moment or an entire concert? I think that's what I do in
Blue Bloods
, but in a different way.
How much have you been influenced by other legendary on-screen tough-talking detectives?
There are moments when I'll play around and may say, "I'm going to go a little Columbo [Peter Falk] in this moment," but generally I play the character as a straightforward guy who cuts to the chase.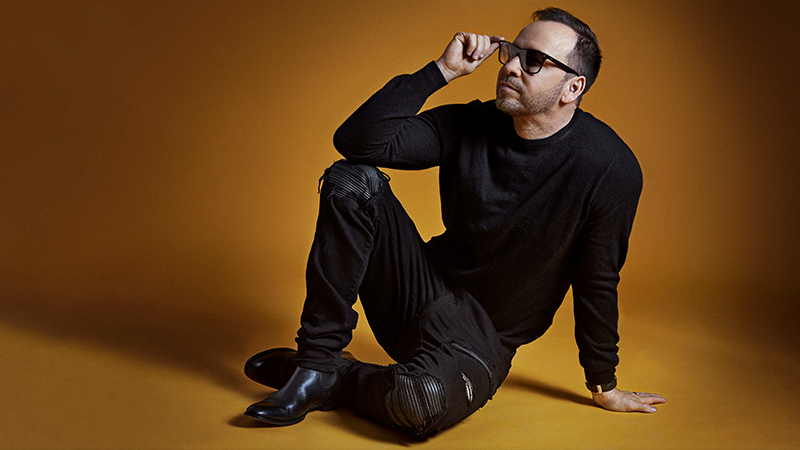 Pullover by J. Crew. Jeans by Amiri. Chelsea boots by To Boot New York. Sunglasses, watch, and ring, Wahlberg's own.
Danny's first regular partner, played by Jennifer Esposito, helped rein him in. Does Marisa Ramirez's Maria Baez do the same?
The beauty of having had these different partners is that they each bring something different to react to. Jennifer made boring lines hysterical; she made throwaway lines authentic. She was a great partner, and is a great actor and friend. When Marisa came along, I knew immediately she would be a lifelong friend. Marisa came in, and she was just a solid person and actor, a solid partner on camera and off.
How would you like to see Danny and Baez's relationship develop?
I would like them to connect a little more—not in an intimate way like Jamie [
Will Estes
] and Eddie [
Vanessa Ray
], but to really share with each other. I think if Danny confides in anyone about the loss of [his late wife] Linda, for example, it would be her. I'd love to explore that.
You've talked about what a great acting partner Amy Carlson made as Linda, before she left the show last season. What was it like for you as an actor to have it fall on your character to explain that she had died?
I got really teary in that scene. For that whole episode, when Linda's death was first revealed, I was also on tour with my band. I literally came from an arena packed full of thousands of screaming people, got on the tour bus, drove to the set, pulled up next to the makeup trailer, then walked onto the set and had to do the first scene—in a psychiatrist's chair—revealing that Linda was dead.
I had to walk this tightrope of emotions and make it plausible. In the later dinner scene, I was really emotional. I sat there remembering the seven years we'd spent working together, thinking, She's not here, and I just let my heart feel what it felt.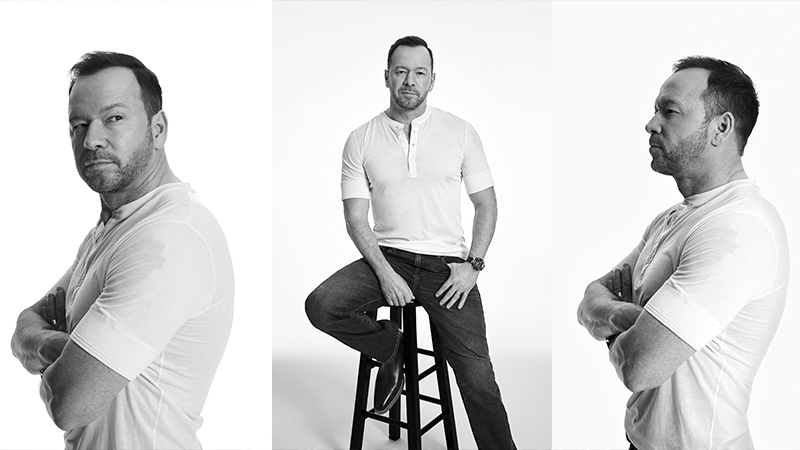 Henley top by Dolce & Gabbana. Jeans by J. Crew. Watch and ring, Wahlberg's own.
Season 9 was very much about Danny figuring out that he can still do the job without Linda as his touchstone. What's that been like for you?
I resist when Danny wants to quit. It's a struggle for me. My wife, Jenny, actually helped me with that, because she'd seen an episode where Danny was going to quit and become a private security guy to make more money, and she said, "That was my favorite episode I ever saw, before I even met you. That the guy's going to quit and make money for his family—that struggle is fascinating to me."
So when Linda died, I think that struggle Danny goes through was real, because it goes back to what's similar between Frank [Selleck] and Danny. We do not like self-pity. It is the worst thing to play. Alarm bells go off for both of us. But I embrace the challenge. I'll say, "OK, let me try to play that Danny's thinking about quitting, but try to avoid the self-pity and just make it more matter-of-fact."
There are those darker shades turning up in recent episodes, with a psychic who summons up Danny's unresolved feelings about his wife. Do some of the plotlines test your emotional resilience?
I've learned that I can't bring the show home every night. I have to separate from it, or I'll get tired of it. So part of it is my not reading the scripts in full—sometimes by necessity, but also it's become really fun and a great exercise to have elements of improv class in showing up on the set. By changing my approach every season on the show, it allows me to make the show fresh and fun every single year.
The writers really do trust me to play around with the words and tie it all together, because it's tough. Even though we're very much a family show, there's a lot of police procedure, and to make that sound conversational and authentic is not easy.
So I don't just say the [lines], I give Danny an opinion. The DNA test came back, and I'm thinking, I knew that son of a bitch was guilty. It's not just, "Let's talk to the electrician, maybe he booby-trapped the wires," it's, "That son of a bitch electrician, I knew a guy in high school who booby-trapped the wires to make his lights go out so he didn't have to do his homework." I'm constantly adding like that.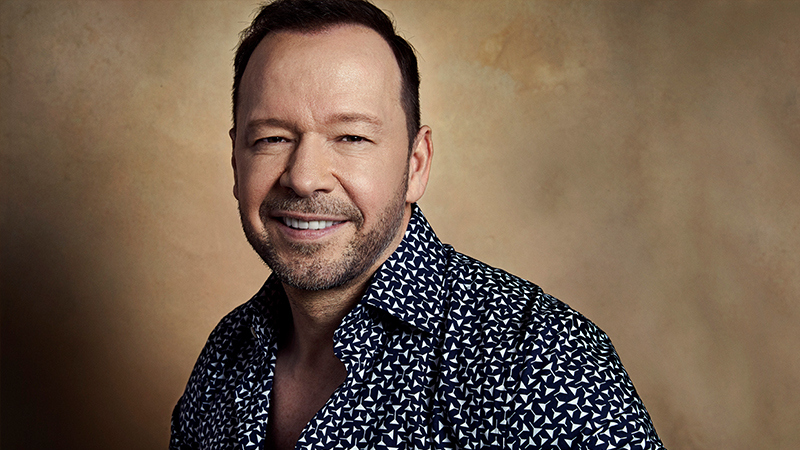 Shirt by Bonobos/Nordstrom.
In one episode, Frank confided that he thinks Danny is the son who's most like him.
I do think Danny's all in like Frank. To be a uniformed officer like Frank and make it all the way up to commissioner, you've got to be all in. It's your life. I don't think Danny wants to be commissioner one day, but I think he will stay in uniform as long as he can.
The very first dinner scene was the first scene we shot. Do you know how hard it is to show up, 10 actors, and Tom at the head of the table, and I've got to have this knock-down, drag-out with Bridget? If I'm not ready to go full-out in that scene, the show doesn't work. Danny has to be hardheaded and fiery in front of Frank. And I had to be willing to do that in front of Tom. Any good actor would know that's what you have to do—you commit.
Those dinner scenes make up some of the most moving moments of the episodes. Danny is seldom the first to speak, but we often watch him react.
A lot of that's improvised. Someone else might kick me under the table and say, "Stop adding those improvs," but Tom doesn't. And six months later he'll say, "I love the way you fill in all the holes in the dinner scene. It needs you, you keep it alive." What a great thing that the head of the table just trusts me. It means the world to me.
What's your relationship like with him offscreen?
Tom's a real solid individual. After we watched the pilot, he said to me, "I'm really good at making scripts better," and I thought he was going to offer me, "So if you need help, come to me," but that's not what he said. He said, "I notice that you are too, and I'm going to count on you to keep running through walls and do what you do for the run of this show." And I said, "I'm there, man, I got your back." And that's been our relationship ever since.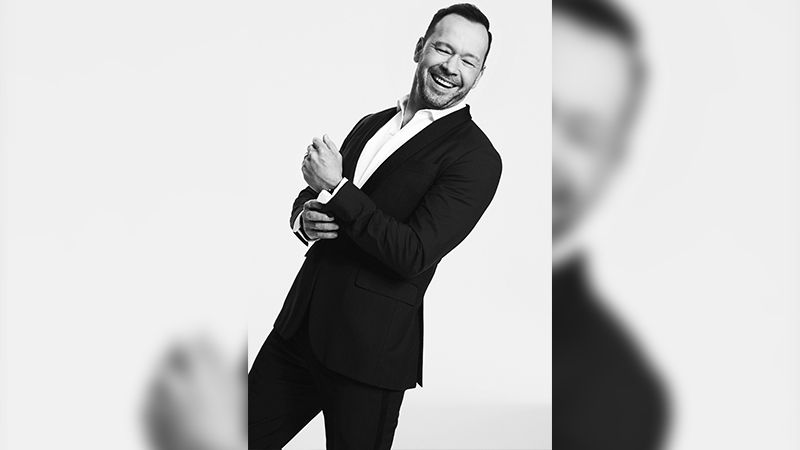 Tuxedo and shirt by Brooks Brothers. Watch and ring, Wahlberg's own.
Any behind-the-scenes hilarious moment you can share?
There have been times when Marisa and I laugh probably for an hour straight. We might tell jokes between takes, or someone goofs up a line. Sometimes she'll pronounce a phrase backwards—like, for "the blue shirt," she might say, "the shoe blurt" or something, and we literally have to shut down production for about 20 minutes until we get it out.
It has to be said that you seem like a man very happy in his work.
When I really started becoming an actor and being taken more seriously—even when I did
The Sixth Sense
, and that was a real breakthrough—I really loved the idea of TV. And TV wasn't cool back then, we didn't really have all these cool cable and streaming shows.
But there's something about a one-hour drama that just makes total sense to me, and probably because I'd been touring and living out of a suitcase, the idea of showing up to work in the same place every day was something that appealed.
We're looking forward to plenty more of Blue Bloods. Is it safe to say both Danny and Donnie are all in?
You know, I never could understand when an actor would say they got burnt out on a TV show. It never made sense to me. We fight so hard to get these jobs. I worked for years just to get an acting gig, and I'm hearing of actors quitting shows because they're bored. And I think, What the hell are you talking about?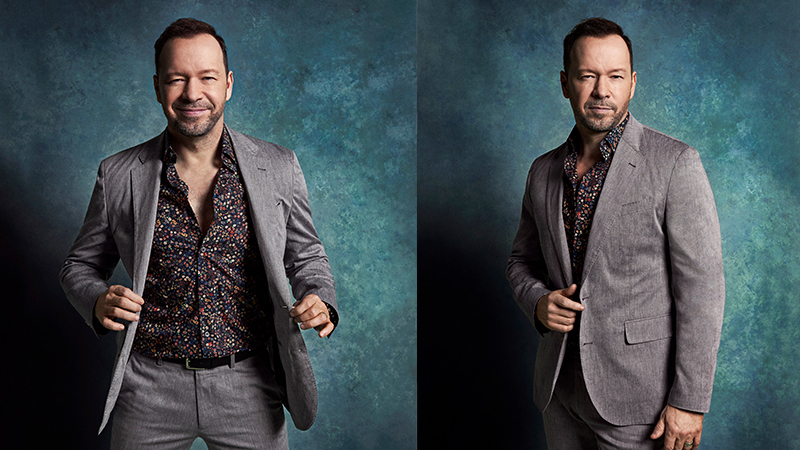 Suit by J. Crew. Shirt by Paul Smith/Nordstrom. Ring, Wahlberg's own.
Last question: If you could change one thing about your character, what would it be?
There's a lot of humor in law enforcement, to get through some of the hard times. I would write him a few more jokes!
DISCOVER MORE: Check Out The Latest Issue Of Watch—Available Now!
Photography by David Needleman. Styled by Sasha Charnin Morrison. Interview originally published in
Watch
Magazine, May-June 2019.
Season 12 of
Blue Bloods
premieres on Friday, October 1 at 10/9c on CBS. Catch up now on
Paramount+
.