Getting To Know Will Estes And Vanessa Ray Of Blue Bloods
Exclusive interview with Blue Bloods stars Will Estes and Vanessa Ray, who play Officers Jamie Reagan and Edit "Eddie" Janko. This couple makes it work, in and out of uniform, on CBS' hit cop TV show.
By Jessica Shaw
Good news for #jamko fans:
Will Estes
and
Vanessa Ray
, who play
Blue Bloods
' patrol partners turned precinct paramours Eddie Janko and Jamie Reagan, are every bit as adorable when the cameras aren't rolling. And that's saying something, because on-screen, these two have had a swoon-worthy run, from Jamie endearing himself to Eddie's difficult mother to Eddie's crazy jealousy when Jamie flirted with a beautiful doctor, all the way up to last season's tear-inducing engagement.
But no amount of watching Estes and Ray's on-camera chemistry can prepare you for spending an afternoon with these two, who constantly crack each other up, finish each other's sentences, and give supportive compliments—only to playfully mock each other seconds later. "Get him out of here!" Estes jokingly scolds Ray when her actual husband's name pops up on her ringing phone.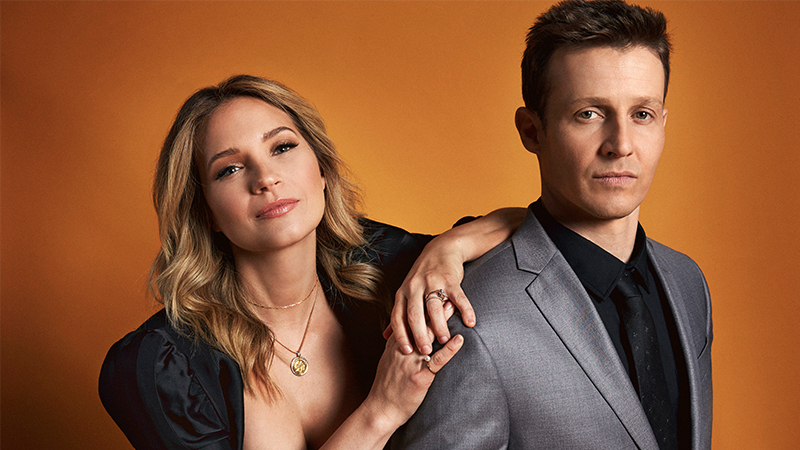 On Ray: Top by Snidel. Jacket by Loewe. Necklaces by Parpala Jewelry. Rings by Astrid & Miyu and Joanna Laura Constantine. On Estes: Suit and shirt by Kenneth Cole. Tie by Joseph Abboud.
Sharing a couch in Ray's dressing room on the Brooklyn set, in between pop-in chats from
Bloods
family members
Tom Selleck
and
Donnie Wahlberg
(not to mention a drive-by from Wahlberg's wife, Jenny McCarthy, and their brand-new Pomeranian puppies), the co-stars talked about the awkwardness of making out on camera with your real-life platonic best friend, why they were initially opposed to their characters coupling, and what the future holds for the fan favorite duo. (Spoiler alert: it may change around the seating at the Reagan family dinners!)
WATCH: Go Behind The Scenes With The Blue Bloods Cast On Their Stylish Photo Shoot
​
Do you remember your very first auditions to play Jamie and Eddie?
Vanessa:
I auditioned on tape and then went to meet with CBS in Los Angeles. The day I went in for my callback, the casting director got stuck in an elevator and they were like, "Maybe we should reschedule for tomorrow."
But sometimes as an actor you're like,
No! I'm ready right now and I don't want to come back tomorrow. I don't know what will happen tomorrow, but I know today I can get this job.
So I waited on the CBS lot for two hours until the fire department got the casting director out of the elevator and then I was like, "Ready?" And I got it!
Will:
I auditioned for what felt like 11 times, but it was actually just four. I remember the script was my favorite thing I'd read all year. I don't think I ever told anyone this, but I was totally broke. After reading with Leonard [Goldberg, Blue Bloods' executive producer], I remember he said, "I believed you." That was an endearing vote of confidence.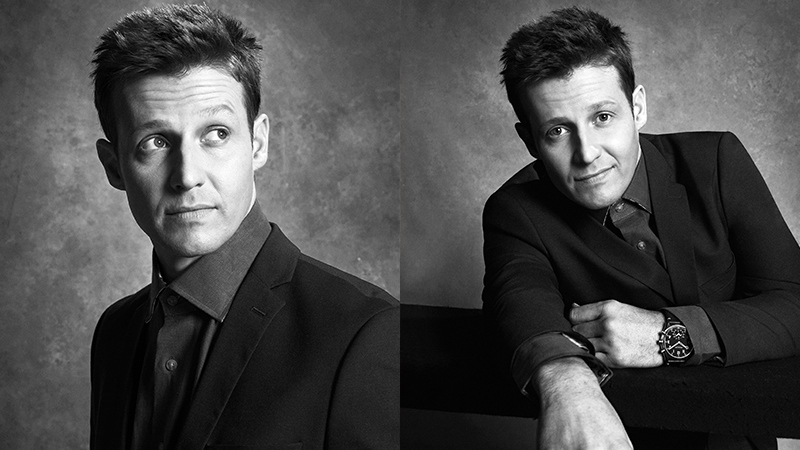 Blazer by Selected Homme. Shirt by Joseph Abboud. Jeans by Mavi. Watch by Kronaby.
Will, you've been on the show since it premiered in September 2010. Vanessa, you joined in season 4. At this point, it's hard to imagine Blue Bloods without the two of you together in some capacity. Do you remember the first time you tested together? Was there instant chemistry?
Vanessa:
[To Estes] I think you were skeptical of me.
Will:
I don't think that!
Vanessa:
Remember we were in the hallway?
Will:
Is this a real story?
Vanessa:
This is Will's new thing. He thinks I'm lying.
Will:
At any given time you can believe 75 percent of what Vanessa is saying.
Vanessa:
This story I'm positive about. I remember you were in full costume. And I think you were like, "Who is this girl? Who is this blond girl?"
Will:
I remember always liking you.
Vanessa:
Awww!
Top by Alexander McQueen. Slip dress by Valentina Kova. Earrings by Astrid & Miyu and Glamrocks Jewelry.
When Vanessa joined, was it made clear to both of you that these characters were going to be partners who eventually fall in love?
Will:
One of the oddities of television is that sometimes performances dictate the story. It's a create-as-you-go format. So certainly the writers wrote it, but if we were horrible together they wouldn't have written it. Us having a great time together helped.
Vanessa:
Aside from the romance, there are so many times one of our conversations will end up in the story. I'll look at a script and be like,
We just had this argument
or
We just talked about that thing!
Like what?
Will:
I've deliberately blocked it all out.
Vanessa:
Anything. Our views on society or relationships in general.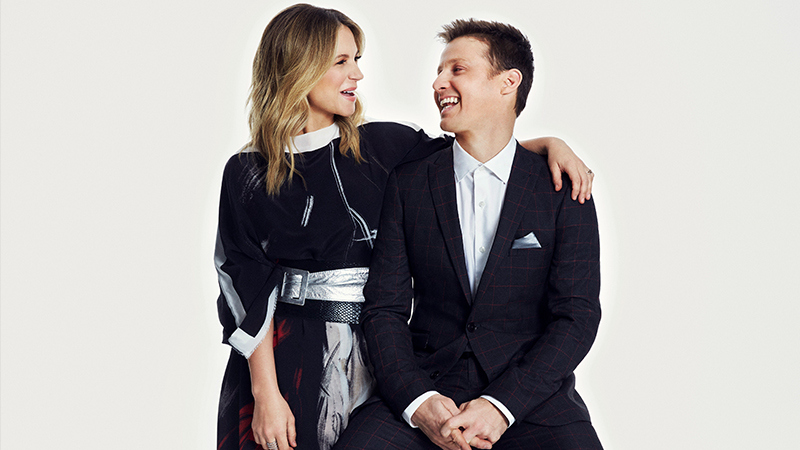 On Ray: Dress by Billy Reid. Belts by Deborah Drattell. Ring by Officina Bernardi. On Estes: Suit by Paisley & Gray. Shirt by J.Crew. Pocket square by Hugo Boss.
What was your reaction when the producers told you they wanted Jamie and Eddie to go from being police partners to being a romantic couple?
Vanessa:
There was pushback because we thought, If you put us together, then where do we go from there?
Will:
It was the
Moonlighting
thing. Once they got together, the story was over. The anticipation is so much better than the monster—that's what Hitchcock taught us. So we were nervous about what it was going to mean once we were together.
Vanessa:
Wow. You said that way smarter than me.
Will:
We're still not convinced! We just do what they tell us. We talked to them about not wanting to do anything mushy. They said they didn't want to change the dynamic.
Vanessa:
But now we're having more fun than ever. We have this incredible secret that we have to hide in our precinct, and nobody can know—but everyone knows.
Will:
That's such an actory thing to say. "Pretend you have a secret!" It's such an acting class exercise.
Vanessa:
I know! But we actually have one!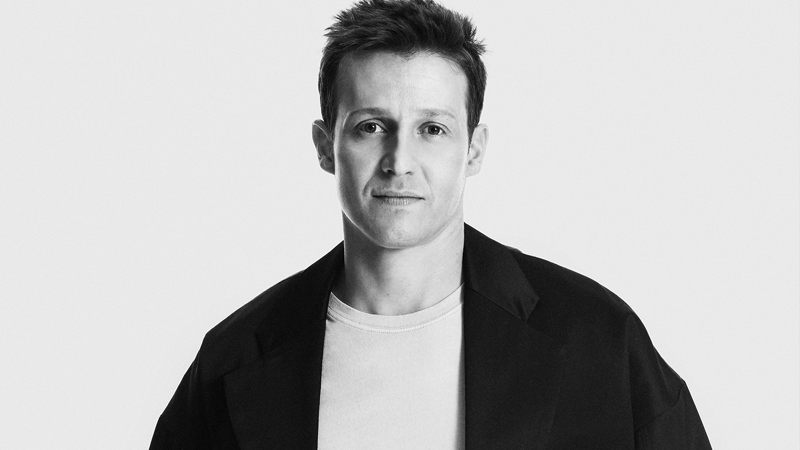 Jacket by Necessity Sense. T-shirt by life/after/ denim. Jeans by Levi's Made & Crafted. Watch by Kronaby.
There are sections of fan fiction websites devoted to Eddie and Jamie, and #jamko has joined the ranks of great couples with name-merging hashtags. When did you realize your coupling had taken off to the next level?
Will:
What's a hashtag?
Vanessa:
Pound Jamko. [
Laughs
.] I've had to do a lot of educating. Goodness gracious. A hashtag legitimizes us forever!
Will:
I have these moments that stand out for me that are just as big as booking the job. One was watching
Mom
, and one of the characters said something like, "I'd love to come, but I can't. It cuts into my
Blue Bloods
time." I was like, We made it! The other time was when I was in the crossword puzzle, which was the highlight of my dad's life. Should I tell the story?
Vanessa:
Tell it!
Will:
The other day I was in a restaurant and this guy comes up to me and says, "I love that show you're on. I'm Ron." I'm like, "I know who you are. You're Ron Howard." I'm a huge fan of his work and of him as a person, and I got to meet him! It doesn't stop blowing me away that someone like that has even seen the show. He was like, "Say hi to Donnie. We did
Ransom
together."
Vanessa:
I was losing my mind when he texted me.
Will:
Vanessa was the first person I texted.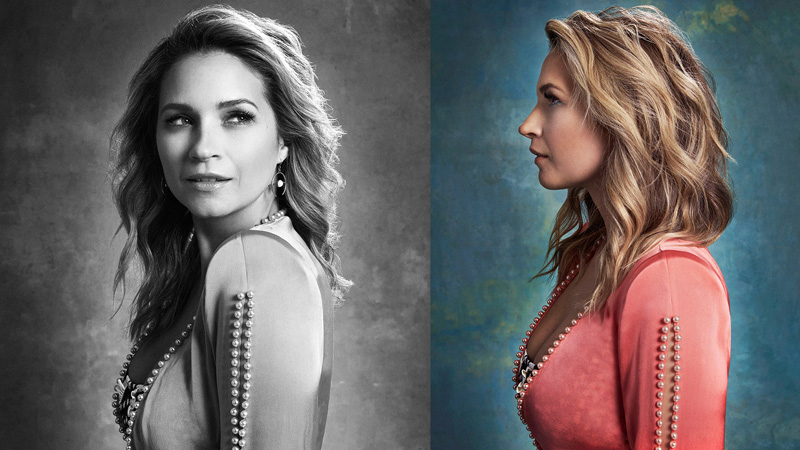 Dress by Agent Provocateur. Bra top by Morgan Lane. Earrings by Glamrocks Jewelry. Ring by Carolee.
Do you ever get out of parking tickets because you have cred with NYPD's finest?
Vanessa:
I've never gotten out of a ticket, but it is fun to live in New York City and hear cops in a grocery store or something going, "Hey, Janko." For them to recognize anything that we do is the best thing about this job.
Will:
The drama and gravity of what cops do for a living is always an arm's length away for our stories. Maybe that's why our show has gone for so long. There's so much there at our fingertips in the real world that we can draw from. We're doing a show about heroes and cops who get it right 99 percent of the time.
What's something you now know about your character that you didn't know when you started playing him or her?
Will:
Doing this job as long as I have, life is starting to imitate art. Our technical advisor, Jim [Nuciforo], starts to tell me something now and I finish the sentence.
Vanessa:
That's something I admire about you, that you still check with him. I'll be like, "What do I do with the green paper?" You'll know the answer, but you'll always say, "Let's go ask Jim about it."
Will:
I never want to act like I know. Jim was an NYPD cop for 23 years. I've enjoyed going to him. I ask him about everything.
Vanessa:
And he answers like a dad would answer with a scenario. Not like, "You'd be angry right now." Instead, "This is what's going on, and here's a story that maybe relates to what you're doing."
Does he ever say, "This is how it's done. No deviation"?
Will:
One time. He said, "Jamie would write in black ink on the DD5s." I asked why and he said because back in the day you could only write in black ink. Now you can write in any color, but Jamie would be old school. I liked that.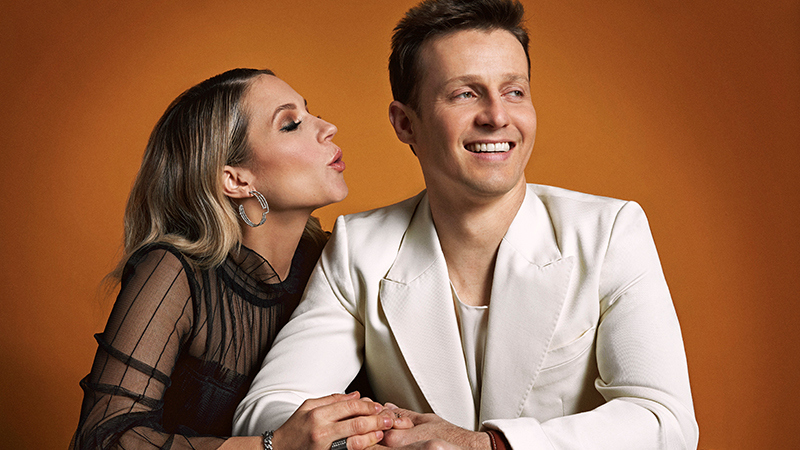 On Ray: Dress by Snidel. Corset by Deborah Drattell. Earrings and ring by Carolee. Bracelet by Jen Hansen. On Estes: Suit and shirt by Carlos Campos. Watch by Kronaby.
How soon after you started playing these characters did you feel comfortable doing cop things like cuffing someone or holding a gun?
Vanessa:
I had never held a gun or cuffed someone, so I felt really out of my body when I first started this job. I didn't expect that. I thought I'd be able to adapt easily, but it took me a while. One of my first days on set I was pointing a gun and someone walked by and my gut reaction was to use my hand to cover the barrel of the gun. So I've had to work a lot on physicality.
Will:
I had the advantage of having played a Marine once, and there are a lot of similarities, with ex-military becoming police officers. They're coveted by the force. So I was comfortable with firearms, but by no means did I think I knew what I was doing out of the gate as an NYPD officer.
Vanessa:
While we were doing the third or fourth episode, I found myself in the makeup trailer alone with Tom [Selleck]. I didn't really know him at all at that point. He said, "Hey, Vanessa. You ever been in the military?" I was like, "Oh my God. Look at me. What part of me has ever been in the military?"
Will:
Did you tell him Barry's Bootcamp? [Imitating her] I almost finished a whole class!
Vanessa:
I said, "Um, no, Tom Selleck, have you?" He said, "Yes. Do you know how to salute or stand at attention?" So in the hair and makeup trailer he made me stand up and stand at attention. He said, "Do it again! Don't look at me!" He kept making me salute him and stand at attention. I learned more in that trailer that day just about how to stand than anything else I've done.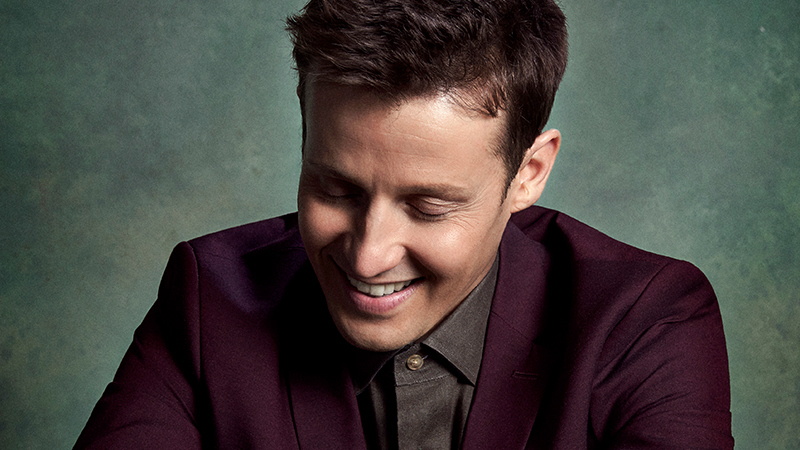 Blazer by Selected Homme. Shirt by Joseph Abboud. Jeans by Mavi. Watch by Kronaby.
How strange is it to be such good friends but still have to kiss on camera and be a couple?
Will:
The first kiss was really weird. Or was it the second kiss?
Vanessa:
The second one was way weirder than the first kiss.
Will:
Because we'd become friends at that point. We'd spent a lot of hours together. We're married without the romance.
Speaking of your coupling, tell me something
—
anything
—
about the wedding. How's the dress?
Will:
I'll tell you something. Did you know her real husband came to her wedding dress fitting? He was like, "I wanted to do this the first time around but couldn't."
Vanessa:
He really did give his two cents. It was a collaboration. Our costume person, Michael Woll, and I found one we were all happiest with. When I actually got married it was a nontraditional dress. This is the complete opposite; it's very traditional. Mine was pale pink with a green muslin skirt and a separate fitted top. It was a very hippie-girl-in-the-trees kind of feel.
Vanessa, you're a trained singer. Any chance we'll be hearing you serenading Jamie?
Vanessa:
Not a chance!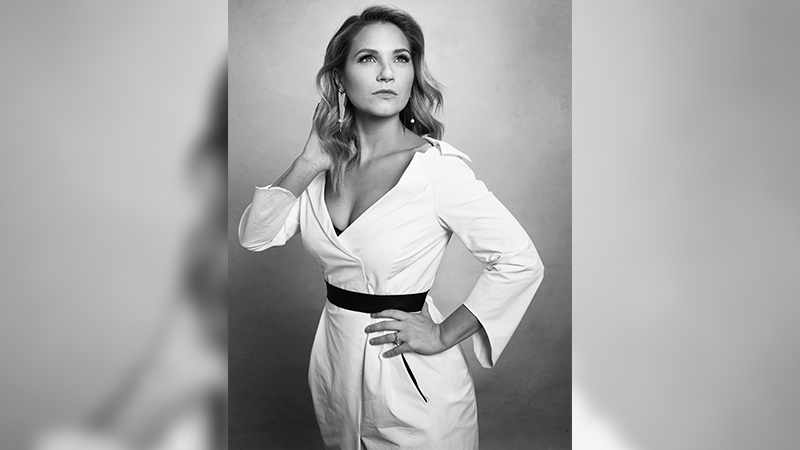 Dress by Norisol Ferrari. Earrings by Carolee. Ring by Officina Bernardi.
Are shooting the family dinners insanely fun ... or just insane, with so many cast members in one room?
Vanessa:
I feel like I had to learn how to act at those scenes from Eddie. That sounds crazy, but my first reaction being at those dinner table scenes with legends—people who've been in the business for so many years—was to be scared. I would walk in and my confidence level was shook, but what was on the page was never that. Eddie speaks her mind. When I came into my husband's family it was the same kind of thing, and having gone through it on the show, I was able to be more honest in my real life and not shy away from outspoken moments.
Do the writers clue you in on anything they have planned for you two?
Vanessa:
In broad strokes they might say where things are headed.
Will:
They tell you things? They don't tell me anything. It's a great question, but a one-hour drama is all about adaptability. It's almost a different way of acting. You don't want to get too locked in because they might not write what you think.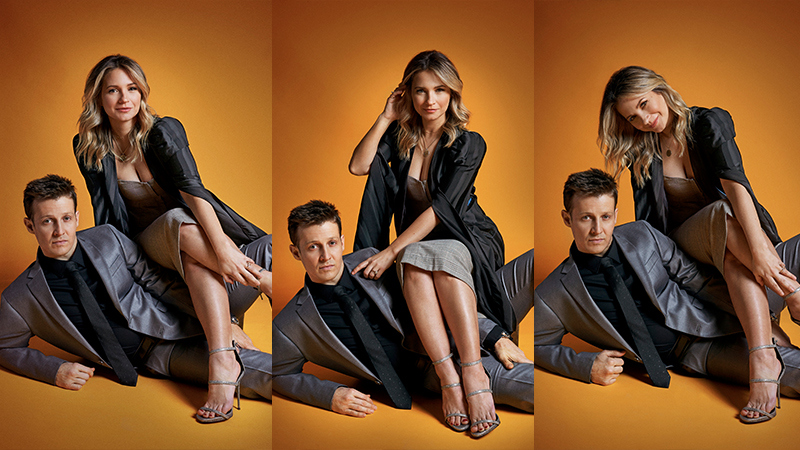 On Ray: Top and skirt by Snidel. Jacket by Loewe. Shoes by Giuseppe Zanotti. Necklaces by Parpala Jewelry. Rings by Astrid & Miyu and Joanna Laura Constantine. On Estes: Suit and shirt by Kenneth Cole. Tie by Joseph Abboud. Watch by Kronaby.
How can I ask this subtly? Any chance we'll see a seating change, perhaps a need for more room, at the family dinner table?
Will:
We change from time to time. Vanessa is kind of new; she hasn't been at family dinner for that long. But for the most part we stick to our seats.
Vanessa:
What if there's a high chair, you mean? I don't know if I'll do it in real life, so it would be fun to do it on the show!
SEE MORE: Blue Bloods Cast Members Slay In This Stunning Photo Shoot
Photography by David Needleman. Styled by Christina Pacelli. Originally published in
Watch!
Magazine, May-June 2019.
Stream full episodes of
Blue Bloods
on
CBS All Access
.