The New Twilight Zone Puts A Modern Spin On Spooky
Why you should enter another dimension with Jordan Peele and Simon Kinberg's reboot of the classic TV series, now streaming exclusively on CBS All Access.
By Gina McIntyre
The Twilight Zone
changed TV history when it debuted in 1959, as creator and host Rod Serling introduced a new form of storytelling in which genres were blurred and nothing was quite as it seemed.
More than five decades since its last episode,
The Twilight Zone
has been reimagined by Oscar-winning writer and director
Jordan Peele
(
Get Out
) for
CBS All Access
. Peele steps into Serling's role as host and narrator for the 10 original episodes, in addition to serving as executive producer.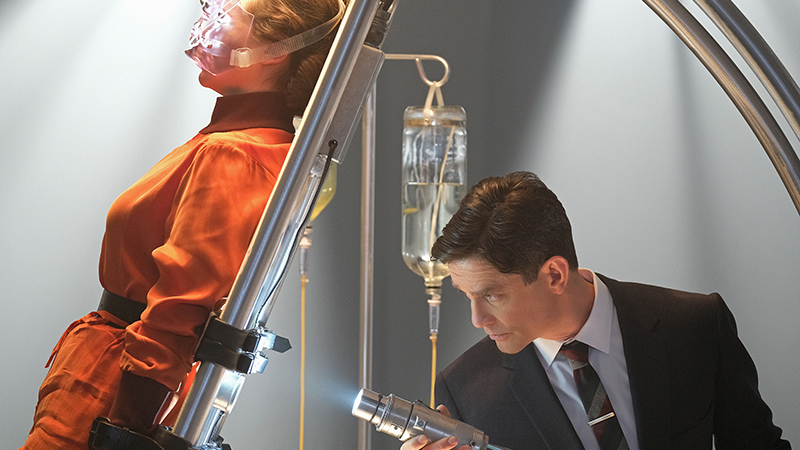 Ginnifer Goodwin as Eve Martin and James Frain as Mr. Allendale of the CBS All Access series
The Twilight Zone
.
Bringing the new
Twilight Zone
to fruition is a passion project for Jordan Peele, who has credited the original show with inspiring him to pursue a career in filmmaking.
STREAM: Full Episodes Of The Twilight Zone Now On CBS All Access
His enthusiasm proved contagious when it came to pitching the project to CBS All Access. "It can't be done just because the title is recognizable," explains Julie McNamara, executive vice president of original content for the streaming service. "There needs to be a real vision behind it, a reason to do it, and an execution that both pays tribute to the original and demonstrates some innovation and relevance to the modern culture." With Peele's work, she continues, "you can see this combination of social commentary and genre. There's a direct line back to the original
Twilight Zone
and what Rod Serling was able to accomplish."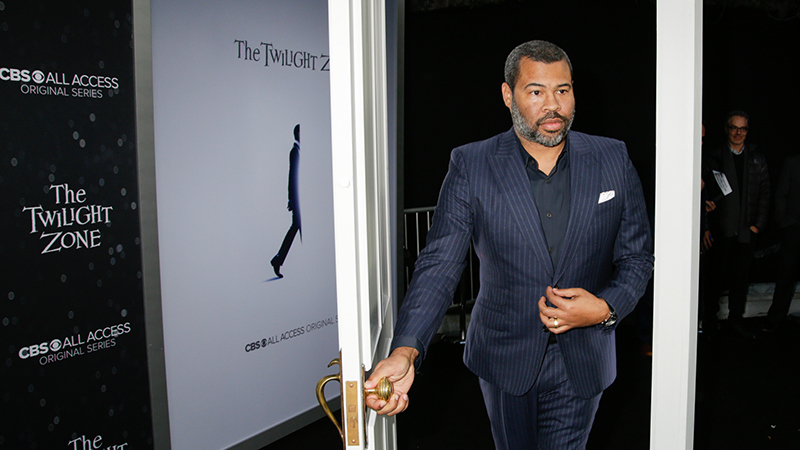 Oscar winner Jordan Peele on the red carpet during
The Twilight Zone
premiere in Hollywood.
From the outset, Jordan Peele and fellow executive producers Simon Kinberg, Win Rosenfeld, Audrey Chon, Glen Morgan, Rick Berg, and Greg Yaitanes were interested in using the weekly anthology format to examine issues of class, race, and the ramifications of social media. Chon says, "As a kid, I loved the exploration of stories and themes on
The Twilight Zone
. It was provocative, at times scary, and looked at the world through a different lens. Hopefully, we can do a similar thing with contemporary ideas today."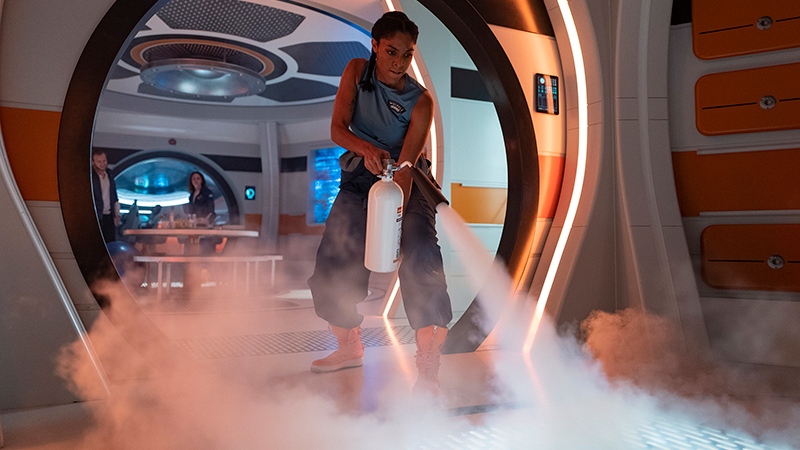 Jessica Williams as Rei Tanaka of the CBS All Access series
The Twilight Zone
.
The new episodes feature a diverse array of talent including
Sanaa Lathan
,
Kumail Nanjiani
,
John Cho, Allison Tolman, Jacob Tremblay
, DeWanda Wise, Ginnifer Goodwin, James Frain, Jessica Williams, and Steven Yeun.
Adam Scott
stars in "Nightmare at 30,000 Feet," which pays homage to a classic 1963 episode starring William Shatner. "There are a number of
Easter eggs
throughout the show that convey a connection to the original
Twilight Zone
series," McNamara explains.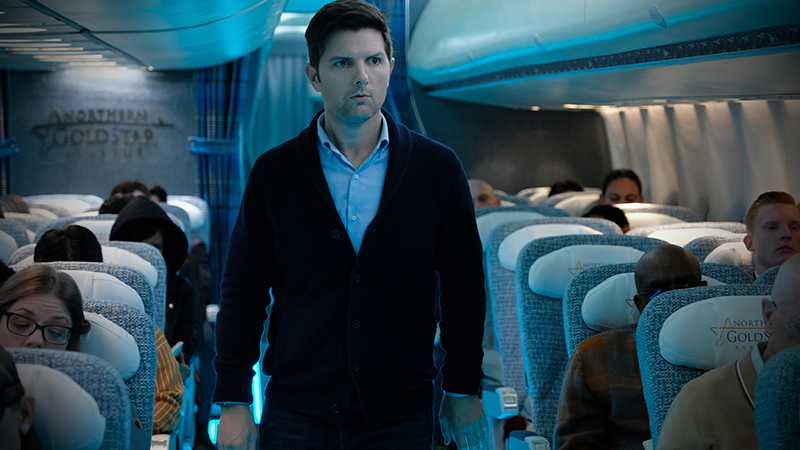 Adam Scott as Justin Sanderson in homage to classic TV thriller "Nightmare at 20,000 Feet" for CBS All Access' new original series
The Twilight Zone
.
Streaming has proven to be the ideal platform for the audacious new series, thanks to its ability to offer writers and directors maximum creative freedom. "That doesn't mean swear words or nudity," McNamara says. "It's about the issues that you're tackling, the pacing and nature of the storytelling, and the visual style."
Equally important, it's a win for the audience. "It can be a very personal experience, viewed when you're in the right frame of mind to have this ride with these individual characters in these freakish experiences."
Originally published in
Watch!
Magazine, May-June 2109.
SEE MORE: Top 10 Best Classic Twilight Zone Episodes
Photo Credits: Robert Falconer/CBS (4); Francis Specker/CBS (Jordan Peele).
Stream full episodes of
The Twilight Zone
exclusively on
CBS All Access
.