This Sweet Guide Dog Has Become A Breakout TV Star
On The CW's addictive drama series In the Dark, Levi plays a canine companion who sits, stays—and steals the show.
By Oliver Jones
To pull off her performance as Pretzel—a guide dog devoted to the hard-living, blind 20-something Murphy (
Perry Mattfeld
) on The CW's drama series
In the Dark
—8-year-old Canadian-born golden retriever Levi does perhaps the most bravura acting of the TV season.
Where Pretzel is the epitome of serenity and caution, Levi wags her tail with such joyful abandon that it's been known to clear a coffee table. Then there's the way she says hello, greeting Perry Mattfeld with a sound that crew members call "the screaming dolphin."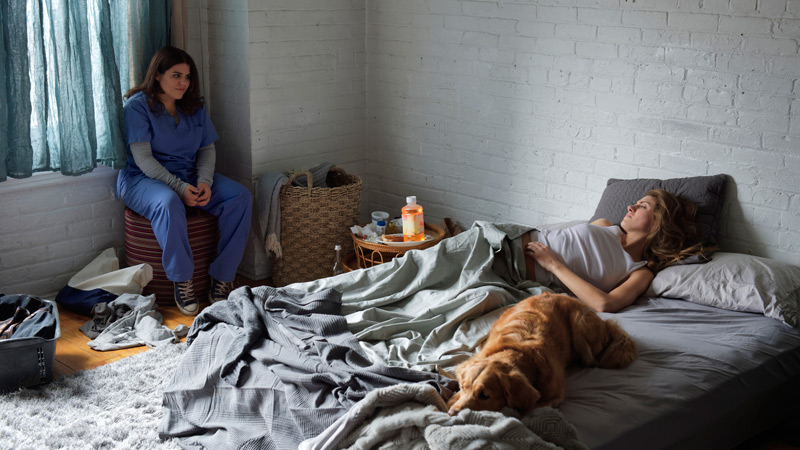 Levi on set with co-stars
Brooke Markham
(far left) and Perry Mattfeld. "The thing that gives Levi the most joy right now is doing this show," says the pup's trainer.
"I wouldn't say it was hard for her to take on this persona of a calm, nonreactive guide dog," says her trainer, show animal veteran Violetta Hessing, who has worked with Levi since the pup was just 7 weeks old. "But it took a lot of effort. Everyone on set knows that all you have to do is snap your fingers and Levi takes to the air, jumping for joy."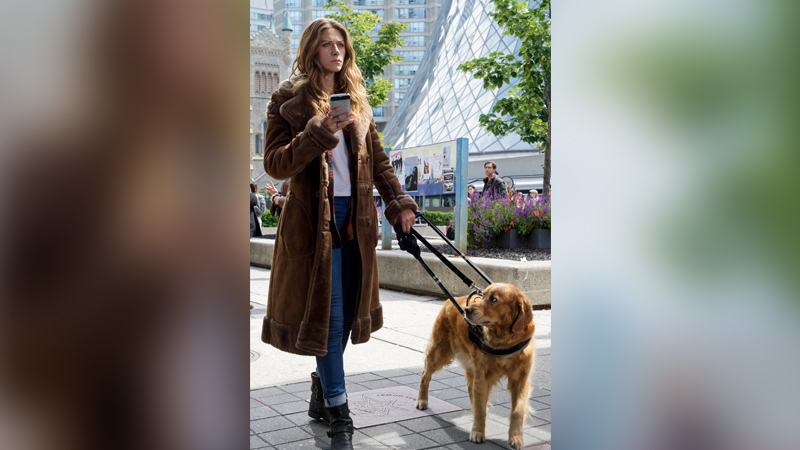 Levi responds to affection—and treats!
Not only is Levi poised to be a breakout four-legged star (Hessing credits her expressive, wrinkly face that's "straight out of a cartoon"), but she and Mattfeld's character also share a relationship fraught and complicated enough to make them the season's most talked-about couple.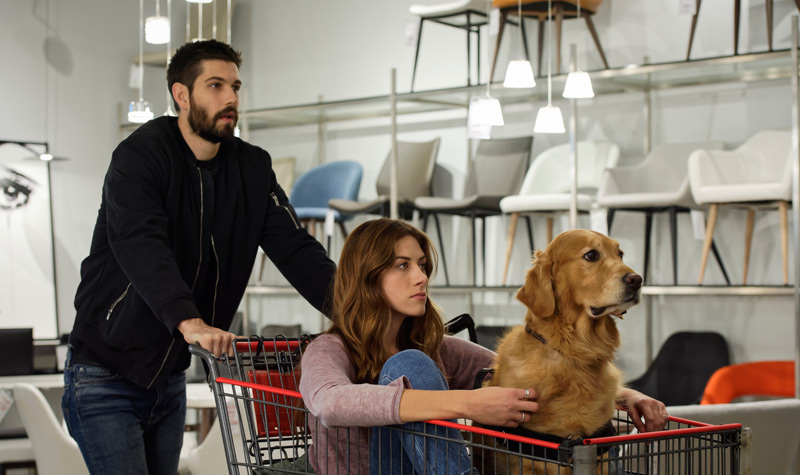 Casey Diedrick as Max, Perry Mattfeld as Murphy, and Levi as Pretzel are pals on set of
In the Dark
.
For that, Hessing credits Mattfeld for the time she has put in building trust with Levi. "In terms of crafting a bond with a dog, Perry is the most incredible actor I've worked with," says Hessing, who has been a trainer for nearly three decades. "I've never seen a performer give so much to an animal. And Levi is so happy working alongside her. This is a case where you can truly say that the dog is at one with the actor."
Originally published in
Watch
Magazine, May-June 2019.
Photo Credits: Photo Credits: Kharen Hill/The CW (2); Ben Mark Holzberg/The CW (4).
Watch all-new episodes of
In the Dark
on Wednesdays at 9/8c on The CW. Stream next day free, only on
The CW
!