Getting To Know Ethan Peck Of Star Trek: Discovery
Get into a Vulcan mind meld with Star Trek: Discovery's Spock, the enterprising—and out-of-this-world—Ethan Peck.
By Sara Vilkomerson
Ethan Peck
didn't even know what he was auditioning for that day. The handsome, broad-shouldered actor, 33, grew up in Los Angeles, the descendant of some pretty heady Hollywood lineage—he's the grandson of Oscar-winning legend Gregory Peck—and was already a showbiz veteran, working steadily since about the age of 9, snagging parts in
That '70s Show
and
10 Things I Hate About You
.
STREAM: Full Episodes Of Star Trek: Discovery On CBS All Access
But at the time of this mystery audition, he'd begun to harbor serious doubts about continuing his acting career. Still, when his manager encouraged him to send in a taped audition for a new character on a show that couldn't be revealed to him, he did so. The dialogue he read didn't give much of a clue. "The scenes were really abstract—an alien in a cave who was kind of losing its mind and speaking in tongues," Peck remembers. A callback followed. And then another one. Around this time, it was becoming clear to Peck what role he was up for: none other than the legendary Vulcan, Spock, for the second season of CBS All Access' hit show
Star Trek: Discovery
.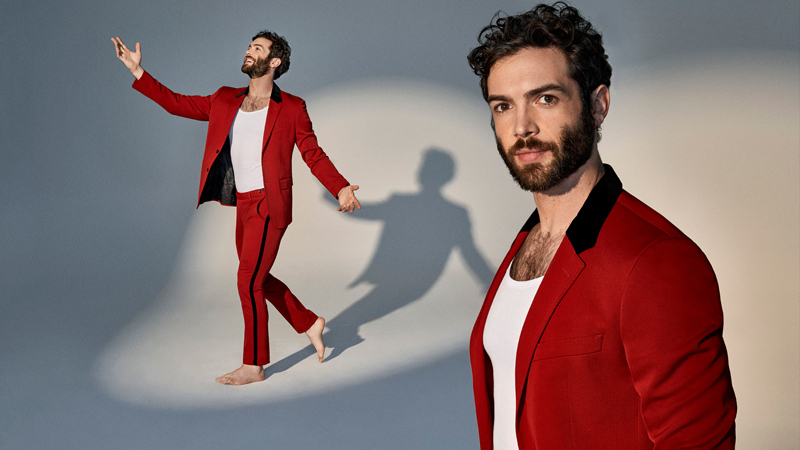 Blazer and pants by Hilfiger Collection. Tank top by Calvin Klein Underwear.
"I think I then had a full panic attack," he says with a laugh. The next day, after his last audition with show creator Alex Kurtzman, he was walking near his apartment when he looked down and saw he had a text message from the Star Trek: Discovery casting director: "Welcome aboard, Mr. Spock."
"I had to sit down on the curb, and I was in tears," Peck says. "I was so overwhelmed and so grateful. And then there was a part of me that was afraid because of the responsibility [of playing Spock]. There were a lot of feelings rushing in."
How, as an actor, does one even begin to prepare to play him?
It starts with a lot of anxiety. [
Laughs
.] But I had been given this amazing gift—because I didn't originally know what it was I was reading for, I knew that whatever I did do was what got me to the end. So clearly there was something in me that was Spock to them. At this time I'd almost stepped away from acting—I wasn't working in the right way, I wasn't looking deeper to see if this was something I wanted to do. In the scenes I read, it's about someone waking up to their emotions for the first time. And in some ways, in my life, I've been waking up to mine.
Spock is the one who shows us who we are. He's half human and he's half alien, so he has this perspective within himself about himself. I started to watch the original series with Leonard Nimoy—and I met with the Nimoy family, his children Adam and Julie, and they were incredible and really supported me.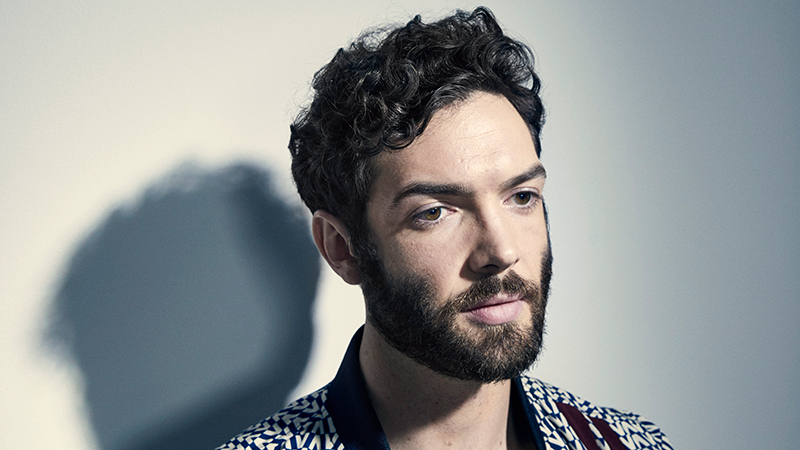 Jacket by Valentino.
At what point in the process did it start to feel real?
That first makeup test was actually really scary. Some part of me had to catch up to my outsides and this amazing makeup.
Judging from previews, you're a scruffier Spock than we're used to seeing.
People are going to hate it! Or love it? Maybe both. [
Laughs
.] It's for a great reason that I can't tell you about, but it will be used to great effect in the series.
Were you able to do the Vulcan salute?
Yes! I grew up playing cello so I have very dexterous fingers.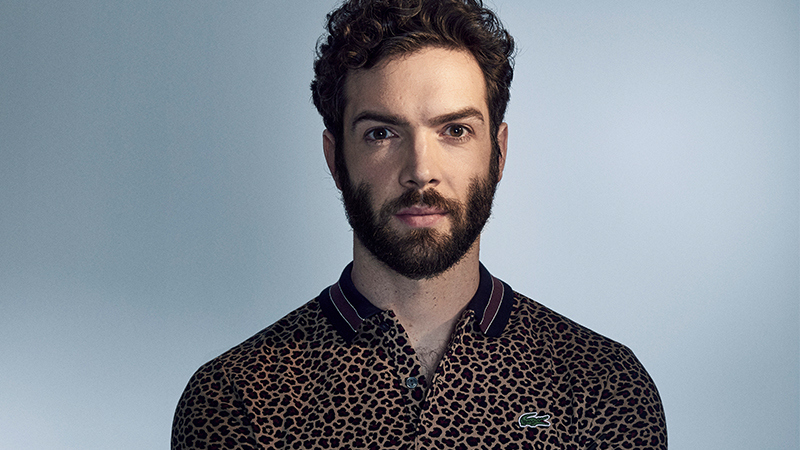 Polo by Lacoste.
You also grew up with deep Hollywood roots—your grandfather is Gregory Peck. Did you have any idea as a kid who he was?
Not really. He was grandpa, you know? Some part of me knew he was special--but it's sort of difficult to fathom who he was and what he meant to people. I haven't even seen all his films and it's sort of crazy to be at a video store and be like,
Oh hey, there's his face
! It's weird. I honestly don't know if there's any point in trying to make sense of it—much like trying to understand why I'm Spock or get what that means. With all due respect, I don't want to compare myself. I want to be the best I can be. I have a deeply competitive nature—my dad says that's true of all the Pecks. [
Laughs
.]
When I was younger, I was put off by people being like, [awed tone] "Gregory Peck!" The truth is I didn't feel that close to him—unfortunately there wasn't that much opportunity. So I don't feel that connected to him. However, I do feel deeply connected to my father, and I think from him I've inherited the qualities that Gregory Peck is famous for. My father is a great man.
What did your parents think about you getting into acting at such a young age?
I think my mother saw potential in me. My father did too, but he has a complicated relationship with the life of acting and celebrity culture. Actors travel a lot and the work can be all-consuming, so I think my father had hesitations about it. He wanted me to have a normal upbringing. But they've been so supportive and really always have been. I know I'm really lucky for that.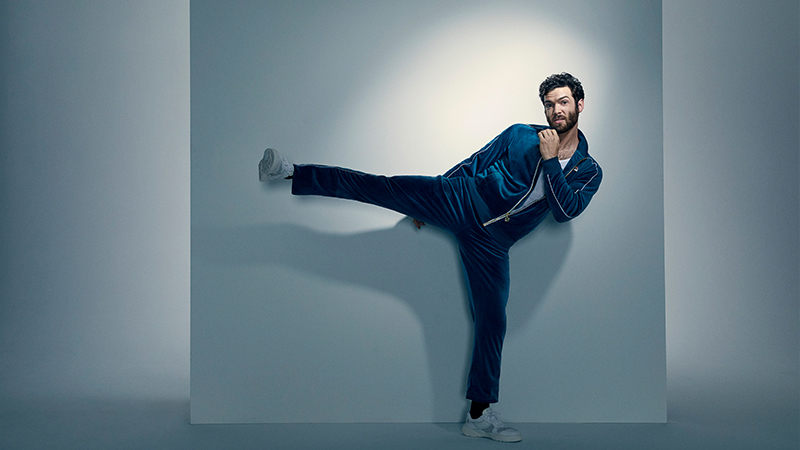 Tracksuit by FILA. Tank top by Calvin Klein Underwear. Sneakers by Valentino.
When did you start to get interested in acting?
I think I was around 7 or 8. I had a really vivid imagination and just always liked it. Well, I liked it in the beginning but I'm not sure how much agency I really had in my teens and 20s, or that I knew why I was doing it. To be honest, I started out as kind of a natural, and now I've just been working my way back. It's so ironic—you grow up and life beats you up and so you put up all these barriers and guards to protect yourself. But as an artist you have to tear them all down again and figure out what you are in the world and learn again how to be raw and vulnerable and then go to work.
Do you remember anything from those early jobs when you were a kid?
I remember very clearly when I played young Kelso on
That '70s Show
. My mother was my manager and my on-set chaperone, and I was late to set. It was definitely my fault, not hers, because I stayed in the shower for too long or something. And the director came up to me and—bless him—and he scolded me. He told me I could not be late. Obviously, it made an impression because that has really stuck with me. It was an important lesson to learn: This is a team sport, it's a team effort, and everyone needs to show up on time and do their best.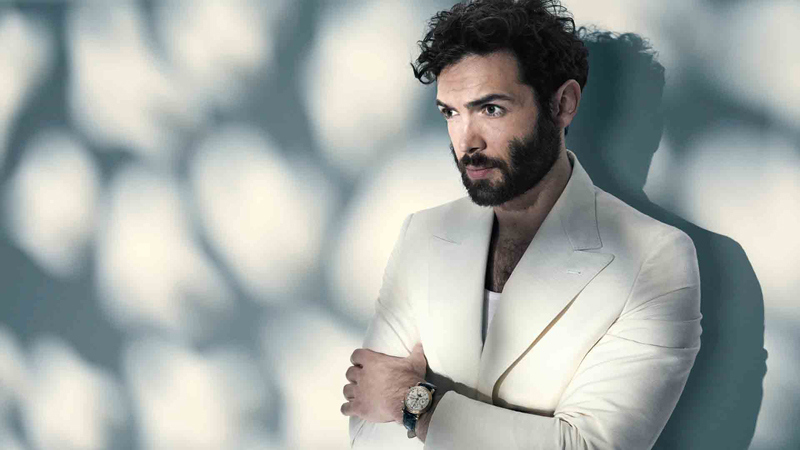 Suit jacket by Joseph Abboud. Tank top by Calvin Klein Underwear. Watch by Waldan.
Did you ever consider doing anything besides acting?
Hmm. It was really always acting. I toyed with the idea of going to college for journalism—
No, anything but that!
[
Laughs
.] But don't you think it's all part and the same with acting? You're investigating people and their stories. You're like a psychologist—you have to try and get into the mind of whatever character you are looking to embody.
That's true. So, was there a eureka moment where everything just clicked and you realized, OK, now this is it?
To be completely honest,
Star Trek
, this job, is the one. It's crazy to think how seriously I had been considering stepping away only to have had this happen. I've been reading this book
Letters to a Young Poet
, and I'm paraphrasing but there's this one sentence that's like: Look deep into yourself and where your life flows from. What are you? Are you a poet or a writer? That's a placeholder for any profession but maybe the arts in particular. And I feel like this part of Spock is helping me look deeper into who and what I am. Maybe that will change at some point, but for right now, this just feels like exactly where I should be.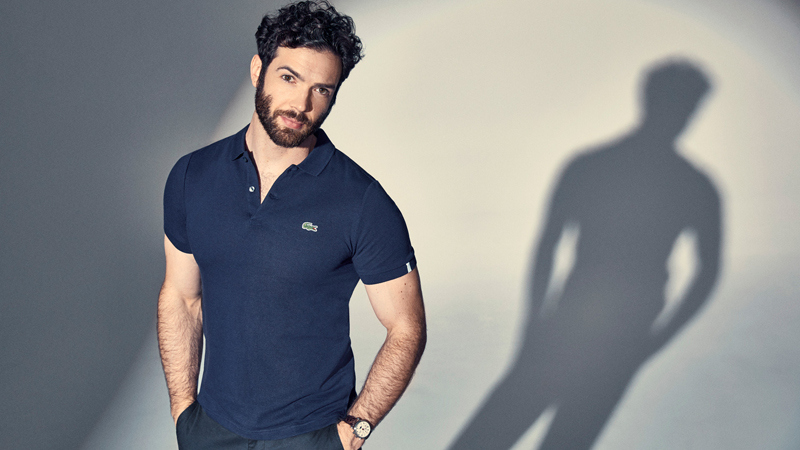 Polo and pants by Lacoste. Watch by Waldan.
How much did you know about Star Trek before you got this part?
Well, I knew who Spock was, of course. But I was more a fan of the newer movies—the J.J. Abrams ones. I'm a sci-fi nerd, I read a lot and see a lot of the movies, but I hadn't made it into the
Star Trek
quadrant. Now I've become a fan, believe me! There's nothing holding me back now from sitting down to watch every single episode.
You mentioned meeting the Nimoy family
—
have you met Zachary Quinto, who played Spock in those J.J. Abrams films?
I haven't met Zachary, but I admire his work. But his Spock is from another universe, another timeline. I think Kelvin? My Spock becomes Nimoy's Spock—the show takes place about 10 years before the original series. So it was about getting to know that Spock and internalizing his behaviors and trying to see what [Nimoy] was doing as an actor. There was this book Leonard Nimoy wrote,
I Am Not Spock
. People thought he was rejecting the character and it caused this uproar, and it was actually kind of a problem for him. But when you read it, it's about how Spock is so much like him.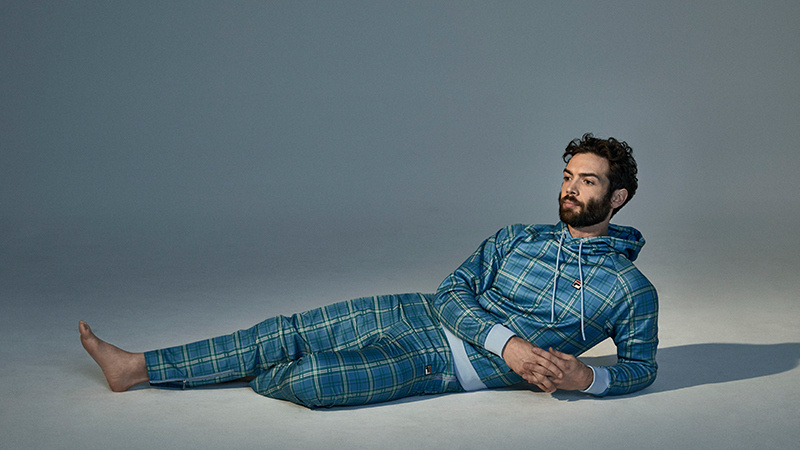 Hoodie and track pants by FILA.
Do you feel the same way? Do you see yourself in Spock?
Spock is becoming a man, and like him, hopefully, I'm becoming a man in a deep and truthful way. There's so much synergy between our lives—Spock and Ethan—it's surreal and totally amazing. I think [before I took the part] I was feeling the way a lot of people do when they hit their 30s—like, ohhhh maybe I'm some other amalgamation of ideas that other people have of me, whether those people are your friends or your family or society. It was understanding that I'm waking up to other things and that it's OK that I have a lot to learn about myself. Like Spock. That's where I think me and Spock come together.
You've been shooting the show in Toronto for a few months now. What does it feel like to step out on set?
The people that I'm working with are very special. We're having so much fun—it can be tiring as we do have long hours, but we're all really happy to be here. And every day when I walk on set I am just blown away. You just wouldn't believe it, the scope and the magnitude of these sets! It's a passion project for every single person on the show.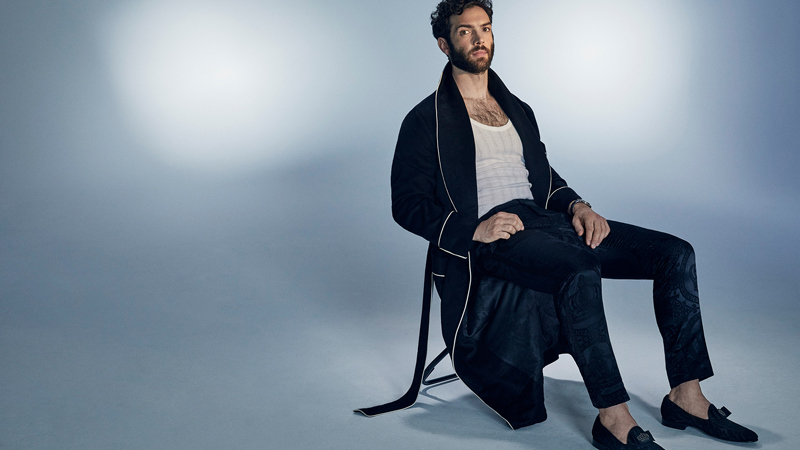 Robe, tank top, pants, and loafers by Dolce & Gabbana. Watch by Waldan.
Do you still have to sort of pinch yourself that this is all really happening?
I'm thinking of this one moment—I can't say what the circumstances are because, no spoilers!—but I'm on a turbolift with some of the other characters. The doors closed and you couldn't see anything but the ship. There weren't cameras and everyone around me was in costume. I'm standing there and suddenly it felt like I was really standing on this spaceship, surrounded by space. I am on the starship, you know? That was a really profound moment for me.
SEE MORE PHOTOS: Ethan Peck From Star Trek: Discovery Stuns In These Exclusive Photos
It seems like, considering we've been living with Star Trek for half a century, it's a story that is timeless.
Yes. But I feel like what's going on in the world right now—the news, the media, the stories of hatred versus love--it's so polarizing. And that battle is so public and so raw and out in the open—more so than any other time that I can remember in my lifetime. This show feels like a perfect antidote to that. It's this vision of a welcoming and loving future where there's acceptance and unity. It's where diversity is second nature and acceptance is first and we're all searching for a better way to live unified. What better way is there to combat our current ethos than this dream of the future?
Originally published in
Watch!
Magazine, March-April 2019. Photography by Matthias Clamer. Styled by Sasha Charnin Morrison.
Stream
Star Trek: Discovery
exclusively on
CBS All Access
.