Getting To Know Sofia Pernas Of Blood & Treasure
The actress and star of CBS' action-adventure series steals our hearts playing Lexi Vaziri, a sophisticated and wily art thief.
By Jeanne Dorin McDowell
Sofia Pernas
was starring in another television series when she read for the part of Lexi Vaziri in CBS' action-adventure drama series
Blood & Treasure
, a role she was desperate to play even though a previous commitment likely precluded the possibility. But the producers were convinced that she was perfect for the role, and cast her in second position in case her circumstances changed. Several weeks later, the other show was canceled and Pernas, 29, got the job. "It was one of the craziest moments in my career," she says.
STREAM: Full Episodes Of Blood & Treasure On CBS All Access
For Pernas, an alumna of
Jane the Virgin
,
NCIS
, and
The Young and the Restless
, playing Lexi—an international art thief—was an easy fit. Fluent in Spanish, Arabic, and German, the actress was raised in Morocco by her Moroccan mother and Spanish father until the family moved to California when she was 5 years old.
Still, they returned to Morocco every summer. Says Pernas, "My parents gave me a sense of the world that made me cultured and sophisticated in ways they don't teach in school."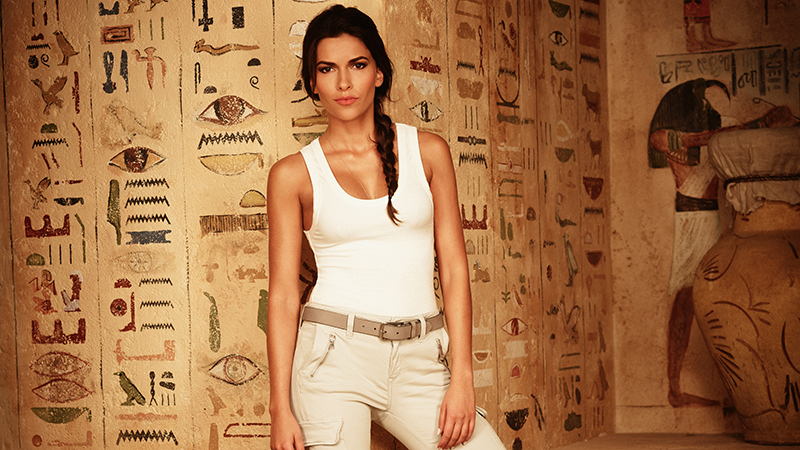 Sofia Pernas as globe-trotting criminal Lexi Vaziri in
Blood & Treasure
.
Not to mention a sense of adventure. Like her co-star
Matt Barr
, Sofia Pernas performed almost all of her own stunts, although CBS forbade her from crashing through ceilings and jumping out of planes. "We're doing crazy things, and it's a hell of a ride," she says enthusiastically. "I'm having a ball."
SEE MORE: What Sofia Pernas Of Blood & Treasure Finds Irresistible
Excerpt originally published in
Watch!
Magazine, July-August 2019.
Photo Credits: Mohammed Kamal /CBS; Amanda Peixoto-Elkins (Portrait); Kimberly Ross/CBS; Kharen Hill / CBS.
Watch
Blood & Treasure
on Tuesdays at 10/9c on CBS and
CBS All Access
.