Getting To Know Violett Beane Of God Friended Me
God Friended Me star Violett Beane on ambition, luck, and how a little faith can go a long way.
By Hannah Morrill
Every actor has a moment when they realize, This is it. This is what I am meant to do. For
Violett Beane
, 23, that moment came during her sophomore year of high school in Austin, Texas, performing onstage in a rendition of the musical Parade. "I wasn't a lead," she laughs, but still, "It was scary and very, very exciting. And I thought, 'I want to feel that again.' And that was the moment I realized I should pursue this."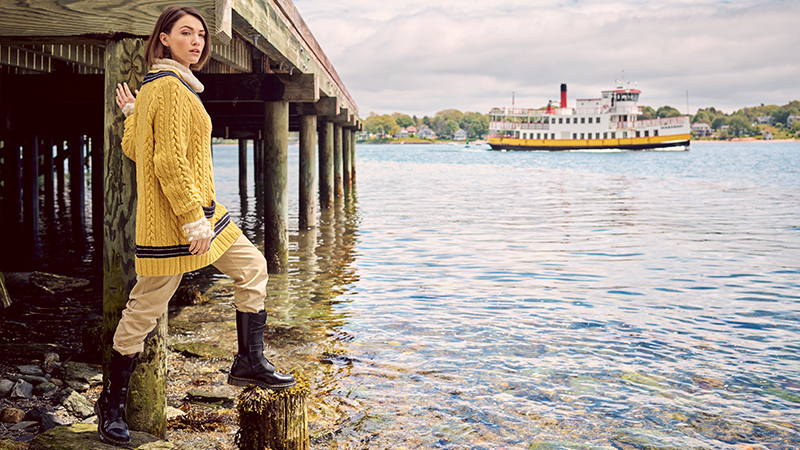 Sweaters and pants by Spencer Vladimir. Boots by Dr. Martens. Earrings, Beane's own.
It would be years before that ambition paid off with her star-making role opposite
Brandon Micheal Hall
in
God Friended Me
, now in its second season. Beane plays Cara Bloom, a writer in New York City searching for her mother, who left when she was a child. When God "friends" Hall's character on Facebook, the two mortals are tasked with performing good deeds, giving them renewed faith in the world.
But back in high school, Beane was getting the opposite of high-fives from a divinity, beginning with a new theater coach her junior year who was anything but a fan. "I was calling him out, and he didn't appreciate that. And I didn't get cast in anything," she says. Yes, Beane chalks this interaction up to adolescence, but also to her astrological leanings: She's a Taurus, and she's stubborn. But that's also exactly the reason one grumpy theater teacher didn't stop her. "I was missing this part of myself that I loved to express," she says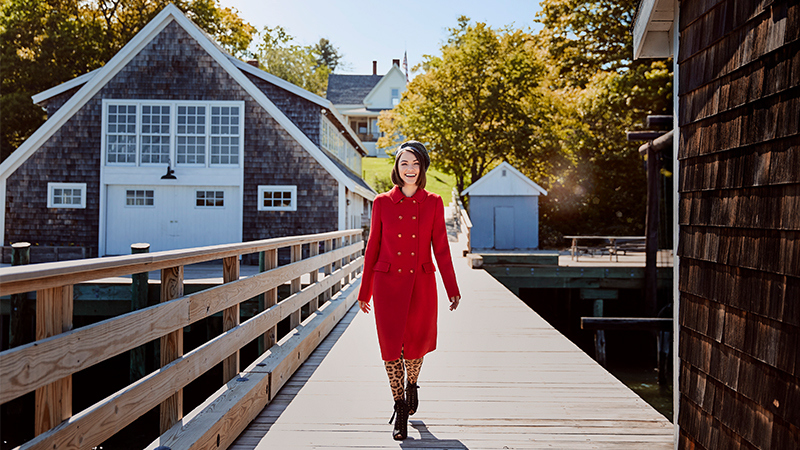 Coat, tights, and booties by Dolce & Gabbana. Hat by Verloop Knits.
Beane credits her spirit to her Buddhist father and Quaker mother, who moved the family—including her older brother, who now runs a motorcycle shop in Los Angeles—from Florida to Austin when she was 10. "My mom was an art teacher, and she always pushed my brother and me to be creative in any way," she says. As a child, Beane was outgoing, self-possessed, and loud (her word). "I ran around, I did dress-up shows, I was a wild card," she admits. "I said whatever I wanted and did whatever I wanted. And I'm still that way."
A grounding factor, though, was her Quaker upbringing. The family attended services at the meetinghouse each Sunday, an experience on which Beane looks back with appreciation. "You can be a Jewish Quaker, you can believe in any deity, or not believe in any at all. Being a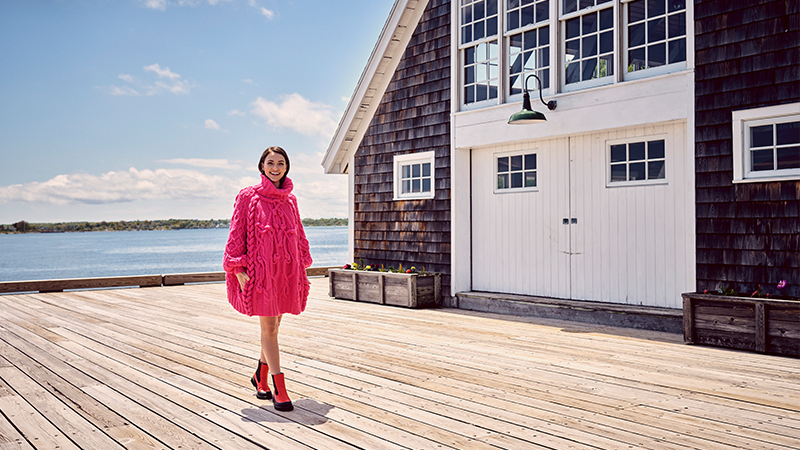 Sweater by Spencer Vladimir. Boots by Celine. Earrings, Beane's own.
Quaker is just about communicating with each other and living a peaceful existence," Beane explains, adding that the religion's five core values—simplicity, peace, integrity, community, and equality—are still at the forefront for her. "I think [being a Quaker] is part of my creativity, because it is so inclusive and open."
So it's no surprise that her first big role required a fluid acceptance of both the divine and the unexplained. Just after she graduated from high school—and before she could even think about moving to New York or Hollywood to chase her dreams—Beane was booked as Taylor in the second season of HBO's acclaimed drama
The Leftovers
, a show that envisioned a world where 2% of the global population disappears in a single night.
Dress by Vera Wang. Knee socks by H&M. Earrings, Beane's own.
The Leftovers
filmed in Austin, and in just five episodes before her character went missing too, Beane displayed a palpable on-screen poise. As for her off-screen cool? That was a different story. "I knew nothing about the industry. I was going to crafty"—industry-speak for the catering table—"like, 'Oooh, look at all this food,'" she laughs. In spite of her self-described greenness, The Leftovers was formative and above all amazing (her word, again). And it left her hungry—not for more crafty, but for more meaningful work.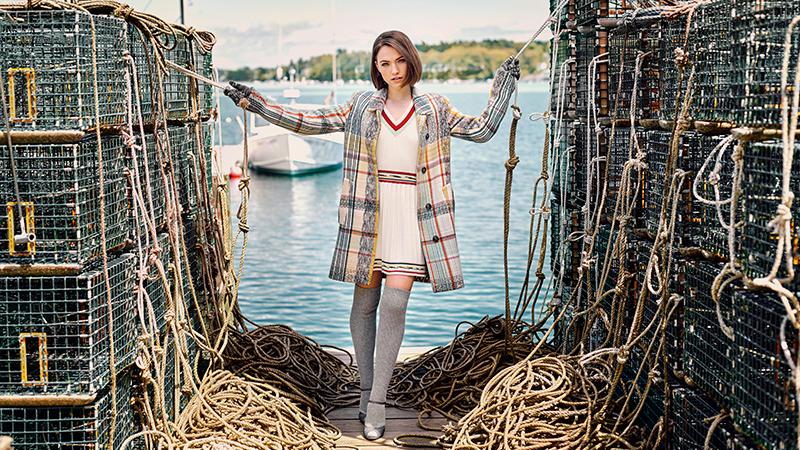 Coat, dress, socks, and gloves by Missoni. Shoes by SJP by Sarah Jessica Parker.
Now comes the part of the story where a little luck or a little of whatever it is you believe in might have had a hand. On a pop-in visit to bring her local Austin agent a batch of homemade cookies, Beane happened on a meeting he was having with a manager in town from L.A. "I just started talking about Austin; I didn't even know who he was. The next day he asked my agent for my email," she recalls. And just like that, with one credit under her belt, Beane had Hollywood representation. And she was ready to work, which, when you are not based in L.A, and you aren't booked for any projects, means sending audition tape after audition tape. "I sent in so many tapes. Countless tapes. And I booked
The Flash
from a tape," she recalls. "I never even met anyone from the show."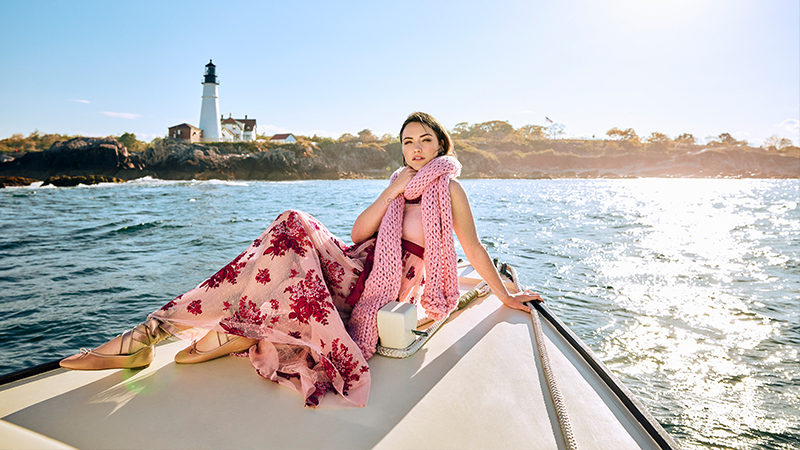 Gown and ballet flats by REDValentino. Scarf by Loopy Mango. Earrings, Beane's own.
The CW's DC Comics spinoff was the first time Beane experienced the sometimes tough realities of being a working actor. In her 21 episodes as Jesse Wells, she commuted to Vancouver for winter filming and lived in a long-term-stay hotel, leaving her beloved rabbit, Milo, in Austin. The experience was not always easy. "There are definitely times on any set when you're tested," she says. "But in the end, especially when you see the result? You realize yes, this couldn't have been done any other way," she says.
After wrapping
The Flash
, Beane moved to Los Angeles for pilot season, filmed the independent horror movie
Truth or Dare
, and got really, really good at auditioning. Or at least at telling whether her auditions were any good: "There are definitely auditions I've gone in for where I'm like, 'That was really bad, and if I don't get it, it's because it was really bad. If I don't have enough time with it, or if I'm searching, I can just tell."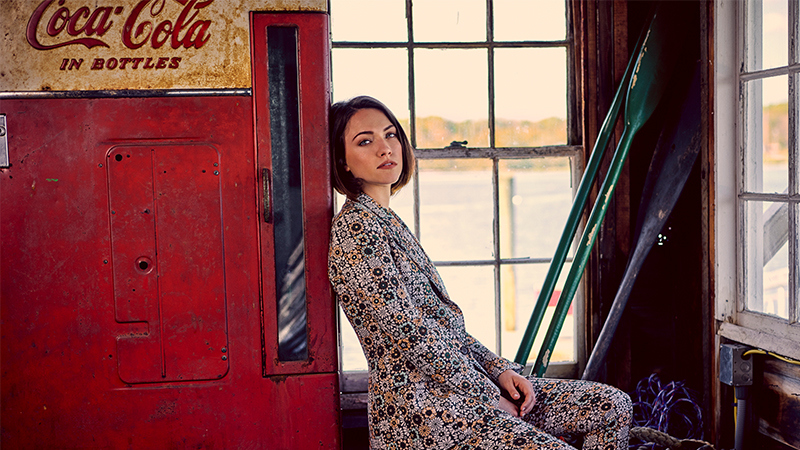 Blazer and pants by Smythe. Shoes by Zara.
Her audition for journalist Cara Bloom in
God Friended Me
was good. Very good. Beane's was the last major role to be cast, so the process moved quickly, and because she responded so well to executive producers Steven Lilien and Bryan Wynbrandt, she had no hesitation. "I got the job on a Friday, and I flew out on Monday to New York to start the pilot," she recalls. The rest, as they say, is history.
God Friended Me
has been Beane's most satisfying role yet. "Cara is a fun person to play. She does what her mind tells her to do and she follows through with it," she says. (Sound like anyone else you know?) And the collaboration and natural camaraderie has also deepened her understanding of the industry, sparking a curiosity with the other facets of production—namely, writing and directing. She's currently writing a screenplay based on a true story she heard on a podcast.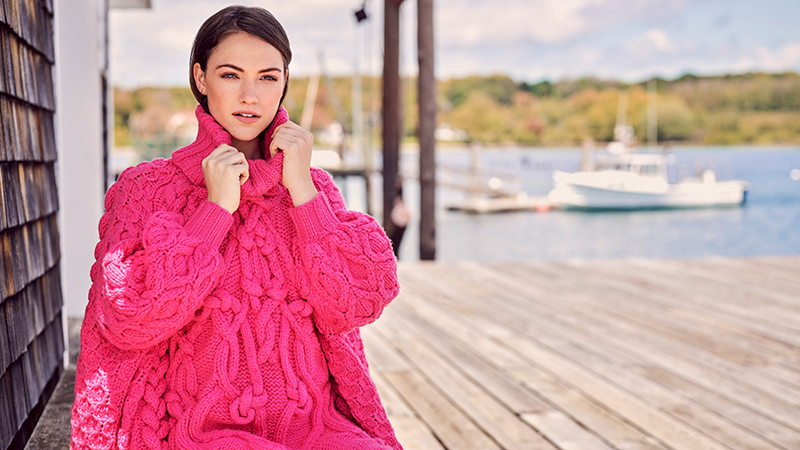 Sweater by Spencer Vladimir. Earrings, Beane's own.
Meanwhile, she's settled happily into life in New York, where she and her longtime boyfriend, a musician, have relocated, along with Milo and his canine sister, Kora. "I've always pushed myself to do better, because I know I can," she says confidently. "And I feel like maybe that's how I get by in life. That's what helps you be the best version of yourself." Consider her blessed.
SEE MORE PHOTOS: Violett Beane Looks Oh-So-Pretty In These Fall Fashion Photos
Originally published in
Watch!
Magazine, November-December 2019.
Photography by Christopher Ross. Styled by Sasha Charnin Morrison. Hair/Makeup by Scott Patric.
Watch
God Friended Me
on Sundays at 8/7c on CBS and
CBS All Access
.