Vineyard Haven: How Actor Max Thieriot Became A Sonoma County Winemaker
A return to California Wine Country—and a reunion with childhood best friends—brought the SEAL Team star to his Senses.
Passion Project | Brought to you by
Watch
By Dan Allen
It wasn't inevitable that
SEAL Team
star
Max Thieriot
would become a winemaker—but it was in his DNA. When he was a baby in 1989, his father, Cameron, planted some of the first Chardonnay vines in California's now-esteemed Sonoma coast. "Everybody told him, 'Hey, you're too far out on the Sonoma coast to grow Chardonnay—it's too cold here; it'll never work," says Thieriot. "My dad basically said, 'Well, screw you. I like to drink Chardonnay, so I'm going to plant it. If it doesn't work, then so be it.' Eventually he proved them all wrong, and B.A. Thieriot is now one of the, if not the, premier Chardonnay vineyards on the west Sonoma coast."
Max Thieriot in the flagship B.A. Thieriot Vineyard.
Photo Credit: Adam Shindledecker
SUBSCRIBE NOW: Enjoy Watch For Free With This Special Offer!
Thieriot loved playing in those vineyards near the town of Occidental as he grew up, but his passion for acting eventually took him away from wine country and south to Hollywood. "I was always outdoorsy, but as a kid I just liked sitting on the tractor with my dad," says the 32-year old. "I honestly had no idea that I'd end up having anything to do with the wine industry." His acting career was already in full swing when a visit north in 2010 sparked a conversation with childhood friend Christopher Strieter. "Chris and I are both real entrepreneurs, and we realized we'd both been thinking about winemaking," says Thieriot. The two teamed with Myles Lawrence-Briggs, their pal since kindergarten whose parents own a local vineyard, and
Senses Wines
was born. Thieriot says the name, brainstormed with wife Lexi (over wine), is an homage to the sense-piquing capabilities of vino. "Wine to me is such a sensational experience," he explains. "You don't just taste wine—you smell it; you see what it looks like. So many senses are stimulated."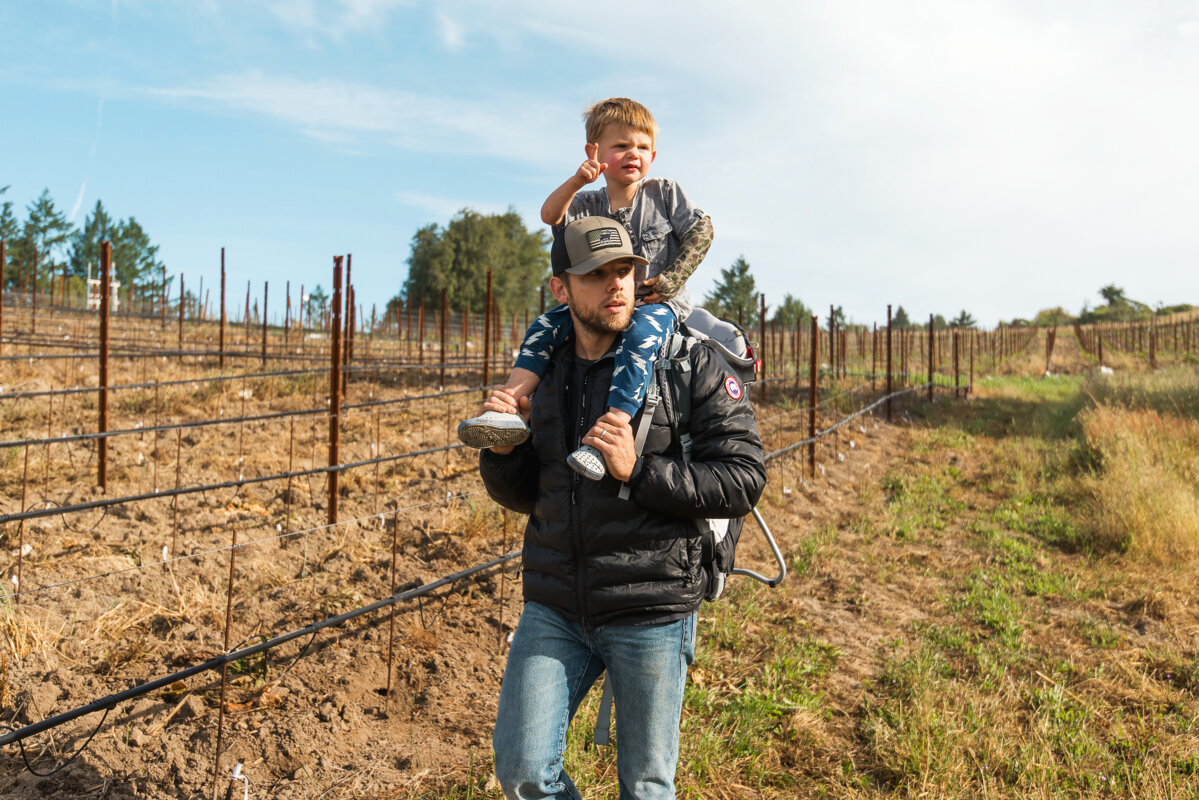 Max Thieriot walks Thieriot-Bodega Vineyard with his son Beaux.
Photo Credit: Adam Shindledecker
Though they'd all grown up in and around vineyards, Thieriot and his young partners were clueless about how to actually create a winery—yet they built their company from scratch, taking no outside investments. Thieriot would eventually focus on branding and marketing, Lawrence-Briggs on production, and Strieter on running the business, but that first year it was all hands on deck. "The three of us went out and pruned all the vines and did all of the farming ourselves," says Thieriot. "We did everything from start to finish." Just as Thieriot's
SEAL Team
character, Clay Spenser, a second-generation SEAL, had to demonstrate his worthiness to doubters, the Senses trio knew that they'd have to prove themselves to the local wine world. "I did feel like there was something to prove, and my competitive side was not going to let us do this halfassed," Thieriot recalls. "I said, 'Let's make the best wines we possibly can.' I wanted to show everybody that we could do this."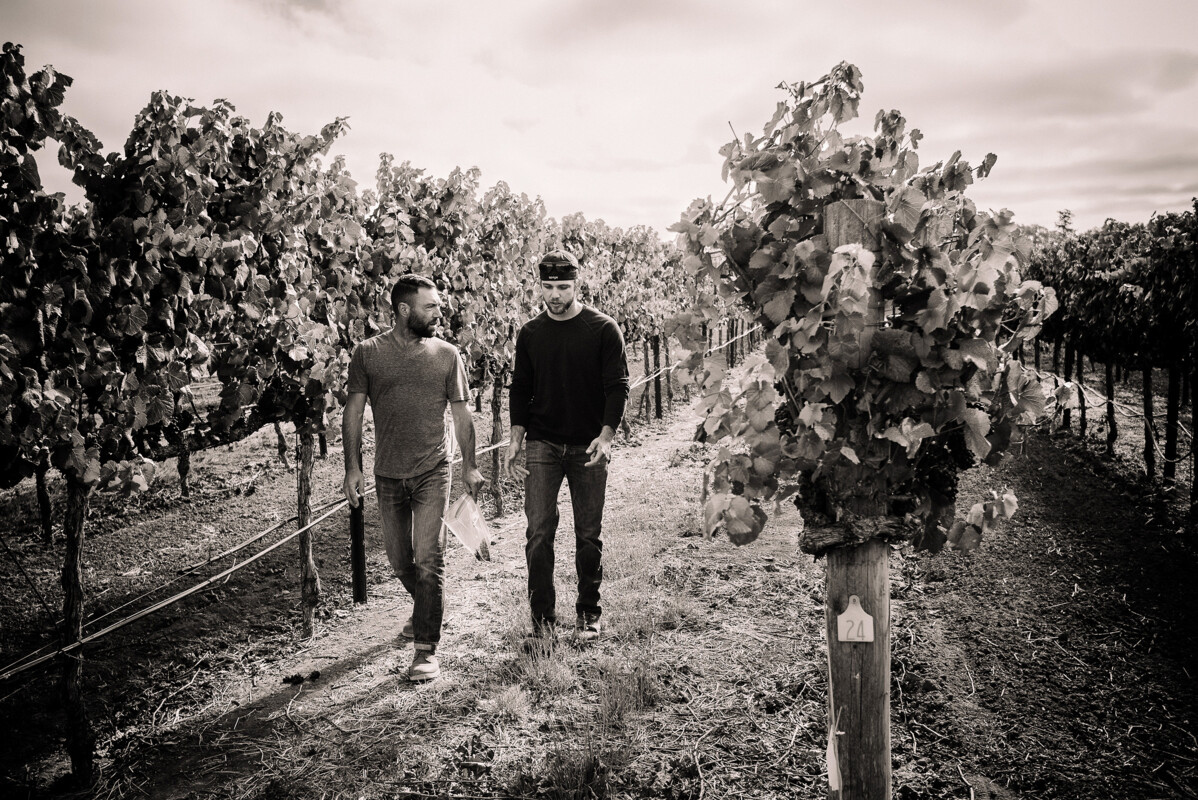 Pulling grape samples with vineyard manager Daniel Ricciato.
Photo Credit: Adam Shindledecker
After a small but critically acclaimed first few years, Senses added hotshot winemaker Thomas Rivers Brown to the mix, and the plucky brand went from strength to strength. In 2015 it was added to the wine list at the acclaimed French Laundry in Yountville, California. "That was a really exciting moment for us, when people started taking us seriously in this competitive industry," says Thieriot. "And since we didn't try to scale production greatly in the beginning, we've been able to maintain a really strong brand value and demand for the wines just through building up slowly."
CATCH UP: Stream Full Episodes Of SEAL Team On Paramount+
Today, Senses produces more than 3,000 cases of Chardonnay, Pinot Noir, and Cabernet Sauvignon a year, about 70% to 80% of which goes directly to customers on its coveted mailing list. The rest is available at fine restaurants on the California coast and beyond—and in select shops; prices range from about $45 to $250 a bottle.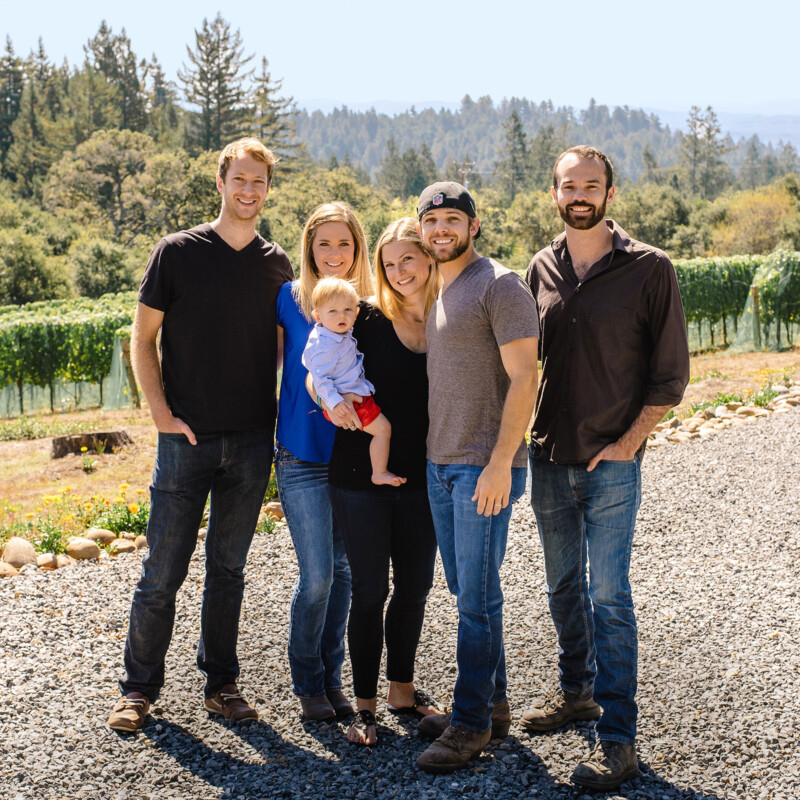 The Senses Wines founding team: (L–R) Christopher Strieter, Kelsey Perucchi, Lexi and Max Thieriot (with young Beaux), Myles Lawrence-Briggs.
Photo Credit: Adam Shindledecker
Senses made its onscreen debut in Thieriot's previous series,
Bates Motel
, and found its way into
SEAL Team
last season, when Clay shared a bottle of Senses Pinot Noir with girlfriend Rebecca (Adelaide Kane). "Clay's favorite Senses wine would definitely be Pinot, because I don't think he could afford our Cabernet," Thieriot laughs. "I can barely afford our Cabernet." His co-stars
David Boreanaz
and
Neil Brown Jr.
are wine fans, and on the Senses mailing list—something Thieriot didn't know til Brown gave him some good-natured grief about it. "One day he was like, 'I've been waiting two years, and I finally got some wine,'" Thieriot says. "I'm like, 'Are you serious? And you never brought this up?'"
Coming full circle, Thieriot is able to share the same father-son connection to the land with his sons, 5-year-old Beaux and 3-year-old Maximus, that he and his dad had when he was young. "They love to cruise around with me in the tractor when I check on the grapes," he says. "And they love to go out in the vineyard and eat handfuls of grapes off the vine."
PERFECT SENSES
For a special occasion—or just when you want to drink a
really
good wine—try one of these bestsellers from
Senses Wines
.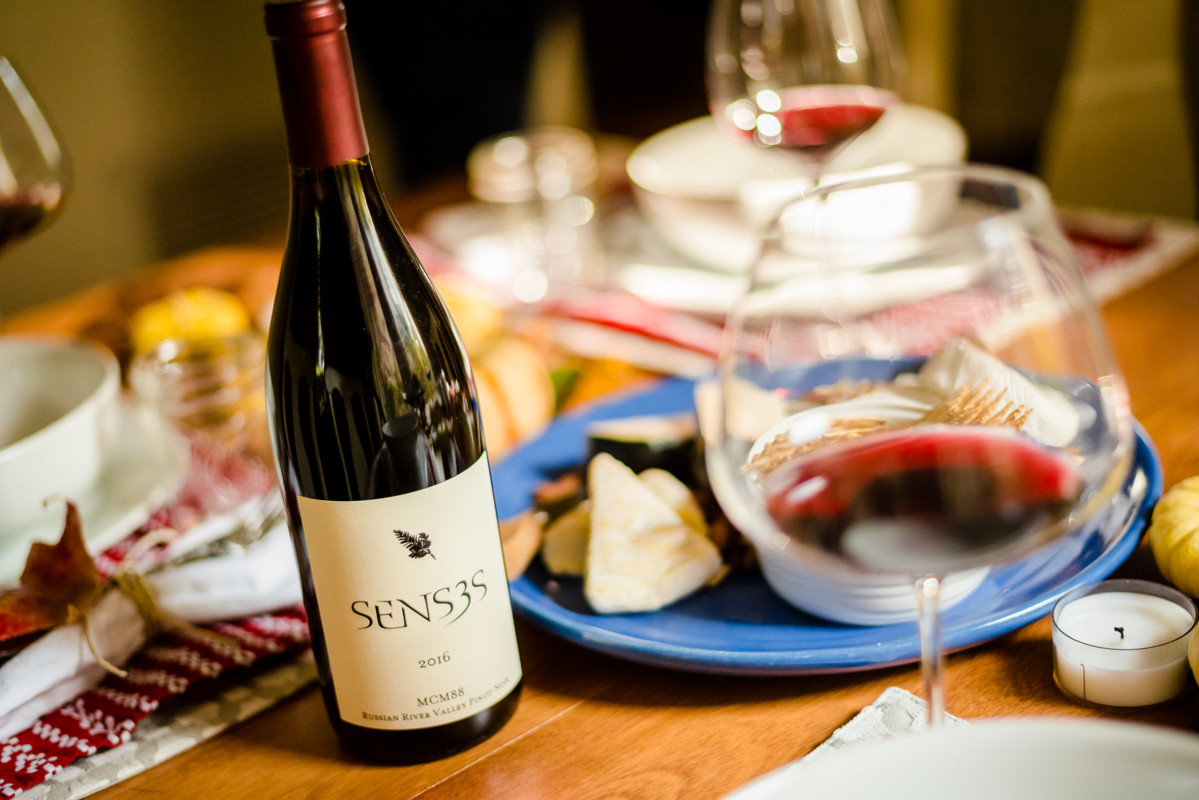 A bottle of Russian River Valley Pinot Noir from Senses Wines.
Photo Credit: Adam Shindledecker
Sonoma Coast Pinot Noir: $79,
elegant and earthy, instantly upgrades any backyard BBQ
Russian River Valley Pinot Noir: $55,
bold yet smooth and goes well with poultry, venison, or veal
Terra de Promissio Pinot Noir: $72,
fruity, velvety, and tasty with steak on the grill
Sonoma Coast Chardonnay: $45,
pairs perfectly with a Thanksgiving feast or simple vegetarian meal
Oakville Cabernet Sauvignon: $250,
rich and velvety, excellent for an extra-special celebration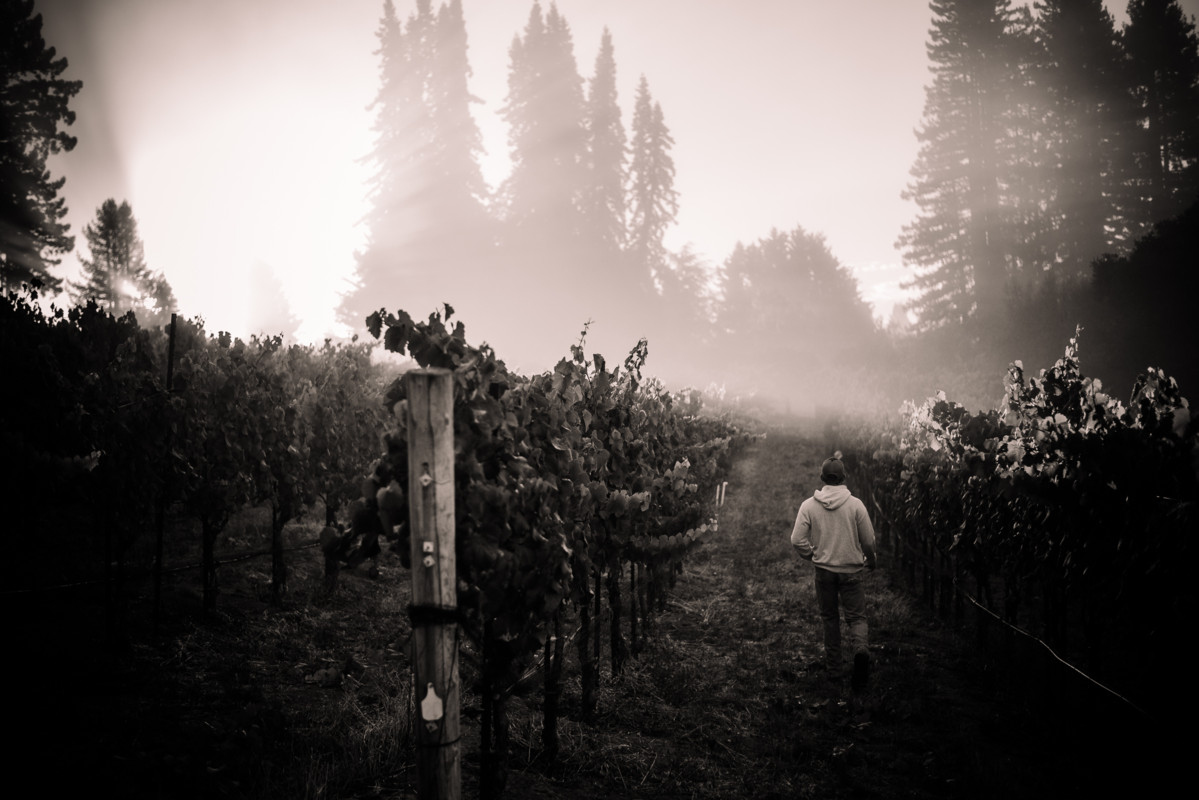 Max Thieriot walks the Senses Estate.
Photo Credit: Adam Shindledecker
Interview originally published in
Watch
Magazine, May-June 2021.
DISCOVER MORE: Check Out The Latest Issue Of Watch—Available Now!
Watch the four episode special presentation of
SEAL Team
S5 on Sunday, October 10 at 10/9c on CBS. And stream the full season on
Paramount+
.