10 Questions With Telma Hopkins
Get to know the actress who plays Denise Tolliver on CBS Daytime's The Young and the Restless.
Celebrity Interview | Brought to you by
Watch
Reporting by Mona Buehler
This summer, Genoa City turned up the heat—and the drama—when a private detective named Denise Tolliver came to town. The intriguing new visitor reveals jaw-dropping information and exposes secrets from Amanda Sinclair's (
Mishael Morgan
) past.
The Young and the Restless
fans have been enjoying this sizzling new storyline on the sudser while actress Telma Hopkins is equally thrilled with being reunited with her former TV son and
Family Matters
co-star Bryton James (
Devon Hamilton
).
Watch
chatted with the TV veteran about her latest role, co-stars, and women who inspire her. Read more in this exclusive new interview!
SUBSCRIBE NOW: Enjoy Watch For Free With This Special Offer!
The Young and the Restless
airs Weekdays on CBS. Stream the latest full episode on
Paramount+
or the CBS app.
1. Watch is all about television's hottest shows. Tell us about The Young and the Restless on CBS and your recurring role as Denise Tolliver.
I've been a long time viewer of
Y&R
so when I received the offer to play Denise I was both thrilled and terrified at the same time. There are so many storylines on
The Young and the Restless
that I LOVE besides my own (I'm very upset what's happening with Summer and Kyle). It's a lot of fun to dive into that world! I was recently shooting a pilot out of town and had some time off away from watching
Y&R,
so it's been fun to catch up now that I'm home, especially to know that my storyline is coming up with Denise helping Devon find Mariah.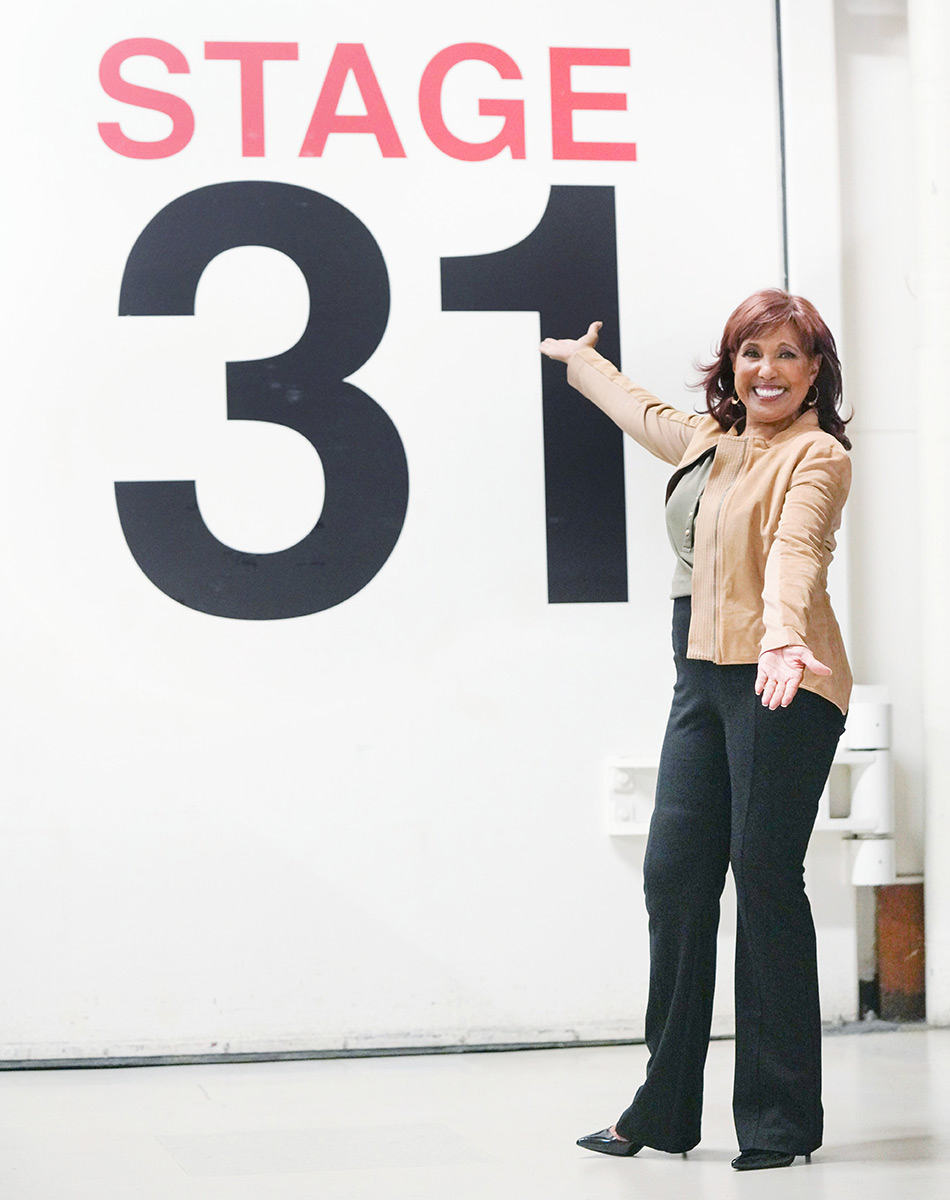 Guest star Telma Hopkins arrives at the
Y&R
set in CBS Television City.
Photo Credit: Howard Wise/JPI Studios
2. What was the first day on set like? First scene you filmed? Any memories or fun stories?
I was terrified on my first day at
Y&R
having been forewarned it usually one and done which is frightening to a comedic actress who is used to doing scenes multiple times and trying different things. My scene partners on my first day, Mishael and Leigh-Ann [Rose], were so welcoming and warm. There was nothing more they could do to calm me down besides shooting me with a tranquilizer gun, Of course, walking on stage for the first time and being welcomed to
Y&R
by Bryton with a big hug was everything. I was stunned how quickly my first day went by; the pace was amazing. I was glad to get the first day out of the way. Not to say I wasn't nervous my second day but at least I knew what to expect!
3. Tell us about your co-stars Bryton James and Mishael Morgan.
Working with Mishael has been wonderful. She's such a giving actress and a fantastic scene partner. My most recent scenes with Bryton were extra special as it's the first time we've been on camera together in over thirty years! Bryton is always ready to work. There is something about him that calms me down. We only had four days to learn the material for our most recent scenes. I may have been around longer in this business, but when it comes to this genre (soaps), he's a vet!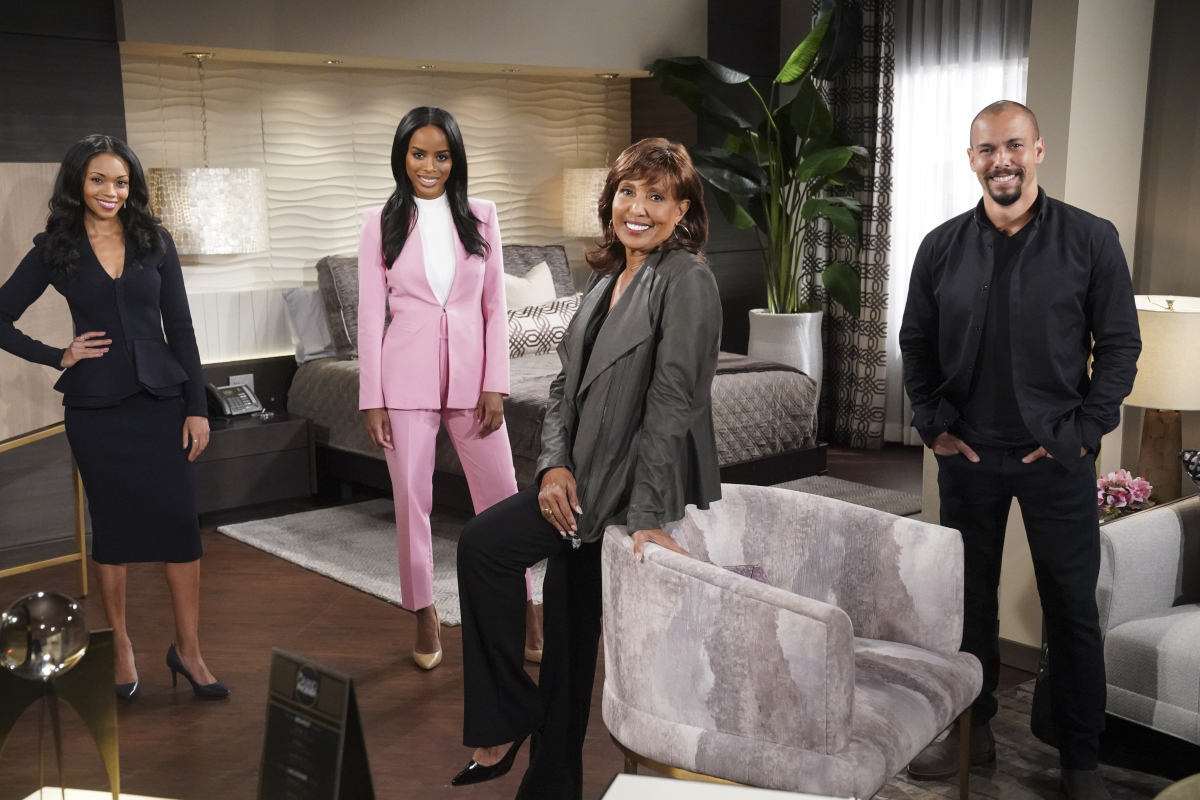 Mishael Morgan as Amanda Sinclair, Leigh-Ann Rose as Imani Benedict, Telma Hopkins as Denise Tolliver, and Bryton James as Devon Hamilton.
Photo Credit: Monty Brinton/CBS
4. Why did you decide to become an actor?
I don't think I really decided to become an actor. I think it chose me. Growing up, I liked to be funny whole life—cracking on people, making jokes, and getting on my Grandma's nerves being silly until she saw I could get paid for it.
Tony Orlando and Dawn
variety show on CBS gave me a chance to be fun. Once I dove in, it really opened the door for me and I've managed to stay in the genre on television for five decades.
STREAM: Watch Full Episodes Of Y&R On Paramount+
5. You've got quite the impressive acting resume
—
from The Love Boat and Family Matters, to recently Dead to Me, Family Reunion, and The Young and the Restless. Do you have a favorite all-time role?
I don't really have a favorite role because I always fall in love with what I'm working on at the time.
One of my favorite pairings was with Cindy Williams. We worked together for two seasons on
Getting By
. She came from such a strong physical comedy background and I was always game for whatever so it was a good match. We had so much fun working together and remain friends to this day. We are actually developing something for us to work on together again and still think we can do all of the physical comedy!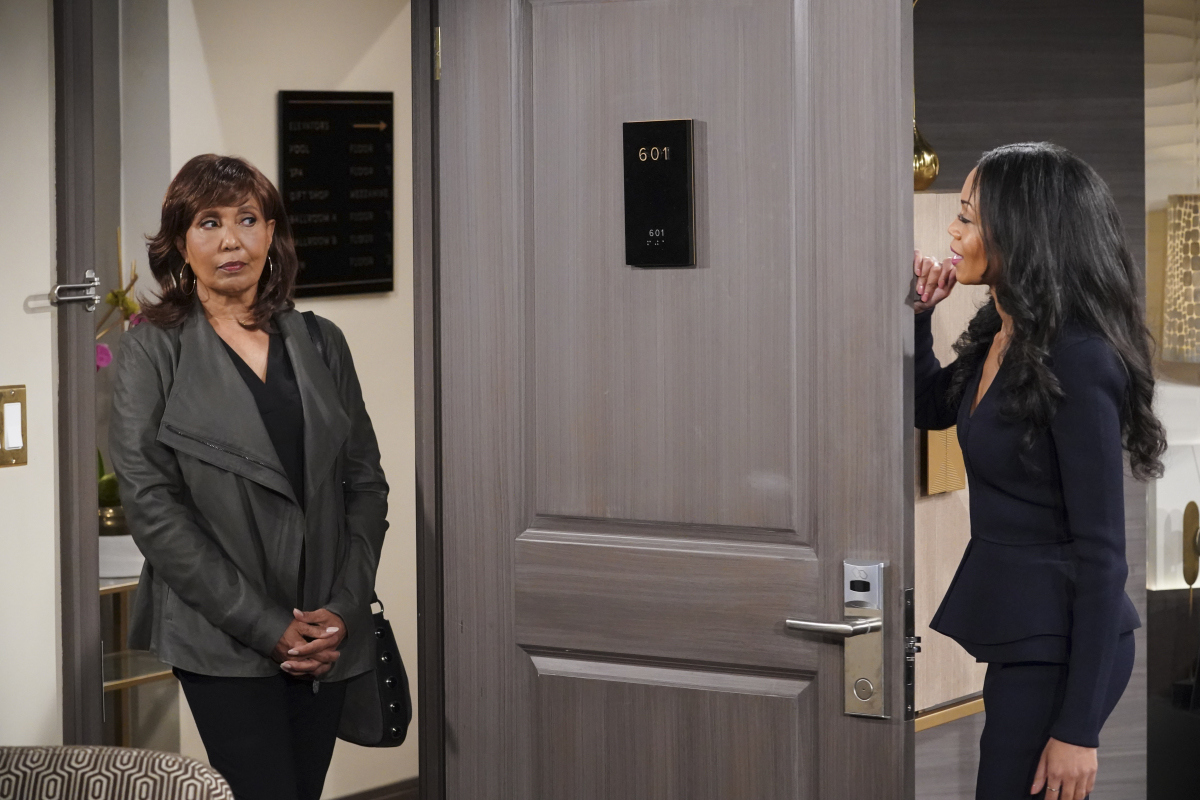 Telma Hopkins as private investigator Denise Tolliver, who reveals shocking information about the past of Amanda Sinclair. (Mishael Morgan).
Photo Credit: Monty Brinton/CBS
6. When not filming Y&R or social-distancing/staying home more, as many of us are now, what do you like to do? Do you have a hidden talent, passion project or creative pursuit that your fans may not know about you?
I would say the fun thing I've being doing at home is voiceover work. I've been doing a role on the NICK series,
Casa Grandes
, so they sent equipment to my home so I can record all of my material without leaving the house. Thank goodness my son was here to help me with the tech issues!
I've actually enjoyed the quiet of staying home even though I was lucky enough to work. I've adjusted to the new way of living and working like we all have.
7. What TV shows are currently binge-watching or catching up on?
I've been working on a pilot with long hours and can't stay awake—so the TV has been watching me—but I plan to catch up soon. I have
Y&R
to catch up on and I'm really interested in seeing
The Mare of Easttown
with Kate Winslet.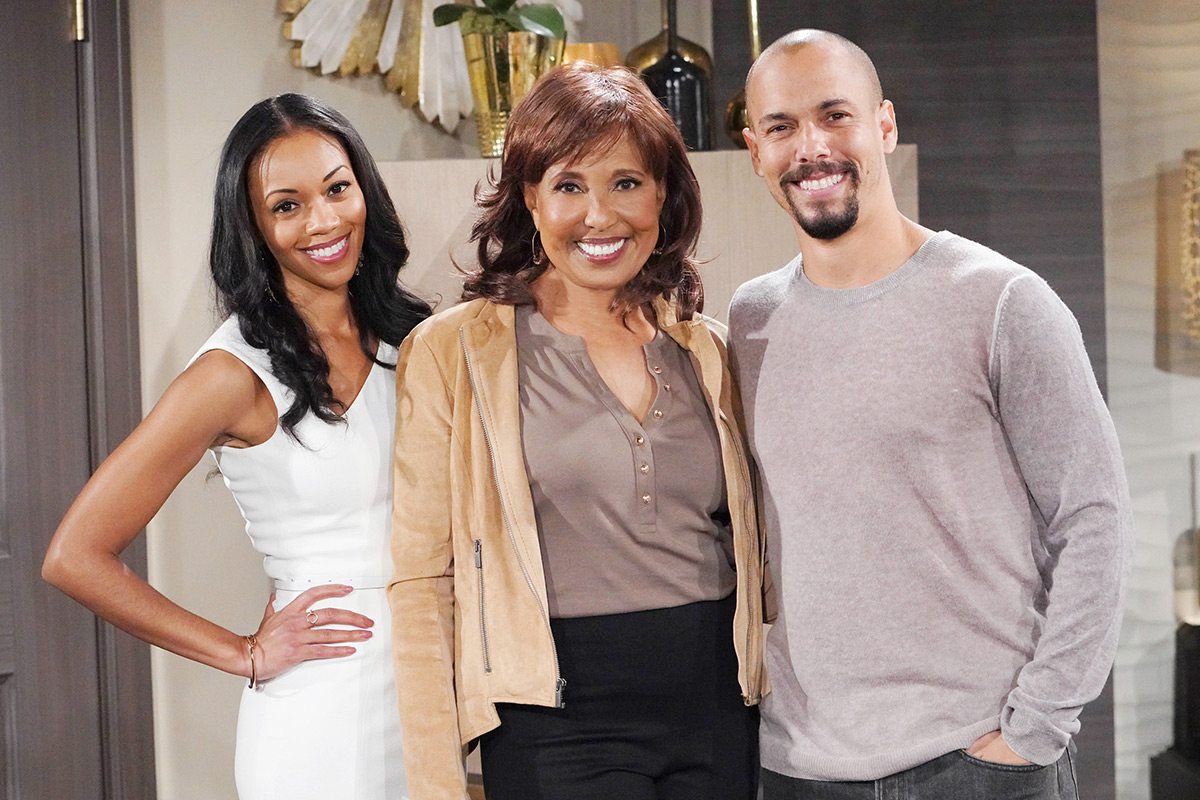 Telma Hopkins poses on set with
Y&R
stars Mishael Morgan and Bryton James.
Photo Credit: Howard Wise/JPI Studios
8. Describe how you felt when first read the Y&R script? If you had to describe Denise Tolliver in three words, what would you pick?
When I first read the script, I was scared but I was also excited for the opportunity to develop a character that I haven't played before. If I had to describe Denise in three words, I would say she is intelligent, meticulous, and dedicated.
9. Who's your biggest inspiration?
I have several women who are inspirations to me. One has always been Carol Burnett. She always had fun but seemed like she had a lot of heart. When I met her she was exactly who I expected her to be. Another one is Pearl Bailey, she had a lot of attitude, didn't take any flack and was not apologetic about it! And last but not least: Diahann Carroll. She played this classy single working mom (on Julia) who had it together so as a single mom she was inspiring to me. I worked with Diahann on
Half and Half
. We went to a play together and afterwards went to dinner where she shared so much of herself and life stories. I'm so grateful that I had the pleasure of meeting all of the extraordinary women and spending time with each of them.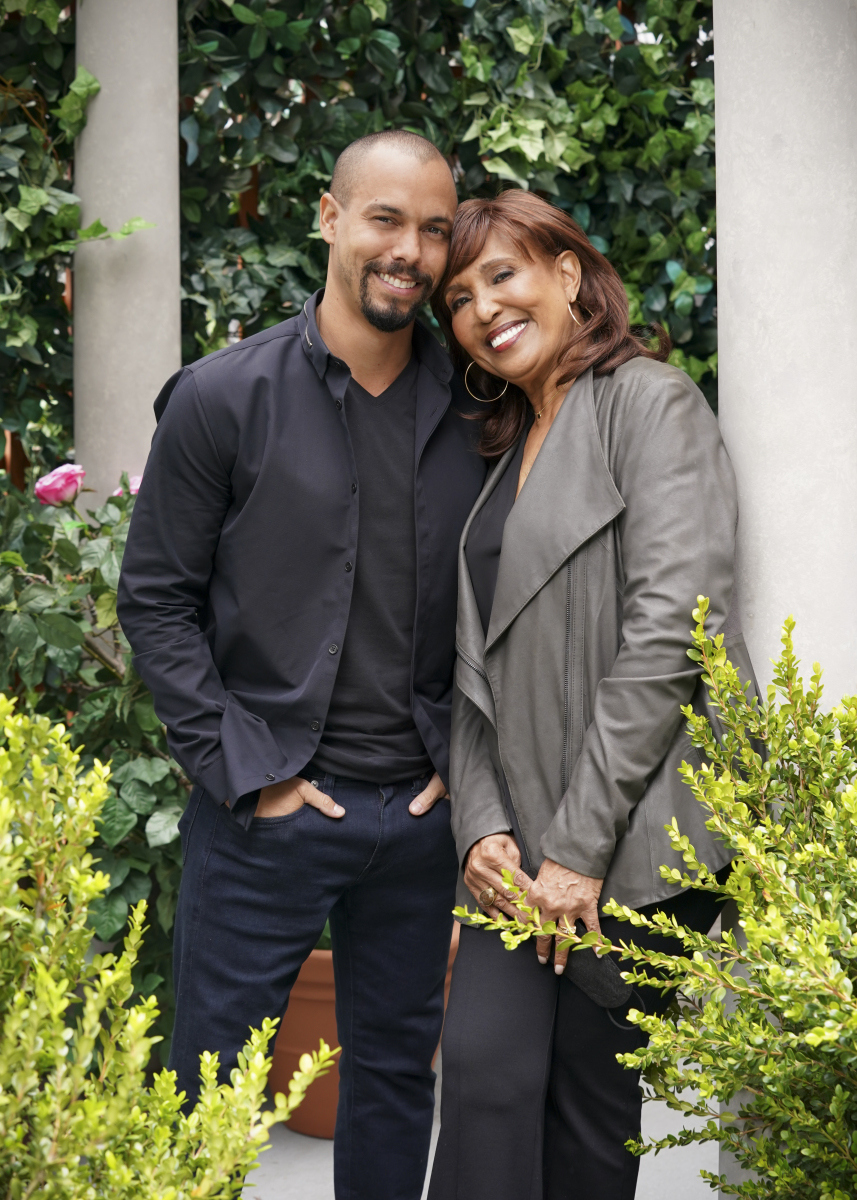 Bryton James and Telma Hopkins reunite on the silver screen for
The Young and the Restless
, the first time they've worked together in television since
Family Matters
went off the air in 1998.
Photo Credit: Monty Brinton/CBS
10. Any last thoughts for fans during this strange time?
From my experience, I would say, don't let what's going on around you define your life. Do your best to enjoy every day and find something to be grateful for. Despite the pandemic, we all have something to be grateful as every day is a gift even in the age of COVID. If you are stuck and can't find something to be grateful for, go help someone else enjoy their day.
DISCOVER MORE: Check Out The Latest Issue Of Watch—Available Now!
The Young and the Restless
airs Weekdays on CBS. Stream the latest full episode on
Paramount+
or the CBS app.