A Memorable Chat With Bill Paxton And Justin Cornwell
Training Day stars Bill Paxton and Justin Cornwell give a candid shared interview about CBS's crime thriller and how it shatters the mold of TV's buddy cop show.
Posted on Mar 21, 2017 | 05:00am
Bill Paxton
cracks the door to a room where
Justin Cornwell
is being interviewed, pokes his head in and raises his eyebrows "Here's Johnny!" style. "He's learning from the worst," volunteers Paxton regarding his young co-star. "He's learning from me."
This is the Paxton, Cornwell explains, who sometimes emerges "when it's been 14 hours of shooting and we're all kind of in that mode, just laughing. We feel like a family in those moments."
The jovial scene at this 35-room, 1920s mansion high atop the Pacific Palisades is a far cry from the gritty streets of L.A. where Paxton and Cornwell stalk, slap, and trade gunshots with the crooks in CBS's
Training
Day
. Veteran actor Paxton, as a similarly veteran cop named Frank Rourke, is tasked with breaking in new partner Kyle Craig (Cornwell), who poses as a fresh recruit. Rourke is the insult-slinging, seen-it-all rule-breaker; Craig is a heroic do-gooder assigned by suspicious LAPD brass to uncover Rourke's trespasses on the job. In a key complication, Craig's dad, killed on the job years before, was Rourke's partner at the time.
When reconfiguring the storyline from the original hit movie of 2001 (Antoine Fuqua's
Training Day
), Fuqua and fellow producers, including industry fixture Jerry Bruckheimer, did some script-flipping themselves. The show is what its makers call "a reimagining" of the original, and begins 15 years after the movie's conclusion. This time, Ethan Hawke's role in the film as newbie cop is played by African-American partner Craig, and Denzel Washington's Oscar-winning role of veteran cop is Paxton.
Fuqua told the nation's assembled TV critics at their annual winter gathering that while the casting flip helped differentiate the series from the movie, "it wasn't a racial conversation," but an opportunity to take advantage of snaring Paxton for his first starring TV series role since HBO's
Big Love
: "When we found out Bill had interest, it was like, that's a good idea. Switch it and do that."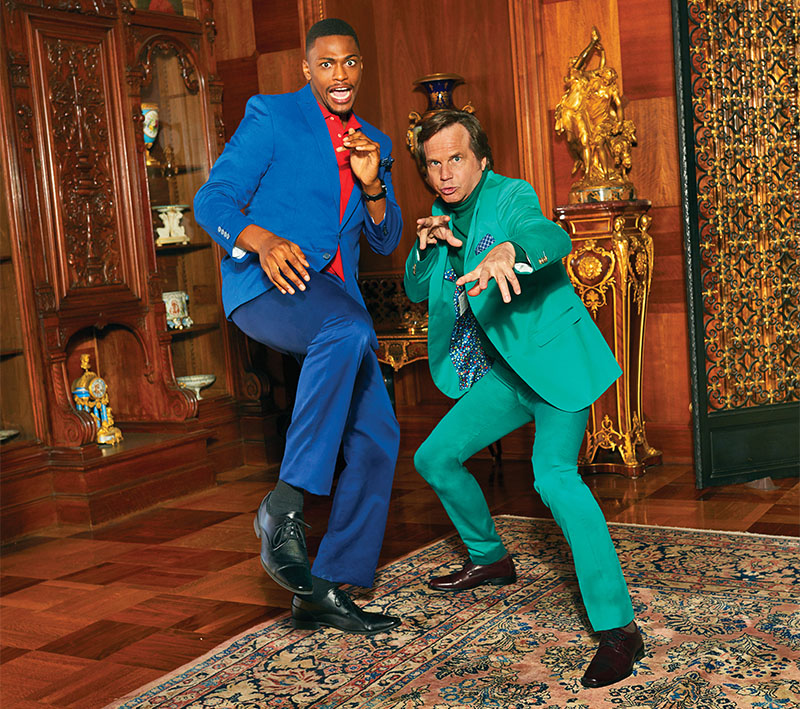 Back in the mansion for the last shot of the day, Paxton is garbed in a luridly green suit he describes as "very Robert Wagner." Cornwell lines up beside him in a dapper blue one, and they outdo each other voguing, James Bond-style, until Paxton's screeches turn the posturing into a chopsocky parody of sorts. As the gents sit down for a shared interview, they're both out of breath and laughing.
I understand the casting of Justin took place at the eleventh hour …
PAXTON:
I didn't know who I was going to get teamed up with. They did a big search to find him and I remember them having me come in to read with a few different actors—and I hadn't yet felt like they had found the right guy. I have to credit Danny Cannon, who directed the pilot. He really wouldn't settle. He said, "We've got to find the right guy, I don't care."
Justin, you have a brief part in Spike Lee's Chi-Raq and got to sing a song in Empire, but most of your credits were onstage, often in Kentucky where you grew up?
CORNWELL:
I didn't have a large body of work and most of my work has been in the regional theater—it's been Shakespeare, it's been new plays. I played Muhammad Ali in a play called
And in This Corner: Cassius Clay
. But I grew up in a video store my family owned, loving movies.
So, with days until shooting started, they found you...
CORNWELL:
It was just one of those crazy processes, because I jumped into this project literally in an instant. I got the script on a Thursday and taped an audition with 12 script pages. I memorize quick, so I was able to get off book [i.e., have his lines down cold]. Two hours later, they had plane tickets for me to ship me from Chicago to Los Angeles. I was at Warner Bros. the very next morning, sitting with the director and producers in Los Angeles, and they gave me the job the morning after that. By Monday, I was at the table read with Bill.
PAXTON:
Justin's pretty much new to Hollywood and so it's fun, because it's kind of art imitating life. As with the characters, I am the old guy who's been out here a long time, and here's this guy who's really pretty fresh off the boat. I'm lucky, because we spend so much time together and I think we do have a true chemistry. I really, genuinely like Justin as a person. He has a great decency about him.
The pilot opens on Justin in an action scenario, and we see he's a brave, highly capable cop—but unaware he's about to meet this dervish from the LAPD's storied Special Investigations Squad.
CORNWELL:
My character is grounded in truth and reality. He's been to war, now he's a police officer. But then it's like he walks into a different television show when he meets Frank's character—you have the duality of having this extremely grounded person and this wildly out-of-control person that are almost from two different universes, which is just so great!
It has to help the verisimilitude that Will Beall, a key creator of this rejigger, was an L.A. cop himself.
PAXTON
: I was hesitant to sign up, yet I loved the project, I loved the people involved. You've got CBS behind it, you got Warner Bros. television, you got Jerry Bruckheimer, Antoine Fuqua. Will and I talked about the character, Frank. He's almost been pulled out of a time capsule—he's unfiltered, he's very spontaneous, very quick-witted—it seems like he just can just extemporaneously speak these crazy monologues. He's a character I wish I was more like. It's a lot of fun to play him. He thumbs his nose at and questions all authority. The only people who are off the hook and who he really is fiercely protective of are children because they are innocent. Adults, as far as he's concerned, have made a choice [not to be innocent].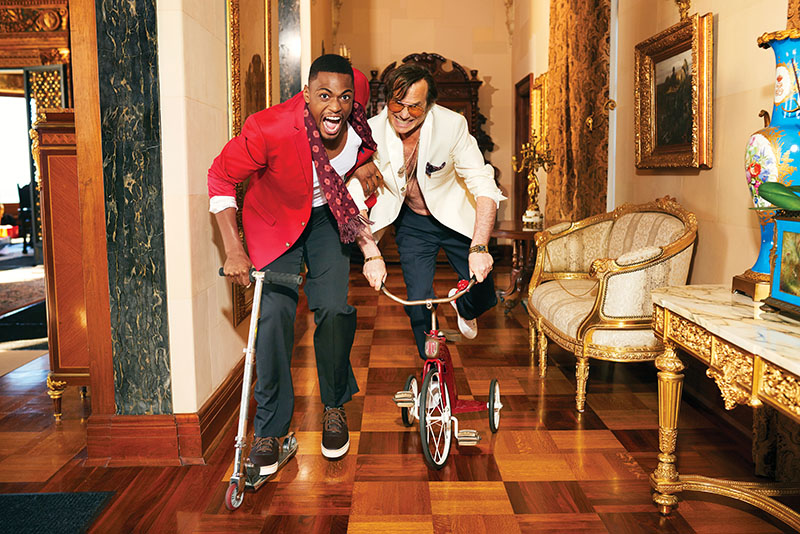 Balanced against the fun of the part, you have experience on episodic TV and you were well aware of what a grind that can be.
PAXTON:
If you've climbed that mountain before, you know what it's going to take to climb it again. It's a punishing schedule and you end up living a very monastic life.
If you put together a gag reel of the slip-ups and miscues on various shooting days, you've got a good selection?
PAXTON:
Oh yeah, a lot of expletives! I mean, talk about crashing and burning and just sucking and the wheels are completely coming off! But you have to allow yourself to die in front of the camera in order to find something that might surprise you, something you didn't know was going to happen between "Action" and "Cut." To me, that's the lightning in the bottle—it's mercurial, it's elusive, and it's a job you have to love in that you know you're never gonna get it completely right.
CORNWELL:
I've been laughing since the moment I met Bill. I had stories after making just the pilot. It was like that for the rest of the shoot! They're long days, but I feel like what's great about working with Bill is that I never feel the pressure is overly intense.
Building trust through dangerous work together, your characters share various secrets regarding their bosses in the police hierarchy, and there's also a growing rapport as Frank lets Kyle know what his dad was really like.
CORNWELL:
Kyle's father was a larger-than-life figure in his mind. [Kyle] put him on such a high plane that, when that gets knocked down by Frank—who's trying to allow him to understand who his father was—it's a hard thing for him to process.
In contrast to the movie, Kyle knows Frank is a loose cannon—something the film's Ethan Hawke character has to learn in real time, the hard way. But Kyle still carries the audience point of view.
CORNWELL:
Absolutely, I feel like we're keeping that dynamic, but we're giving you a different perspective of it. Kyle's not aspirational. At no point does he say, "Man, Frank is the kind of person I'd like to be one day." It becomes a fight between Frank trying to tell me who I need to be and Kyle telling him that this is who he needs to be.
PAXTON:
There's all this back and forth. He's going to bring me to the light; I'm going to bring him into the darkness—it's not purely a good-versus-evil thing, but there's a power struggle that's been built into our relationship. It's father-son. It's rookie-veteran. It's Kyle's idealism versus Frank saying, "No, forget what you learned at the academy." He's telling him, "Get in touch with the animal. Don't be afraid of the animal!"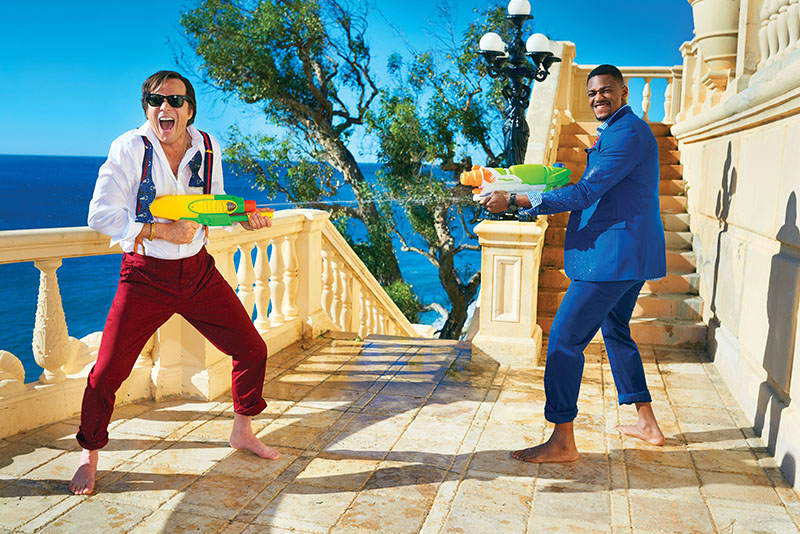 That's a mantra that could carry over into the acting relationship, right?
PAXTON:
If you're worried about screwing up, it's going to tighten you up. It's going to make you cautious. You can't be cautious as an actor. You have to be completely reckless! Look, we can always do another take, but if you really want to find something, you have to go out there to it. The part doesn't come to you—you go to it!
CORNWELL:
You know, what I think I learned the most from Bill, just from watching more than anything he's said to me, is to own yourself and the space that you are given. When they call "Action," that's your space. That's your time. You've got to take your chances. You're the one who's out there in front of the camera. I think I learned that just from watching Bill and having more confidence to just, like he's saying, to die.
PAXTON:
Yeah, that's the fun part, exploring that unknown area. I love having a little bit of fear. I'm hoping that I'm playing the thing that's going to be the most satisfying for my character, for what my character arc will eventually be. That kind of fear is good.
By Fred Schruers | Originally published in
Watch!
Magazine, April 2017.
Photo Credit: Gavin Bond.
Watch
Training Day
Saturdays at 9/8c on CBS and
CBS All Access
.