Peak Television: The All-New Paramount+ Streaming Service
With its trifecta of live sports, breaking news, and a mountain of entertainment, Paramount+ boasts something-for-everyone appeal.
Posted on Apr 23, 2021 | 12:30pm
By Nate Millado
To reach the top of Mount Paramount, our intrepid heroes scale 29,150 feet, where they find a familiar face waiting at the summit: It's Jean-Luc Picard himself, aka Patrick Stewart. The ragtag expedition crew—comprised of Norah (O'Donnell) and Dora (the Explorer), Beavis and Butt-Head, Young Sheldon, and Elmer the Old Man—have a dance party to SpongeBob singing "Sweet Victory," and all live happily ever after on this mountain of entertainment.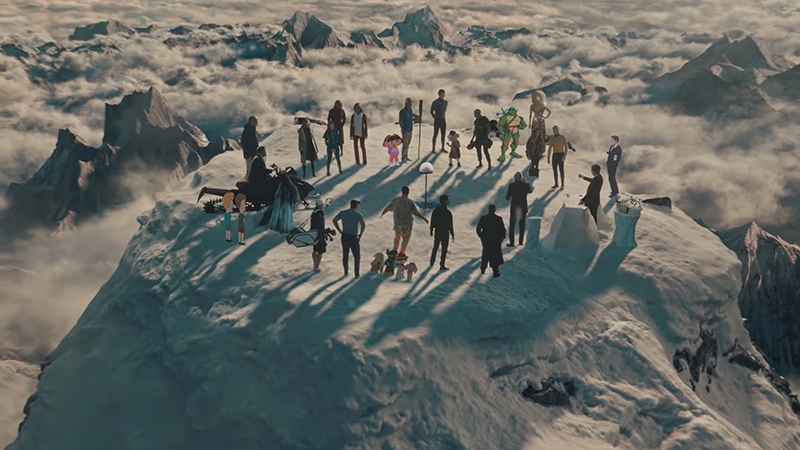 A variety of popular TV show stars and personalities gather atop Paramount Mountain in ViacomCBS' creative Super Bowl ad spot.
The cheeky and inspired Super Bowl spots perfectly encapsulated what makes
Paramount+
, the ViacomCBS streaming service launched on March 4, a game-changer."Those characters and personalities are iconic favorites for really passionate viewers," says Julie McNamara, executive vice president and head of programming. "The whimsy, the attitude and the confidence of the Paramount brand allowed us to really have fun and put Patrick Stewart and Snooki in the same context, which I thought was a blast."
Paramount+ is the official rebranding of CBS All Access, which launched in 2014—light years ahead of Apple+, Disney+, HBO Max, and Peacock. Its "depth and breadth of the personalities and content" is what really sets Paramount+ apart, says Tom Ryan, president and chief executive officer, ViacomCBS Streaming. "These brands serve as trusted guideposts for the con- tent you're looking for." He's referring, of course, to best-in-class brands
CBS
,
Comedy Central
,
BET
,
MTV
,
Nickelodeon
,
Smithsonian Channel
, and
Paramount Pictures
. Together, they accounted for a whopping 30,000 episodes and more than 300 films at launch.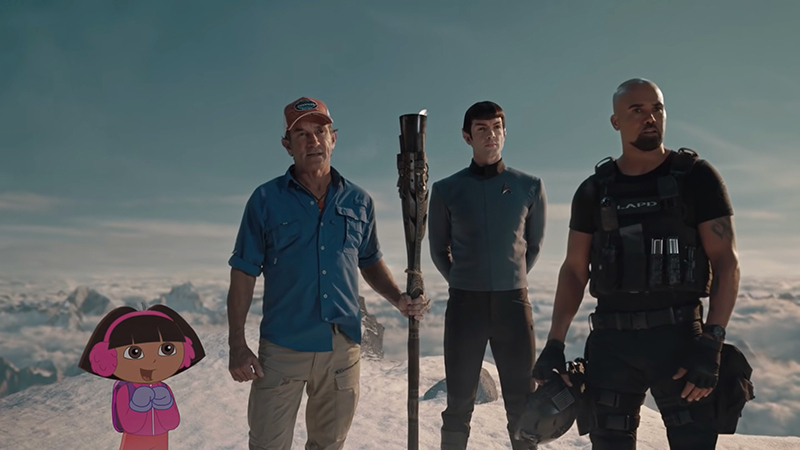 Dora and explorers Jeff Probst, Spock (Ethan Peck), and Hondo (Shemar Moore) on Paramount Mountain.
Binge-worthy quality and quantity is certainly what most of us—in quarantine since the start of COVID-19—could really use these days. "The instinct right now is probably to lean more toward shows that are fun to watch, really entertaining, and maybe take you to a different locale or a different life that's not your own," McNamara says. "I think we're cognizant of that, too—that the shows be a little bit of a diversion from the moment we're in."
Ryan acknowledges "the perfect timing" of launching Paramount+ during a pandemic. "Clearly, [the pandemic] has been horrible—it's affected so many people,and has resulted in so many of us being at home," he says. "I don't think Paramount+ could be upping its game at a better time than now, when stream- ing has just been accelerated several more years from what it would have been because of everyone being at home."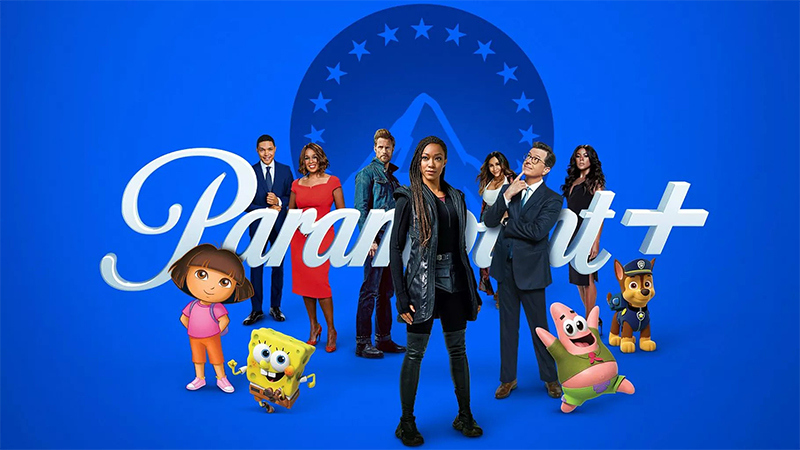 From left: Dora the Explorer, SpongeBob, Trevor Noah, Gayle King, Alexander Skarsgård, Sonequa Martin-Green, Snooki, Stephen Colbert, Patrick Star, Gabrielle Union, and Chase.
In 2013, Ryan co-founded
Pluto TV
, which offers live video channels and curated on-demand content. Under his guidance the free, ad-supported streaming service, which is now part of the ViacomCBS family, reached 43 million monthly active users globally. Pluto TV's success story has helped inform Ryan's strategy for Paramount+—for starters, streamlining the experience with greater personalization and features based on the profile a user creates. "When you're looking to be entertained, you don't want to go to work, right?" Ryan adds. "You don't want to feel like you're spending 30 minutes hunting and pecking [for content]. You want to be entertained right then—and you want it to be easy." (Raise your hand if you've ever played hot potato with your partner over the remote!)
SUBSCRIBE NOW: Curious About Peak Streaming? Try Paramount+ For Free!
With ViacomCBS' vast vault of intellectual property (IP), McNamara will continue to do what she does best for Paramount+: mine something new from something old or borrowed. At CBS All Access, she helped reinvent and reimagine beloved IPs like
Star Trek
, wooing diehard fans and newbies alike. McNamara has also shepherded megahits during her career, like
Desperate Housewives
and
Grey's Anatomy
for ABC, and
The Good Wife
and
Hawaii Five-0
for CBS, so the development pro is relishing the chance to "take really interesting swings on the next big thing." (Will The Next Big Thing be Paramount+'s new dark comedy
Guilty Party
, starring Kate Beckinsale? Or perhaps the adaptation of megahit video game franchise,
Halo
—executive produced by Steven Spielberg and coming to the small-screen in 2022.)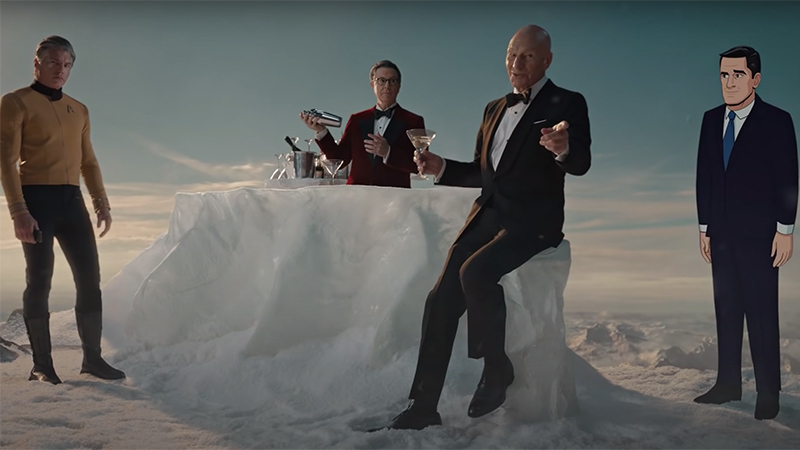 Late Show
host Stephen Colbert and Picard himself, Patrick Stewart, cheers to a new streaming service.
For his part, Ryan is excited about the expansion of Taylor Sheridan's massively popular
Yellowstone
universe with
Y: 1883
. His kids, though, are probably more pumped up about another prequel:
Kamp Koral: SpongeBob's Under Years
, which recounts SpongeBob's early years at summer camp.
Paramount+ boasts an ambitious and exciting slate of current and upcoming offerings. For soccer fans, there's every UEFA match, and for true-crime sleuths,
The Real Criminal Minds
awaits. Reality junkies can catch an all-star iteration of
The Challenge
, plus a return to the very first loft and cast in
The Real World Homecoming: New York
. Fans of nostalgia won't want to miss reboots of
iCarly
and
Frasier
. Then there are the new seasons of returning faves like
Stephen Colbert Presents Tooning Out the News
,
Why Women Kill
, and
The Good Fight
.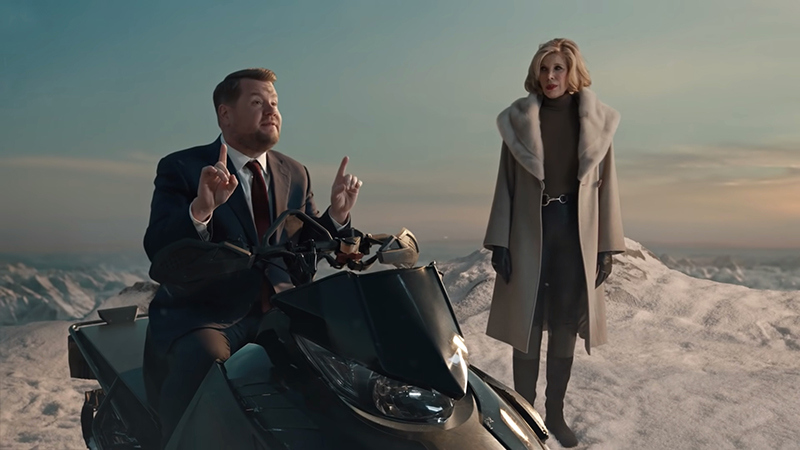 The Late Late Show
host James Corden and
The Good Fight
's Diane Lockhart (Christine Baranski) mingle on the mountain.
It's a synergistic ecosystem of free, pay, and premium. It's Gayle King in the morning and Colbert at night. It's "a very rich canvas that has something for everyone," McNamara says. A mountain where SpongeBob, Spock, and Snooki live happily ever after? Sign us up.
Photos courtesy of Paramount+. Article originally published in
Watch Magazine
, March-April 2021.
DISCOVER MORE: Check Out The Latest Digital Issue Of Watch—Available Now!
Sign up for
Paramount+
to get live sports, breaking news, and a mountain of entertainment.