Young Sheldon Creators Reveal The Origin Of Their 'Big' New Series
Learn more about the highly anticipated freshman series from the show's cast and executive producers.
Posted on Aug 1, 2017 | 12:30pm
According to
Young Sheldon
executive producer Chuck Lorre, who is also the creator and executive producer of
The Big Bang Theory
, the idea for
Young Sheldon
has been long in the making.
WATCH: Take A First Look At The New CBS Fall Comedy Young Sheldon
"The origins of Sheldon are something we'd been wanting to talk about for a couple hundred episodes of
The Big Bang Theory
," he told audiences during the CBS TCA Press Day at the Beverly Hilton Hotel in Los Angeles.
However, it was actually
Jim Parsons
, star of
The Big Bang Theory
and executive producer for
Young Sheldon
, who came to Lorre with the idea to comb back through Sheldon Cooper's backstory as its own series, which inspired the two—plus executive producer Steven Molaro—to run with it.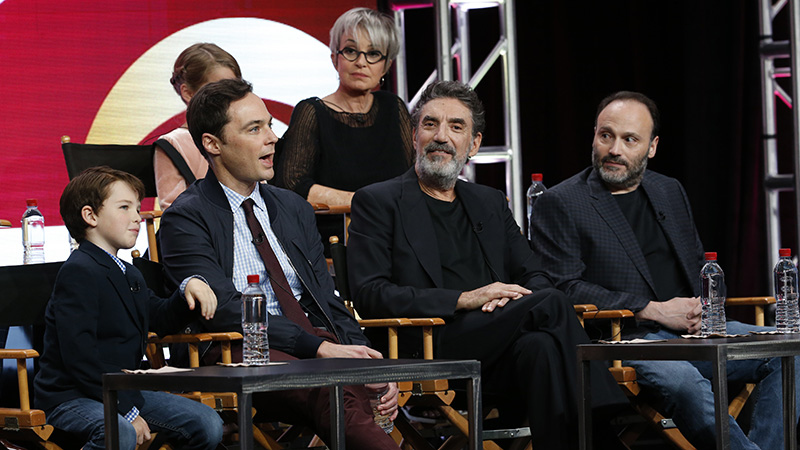 In addition to Parsons (who also narrates
Young Sheldon
), Lorre and Molaro, the stars of Young Sheldon—including
Iain Armitage
(young Sheldon Cooper),
Lance Barber
(George Cooper),
Montana Jordan
(George Cooper, Jr.),
Raegan Revord
(Missy Cooper),
Annie Potts
(Meemaw), and
Zoe Perry
(Mary Cooper)—were on-hand to speak more about the fall sitcom.
Though Lorre has historically filmed past series, from
Roseanne
to
Mike & Molly
, in front of live studio audiences, he switched to a single-camera for
Young Sheldon,
which was a totally different beast for the TV vet.
"I [was] a nervous wreck," Lorre said of the experience, which he deemed "more intimate" than the multi-camera environment; though, the entire procees took a whole lot longer to film. "It's an entirely different animal. In the time it took to shoot the dinner scene of the pilot, we could've shot two entire episodes of
The Big Bang Theory
."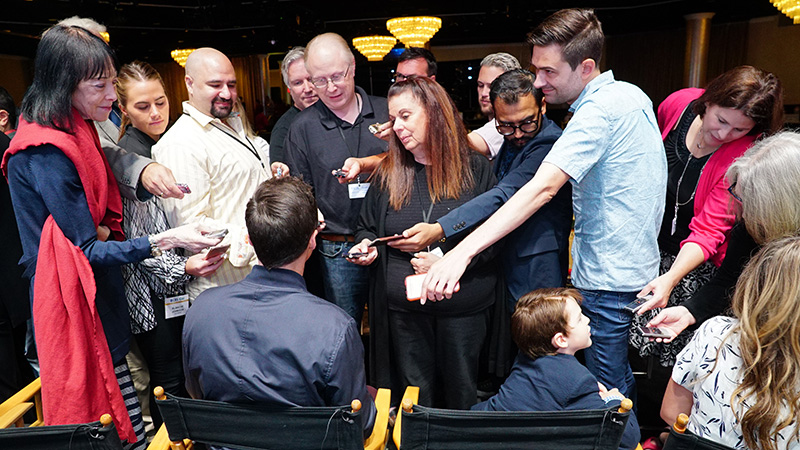 When famed TV actress
Annie Potts
was asked about what it was like to take on the
iconic role of Meemaw
, who was played by June Squibb on
The Big Bang Theory
, Potts said the character was still a work in progress, but "once I get my Texas boots on and my Texas hair, [Meemaw will be] more clear."
READ: Young Sheldon Takes Fans Of The Big Bang Theory To Where It All Began
Acknowledging the tonal inspiration between
Young Sheldon
and '80s television touchstone
The Wonder Years
, Lorre delved into a story about the search for who would play the titular nine-year-old genius.
And it didn't take long to cast Iain Armitage (
Big Little Lies
), who made an audition tape via cell phone while celebrating Christmas at his grandmother's house in Georgia.
"He was astonishingly good," Lorre said of the 9-year-old star.
Parsons nodded along with Lorre and added a story about the first time he met his younger on-screen self.
"It was new [for me] to see actors on the other side of anything for me, even a young actor," Parsons said. "So, I kind of felt huddled in the corner of the couch for a while. Then Iain came in; [he was so] open and receptive. He talked with us and we recorded him on video in a more official way, and he was wonderful. He's very easy to talk to."
Parsons added, slyly, "[Iain and I] have a lot more in common now that I'm [in my 40s]."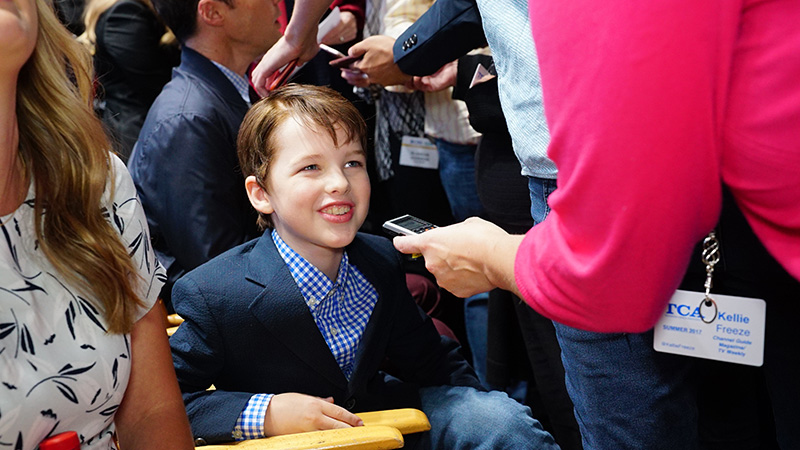 As for whether or not Armitage spent much time watching
The Big Bang Theory
before taking on the role of young Sheldon Cooper, he said he hadn't, but had a great reason.
"I don't watch that much TV," Armitage admitted politely. "Usually, I occupy my time by reading books and playing a lot. I don't like video games. I like stuffed animals. I like being around people."
But one important question remained: Had Iain ever worn a bow tie prior to
Young Sheldon
?
"Oh my goodness," he said, gleefully. "
So
many times."
Watch a special one-time preview of
Young Sheldon
on Monday, Sept. 25 at 8:30/7:30c, following
The Big Bang Theory
,
on CBS and
CBS All Access
.
Then, catch the new series in its regular time period on Thursdays at 8:30/7:30c starting Nov. 2 on CBS and
CBS All Access
.