Everything You Need To Know Before Watching Young Sheldon
This new fall comedy is simply brimming with fun facts and Easter eggs!
Posted on Sep 15, 2017 | 03:00pm
With Season 1 of
Young Sheldon
now in full swing (watch at its new, regular time on Thursday, Nov. 2 at 8:30/7:30c), there's still a ton to learn about the much-ballyhooed Sheldon origin story.
WATCH:
Fall's Best New Sitcom Is Young Sheldon
In the new series, nine-year-old wunderkind Sheldon Cooper (
Iain Armitage
)—the young counterpart to actor
Jim Parsons
' character on
The Big Bang Theory
—must face his greatest challenge yet:
surviving high school
in East Texas. Along the way, he must contend with his football-obsessed family
,
while they, in turn, must put up with his impossible brilliance and eccentricities.
As the series continues at its new Thursday time, here are some fun facts that you may not know...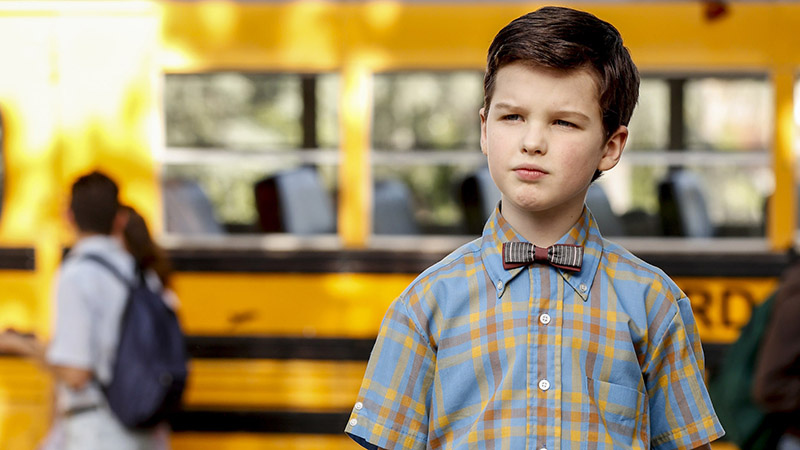 Young Sheldon is totally unique.
Young Sheldon
is an entirely separate entity from its predecessor,
The Big Bang Theory
. Not only is the new show shot single-camera—as opposed to three-camera in front of a live studio audience—it's tonally more of a "dramedy" than a straight comedy.
In other words, the new show includes decidedly "
more intimate
" moments throughout. Think '80s television show
The Wonder Years
, but for Sheldon Cooper. Speaking of which...
It's a period piece.
If the new format wasn't different enough,
Young Sheldon
also takes place in the late '80s, which means plenty of nostalgia and throwbacks to come—no smartphones or laptops here!
Jim Parsons came up with the idea for the show.
At
this year's TCA CBS Press Day
, Jim Parsons revealed that he was the one who originally pitched Sheldon's childhood story.
In a
recent appearance on The Talk
, Jim explained that the idea came about from spending time with his own nephew, who, like Sheldon, is gifted in their family. "The more we talked about it," Jim said, "we were like, 'That really sounds like a cousin of a Sheldon character, if not Sheldon himself.'"
Jim will also narrate as adult Sheldon.
In addition to coming up with the show and serving as Executive Producer, Jim will also "reprise" his role as adult Sheldon, adding voiceover narration to key parts of the episodes!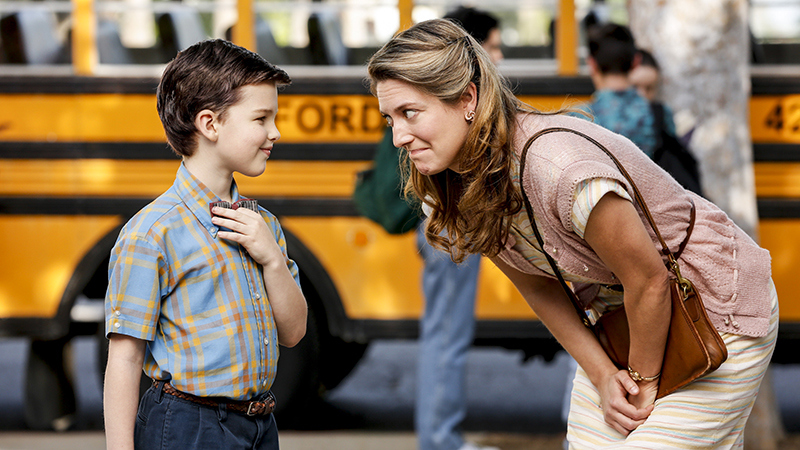 Zoe Perry has familial ties to a Big Bang Theory actor.
If you think
Zoe Perry
is the spitting image of Mary Cooper on
The Big Bang Theory
, that's because she and actress Laurie Metcalf, who plays Mary on that show, are related! They're daughter and mother, in fact—so it makes perfect sense that Zoe would play the younger version of Sheldon's mom on
Young Sheldon
.
Lance Barber has already been on The Big Bang Theory.
Before he was cast to play George Cooper, Sr. in
Young Sheldon
, actor
Lance Barber
humorously played Jimmy Speckerman, one of Leonard's high school bullies, in
The
Big Bang Theory
episode "The Speckerman Recurrence"!
Meemaw is back!
You read right: Sheldon's notorious grandmother, Meemaw (played by June Squibb on
The Big Bang Theory),
is returning in
Young Sheldon
. Here, she'll be played by
renowned film and television actress Annie Potts
.
Montana Jordan is a Southern dude.
Montana
, who plays Sheldon's older brother Georgie on the show, is actually from Texas in real life and, like his character, plays football.
Raegan Revord shares a common bond with Iain Armitage.
Raegan
, who plays Sheldon's twin sister Missy,
enjoys musical theater
—just like Iain!
The first episode was directed by Jon Favreau.
When it came to behind-the-camera talent for
Young Sheldon
, production tapped a Hollywood favorite: filmmaker extraordinaire Jon Favreau (
The Jungle Book
,
Iron Man
). No doubt, fans of the director's work will be able to see touches of his distinct style, which is perfect for
Young Sheldon
.
Expect plenty of The Big Bang Theory Easter eggs!
From the first episode alone, keen-eyed fans will likely notice that Sheldon's love of trains started at an early age, and his professed fandom of Professor Proton goes
way
back! (In fact, Bob Newhart makes a cameo in the pilot on the Cooper family television set.)
Suffice it to say,
The
Big Bang Theory
fans have a wealth of nods, winks, and references to look forward to on
Young Sheldon
.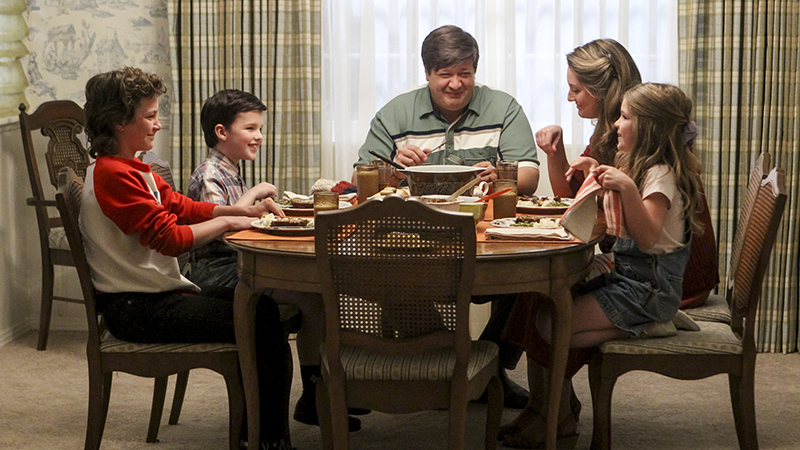 Watch all-new episodes of
Young Sheldon
at its new regular time on Thursdays at 8:30/7:30c (following
The Big Bang Theory
, which will also be at its regular time at 8/7c) on CBS and
CBS All Access
.