Will We See More Of Young Sheldon's Future On The Big Bang Theory?
Soon after their second-season renewal, the show's Executive Producers and cast delved into potential Young Sheldon-TBBT connections.
Posted on Jan 12, 2018 | 10:00am
Hot off its
second-season renewal
—the first 2018
–
2019 pickup for CBS, in fact—
Young Sheldon
hosted a Q&A on the Warner Bros. backlot to talk more about the No. 1 new comedy show.
The panel included series stars
Iain Armitage
("Sheldon"),
Zoe Perry
("Mary"),
Lance Barber
("George Sr."),
Annie Potts
("Meemaw"),
Montana Jordan
("George Jr."), and
Raegan Revord
("Missy"), as well as Executive Producers Chuck Lorre, Steve Molaro, and Narrator/EP
Jim Parsons
("Older Sheldon").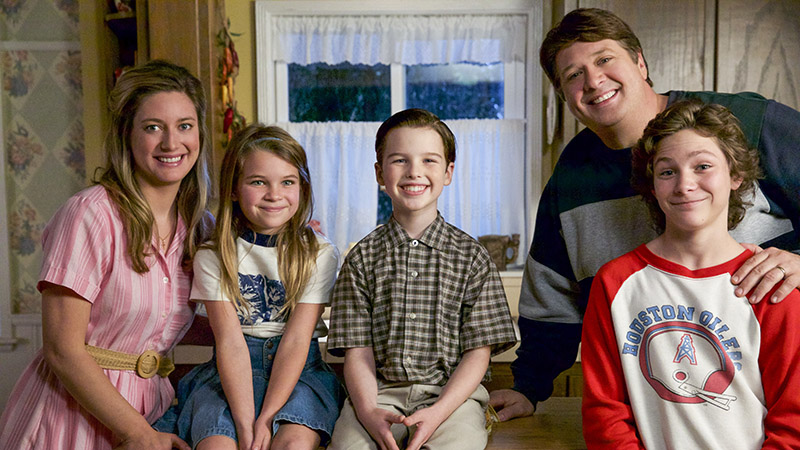 As two halves of a one-hour block,
Young Sheldon
and its inspiration,
The Big Bang Theory
, appear ripe for a crossover, especially now that the freshman series has had a little time to grow.
Is that something the producers have considered? Will we see older versions of
Young Sheldon
characters on
The Big Bang Theory
?
While there are currently no plans in the works, Lorre did note, "There are young people in young Sheldon's life that we might someday meet on
Big Bang
as adults.
"We're all in love with young Billy Sparks (Wyatt McClure)," Lorre continued, citing an example. "So, to see him walk into Pasadena would be a thrill. If we could get that right, that would be something to look forward to."
While fans have obviously seen older versions of Mary, Missy, and Meemaw on
The Big Bang Theory
, the missing Cooper link we've yet to see on that show is Georgie.
That, Molaro confirmed, they
have
talked about. Lorre even tossed out a dream cast for an older Montana Jordan that seems spot on.
"Matthew McConaughey," he said. "Look at this guy!"
"A pure Texan," Raegan added.
That said, Lorre and the others aren't constantly looking for ways to tie the two shows together.
On the contrary, he stated, "We never wanted to lean on
Big Bang
... It was just really important, if we were going to do this—let's build a show that lives and dies by its own merits. It's not leaning up against
The Big Bang Theory
, the tone of it, the pace of it, the look of it, without an audience."
George Sr., for instance, is a perfect example of
Young Sheldon
on its own, especially knowing what eventually happens to that character before
The Big Bang Theory
begins.
"Until this show, we've only gotten to hear about [George Sr.] through Sheldon's point of view," Jim said. "Since he was an offstage character we talked about [on
The Big Bang Theory
], this is the first time anyone has really gotten to explore him as a real, fleshed-out human.
"So ... I completely would understand why an adult version [of Sheldon] may not want to go there and keep [George Sr.] at an arm's length, when, deep down inside, he knows that he was not a bad man."
When asked if he would be good buddies with his character, Iain confessed, "Not exactly a buddy," but added, "He would be a very interesting friend, and I can see myself being friends with him."
STREAM: Full Episodes Of Young Sheldon On CBS All Access
Later, the cast talked about the "tsunami"-like fan response from the millions watching at home. To what extent have the actors been recognized on the street?
"If I'm with my friends on the street, and somebody's like, 'Oh, can I have like a picture of you?' it's like, 'Okay,'" said Raegan.
"I've taken a couple photos with some stewardesses on airplanes—that's about it," observed Lance. "I've been lucky enough to have some recognition for some smaller things that I've done, and it was at the right level. I get it just often enough to boost my ego and not be intrusive … But for now, I appreciate it. Every time, I appreciate it."
As for Zoe, she's been approached when she was least expecting it. "I thought my Mary hair was going to be a good shield and that people wouldn't recognize me," she said. "I had just come from the gym. It was all slicked back, all greasy, and a female cop came up to me, and she was very lovely and asked for a picture. And I said, 'Oh, I've been found out!'"
"Your cover's blown," Iain chimed in.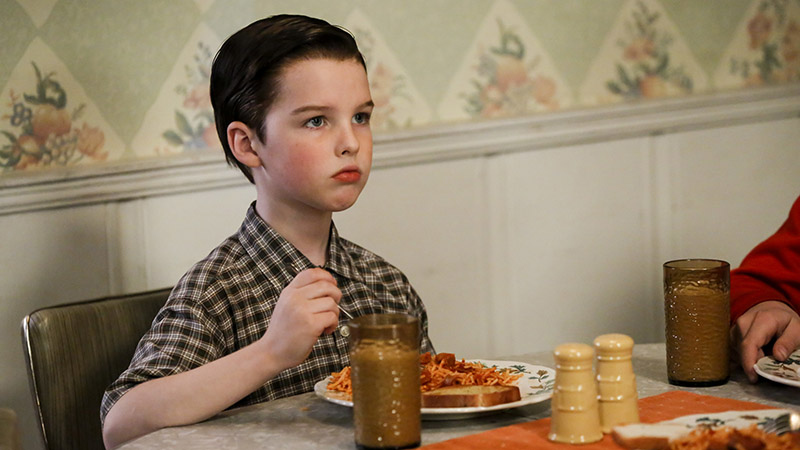 Annie, meanwhile, has seen her share of the "tsunami" already.
"I really don't think that there is any preparing for that," she explained. "The kids are so grounded. They have fantastic parents, and the show itself and our creators and everybody grounds everybody in such a way that I think that they're well-prepared to accept the recognition that comes.
She concluded, "They all have their feet on the ground. There's nothing to really impart."
Watch all-new episode of
Young Sheldon
on Thursdays at 8:30/7:30c on CBS and
CBS All Access
.