Aaron Heick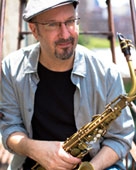 Originally from Seattle, Washington, Aaron is a saxophonist & woodwind player who is a mainstay of the New York City studio scene. Highlights of his career include working with Chaka Khan who he toured and recorded with through most of the 90's. The new millennium brought extensive touring and recording with the Cameroonian bassist/singer Richard Bona with whom he regularly toured Europe, The U.S., Asia, and Africa. On the heels of that, there were U.S. & European tours with the one and only Barbra Streisand. More recently, he's been performing as a featured soloist with Sting, both live and on his recent album, "Symphonicities", a project that features Sting in an orchestral setting. Aaron has also just released his own debut solo CD, "Daylight & Darkness".

Other highlights include performances and recordings with Paul Simon, Aretha Franklin, Frank Sinatra, Bruce Springsteen, Sir Elton John, Carly Simon, Donald Fagen, James Taylor, Lady Gaga, Lenny Kravitz, Sheryl Crow, Billy Joel, Suzanne Vega, Vonda Shepard, Cyndi Lauper, Audra McDonald, Phillip Glass, Vanessa Williams, Boz Skaggs, Christopher Cross, Ben E. King, Bobby Caldwell, Steps Ahead, The Manhattan Transfer, Ray Baretto, Willie Colon, and The Caribbean Jazz Project.

You can visit Aaron's website at www.aaronheick.com.