About The Performance
The notoriously chilly air at the Ed Sullivan Theater was heavy with anticipation for Norah Jones' Live on Letterman concert. Just a day after the release of her acclaimed album Little Broken Hearts, her fans in New York and thousands more at home couldn't wait to hear the new material live. Norah does not disappoint, as she smoothly carries the crowd through a breathtaking blend of new material and classics.

Norah and her band coolly cruise on stage, as the chanteuse positions herself coyly behind the keyboard and kick it off with "Say Goodbye," before donning her six-string and grooving into the title track off the new record. The first four songs come straight off the new album, and the entire audience is enthralled.

Norah and the bands' sly and soulful sound has the audience hooked as they declare their undying love online and with applause. Norah closes the hour long set with a couple of classics including "Sunrise" and "Come Away With Me" before delighting the crowd with an encore of "Stuck." For the entire show, Norah holds the world in her hand, captivated by her style and grace.

Biography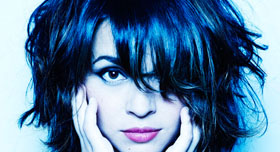 Norah Jones, born on March 30, 1979 in New York City, is one of the most popular contemporary jazz and jazz-influenced singers of our time. She was a member of Wax Poetic before her debut album Come Away With Me. She can still be heard singing with them on two tracks of their release, Nublu Sessions.

Her debut album Come Away With Me was released in 2002 and sold 22 million copies worldwide. It won five Grammy Awards in 2003.

Her second album, Feels Like Home, with folk tendency, is the highest-selling album in the history of Blue Note Records with over a million copies sold within the first week. Norah Jones was listed among the most influential people of 2004 by the Time Magazine.

On January 30, 2007 Norah Jones released her third album, Not Too Late--a collection of 13 original songs, iTunes includes a bonus live track of the song "Sinkin' Soon". This was the most pre-ordered album of all time on Amazon.com.

Her fourth studio album, The Fall, was released on November 17, 2009.

Her fifth studio album Little Broken Hearts was released on May 1, 2012 and she collaborated with Danger Mouse for its production. The Happy Pills Songfacts reports that the album was recorded at Danger Mouse's Los Angeles studio during the fall of 2011. The record was co-written by Jones and Danger Mouse, with the pair handling the majority of the instrumentals. Jones teamed up with the producer after she contributed vocals to his Rome project with Daniele Luppi.

The daughter of Beatles-influencing sitar virtuoso Ravi Shankar, Jones doesn't closely follow any particular genre, rather she brings her unique jazzy flavor to songs with roots in country, folk, Americana, and modern light jazz, pop and rock.